March 21, 2018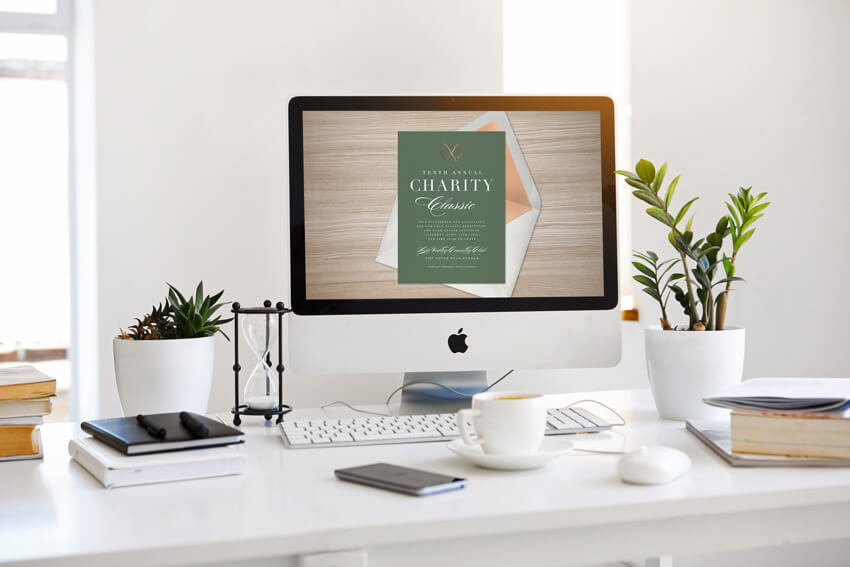 Whether you're planning a major fundraiser or a client retreat, hosting a golf tournament is a great opportunity to promote your company and brand. Strategic planning and thoughtful organization can help you focus on the areas that matter most—like networking with key customers or prospective donors. Keep in mind, it's also important not to overlook the guest experience, which begins the moment your first communication is distributed and received. We recommend a digital invitation and ticketing service (like Greenvelope!) to ease your planning process and make a positive impression on your guests. Keep scrolling for helpful tips on how to get the most out of going digital.
Modern Golf Invitations
You don't have to sacrifice elegance or quality by going paperless. Ranging from formal to casual, Greenvelope has a variety of golf-themed invitations that mimic traditional paper—think textures, di-cut edges, and modern foil accents. Each template can be fully customized with the unique details of your tournament. Browse Greenvelope's full collection of golf designs here!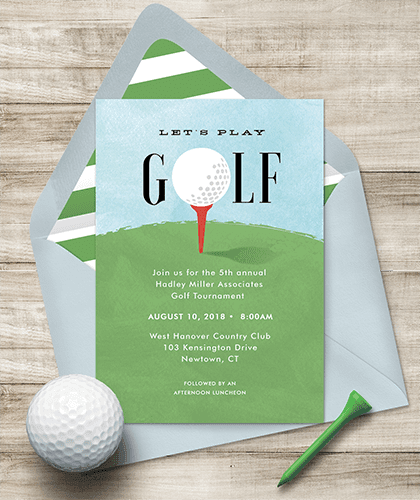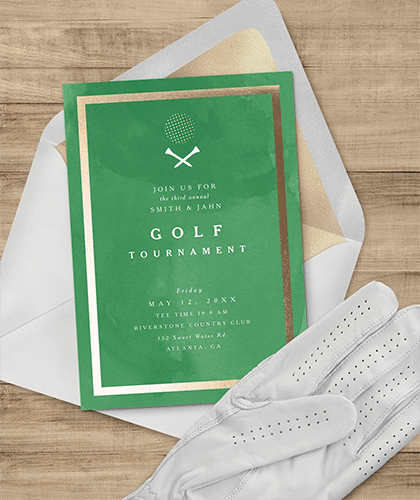 Details Page
Greenvelope's Details Page is a secondary page to your invitation that can include all of the additional information that you may not want to feature on the front of the invite itself. It's the perfect place to display specifics like the course location, the dress code, or any charitable donation opportunities. You can even attach an agenda that outlines the entire tournament schedule.
Event Ticketing
If you're planning to sell tickets or sponsorships, consider using Greenvelope's multi-level ticketing tool. It's ideal for anyone wishing to create different sets of tickets for their guests to choose from. Some of the more common tournament categories we've seen are foursome packages, single-golfer options, or ticketed sponsorships.
RSVP Tracking
From the moment your invitations are sent, Greenvelope will track all of your RSVPs and provide an accurate headcount. This functionality allows you to skip the traditional process of manually tracking each paper RSVP. By going digital, you can also set a maximum capacity, which ensures you don't go over a typical tournament course of 144.
Plus-One Policy
It's likely that your invited guests will want to add additional attendees to create their own foursome. Greenvelope makes this easy with it's plus-one functionality. With this feature, you'll even be able to collect contact information—like an email address or a first and last name—from your guests who decide to bring plus-ones.
Survey Questions
There's a good chance you'll need to collect more than just RSVPs from your participants. Having information like golf handicaps, dietary restrictions, shirt sizes, or whether or not they'll need rental clubs, is critical to have on hand. Greenvelope's survey question functionality allows you to ask custom questions when a guest submits an RSVP. All of the submitted responses can be easily tracked, summarized, and exported.
Check-in Functionality
Greenvelope's check-in functionality simplifies the process of checking in each guest as they arrive to the course. In addition, it provides sortable attendance data that can be used in future thank-you notes or any follow-up communications.
Golfer Organization
Greenvelope offers a seating chart feature that is perfect for organizing golfers into their starting positions. You can easily create 18 tables, with eight seats each. These tables will represent your 18 holes, with two foursome groups each.