March 30, 2021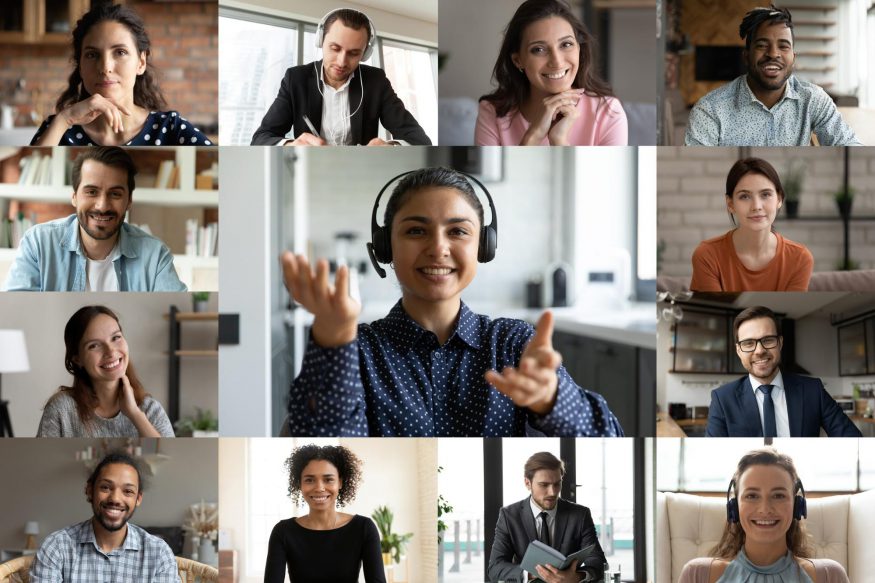 Working as part of a remote team can give you more freedom, but it also means you see your colleagues in person less often (if at all). That doesn't mean you're doomed to eternal isolation or have to resign yourself to only knowing coworkers on a surface level. If you put in a little effort, team building can be just as easy and fun virtually as it is in-person.
Taking the time to plan remote team-building activities can increase team bonding and build a better company culture. These activities are also a great way to onboard new employees and welcome them to your remote workspace. They can help you build connections and enable remote team members to get to know one another on a deeper level. This guide offers some of our favorite team building ideas to increase productivity, develop relationships, and boost employee satisfaction. 

The 13 Best Remote Team-Building Activities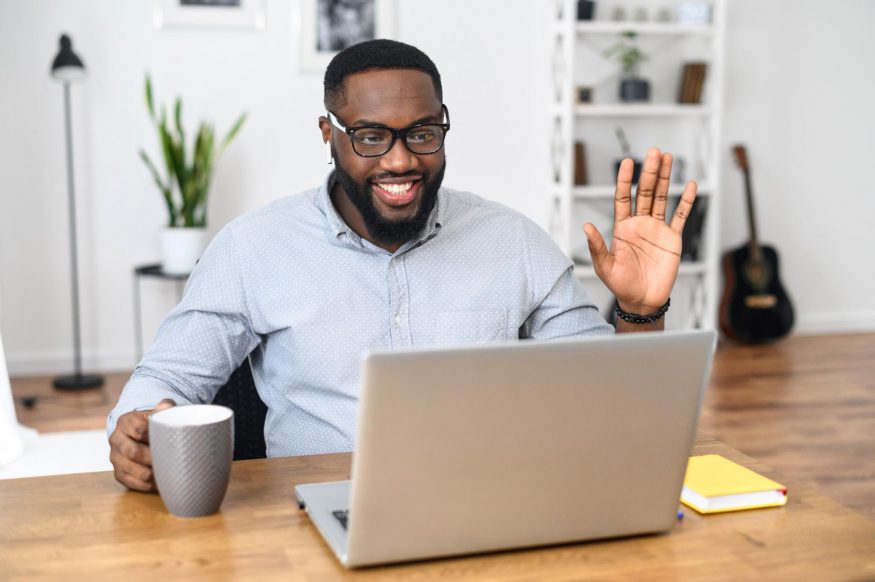 These remote team-building activities are just as fun as face-to-face meetups. You'll learn more about your colleagues and what drives them. Plus, you'll find ways to bond and connect while having a good time. Use these team-building exercises to get to know the rest of your team and develop meaningful relationships with each and every employee.
1. Icebreaker Questions
A surefire way to get acquainted with your remote team is to play an icebreaker game. You can do this at the start of your weekly team meetings or schedule a coffee break or lunchtime chit-chat for the activity. Ask employees to share one fun fact or come up with creative questions that offer insight into everyone's personalities. 
Here are some fun question ideas to get you started:
What's your favorite scent?

If you were to write a book, what genre would it be?

Who was your favorite movie star when you were a child?

You're the host of a late-night comedy show. Who would you have as your first guest?

What does your dream house look like?

What meme, gif, or emoji do you use the most?

Tell us the story of how you got your most memorable scar.
2. Book Club
A fun way to create team bonding and bring employees from different departments together is to host a book club. You can email everyone to ask who wants to participate. You can choose books that are relevant for your industry — the latest business biography, for example — or keep it fun with fiction and fantasy novels. 
Have employees meet once or twice a month depending on how long or difficult the books are to read. Nominate someone at the beginning of the month and have them choose the book. During the virtual meeting, they'll lead the discussion and then pick the facilitator for the next month.
3. Scavenger Hunt
Add a dose of healthy competition with this virtual team-building game. To set up a virtual scavenger hunt, think of items most employees will have in their homes. These can be things like a favorite coffee cup, a selfie with a pet or roommate, or a photo of the view out your window. Here are some more ideas for your virtual scavenger hunt.
Make a list of these items and schedule an online meeting for the scavenger hunt. During the meeting, share the list of items with attendees and give them 10 minutes to gather the items. Whoever finds every item on the list first wins a prize.
4. Online Office Games
There are hundreds of online games that you can play with one or more of your remote team members. From virtual bingo and Words With Friends to charades and online Pictionary, the options are endless. You can set aside time for a company-wide chess championship or just play a quick virtual game with a colleague during breaks. Either way, you'll be able to use problem-solving skills and spend time getting to know each other.
5. Show and Tell
There's a reason this activity is so popular in young classrooms — it's a fun and stress-free way to get to know people. It's also an easy way to share the things we enjoy most without having to talk about ourselves — something that can be difficult for introverts and employees who are shy. 
Incorporate this activity into a regular video call or host the event in one of your Slack channels. If you do this on a conferencing call, make sure to limit the time people have to share to prevent the meeting from going too long. Give each employee one minute to share a favorite item and explain why it's so important to them.
6. Virtual Coffee Hangouts
Another great virtual team-building activity is a virtual coffee hangout. As a manager or team leader, you can schedule a weekly or daily coffee chat where everyone gets together for 15 or 20 minutes just to chit-chat. 
Alternatively, you can use an app like Donut, which integrates with your company's Slack channel. The app randomly pairs people up and invites them to schedule a coffee chat. It's a fun way to get to know new team members and learn more about colleagues you've worked with for years.
7. Virtual Escape Room
A virtual escape room gives team members a chance to solve fun puzzles and show off their strengths. It's also a fun and interactive way to get people working together to reach a common goal — something many remote teams can benefit from. 
Use a site like The Escape Game, which uses a Zoom video chat to get players involved in the action. A game host will offer clues while a guide who is in the escape room will act on your commands. Most escape rooms can only handle 8 to 15 people per activity. If you have a larger team, consider splitting up into small groups for this activity.
8. Karaoke
This is one of those remote team-building activities that's all about having fun and not taking yourself too seriously. It's a fantastic way to infuse a little joy into the workweek and also enables remote team members to see a more playful side of their coworkers. 
Use a video conferencing platform like Zoom or Microsoft Teams to host a virtual karaoke where remote workers can sing their hearts out. Take it to the next level by asking attendees to dress in a silly costume or like their favorite singer. You can also mail fun props to your team before the big event. Here are some karaoke ideas to get you started. However you choose to host your team-building karaoke night, it's sure to be a hit.
9. Pub Trivia
There's nothing quite as fun as going out to a local pub or coffee shop and spending the night trying to solve trivia questions. With remote-based teams, you can still enjoy the same friendly competition and put your heads together to come out on top with a virtual trivia game. 
Use a site like Water Cooler Trivia, which handcrafts weekly trivia questions specifically for your team. You can choose the time the trivia questions are sent even if your team is based across multiple time zones. The site does all the scoring for you and you'll even get a weekly leaderboard to see who you need to beat. This activity is great for larger teams and you can pit different departments against each other for some friendly rivalry.
10. Virtual Happy Hour
A virtual happy hour is one of the most popular remote team-building activities since it's easy to set up and doesn't require much planning. All you need is a virtual meeting room and a time and date for your hangout. This can be a recurring event or a one-time activity to introduce new team members or bid adieu to someone who's leaving the company.
11. Storytelling
Another fun activity to liven up virtual meetings and video conference calls is to play a storytelling game. This one doesn't require any advance planning and you can do it multiple times throughout the year. 
Here's how it works: Ask one employee to start a story in one or two sentences. For example, you can say something like, "It was a dark and stormy night and Peter was driving home after a long day at the office. He rounded a bend, and then…" The team member can then pick the next person who will add another sentence or two to the story. The game continues until every remote team member has contributed to the story.
This remote team-building activity is a great way to get people to collaborate and work together. It's perfect for teams that have a lot of history together as well as those with new employees.
12. Home Tour
A virtual home tour is a fun way to get to know remote employees a little better. Think of it as a real-life MTV Cribs episode. You'll get a peek at everyone's personal home style and you may even get to meet their family members and pets along the way! 
For this idea, each team member creates a video that shares a portion of their home. They can then use the screen-sharing settings in your usual video call or team meeting to share the footage. By recording beforehand instead of doing a live tour, employees can tidy up and show off their abode's best attributes.
13. Music Contest
Get to know team members by discovering what they listen to with a music contest. For this activity, each employee will need a Spotify account. Create a playlist and share it with all team members. Choose a genre or topics — like French music or songs with lyrics about nature — and ask each employee to add one or two songs that fit the criteria. On Fridays, have the team listen to the playlist and vote on their favorite song. The person with the winning song gets to pick the playlist topic for the next week.
Invite Colleagues in Style with Digital Invitations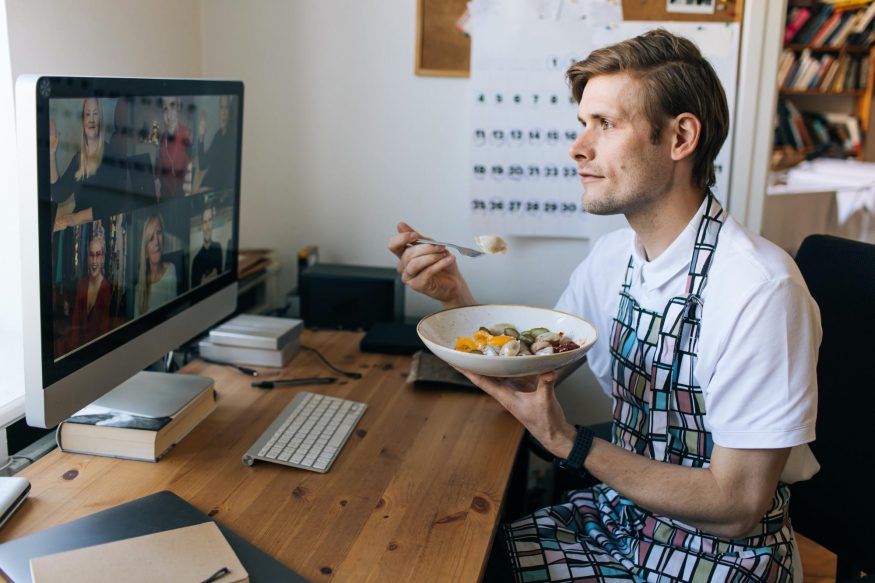 If you're hosting a virtual event, make it feel like a special occasion by sending out digital invitations. At Greenvelope, we have hundreds of online invitations designed specifically for business use. You can use these virtual invites for end-of-year parties or to get employees excited about a remote team-building activity or team retreat. Whatever event you're hosting, there's an invite design to fit your needs.
Whether you've been working remotely since before it was cool or you're trying to create a better work environment as you transition during the pandemic, remote team-building activities can boost morale and make the workday more enjoyable. From Slack trivia to book club and icebreaker games in your Zoom or Skype team check-ins, there are plenty of team-building events to boost employee engagement and make "going to the office" more enjoyable for all.