January 8, 2020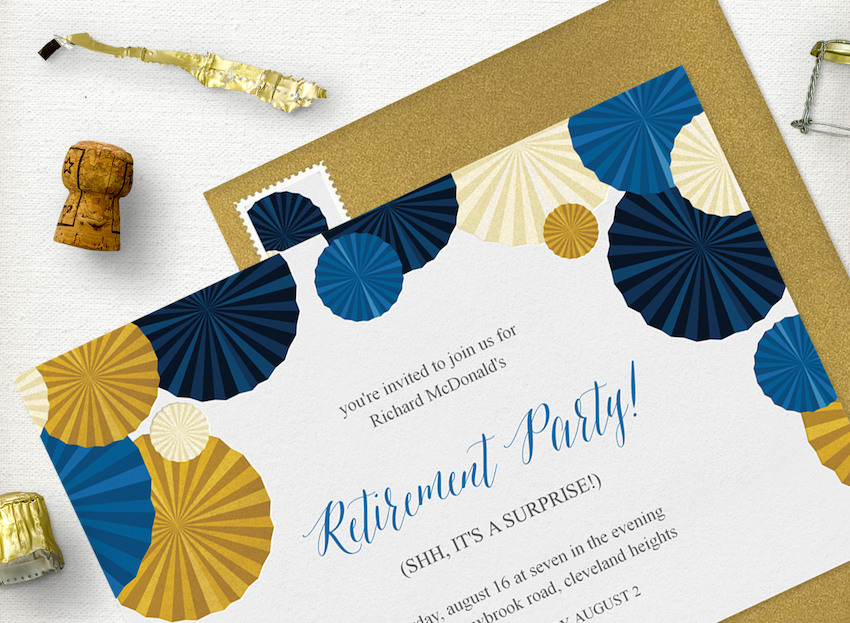 How do you celebrate years of hard work, loyalty, and dedication? Throw a wonderful retirement party, of course! Below, we're sharing our favorite retirement party invitations to send out in honor of your favorite colleagues.
More often than not, it's not the work itself that keeps us motivated from nine to five — it's the people. Being surrounded by people who motivate us, challenge us, and make us better is what a positive work life is all about.
And now, you're throwing a retirement party to honor a special person who set a great example all these years.

12 Retirement Party Invitations to Celebrate Years of Hard Work
Whether you're toasting to your own retirement or saying cheers to your favorite office buddy, these retirement invitations provide a wonderful send-off. So get ready to invite friends and fellow colleagues for one final farewell.
1. Raise a Glass Invitation
For all these years, you raised a glass to the big wins, the new hires, the clients that came and went. And now, it's time to raise your glass one last time — to yourself. If you're throwing your own retirement party, let people know it's time to sit back, relax, and celebrate all you've accomplished in your years of service. With this retirement party invitation, you'll do just that. With a simple white background, thin lined border, and gold cursive fonts, it's a toast-worthy card for your retirement party.
2. Champagne & Confetti Invitation
Let it rain down confetti because it's time to celebrate a wonderful friend, partner, and colleague. This blush retirement invitation pops just like you'll be popping bottles. Framed in polka dots, metallic sparkles, and champagne flutes, it's a fun card to bring the whole office together. You may need to vacuum the excess confetti around your cubicles afterward.
3. Goodbye to the Tie Invitation
Your neck has waited decades for this day — the day it is no longer suffocating from a tie. This retirement invitation template speaks to anyone who succumbed to a business dress code for the entirety of their career. With a punchy typeface and black and blue color palette, it's a fun way to wave goodbye to your years of hard work — and the suit coat it required.
4. Chic Party Invitation
When it comes to you and your colleagues, you certainly were in the "work hard, play harder," mindset. You busted your chops gearing up for a big deadline, but you always celebrated at a happy hour afterward. Through the years, coworkers became friends, then family — hey, you even received wedding invitations from a few people around the office. To go out with a bang, send this invitation to let your office know yours is going to be the retirement party of the year.
5. Kraft Paper Farewell Invitation
No one's good at goodbyes, so why not just say, "See you later"? This retirement party invite is packed with fun, bold colors, large, exaggerated fonts, and the word "farewell" in multiple languages. Fit for almost any retirement party, it's a youthful design that acknowledges the good times you had, and the wonderful experiences yet to come.
6. Blackboard Bash Invitation
If you work in education, you may want to sit up straight, tidy up your desk, and take a hard look at this stylish chalkboard-themed invitation. Ideal for a principal, librarian, or teacher retirement party, this invite comes with simple lines, clean fonts, and just a pop of color. Type the party details on a chalkboard background, similar to how your guest of honor wrote his or her class assignments for all those years.
7. Farewell Amigo Invitation
We all can name that one coworker who always manages to make work a little more bearable. And if that special person is retiring, you want to ensure they go out with a killer retirement party — a surprise party, at that. This lively invitation is a great way to let your colleagues in on the secret: that at the next happy hour, you're toasting to your pal, amigo, and best work buddy ever.
8. Minimal Martini Invitation
It's time for cocktails! You and your team spent years collaborating on every project and grinding through each tough deadline. And now, you're waving a heartfelt goodbye to your teammates who got you through all of it. So send out your retirement party invitation, hit the town, throw a dinner party or a cocktail party, and toast all the great work accomplished and the great times had. You certainly earned it.
9. Palm Leaves Invitation
You spent the past few decades battling commutes and long hours, and you're ready to kick your feet up. You want nothing more than to feel the sand beneath your toes, drink an ice cold margarita, and sit with an umbrella overhead and a good novel in your hand.
Let your coworkers and friends know your exact plans with this sunny invitation, bringing them over for one last BBQ. And who knows, if they're nice enough, maybe you'll invite them over for a housewarming party at your new seaside condo.
10. Black Tux Invitation
This elegant event invitation isn't just fit for retirement parties — you could use it for a rehearsal dinner, engagement party, or birthday party invitation. If you plan on throwing an upscale retirement dinner, use it as a way to tell your guests this is a black tie optional affair. Or if you're planning a more casual event, use it to poke a little fun at the formal business attire you wore most of your life that you are now hanging up for good.
11. Asymmetrical Pinstripe Frame Invitation
If you're planning a police retirement party, this asymmetrical design printed on navy blue card stock could be the ticket. The color palette is a subtle reminder of the badge and uniform that's about to be hung up after a lifetime of service. For the actual event, there are a number of party ideas you could take advantage of — plan a murder mystery, have guests dress up as robbers, or lay out a tower of donuts.
12. Gold Burst Invitation
In this day and age, finding someone who stays multiple decades at one job is rare. But often, those individuals are the most well-known, loved, and appreciated people at the office — making saying goodbye extra hard.
These people witnessed the company take shape and endure growing pains, and they're now part of the company culture. To thank them for their many, many years of service, send out this custom retirement party invitation, noting how many years they stayed with the company.
Greenvelope Makes It Easy to Send Retirement Party Invitations
Sometimes, we spend so much time at work we see our coworkers more than our own families. And honestly, our "work family" goes through highs, lows, and struggles — just like our home family.
And just like family members, there are many things to celebrate with coworkers — new years, new challenges, and fun times at holiday parties. And although it's a little bittersweet to say goodbye to a beloved coworker, it's exciting to look toward their new beginnings.
At Greenvelope, we help you say farewell to favorite coworkers by making it easy to send out retirement party invitations. We handle the RSVPs and guest management — you just ensure your office buddy has one wonderful last day on the job.