September 20, 2021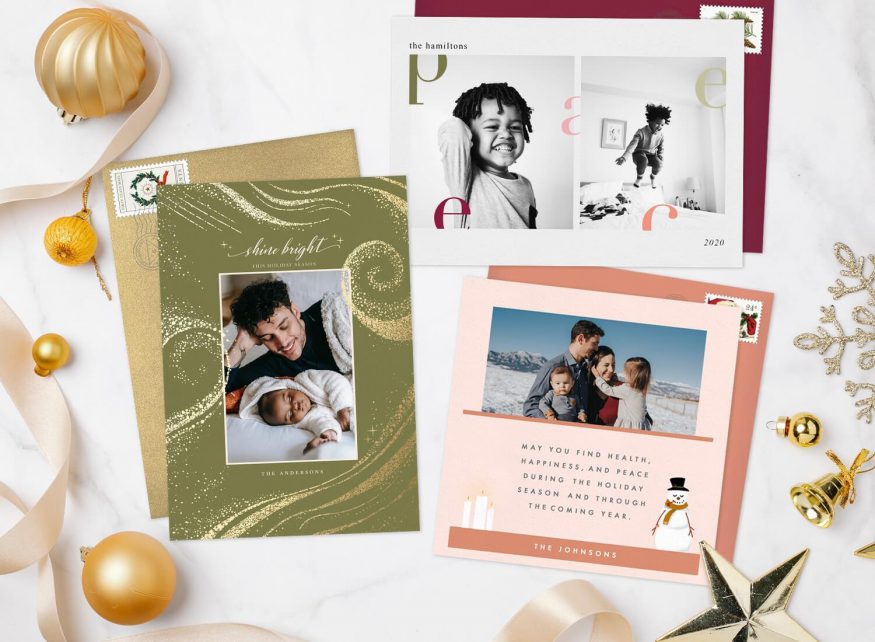 When the end of the year draws near, it's time to get into the holiday spirit. Over the past 12 months, your life and family have changed — and you have every intention of sharing the past year's growth with a photo holiday card.
Over 2 billion holiday cards are sent out each year, and you want to get a head start on the season. A photo holiday card helps friends, family members, and other loved ones keep up with your ever-evolving life. Below, we share a complete guide to creating your own DIY photo card, including how to build it, messages to write, and different designs you might want to send. 

How to Build Your Own Photo Holiday Card at Home 
Fortunately for you, you can create gorgeous DIY photo holiday cards at home — and you won't even have to break open the craft table. To make your own holiday card, follow these simple steps: 
Pick out your favorite photos:

Pull out the photo albums, empty the shoeboxes of photos, and scroll through the endless albums on your phone. Try to narrow your choices down to 1-6 options to send to friends and family. (Remember: Many

design templates

allow you to send a collage, so you don't have to narrow your choice down to just one photo.)

Collect your loved ones' email addresses:

To send out your

holiday card

, you don't need to do a mail merge, lick hundreds of envelopes, or even add a physical

return address

. Instead, simply upload your friends and family member's email addresses to Excel, save as a .CSV file, and upload to Greenvelope.

Browse photo card designs:

Browse through hundreds of

digital holiday card designs

and choose the photo card that suits you best.

Customize your message:

You can easily create a

custom holiday card

through Greenvelope by customizing the wording, adding your family names, and even the

color scheme

. 

Celebrate the holiday season:

When your

holiday card

is finished, simply press send and it lands in your

loved ones

' inboxes within minutes. No need to worry about your

greeting card

getting lost in the mail or dealing with a backed-up post office. 
What to Write in Your Photo Holiday Card 
Now that you know how to build your own holiday card, you can decide on the phrasing you wish to use. Here's a bit of inspiration for heartfelt, holiday messages to include with your card: 
Merry Christmas

and Happy

New Year

to you and your family! Our greatest gift is having so many wonderful family and friends like you in our lives.

Here's to a meaningful

Hanukkah

! Wishing you and your family peace and blessings this

holiday season

. 

Season's greetings

from our family to yours! We wish you nothing but health, joy, and celebration in the next crazy year. 

Happy holidays

and cheers to the New

Year

! The highlights of our year include the

birth announcement

of our granddaughter and kicking off our retirement with a trip to the Grand Canyon. Thank you for all your well wishes! 

Happy holidays

from our family! We hope you're cozying up with friends, family members, and other

loved ones

— have a spiked eggnog in our honor! 

Holiday greetings

from our family to yours. In the past 12 months we've been blessed with many visits, texts, and phone calls from each of you — we hope you know that each message means the world to us. 

We hope your

Kwanzaa

is filled with joy and prosperity. We are so grateful to have each and every one of you in our lives. 

Happy holidays

to your family! Our

year-in-review

featured snow ball fights, a river rafting trip, plenty of campfires and movie nights, and family dinners. Our hearts are full, and we're so blessed to know each of you.
Holiday Photo Card Designs to Send to Family and Friends 
Greenvelope has a number of gorgeous, high-quality designs that work as Christmas cards, Hanukkah cards, or even New Year's cards. Here are a few templates to send to your loved ones:Â 
1. Winter Trees Card
This modern card features a neutral green and black color palette with a matte finish. There's enough room for one framed photo with a simple "Happy Holidays" written near the top-right corner.
2. Let Your Light Shine Card
This whimsical card features a blown-up photo as the entire background. You can use the wording, "Let your light shine," or customize the cursive font to suit your tastes.
3. Feature Frame Card
Can't decide between your favorite photo? This red and white holiday card acts as a mini photo book, allowing you to share three adorable photos with your family and friends. 
4. Fun or Whatever Card
This multi-photo card features the phrase, "Oh what fun!" scribbled in gold, playful fonts. You can choose four family photos, making this a playful holiday greeting card to brighten someone's day.
5. Twinkling Lights Card
This simple holiday card features the year in large print followed by a single large photo. You can easily use this holiday design as your family card or a business card for your company.
6. Colorful Folk Wreath Card
This template makes it incredibly easy to design your own holiday card. Simply add your favorite family photo to the inside of the wreath, then write a quick, "Happy holidays!" to your loved ones at the bottom.
7. Howlidays Card
​​
Do your furry friends make up the bulk of your family? Share a photo of your fur baby on this holiday-themed cardstock, then write a quick note of well wishes to family and friends.
8. Happy Hanukkah Card 
This elegant, yet sophisticated design would work well as a holiday card or even a wedding invitation. Simply add a background photo of your family, then write your own greeting on the back of the flat card.
9. Six Wishes Card 
If you can't make up your mind this season, you simply have to go with this photo paper card. It features six slots to capture your favorite moments of the year. 
10. Year of Gratitude Card 
This simple holiday card would be a beautiful fit for a religious Christmas or even a casual holiday gathering. With a neutral color palette, metallic accents, and space for one photo, the design can easily be customized to suit your family's needs.
Greenvelope Makes it Easy to Send Your Photo Holiday Card 
Each year, life seems to get increasingly hectic. Fortunately, sending out a photo holiday card is a fun way to update friends and family on your ever-evolving life.
With Greenvelope, sending out a holiday photo card has never been easier. Simply collect your loved ones' email addresses, choose your wording, then customize a design template to suit your tastes. Then, fire off your card and your holiday message lands within your friends' and family members' inboxes in minutes — no post office needed.
Ready to get a jump start on your holiday cards this year? Browse hundreds of gorgeous holiday card designs to get started.