June 4, 2020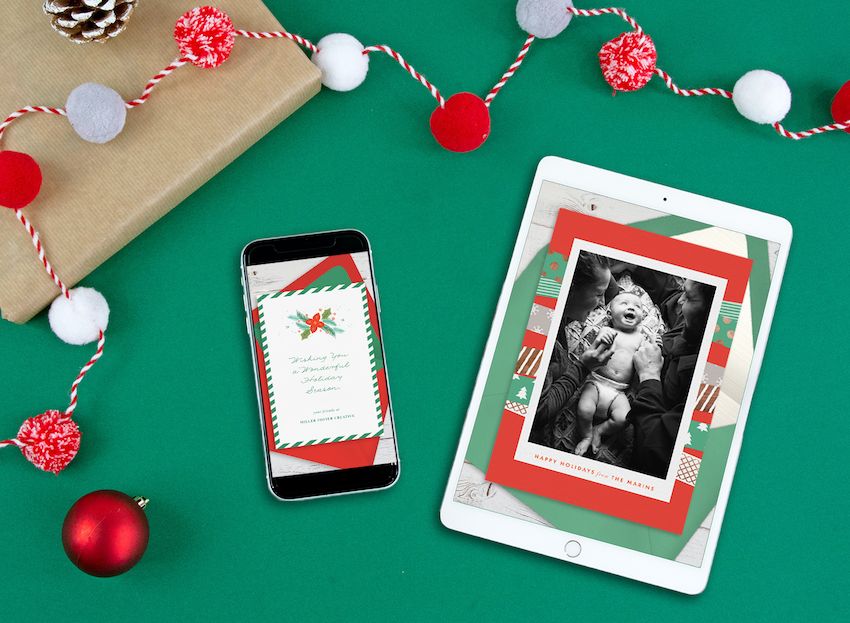 Ah, the holidays. There's nothing like a little fa la la and ho ho ho to make you feel warm and fuzzy. Whether you celebrate Christmas, Hanukkah, Kwanzaa, Chrismukkah, Festivus, or your own personal tradition, there's no denying that it's the most wonderful time of the year.
But it can also be a somewhat stressful season between planning holiday parties and traveling to visit loved ones, not to mention picking out the perfect gifts for everyone on your list.
To help keep the season bright (and your spirits light), we've created this list of brilliant digital holiday cards that are sure to inspire you. But first, let's explain why choosing online holiday cards instead of traditional postal mail cards is the way to go.

5 Reasons Why Going Digital Will Make Your Holidays Happy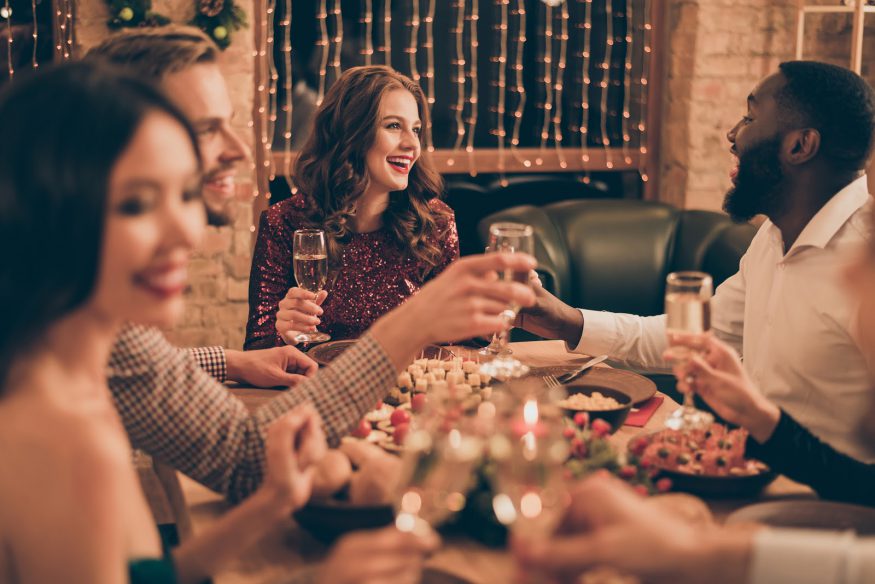 'Tis the season of giving, and to honor that, we're sharing the top reasons why giving digital holiday cards to your friends and loved ones is sure to bring a smile to their face.
Limitless possibilities: The ease and level of personalization with digital cards can't be beaten. You can customize the colors, typeface, envelope liners, message, and so much more, all from the comfort of your computer.
Cuts cost considerably: Custom holiday cards can be pricey, particularly if you choose upgrades on the size, cardstock, and other design details. On the other hand, digital cards are much more affordable even with the most intricate patterns and styles.
Simplifies the process: You can browse and order online anytime without ever having to step foot in a store.
No post office, no problem: Bypass the hassle (and expense) of paying for stamps and wondering when the cards will arrive. With digital cards, once you send it, your loved one immediately receives it!
You help the planet: Going digital is the responsible thing to do, especially during the holiday season when more paper waste is created. The figures are startling, so you'll be doing your part to be more eco-friendly.
10 Delightful Holiday Ecards for You to Personalize
Whether you're looking for simple or elaborate, traditional or modern, or something altogether different, these unique holiday card designs are sure to spark your creativity and get you in the holiday spirit. Remember that you can personalize these digital holiday cards in any way you'd like, so be sure to browse our full assortment of holiday cards for more ideas.
1. Merry Vintage Ornaments Card
If you love the charm and retro magic of holiday movies like "A Christmas Story," then this festive vintage-inspired Christmas card is for you. Hand-drawn classic ornaments set the stage for the "Merry Christmas" greeting, while the variety of colors add to its cheery vibe. For more ideas, don't miss these personalized Christmas cards.
2. Kraft Plaid Card
The holidays are for gathering with family members and other loved ones, and this lovely three-photo card perfectly captures the spirit of togetherness. The rustic plaid design keeps things casual and playful, serving as the perfect accent for fun family photos.
3. Love & Belly Rubs Card
You're sure to spread some holiday cheer with this adorable pet-themed Love & Belly Rubs holiday greeting card. Whether it's your precious pooch, fetching feline, or handsome hamster, this fun design is a delightful way to include your beloved non-human friends. We love this bright yellow hue for an unexpected pop of color, but you can go a little more traditional with red, green, or a color of your choice.
4. Geometric Star of David Card
Send warm wishes during the Hanukkah season with this eye-catching and modern Star of David card. The geometric patterns are mesmerizing whether you select the blue, taupe, pink, or sand-colored design. We also love how the metallic envelope and lining serve as the perfect complement to the card. Use the backside to add your own personalized message, which could also work for a bar mitzvah or bat mitzvah invitation.
5. Bold Sentiments Card
Peace. Love. Joy. It doesn't get more sincere and direct than that. This Bold Sentiments card is whimsical and dramatic with backside support to customize your greeting. Choose from six different colorways that range from sweet and subtle to bold and bright. (There's even a chic monochromatic option.) Whatever holiday you celebrate, this is a universal message that's especially poignant during the holiday season.
6. Holiday Favorites Card
With its cheerful and nostalgic watercolor illustrations, this Holiday Favorites card is indeed a tribute to everyone's must-have holiday faves: hot cocoa, mittens and pom-pom beanies, Christmas stockings, mistletoe, and, of course, gingerbread cookies. This design would also work great as a holiday party invitation. If you start singing "My Favorite Things" à la Julie Andrews, we won't blame you.
7. Wintery Wood Card
It's a winter wonderland with this Wintery Wood card featuring a beautiful snowy night. The simple "Season's Greetings" message in cursive font is classic while the soft moonlit forest creates a cozy mood. Tailor it with your own personal holiday greeting or send it as a business holiday card.
8. Timeless Joy Card
Oh, joy! This Timeless Joy design is a clean and modern take on the traditional holiday photo card. The gold foil accents perfectly punctuate a bold, glossy backdrop that comes in your choice of red, green, navy, black, or white. Showcase your family photo and add your own personal message or customize it as a business holiday greeting or New Year's card. (We love how the photo featured here juxtaposes silliness and sophistication with everyone in suits striking playful poses.)
9. Beautiful Birch Trees Card
The gauzy holiday design of this nature-inspired holiday card sets the tone for a season of peace and reflection. The beautifully detailed watercolor birch trees are a sight to behold while the tranquil tones of blue, red, or teal will brighten anyone's day. You can also create your own message on this delightfully artistic card.
10. Scrawled Wishes Card
With the "Happiest of Holidays" message written in an ebullient cursive style, this Scrawled Wishes photo holiday card will certainly share your merry mood with all those who receive it. Customize it with your own photo and voila! Holiday card complete. Another idea: create a special engagement announcement with this design or personalize it as a save-the-date.
Digital Holiday Cards Make the Season Bright for You and Yours
Between the shopping and baking, gift-giving, and traveling, it can be easy to get caught up in the whirlwind of the holiday season. That's why in the midst of it all, it's essential to remember that the holidays are about celebrating the best parts of ourselves and spending as much time as possible with loved ones.
Sending digital holiday cards is a wonderful way to save you time, money, and stress so you can be present with those who matter most. And that's the best present of all. Happy holidays!