September 22, 2021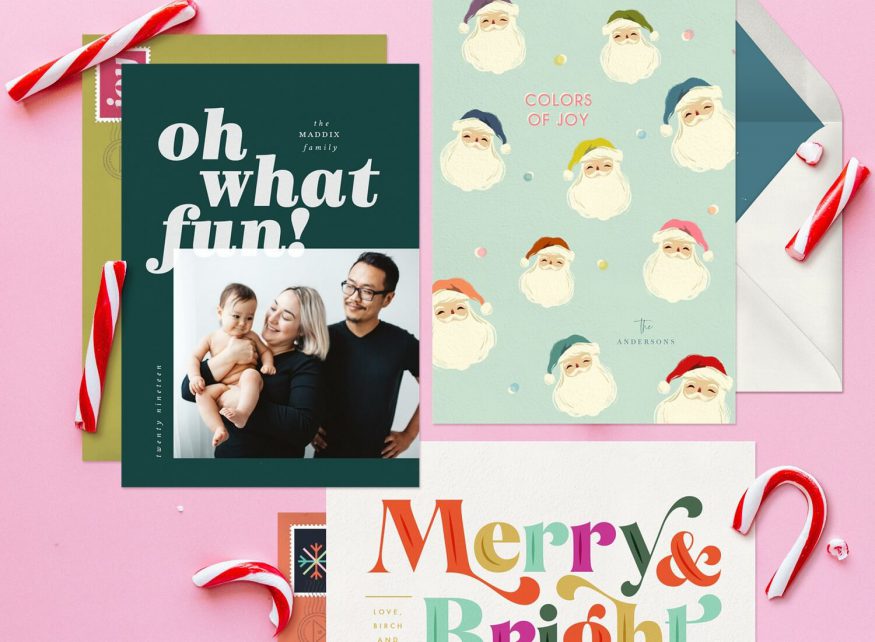 As the famous Andy Williams song says, it's the most wonderful time of the year! The holiday season is all about getting together, celebrating with gratitude, and sending warm wishes to those we love. Whether or not you gather in person, sending heartfelt holiday greetings is a lovely way to spread joy. 
Once you've found your perfect holiday cards, you'll need to find the right words to craft a thoughtful message. From casual to traditional, playful to religious, here are some of our favorite holiday greetings to spread good cheer. 

Short and Sweet Holiday Card Messages
Sometimes all you need is something simple to get the message across in your holiday cards. If you're looking for a minimalist take on holiday greetings, here are some ideas to get you started.
Have a very merry everything!

Happy holidays from the [Name] family!

Joy and love to you all this season

Happy holiday season, [Name]!

Sending you holiday wishes from our family to yours

Merry and bright

Sending sprinkles and snowflakes this holiday season! 

Happy holidays, dear friends!

Have a lovely festive season

Magic and joy to you this holiday season
Traditional Holiday Greetings for Loved Ones
The holidays are a time for reflection, which means that traditional holiday greetings are still well-loved — whether you're celebrating a cultural moment like Kwanzaa or simply want to send some festive wishes. Here are some thoughtful ways to spread that holiday cheer inside your greeting cards. 
Season's greetings, dear ones! 

We wish you a wonderful holiday season

We can't wait to celebrate the holiday spirit with you, [Name]!

Warmest thoughts at this time of year

To good health and good fortune. Happy holidays! 

Have a joyous holiday season, from our family to yours

Santa Claus is coming to town

May the joy of the season be with you 

Wishing you all the best for the coming year, [Name]! 

Warm wishes for the festive season

May this Kwanzaa season bring you love and happiness

We wish you a blessed Kwanzaa
Wonderful Holiday Greetings for Kids
The holidays are such a magical time for little ones. From dreaming about Santa Claus to enjoying all the bright lights, colors, and gifts, no wonder it's a favorite time of year. Celebrate all that fun and joy with these adorable holiday greetings for children. 
Happy holidays to the sweetest member of the [Name] family!

Merry Christmas, [Name]! I bet you can't wait for Santa to visit! 

Happy holidays! Have the best day ever! 

Have you been good this year? Hope Santa brings you a treat! 

Time to get those cookies ready for the big guy. Happy holidays! 

Have a magical holiday season, our little angel! 

Yay, it's [Holiday]! 
Thoughtful Religious Holiday Messages
The end of the year is a time for celebration for so many religions. Whether you're looking for Diwali, Hanukkah, or Christmas card messages, here are some lovely ways to share the joy.
Wishing you a blessed Christmas season

Sending you joy during this wonderful festival of lights!

Have a wonderful Hanukkah! With love, the [Name] family

May this Diwali bring you happiness, health, and good energy

Sending you Christmas greetings from [Name] and [Name]

Wishing you a very happy Diwali!

Peace on Earth and love to all

May you be blessed with everything you need this holiday season
Holiday Messages for the New Year
The holiday season is particularly special because it lasts for more than a day and it also ushers in the start of a new year. If you're looking for a great way to celebrate the New Year, here are some of our favorite ways to do just that. 
Wishing you a very happy New Year!

Happy New Year from our family to yours]!

There's nothing better than a fresh start. Happy New Year!

Sending you warm wishes and lots of good cheer for the New Year

Have a prosperous New Year, [Name]! 

Time to celebrate! Have a great year ahead, [Name]

Let's watch the clock together. Happy New Year!

Ready to break your New Year's resolutions? Let's go! 
Warm Greetings for Business Holiday Cards
The holidays aren't just a time to send warm wishes to family members and close friends inside a holiday or Christmas card. If you want to send some holiday cheer to your employees, boss, clients, or partners, here are some great holiday greetings ideas. 
Best wishes over the holiday season, from all of us at [Company Name]

Happy holidays to you from [Company Name]!

Thank you for all your hard work this year. Hope you have a lovely rest! 

Warmest wishes to you and your family at this time of year 

Joy and warmth from us at [Company Name]

Have a great holiday season with your loved ones. Thank you for everything! 

It's been an amazing year. Enjoy your break and see you in the New Year! 

Have a splendid festive season, from the team at [Company Name]
Magical Holiday Cards to Share Your Well Wishes
Take a look through some of our most beloved holiday card designs to find something you love. Best of all, you customize the colors and wording to create your own digital cards with a personal touch. 
Wonderful Watercolor Card
Beautiful paint strokes always work well on greeting card designs, but it's especially lovely to see on this wonderful watercolor card. The festive colors and script font beautifully complement a sweet family photo. 
A New Leaf
Who says you have to stick with the traditional when it comes to holiday cards? We love this fresh take on a New Year's card with this stunning new leaf design. It's ideal if you want something bright and tropical to surprise your loved ones. 
Folk Art Bird
The holiday season is a great time for handmade gifts, and this folk art bird card is ideal for anyone who loves that kitschy folk aesthetic. It works for close friends and family members, or for a kind neighbor that you want to send holiday greetings to. 
Love & Joy Card
There's something nostalgic about this lovely holiday card. The cheerful, traditional reds, greens, and blues are mixed with contemporary details to create a design that's perfect no matter which holiday you're celebrating. 
Holiday Splash Card
Stunning blooms are always in, and that's especially true for this holiday splash card. The gorgeous, deep greens in the background give way to the perfect place to share this year's family holiday photo.
Playful City Skyline Card
This playful city skyline card is ideal if you're looking for something that's suitable for business but also stylish. The subtle, natural tones with hints of gold and green help you say "happy holidays" with a sophisticated, festive flair. 
Celebrate Together With These Holiday Greetings
There's something warm and fuzzy about sending holiday greetings. From putting together your guest list and choosing your perfect holiday cards to personalizing your own messages — it's a fun experience coming up with something to delight and surprise your loved ones and spread some holiday cheer.