May 6, 2020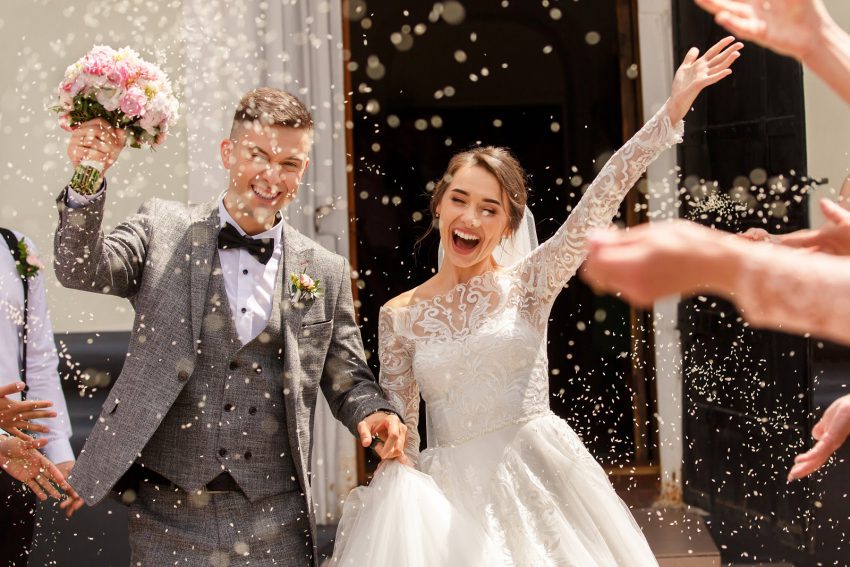 Weddings are some of our favorite events. Months of planning — from choosing stunning wedding invitation examples to creating a tailored menu — culminate in a day filled with love and beauty. Cascading floral centerpieces, glittering chandeliers, and all of your loved ones gathered to celebrate a new partnership — There's truly nothing more beautiful than that.
We won't keep you as we daydream about our love of all things wedding. After all, you've got planning to do! Keep scrolling for seriously stunning wedding invitation examples you can add to your wedding board as you start envisioning your big day.

19 Wedding Invitation Examples You'll Adore
Online wedding invitations are a great way to let friends and family know about your upcoming nuptials. Once you pick the perfect invitation, you can start customizing the design to make it truly your own. Then, just send the invitations via email, and you can focus on other parts of your wedding planning. Not only is it faster to send email invitations, it's also easier for your guests to RSVP. They can say yes or no with just one click, and tracking responses is easy since you don't have to keep tabs on hundreds of physical RSVP cards and response cards.
Here are some lovely and exciting wedding invitation examples to help you pick the right one.
1. Love and Light Invitation
Shine a bright light on your celebration of love with these colorful wedding invitations. The invitation features a subtle rainbow, which symbolizes a promise of good things to come. Make this invitation your own by switching up the background color to fit your wedding day theme.
2. Layered Florals Invitation
Whether you're planning an Eco Chic wedding celebration or just looking for something to complement your stunning floral arrangements, this floral invitation is bursting with natural elements. Featuring hand-painted florals in vibrant hues, it's the perfect way to make a bold statement about your commitment.
3. Enthralled Invitation
These moody wedding invitations feature a hand-painted alcohol ink background that is sure to catch your loved ones' attention. The gold foil adds a touch of elegance and you can customize the invitation by switching up the background colors. Colors range from a stunning steely gray to regal emerald and ruby hues.
4. Mt. Rainier Invitation
If you're getting wedded in the glorious beauty of a national park or forest lands, this woodsy invitation celebrates the natural beauty of Mt. Rainier and the forests around it. Paired with the double-sided save the date, these invitations truly sum up the beauty of nature and your union.
5. Birds of Paradise Invitation
With this invitation, it's all about palette and pattern. The colorful invite invokes visions of sun-drenched strolls near tropical waters. With bold and modern design details, the invitation also includes hints of retro style, blending the designs in harmony — just like your matrimony.
6. Exquisite Peacock Invitation
Celebrate beauty and poise with this signature Greenvelop invitation. Ideal for a sophisticated wedding, the invitation features patterns invoking the style of mandalas and peacocks in nature.
7. Shimmering Snowfall Invitation
This winter-themed invitation draws on the stunning wonders of wintry days. Just like snowflakes, no two love stories are the same. Celebrate the unique wonder of your marriage with this wintry design. The fine line and classic typography make this invitation suitable for both formal and casual affairs.
8. Pressed Palms Invitation
Simple and sophisticated, this crisp invitation is all about minimalism. Embossed leaves add an air of elegance and simplicity elevated by the chic and green design. It's the perfect choice for eco-friendly wedding ceremonies and green affairs.
9. Wedding Bands Invitation
Representing the infiniteness of your unity, this formal invitation features a pair of interlocked wedding bands. With a style that is romantic and elegant, it's the perfect way to invite your family members and loved ones to share in your special day.
10. Indian Inspired Invitation
This opulent wedding invitation will thrill your guests thanks to its intricate illustrations and lustery shine. Shimmer and shine your way to bliss with the henna-inspired designs and vibrant hues that announce your wedding reception will be one of celebration, merriment, and fun.
11. Gilded Agate Invitation
A modern and unique take on natural elements, this gem-inspired invitation offers all the details of your nuptials in a stunning, precious stone design. The gold-brushed edge takes the invitation to the next level of sophistication and style. Customize it by selecting different colors and text styles to suit your personality.
12. Burgundy Blossoms Invitation
Watercolor florals and geometric accents make this floral wedding invitation the perfect complement to a spring or fall wedding. Dress it up with a darker background color or let the design speak for itself. It's perfectly suited for weddings celebrated in a house of worship or in the great outdoors.
13. Rustic Lace Invitation
Celebrate the union of rustic design and delicate notes with this rustic wedding invitation. The background features an image of intricate wood, highlighted by the dainty addition of lace. Blending modern text with bucolic designs, this invitation is right at home at vineyard or barn weddings.
14. Luxurious Watercolor Invitation
This sweet wedding invitation is soft and enchanting, inviting your guests to join you on your magical day. The simple layout keeps the focus on your event and the watercolor print offers elegance and understated style.
15. Cascading Foil Invitation
Can't contain your excitement? Shout your love from the rooftops with this bold wedding invitation. The cascading foil frames your event details and the large bold print helps you share your joy over your forever partnership.
16. Double Laurels Invitation
Make the day all about you with this photo wedding invitation. The bold and modern text keeps things simple and highlights the most important part of your wedding — you!
17. Sea Glass Invitation
Feel like you've found long-lost treasure in the form of your fianceé? This sea-inspired invitation welcomes visions of treasure from the depths of the sea in an abstract design. The bold wording highlights the couple's names and other important information. The texture of this invitation design and bright blue hue invite guests to celebrate your big day in style.
18. Monochromatic Abstract Invitation
This abstract invitation invokes visions of abstract paintings and pairs monochromatic style with geometric design. It's a modern dream that can be customized using five different color combinations.
19. Jewel Of The East Invitation
This offbeat invitation is inspired by Bombay, a city renowned for its art deco design and architecture. The dripping gold foil and crisp lines make it the ideal accompaniment to an exotic destination wedding. It's part of a larger wedding invitation suite that features a separate card for the save the date and thank you notes.
Wedding Invitation Etiquette and Wedding Invitation Wording Examples
Wedding invitation wording can change the style and tone of your day. Saying "pleasure of your company" is a great way to casually but properly invite guests to your big day. Formal wedding invitation wording like "honor of your presence" indicates a more upscale event.
Don't forget to include details like the wedding dress code if you want people to know it's a black tie, cocktail, or casual event. Make sure to include the wedding date, a host line if needed, the location, and your wedding website if you have one.
Since families are unique, you can choose with your partner how you'd like to word information and who you'd like to include. Your invitation may include the names of both sets of parents, just the bride's parents, just the groom's parents, or only the bride's name and groom's name. It's your big day so make it how you want it. That's the beauty of these wedding invitations, they're entirely customizable to fit your needs.
Wedding Invitations Without the Hassle
We think choosing and designing a wedding invitation should be fun. These invitations should inspire and excite you to celebrate your wedding day. Aside from your invitation design, you can customize and choose the information you want to include. That includes everything from step-parents and parents names to middle names and location details.
No matter what type of wedding you want to have, there are online invitations to suit your tastes. From abstract and geometric designs to floral, natural themes and sophisticated delights, these wedding invites are designed to help you celebrate your unique love. Choose one of these stunning designs or browse more digital invitations to find the perfect invite to complement your wedding.