September 20, 2022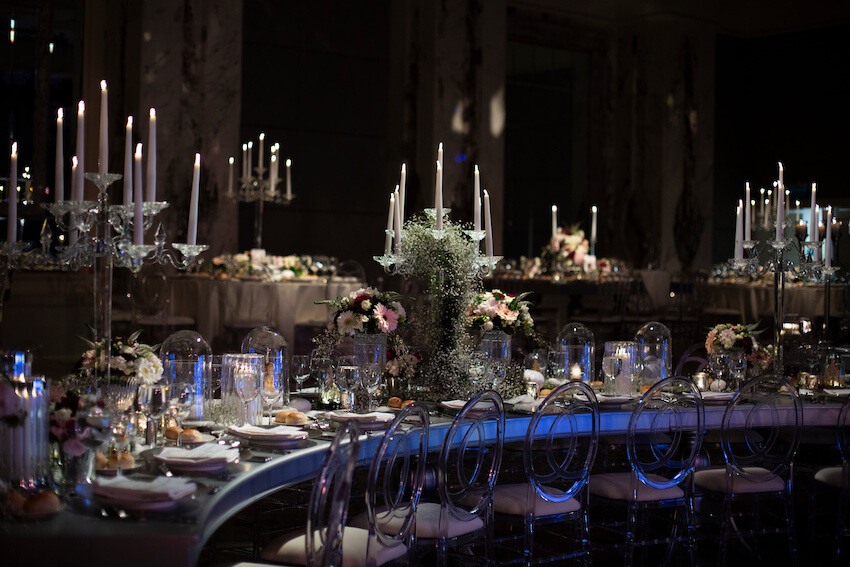 There's something beautiful and magical about a gothic wedding. There's a sense of mystery, atmosphere, and romance — and striking contrast between delicate details and dark hues. To help you plan your dreamy gothic nuptials, we've brought together some of our favorite gothic wedding ideas. It's time to create an event you and your loved ones will remember forever. 

What Is a Gothic Wedding?
Gothic (or goth) weddings typically center around colors, themes, and decor that have a gothic sensibility — think black lace, deep red roses, and hauntingly beautiful venues. Gothic aesthetics stem from the namesake architecture that was popular in Europe during Medieval times from the 12th through 16th centuries. Noted for its ornate style of vaulted ceilings and pointed arches, it has an almost haunting quality. Likewise, gothic literature exudes a sense of the "dark side" with moody, mysterious, and even supernatural elements. 
While a gothic wedding deviates from the soft and white color palette of a traditional wedding, it's certainly not an uncommon theme. Gothic weddings have an alluring quality that allows you to embrace a variety of glam and unconventional details. (Skeleton couple wedding cake topper, anyone?)
And as with any wedding, you can have fun making your own rules. Maybe you want to go all-out with a spooky, gothic-inspired Halloween-themed wedding. Or perhaps you want a more subdued, elegant gothic wedding that gives a stylish nod to all things mysterious. You could opt for a traditional wedding ceremony and reception with plenty of moody decor or have fun hosting your celebration in a haunted mansion. 
How to Create Your Fairytale Gothic Wedding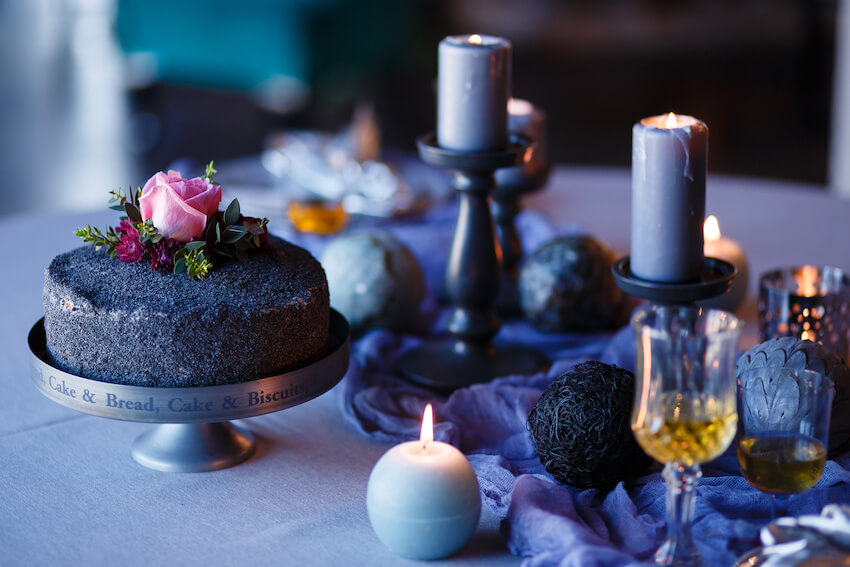 You know you want a gothic-themed wedding celebration, but what next? Here's how to take your ideas and turn them into a real-life plan for your dream wedding day. 
1. Decide What Gothic Means to You
Everyone has a slightly different take on what a gothic-themed wedding looks like. You might picture everyone dressed in black, a moody soundtrack, and a venue to rival the most incredible haunted house. Or maybe you want a gothic twist on a vintage wedding with pastel-colored bouquets, black pearls, and elegant candelabras. 
2. Find Your Ideal Gothic Wedding Venue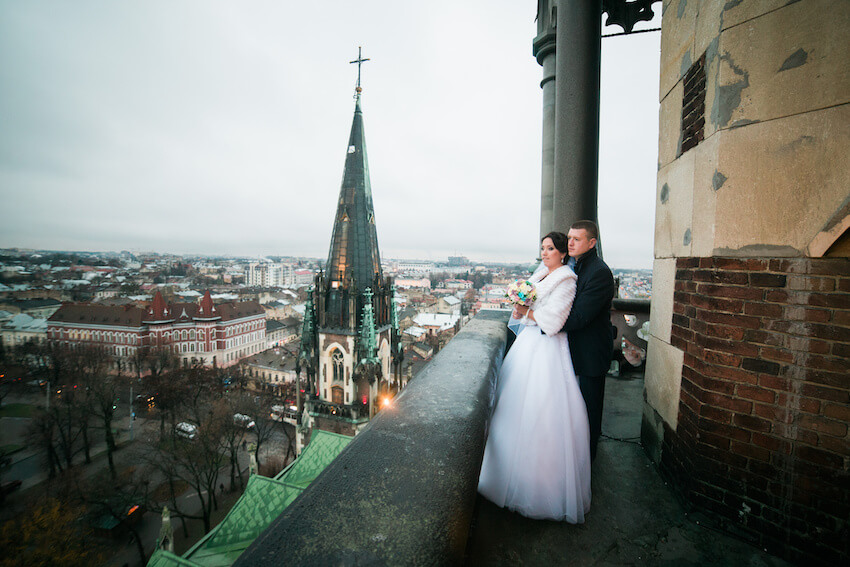 Once you've decided on your overall gothic style, start thinking about where you'd like to host your wedding ceremony and reception. Victorian villas are a popular choice, as are historic castles or barely-lit cabins by the lake. Look for a wedding venue that has an atmosphere either with decor that you already love or that you could style to look the part. 
3. Choose Your Color Scheme
What often makes a gothic wedding stand out is its gorgeous color palette. While blood red and matte black make a striking color combination, you could pair off-white fabrics and delicate lace with shades of black, gray, deep reds, and dark purples for an elegant look. Add in some softer tones through floral arrangements and hair accessories for a more vintage-inspired twist, or go for an all-black wedding theme if you dare.
4. Get Inspired by the Season
A gothic-themed event feels perfectly suited for a Halloween wedding or a fall wedding with those gorgeous autumnal colors and chilled air. That said, don't be afraid to host a gothic wedding in the spring or summer — use your wedding flowers, tablescapes, and invitations to add some seasonal freshness to the darker vibes. 
5. Wow Your Guests with Unusual Wedding Attire
Swap the traditional white wedding dress or black tuxedo for something more fitting for your gothic wedding theme. If you still love those classic elements, give them a gothic spin — like a vintage corset, a delicate lace veil, or a shirt that wouldn't look out of place in a gothic mystery drama. For something really dramatic, a black wedding dress or dark ball gown with tulle works well. 
6. Set a Gothic Wedding Dress Code
Most weddings have a dress code, and your gothic wedding doesn't have to be an exception. In fact, it's an opportunity to invite your wedding guests to join the fun and choose a more unconventional outfit. Stick to a traditional dress code like formal or cocktail, or suggest that your guests come in a dark or jewel-toned ensemble to complement your theme. 
7. Invite Your Guests with Gothic Wedding Invitations

For a wedding this beautiful, you need wedding invites to match. Fortunately, Greenvelope offers a collection of online invitations to match your chosen gothic wedding theme — whether it's classic or spooky. Browse through our gothic wedding invites, find a design you like, and customize it with all the details for your special big day. 
8. Choose Dramatic Wedding Flowers
Beautifully designed gothic floral arrangements can help you bring your theme together and evoke the right atmosphere. Roses, dahlias, and carnations in dark hues are a popular choice for a gothic-themed wedding day. Sprinkle in some delicate blooms in pastel tones to add contrast, or opt for all-black roses for a distinctive take on wedding flowers. 
9. Be Inspired by Your Favorite Gothic Media
Your wedding day is the chance to dream up something of your own creation, but you can also borrow inspiration from your favorite movies, TV shows, bands, and artwork. Style your wedding attire based on one of your favorite movie characters, or seek out a venue that reminds you of a haunted house in your favorite gothic drama. 
10. Style Your Venue with Gothic Wedding Decor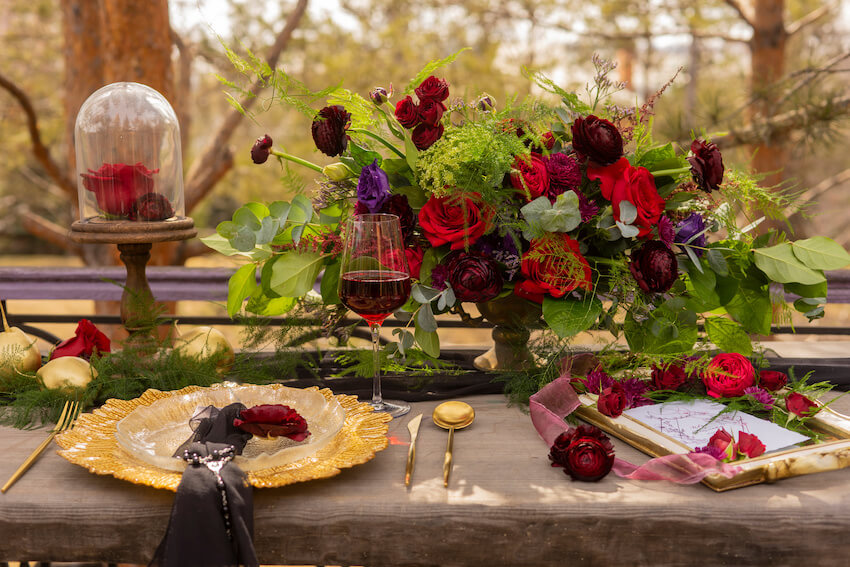 A goth wedding theme gives you lots of room to play with decor and unleash your creativity. Make things spooky with faux cobwebs, pumpkins, and mystical wall art. Or for gothic romance, frame filtered photos of the two of you alongside floral centerpieces tied with black lace. Style your tables with beautiful linen tablecloths and metallic-accented table settings, then light the space with candlesticks for a soft glow. 
11. Handpick a Gothic Wedding Photographer
When looking for a wedding photographer, it's always a great idea to choose one who specializes in the look and style you love. Seek out photographers with experience in goth weddings as they'll know all the best ways to capture the atmosphere of your celebration. Run through these questions to ask your wedding photographer to confirm that you're all on the same wavelength when it comes to your photo style.
12. Serve a Goth-Inspired Wedding Menu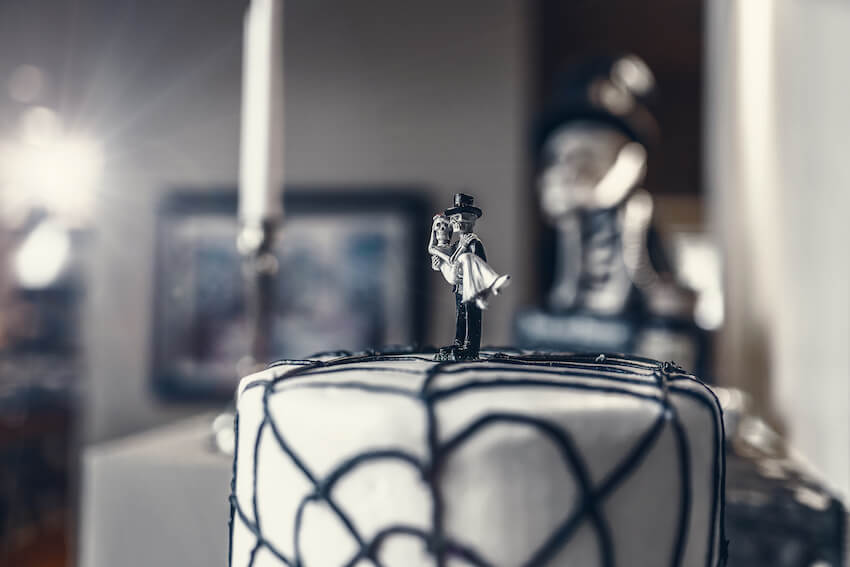 Your wedding day menu is another way you can add your own personal touch. Work with your caterers to see if a Medieval wedding menu would work. Weave in gothic-inspired or spooky elements — like dark berry fruit salads, smoked cocktails, or a wedding cake topped with a skeleton couple.
13. Plan Some Unusual Entertainment
With a gothic wedding, you can be more daring with your entertainment choices. Have someone perform tarot card readings, hire a fortune teller, or have your guests follow a trail of tricks (and treats) through the venue grounds. When it comes to the dancefloor, swap the bright disco lights for a moody atmosphere with a warm glow, and choose a playlist that strikes a balance between gothic romance and songs everyone knows. 
14. Send Your Guests Home with Gothic Wedding Favors
Wedding party favors are always more memorable when they match the theme of the celebration. Decant wine or signature cocktails into giant vials as a take-home gift, or source beautiful oversized vintage keys to give to your guests as a striking home decor piece. 
3 Dark Yet Dreamy Gothic Wedding Invites
Part of planning your big day includes choosing your wedding invites. While there are nearly endless possibilities, here are just a few of our favorite gothic-themed wedding invitations. Remember, you can customize any Greenvelope design to suit your celebration. Consider one of these cards to invite your guests to watch you say "til death do us part."
1. Luxe Dahlias Wedding Invitation
Dahlias are a popular flower choice for gothic weddings, so this luxe dahlias invite is ideal if they're a core part of your big day. The delicate floral illustrations pair well with the elegant font for a sophisticated look while the raw, torn edges of the envelope add a dramatic flair. 
2. Dark Bouquet Wedding Invitation

This dark bouquet wedding invite is stunning, with its deep hues and impressive floral bouquet backdrop. Choose from your favorite of the three colorways or work with a designer for your own bespoke color palette. 
3. Inky Strokes Wedding Invitation
This inky strokes wedding invitation balances simplicity with style, giving you a lovely way to introduce your theme and wedding day — without your guests feeling overwhelmed by the visuals.
Host an Incredible Gothic Wedding for the Ages
The secret to planning and hosting an unforgettable gothic wedding day is in the details. From setting the tone with your venue, decor, and invitations to selecting your color palette, dress code, and menu, use these ideas as wedding inspiration to help you plan your big day.
With the details locked in, look to our collection of gothic wedding invites to find your perfect match. Choose your design, customize the layout, use our wedding invitation wording tool, then invite your guests to join you for a magical, mystical, and magnificent day.