July 9, 2020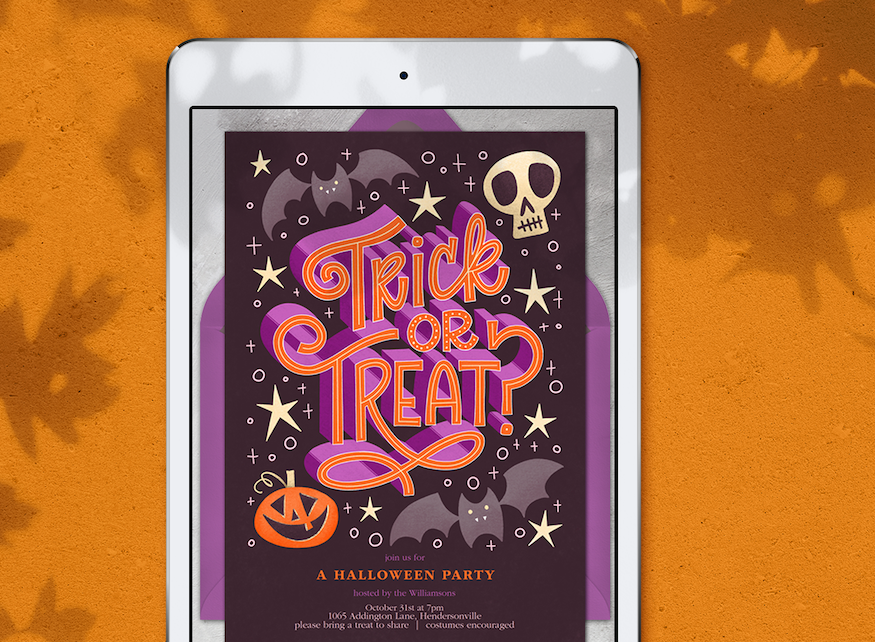 Calling all goblins, ghouls, and creatures of the night! If you're anything like us, you can't wait for the spookiest season of the year to roll around. Halloween is a time to conjure up fun with friends and family, and what better way to make it happen than with a ghoulishly fun Halloween party?
Whether you're going all-out with a haunted house, hosting a dinner party, getting folks together for pumpkin carving, or planning a kid-friendly celebration, you need a Halloween party invite that will scare up plenty of excitement. To that end, we've come up with this handy list of 13 Halloween party invitations that will suit (and inspire) your party theme no matter how chilling (or chill) you want it to be.

7 Scary Good Halloween Party Invitations Grown-Ups Will Love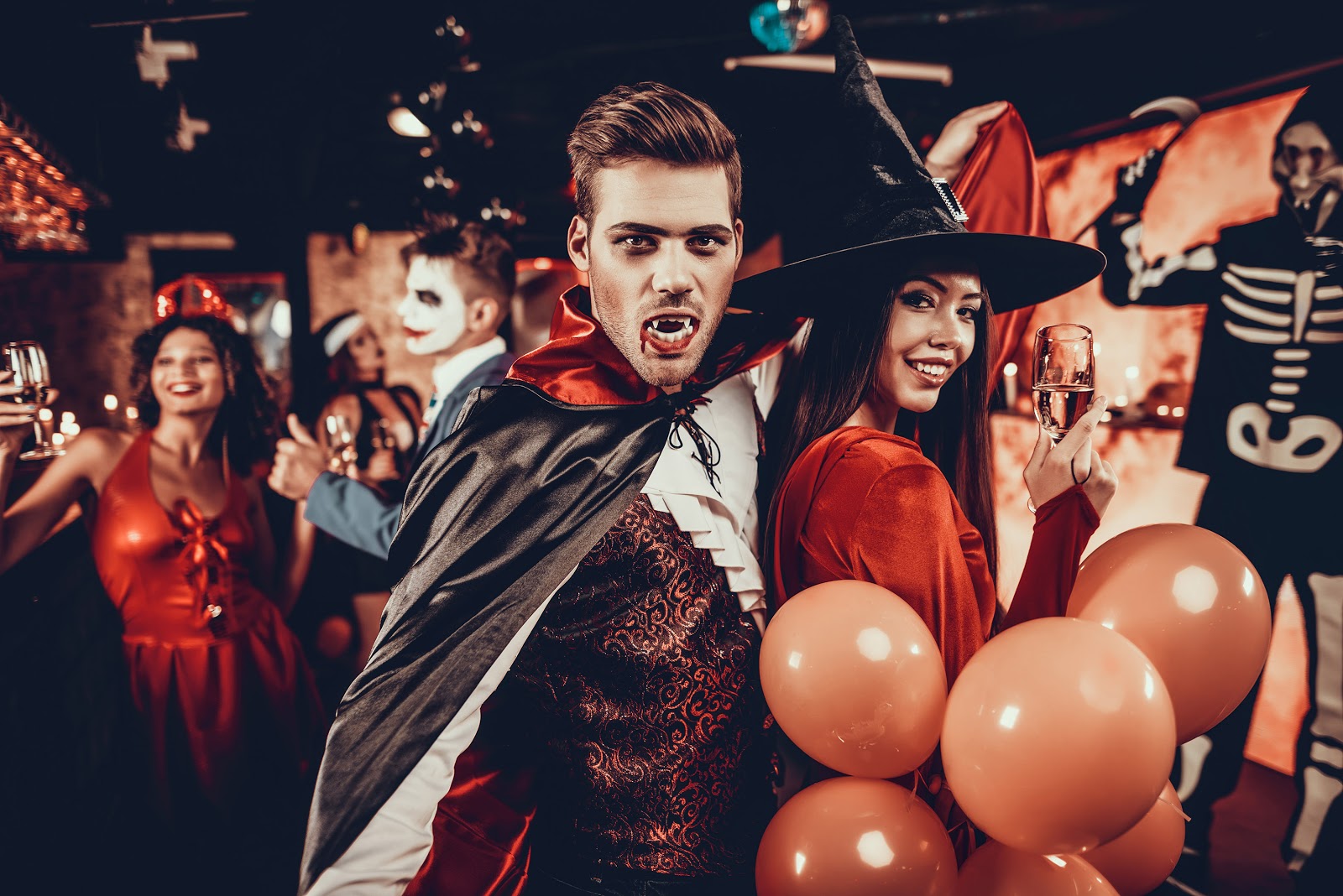 From spooky¬†yet sophisticated to downright macabre, there are plenty of Halloween invites¬†that set the tone for your adult-oriented bash. Sending digital invitations¬†is the easiest way to go 'ÄĒ with no need to worry about postage and an endless array of options. Customize any of these digital Halloween invitation templates¬†in a matter of minutes and watch the replies roll in. Bonus: Online party invites automatically track RSVPs!
1. Boos and Brews Invitation
Framed by spider webs and bats, this fun Boos and Brews Halloween party invite is a study in perfectly contrasting patterns from the black damask-printed background to the bright orange polka-dot envelope liner. Use it for your Halloween cocktail party where you'll raise plenty of spirits!
2. Flickering Flame Invitation
Who says spooky¬†can't be chic? With delicately illustrated wax candles, metallic pinstripe framing, and a glittery gold envelope liner, this Flickering Flame invitation¬†sets an elegant tone for your Halloween soir√©e¬†… or seance. Select from a classic black or chocolate brown background.
3. Costumes & Cosmos Card
Perfect for a grown-up Halloween costume party, this Costumes & Cosmos invitation¬†pops with festive symbols, including martini glasses, a top hat, a masquerade mask, and other costume accessories. Choose from three colors 'ÄĒ lime green, violet, and rusty orange 'ÄĒ that are more cheery than creepy.
4. Spooky Mansion Invitation
Let your guests know that something's brewing with this haunted house invitation. The silhouette of a lone home is surrounded by leafless trees, bats, and jack-o-lanterns on the lawn. Update the title and message, and pick from a purple, orange, green, or gray backdrop.
5. Sleepy Hollow Invitation
Summon your guests with this eye-catching Sleepy Hollow invitation that ignites the imagination. It would work just as well for a fancy dinner party as it would for a murder mystery Halloween party theme (notice the droplets of blood on the invite?). However you modify it, this invite foreshadows a bloody good time.
6. Sketched Skull Invitation
Although it's a different holiday than Halloween, Dia de Los Muertos is celebrated at the same time of year to remember those who have passed. This hand-drawn sugar skull invitation offers a stylish design that pays homage to the holiday with elaborate rose gold details. Personalize the message and encourage guests to bring something for the ofrenda.
7.Scared to Death Invitation
Yikes! It doesn't get much ghastlier than this Scared to Death invitation in the shape of a morgue toe tag. Bloody fingerprints and splatter punctuate the various fields where you can fill in all the morbid details. This spine-tingling design is a no-brainer for a zombie theme party or any other scary soirée.
6 Family-Friendly Halloween Party Invitations That Won't Spook the Little Ones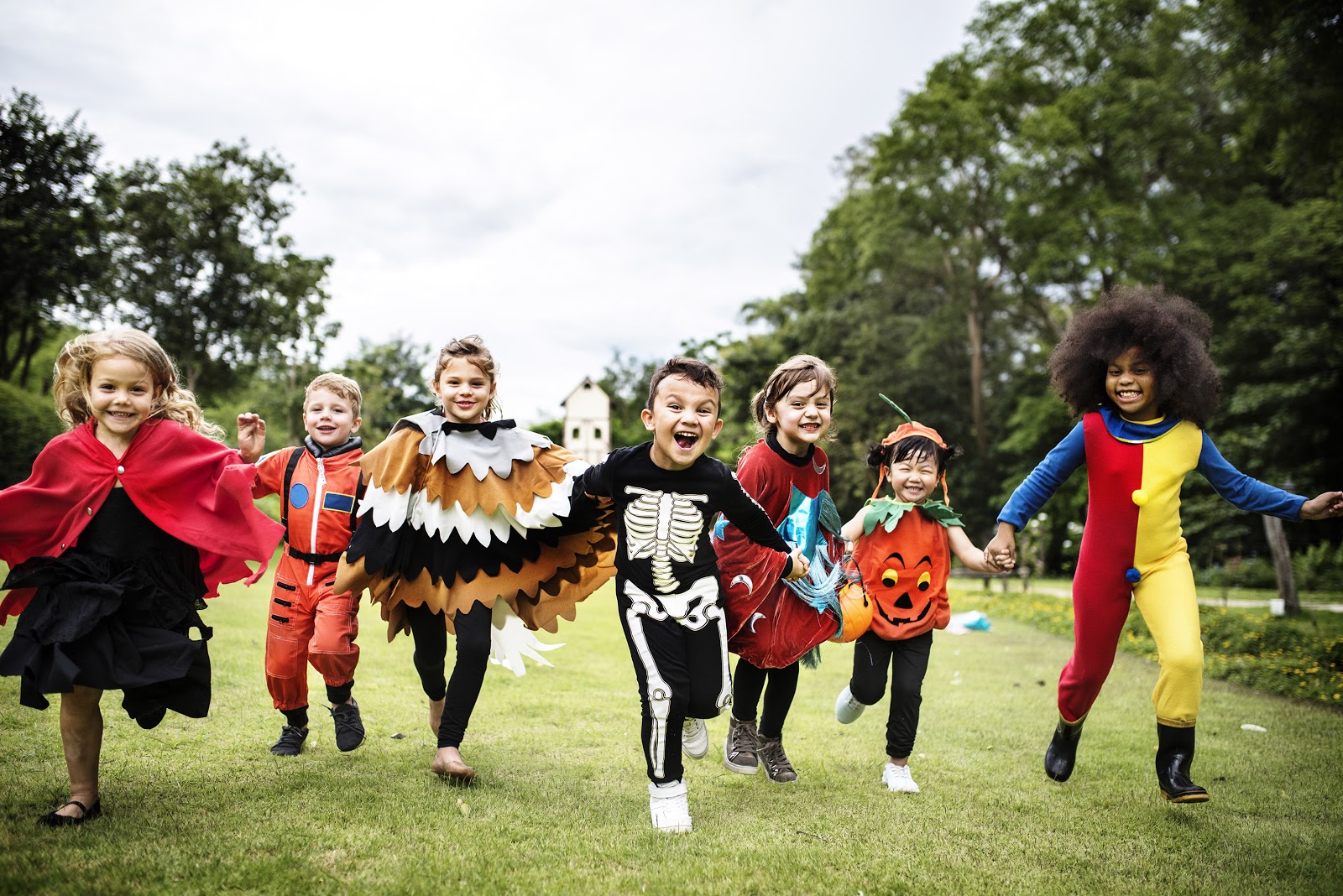 When you have little ones, it's crucial to have a Halloween party that's more fun than fright 'Ā†'ÄĒ and these Halloween party invitations strike the perfect chord for age-appropriate amusement. Whether you head out trick-or-treating, or are having some alternative Halloween fun, get ready for some truly happy haunting!
1. Cute Monster Party Invitation
Hey, guys and ghouls! With its adorably motley crew of monsters, ghosts, and pumpkins, this cute monster-themed invitation comes with an equally adorable envelope liner. Change the colors and update the text whether you're hosting a kid's Halloween costume party, October birthday party, or trunk-or-treat get-together.
2. Trick or Treat? Invitation
Encourage those on your guest list to leave the tricks at home and bring their favorite treat with this delightfully festive Halloween party invitation. Bright hues and fun illustrations of stars, bats, skulls, and a jack-o-lantern set a friendly mood. Perfect for a potluck, cookie exchange, or pre- or post-trick-or-treating bash, this buoyant card will get the entire family ready for fun.
3. Pumpkin Patch Invitation
For a pumpkin patch shindig replete with hayrides and apple cider, you can't go wrong with this die-cut pumpkin invitation featuring bold colors, festive pumpkins, and lively lettering. You could also tweak the text to use this invite for a fall harvest social, pumpkin carving session, or any number of family-friendly Halloween party ideas.
4. Friendly Ghost Invitation
Boo who? No need to cry or be afraid of ghosts with this super-cute Friendly Ghost invitation that stands out with vibrant marquee lettering. The charming ghost illustration jumps off the card while bats, clouds, and a crescent moon provide the backdrop. Add your party details so guests know what to expect from the festivities.
5. Pumpkin Stack Invitation
A stack of pretty pastel pumpkins sets the scene for this pumpkin carving invitation that you can customize for any Halloween or fall event. For a decidedly grown-up twist on your family-friendly celebration, update the invite and make it a "Pumpkin Carving and Cocktails" party!
6. Spooktacular Bat Invitation
How cute is this?! Impress your guests with this Spooktacular Bat photo invitation that puts your favorite little goblin center stage. (You could also add a fun family photo with everyone dressed in costume.) Whether you choose a black, white, or purple frame, the fun polka dot envelope liner is the perfect complement. This design is also ideal for a birthday party or pet costume contest.
Have a Frightfully Fun Celebration
When the season of black cats, candy corn, and pumpkins arrives, you know it's time to start planning your Halloween party. Getting your invitation just right is essential for setting the mood and exciting your guests. Fortunately, we know a few things about how to get it done.
The 13¬†Halloween invitations¬†featured in this guide are sure to bring you good luck when putting together your celebration 'ÄĒ be it a spooky¬†soir√©e¬†for adults or a not-so-spooky¬†celebration for the whole family.
Whatever you decide, don't forget that online invitations are your best option when it comes to party planning. They save you precious time and money by letting you manage your guest list, track RSVPs, and send updates all from one spot. Plus, you can choose from dozens of fully customizable designs that have the look and feel of real paper without the added cost or waste.
Ultimately, you'll be able to spend more time scaring up fun ways to entertain your guests, and less time freaked out about everything else. Happy Halloween!