September 12, 2022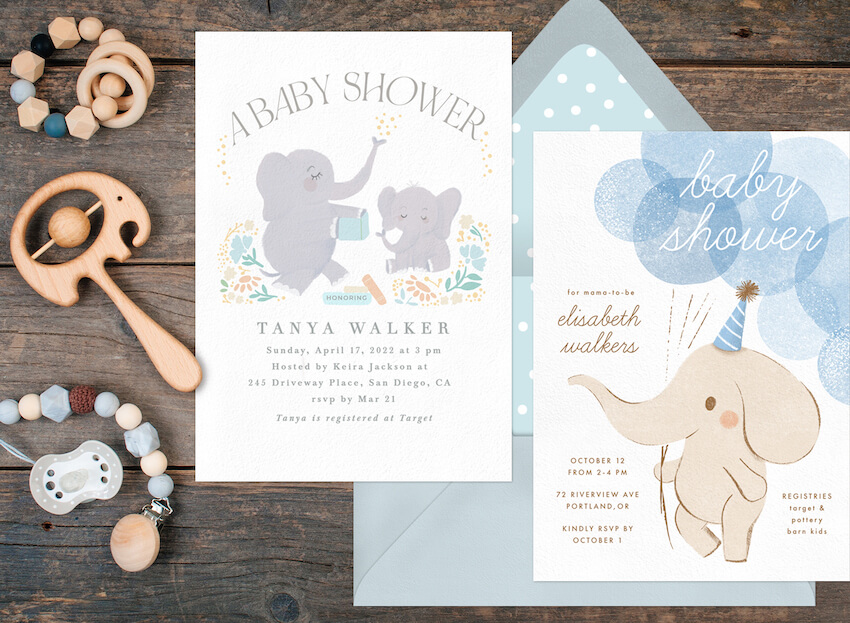 There's a new arrival on the way, and you're in charge of planning a beautiful baby shower! One of the first things you'll want to do is choose a theme — and what could be sweeter than an elephant baby shower? These gentle giants symbolize strength, good fortune, and love. Plus, they're the perfect motif whether you're hosting a boy baby shower, girl baby shower, or gender neutral baby shower. 
Here's everything you need to plan an incredible elephant-themed baby shower party, including ideas for decor, food, games, and party invites.

Adorable Elephant Baby Shower Decor Ideas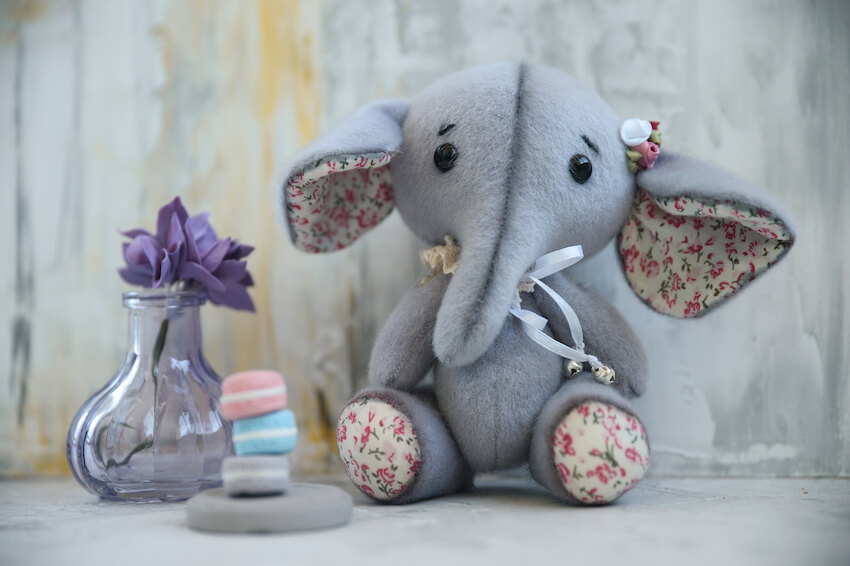 When planning a baby shower, you'll need party decorations. Along with tableware basics (tablecloths, napkins, utensils, paper plates), look for items to amp up the atmosphere. For example, little extras such as table decorations, confetti, centerpieces, and banners make a big difference in bringing the theme to life. 
Be sure to have a baby shower checklist on hand so you can cross off items on your list. Here are a few of our favorite elephant baby shower decoration ideas to get your creativity flowing.
Elephant Balloons
Whether it's a birthday party, bridal shower, or baby shower, balloons instantly turn any space into a festive venue. Look for adorable latex balloons with elephant designs on them, or large elephant-shaped foil balloons that really catch the eye. You can also add other animals for a safari-themed baby shower. Match the balloons to your style and color scheme — whether you're going for gray and yellow, pastel polka dots, or a traditional pink or baby blue color palette. 
Giant Elephant Cutouts
Cutouts and cardboard stands are a fun way to bring your theme to life. Head to a party supplies store or look online for giant elephant cutouts for your event. Stage them around the room to highlight areas like the cake table or game area, or use them to create an elephant baby shower backdrop that's perfect for photos. 
Elephant Centerpieces
One of our must-have elephant decorations is a themed table centerpiece. Plenty of options work well here — you could place a cuddly plush elephant as a focal point, a stack of little elephant toys, or vases of baby's breath surrounded by elephant figurines and balloons. 
Elephant Baby Shower Food Ideas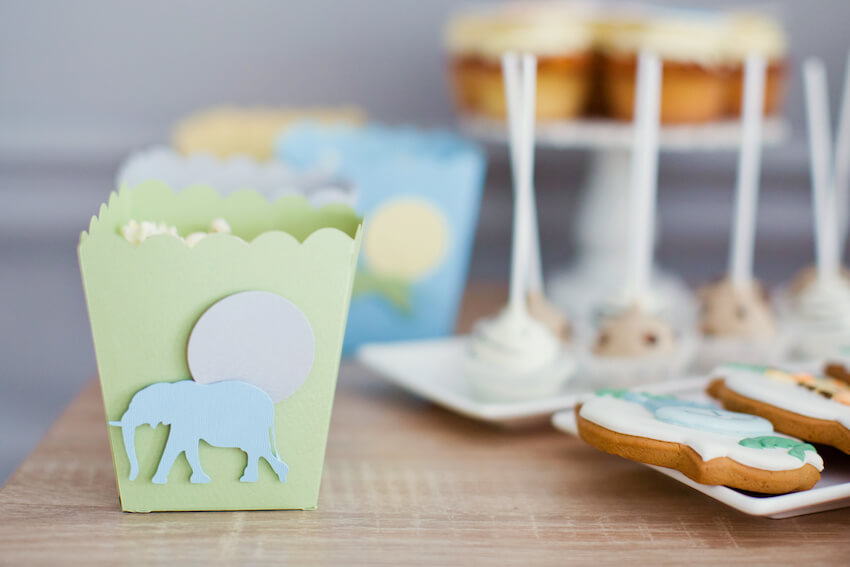 It's not a party without food, so treat your guests to tasty bites with these elephant-themed menu ideas. 
Elephant-Themed Cake
Cakes aren't just for weddings and birthdays — they're great for baby showers too. Choose a classic design with an elephant cake topper, or ask a baker to hand decorate cupcakes with elephants on them instead. If you're hosting a gender reveal baby shower, you could also use a blue elephant to say "It's a boy!" or a pink elephant for a baby girl. 
Pizza Pinwheels
For something savory to go with the sweet, try these pizza pinwheels. Not only do they look like an elephant's trunk, but they're also a tasty snack. You can swap out the pepperoni in the recipe for any fillings you prefer, or keep it classic with cheese and tomato.
Savory Snacks
Round out your elephant baby shower menu with savory snacks that remind you of these gentle giants. Fill elephant-themed containers with little peanuts, popcorn, or Nutter Butter cookies. 
Fun Elephant Baby Shower Games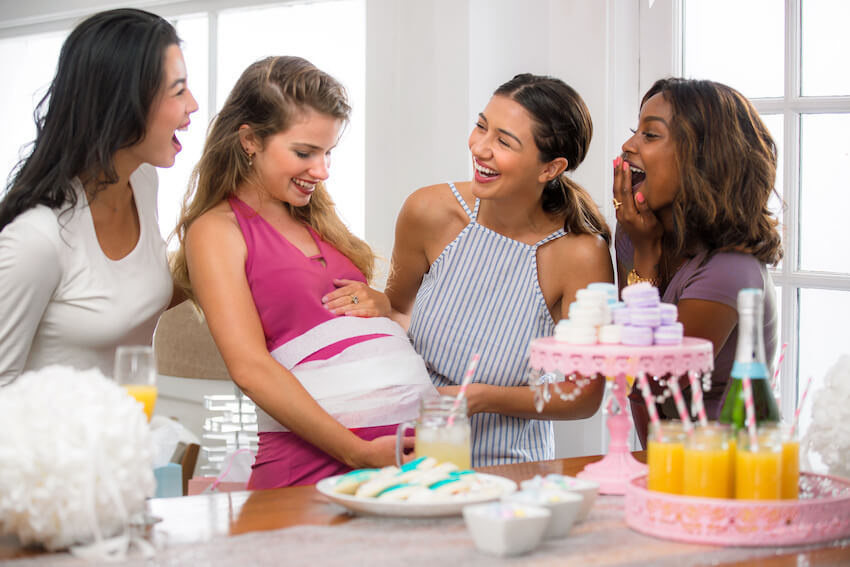 There's no shortage of wonderful baby shower games out there. You could fill out parent advice cards, guess how many squares of toilet paper it takes to wrap around the expectant parent's belly, and make baby predictions on weight, eye color, and date of arrival. Here are a few themed ideas to add to your collection of party games.
Baby Animal Bingo
Bingo is always a hit and it's easy to tie in an elephant theme. DIY your own safari-inspired bingo boards, seek out printables on sites like Etsy, or use a bingo generator to come up with even more options. 
Guess the Baby Animal
This is another fun baby shower game that'll work perfectly for an elephant baby shower. You can go in a couple of different directions — guests can either guess what the animal is by looking at a photo or provide the proper baby animal name. For example, a baby fox is called a kit while a baby elephant is a calf.
Baby Elephant Diaper Change Relay Race
You've heard of the classic diaper change relay race, where you work in teams to see who can change the diaper on a doll the fastest. Recreate it with a stuffed toy elephant for a fun twist on this traditional game. 
Sweet Elephant Baby Shower Favor Ideas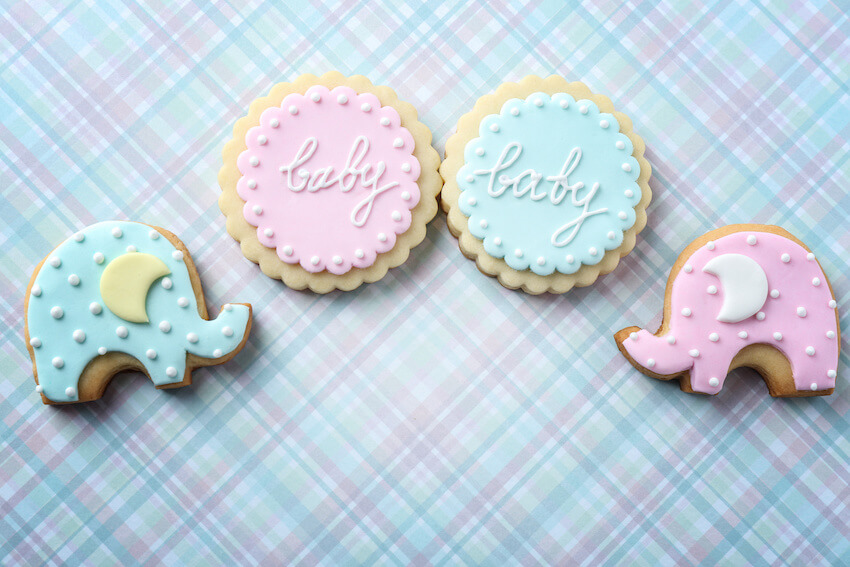 While they're not essential, sending your baby shower guests home with party favors is a thoughtful way to thank them for their time, support, and gifts. Keep it simple with little jars of jelly beans or mints. Or delight them with one of these on-theme ideas.
Elephant Theme Soap
It doesn't get much cuter than miniature soaps in the shape of little elephants. Whether you create DIY cookie-cutter soaps or buy pre-made versions in bulk, this makes for an adorable baby shower party favor.
Elephant-Shaped Cookies
Cookies make excellent baby shower party favors. Not only are they delicious, but they're easy to customize for your theme. Bake sugar cookies and decorate them to match the party's color palette or order custom cookies for the special day. 
Elephant Keyring
A keyring isn't just a sweet party favor but it's practical too. Look for an elephant design that's in keeping with your chosen style — whether that's whimsical, contemporary, or traditional. 
Our Favorite Elephant Baby Shower Invites
With a baby shower theme this sweet, you'll need invitations to match. Here are a handful of elephant baby shower invitations to give you some inspiration. Greenvelope's online invitations are fully customizable so you can change the colors, layout, and wording to suit your celebration.
Party Pachyderm Invitation
This party pachyderm invitation is too cute with its unique illustration of a happy little elephant. Choose from six different pastel colorways and use the blank backside to provide as many party details as you like.
Sweet Baby Elephant Invitation
The pastel watercolor backdrop and hand-painted elephants on this sweet baby elephant design make it stand out as one of our favorites. Celebrate with pink, yellow, or blue, and add your own wording to complete this baby shower invite. 
Storytime Elephants Invitation
If you're looking for a cute yet contemporary design, this storytime elephants invite is ideal. We love the floral decorations and modern font on the front and the sweet sparkles on the reverse. Choose one of four color options, or work with our designer to add your own bespoke colors to the design. 
Host a Baby Shower Your Guests Will Always Remember
They say an elephant never forgets — and neither will your party guests with these elephant-themed baby shower ideas. Use this guide to map out the decor, food, games, favors, and all the baby shower ideas you need to plan a memorable event.
Once you've found your ideal party date and figured out the details, take a look through our elephant baby shower invitations to find the perfect match. Customize the colors and wording, then send out these sweet invites for a party that everyone will cherish.