September 13, 2022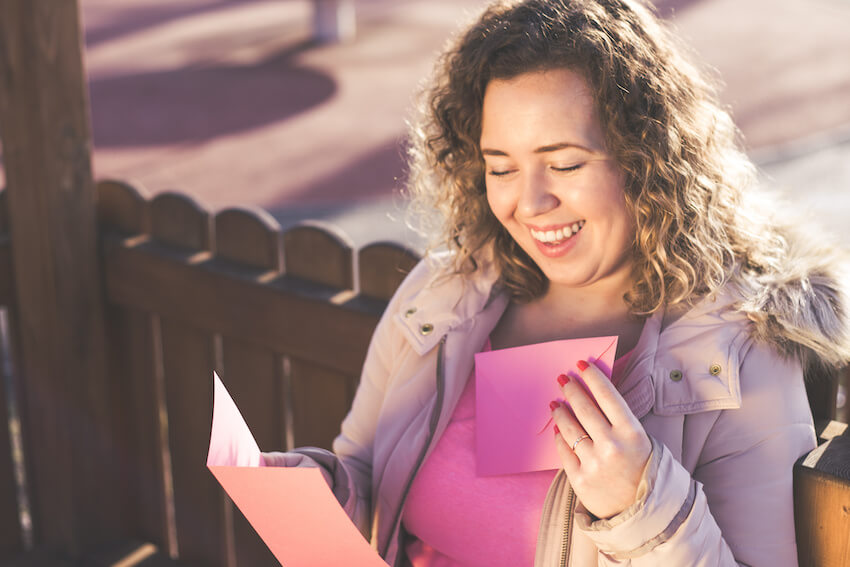 As a bride, your bridesmaids and maid of honor are often your biggest cheerleaders leading up to the big moment and on the wedding day itself. So it's only fitting to find a way to ask them to be part of your wedding day in a fun, heartwarming way. That's where bridesmaid proposal cards come in. 
Consider this your go-to guide for bridesmaid proposal cards. We'll talk about what they are and when to send them, plus share some fun themes and ideas on how to actually pop the question. 

What Is a Bridesmaid Proposal Card?
Also known as a bridesmaid invitation, a bridesmaid proposal card is something you write and give to someone to ask them to be your bridesmaid. It can be a short handwritten note, a homemade card, or a personalized online card. 
Bridesmaid proposal cards often have a theme that matches the wedding invitation suite (including save the dates and thank you cards). For example, the design might have pretty pastels or follow a fall wedding theme. 
While you can send a proposal card to your bridal party, it doesn't have to stop there. Feel free to "propose" to other members of your wedding party too — like your maid of honor or matron of honor, groomsmen, flower girl, and ring bearer. You can tailor each proposal card so it fits the role you want your bestie or other loved one to play. 
When to Send Your Bridesmaid Proposal Cards
You can send your bridesmaid invitations at any time, but we recommend giving your future bridesmaids plenty of notice — especially if you're planning a destination wedding. 
Aim to send out your bridesmaid and maid of honor proposal cards between a year and six months ahead of the big day. Asking them early means you can share your excitement sooner, and everyone has plenty of time to plan. After all, your wedding party won't just be there on your wedding day, but they'll also be there to help plan the wedding shower or bridal shower, bachelorette party, and all those fun moments ahead of the big day.
If you're getting married on short notice, don't panic. Ask your loved ones to get involved with your ceremony as soon as you can, and ask them to be your bridesmaid in person if that's the quickest route. 
Creative Themes for Your Bridesmaid Invitations
Asking someone to be your bridesmaid is a big moment. To make the moment even more fun, consider a creative theme for your bridesmaid or maid of honor cards. You can also include a bridesmaid proposal gift.
Here, we're sharing some of our favorite themes along with a matching design from our collection of digital invites and cards. With just a few clicks, you can easily customize any design and transform it from a party invitation into a bridesmaid proposal card. 
Delicate Watercolors
Customizable Design: Watercolor Emblem Invitation
A popular theme for bridal party cards is watercolors. Combine the soft, delicate designs with a pastel color palette and you have a beautiful backdrop for your bridesmaid proposal cards. Choose a design like the one above, or if you're feeling creative, try the DIY route and learn how to watercolor your own cards. 
Rose Gold
Customizable Design: Royal Scallop Invitation
Soft pinks and rose golds remain a favorite for bridal showers and weddings, and they're also perfect for your bridesmaid proposal cards. Look for designs with a gold foil effect to really make them pop. For this design, you can easily replace the details with "Will you be my maid of honor?"
Pretty Florals
Customizable Design: Garden Whimsy Invitation
Another classic wedding theme is florals. You can't go wrong with a gorgeous floral illustration, and there are so many options in both timeless and more contemporary styles. Choose a color scheme that you love, or keep an eye out for a card that features your favorite flowers. 
Gemstones
Customizable Design: Colorful Gem Invitation
For a unique motif, try a gemstone-inspired note to pop the question. What's great about the gemstone theme is you can take inspiration either from the deep, rich hues of stones or the geometric shape of them instead. Personalize this design into your own modern bridesmaid invitation and choose from four distinct colorways. 
Walkin' Down the Aisle
Customizable Design: Bach Boots Invitation
Your bridesmaids will be right there as you walk down the aisle, so why not take the proper "steps" with this delightful design? With just a few simple changes, you'll have a funny bridesmaid proposal card that'll show your besties how much you want them by your side. 
All About the Dress
Customizable Design: Bridal Gown Invitation
For something understated yet beautiful, look for a design that features a wedding dress or bridesmaid dress. This classic bridesmaid proposal card works well for a traditional wedding but it can suit quirky wedding themes just as well. 
What to Write Inside Your Bridesmaid Proposal Cards
Many bridesmaid proposal cards will be blank inside, which means there's plenty of space to craft your own message. While this is exciting for some, for others, it can be daunting.
To help you out, here are some of our favorite ways to ask someone to be your bridesmaid or maid of honor. 
Will you be my bridesmaid

, [Name]?

I've chosen my [partner/wife/husband], but I'd love you to be my

maid of honor

! 

The wedding countdown is on. Will you be my right-hand woman?

You've always been my

best friend

, now it's time to upgrade you to

matron of honor

! 

Help me say "

I do

" to [Name]. Will you be my bridesmaid? 

It's always an honor to spend time with you. Will you be my

maid of honor

? 

I can't wait to celebrate this special moment with all my

besties

by my side. Will you do me the honor of being my bridesmaid? 

Be my bridesmaid, [Name]? Please say yes!

I can't imagine my

wedding day

without you.

Will you be my bridesmaid

? 
Take inspiration from these phrases to come up with a proposal message that suits your relationship, style, and tone. Depending on how much you want to write, you could add in a few lines about how thrilled you are, what you're most looking forward to, or how you imagine spending your pre-wedding time together. 
Delight Your Wedding Party with Beautiful Bridesmaid Proposal Cards
Use this guide to help you plan, write, and send stunning bridesmaid proposal cards to the people you want next to you on your special day. Your intended bridesmaids will be so excited to be asked — especially with such a thoughtful card. 
Greenvelope's digital card templates allow you to change fonts, layouts, photos, and color options, so you can send a creatively customized card to your loved ones by email or text — wherever they are. Browse through our engagement party invites to find a design you love, then adjust the colors and text to transform it into a beautiful bridesmaid proposal card. Whatever you choose, it's sure to be a wonderful start to your dream day.