January 2, 2020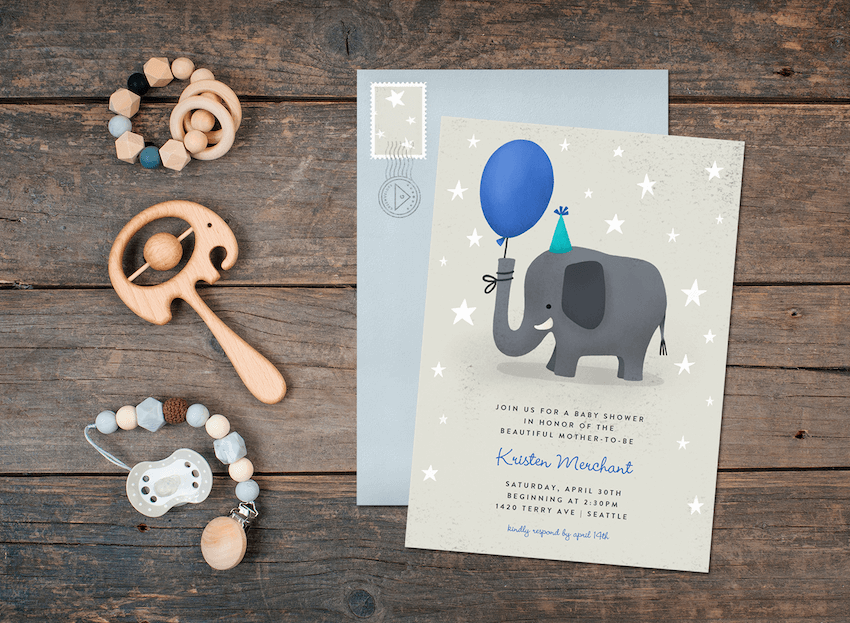 It's no wonder elephants are one of the top animals to feature on baby shower invitations. They're adorable and have the sweetest expressions — much like babies. If you're searching for elephant baby shower invitations, we've rounded up some of our favorite designs. From traditional and adorable to modern and bold, there's something here for everyone.

Our Favorite Elephant Baby Shower Invitations
With so much choice available, we thought we'd bring you our top elephant shower invitations. These bestsellers are digital designs too, so there's no need to worry about postage or keeping track of who has — or hasn't — RSVPed. Pair your invitation with a matching envelopes or customize the liner for a splash of color when guests open the invitation.
Sweet Elephants Invitation
Get friends and family excited about your baby shower and gender reveal with this sweet elephants shower invitation. With a texture effect background and two adorable elephants, this digital invitation is full of love. Choose from four color options that are perfect for baby girls or boys, or customize your design with a bespoke color scheme.
Safari Mama Invitation
We love the charm of this safari-themed baby shower invitation. Along with a sweet elephant, the safari mama design features a lion, rhino, and giraffe that look like they're about to join you at the party. Select your favorite look from chalkboard or textured paper backgrounds, each with their own unique style. There's also space to add details about your registry so people can discover what you want the most.
Animal Parade Invitation
This animal parade baby shower invitation is an adorable way to invite the people closest to you to celebrate your soon-to-be arrival. It features a baby elephant leading the parade, joined by a tortoise and a sweet little bird. The soft illustration works perfectly for a stylish baby shower, with three different color options perfect for baby boys or girls — or ask our designers to match the invites to the color scheme of your nursery.
Mama & Baby Invitation
Mixing two top trends, the hand-drawn and watercolor design of the Mama & Baby Invitation makes it an ideal choice for your baby shower. You can customize the color of the elephants and chevron bottom border, as well as the text and background. Whether you stick with the pastel blue, purple, or green, or opt for a more vibrant look, this design is sure to draw people's attention.
Stacked Elephants Invitation
Bring the "aww" factor with this adorable, eye-catching design. The stacked elephants add a touch of fun and whimsy, while the large banner lets your guests know exactly what they've been invited to. With its pink, green, and blue color schemes, this design is perfect for spring baby showers, but you can always customize it to match your party theme or your guest of honor's favorite colors.
Come One, Come All Invitation
This circus-inspired elephant baby shower invitation is sure to get people talking. With its bold color palette and heavy detailing, this retro-inspired design moves past adorable and brings you eye-catching instead.
Circus stripes and strong fonts all add to the occasion and make this the ideal invitation for a circus-themed baby shower. Whether you choose one of the preset color schemes or make your own, this invitation will get your guests excited about what's to come.
Party Time Elephant Invitation
If you love the circus theme but want something more subtle, the party time elephant baby shower invitation could be just what you're looking for. This sweet digital design features a rustic texture background and stars as a nod to the circus world, which makes it great for both themed and not themed gatherings. There are plenty of color options to customize the accent and envelope color, so you're sure to find something that matches your style.
Safari Animals Invitation
We love this modern take on the safari theme with gorgeous hand-drawn designs and beautiful typography. The subtle foliage behind the safari animals in this baby shower invitation makes them stand out against the dark background. There's just one color choice available with this design, but we think it's perfect as is.
Of course, you always have free reign over the text and envelope customization to really make it your own. This design is double-sided, so there's plenty of space on the reverse to add details about your registry, schedule, and more.
More Sweet Elephant Designs
While you may already feel spoiled for choice when it comes to elephant baby shower invitations, it's always worth exploring more options. Although these designs mention birthdays or birth announcements, it's easy to customize the text, so you can quickly transform them into a unique baby shower invitation.
New Baby Elephant Invitation
Although this sweet design was originally made as a baby announcement card, it's simple to edit and use to invite guests to your baby shower instead. There's a version of the design for couples expecting their first child or for couples adding to their family.
These little elephants surrounded by a polka dot border are sure to make your invitees smile. Find a color scheme that works for you from the five set choices or ask our designers to use your favorite color instead.
Party Elephant Invitation
This fun, modern party invitation could easily become your perfect baby shower invitation with just a few changes to the text. Swap out "birthday bash" for "baby shower," and you're all set. With a playful, illustrated design, this party elephant invitation keeps it simple so the focus is on the party details. Pick from five colorways or make it your own with a custom color — the choice is yours.
Safari Party Invitation
We think the design of these safari party invitations is adorable — just look at that lion's mane! Instead of using these invitations for a birthday party, customize the text to welcome loved ones to your baby shower or baby sprinkle instead. With a design this sweet, it's easy to remember to RSVP. Choose from five color options or tie your invitation into your baby shower theme with a custom colorway.
Happy Elephant Invitation
Wow your guests with this fun, cut-out happy elephant birthday invitation. Transform this birthday party invitation into a baby shower invite in minutes by customizing the text and details.
The cute, playful little elephant does a great job making your guests feel like they want to join you for the celebration. Whether you want a bold or more muted color scheme, there's plenty of choice. Or you can ask our designers to match your shower theme.
Helping Your Baby Shower Run Smoothly
With so much involved in planning a baby shower, we're here to help make it easier. While the guest-of-honor is busy preparing for their new arrival, you're dashing around arranging catering and planning party games.
With Greenvelope, you don't need to add mailing invitations or chasing RSVPs to your list. Save trees and time with one of our adorable, digital baby shower invitations. Guests will receive their invite instantly, and with RSVP tracking, it's easy to stay on top of organizing your guest list. With all that time saved, you'll be able to put it straight back into planning the sweetest elephant-themed baby shower party.