June 9, 2020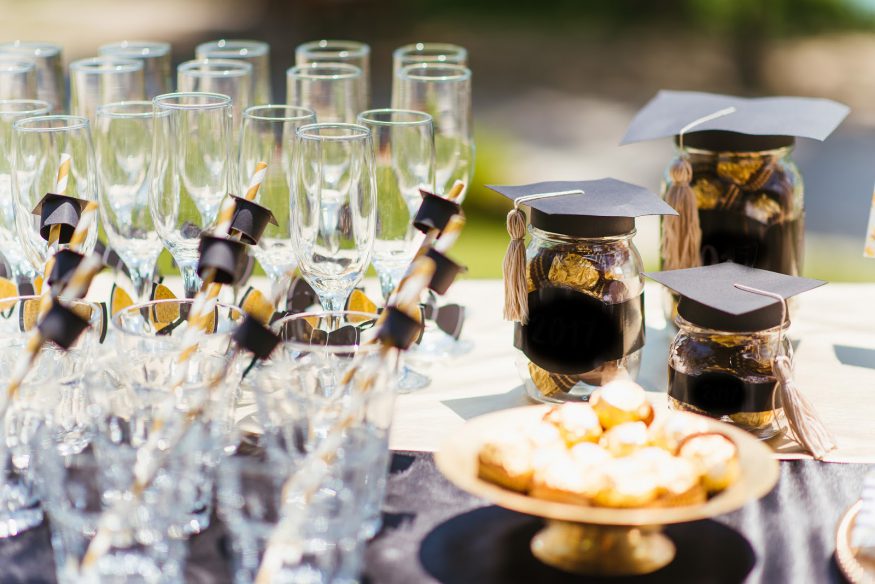 Graduation is such a memorable moment in a grad's life. It's where they say goodbye to their high school or college years, and embark on the next stage of their journey.
Mark this special occasion with a graduation party to celebrate how far they've come and toast their bright future. Bring loved ones together and invite your grad's closest friends to a party that will stay with them forever.

Our Favorite Graduation Party Ideas
To help you get started with planning the perfect college or high school graduation party, here are some of our favorite ideas. From cupcakes to photo booths, we've got you covered.
1. Jar of Memories
Send your grad on their way with a jar full of sweet, thoughtful memories from their time at school or college. Ask your party guests to write a note and leave it for the guest of honor. Collect them all in a mason jar for them to take on the next step of their journey.
2. DIY Balloon Arch
Brighten up your graduation party with a colorful DIY balloon arch. You only need a handful of items to turn your dream backdrop into a reality, including balloons and a helium tank. Use your grad's favorite colors as inspiration or feature their school colors as a thoughtful way to honor their years there.
3. Personalized Cake Toppers
Make your grad feel special with customized cake toppers for their cupcakes or themed cake. Personalize them with your grad's name along with a graduation-related phrase or good wishes, like "Congrats on graduating!" or "Class of 2020."
4. DIY Taco Bar
Keep your guests fed and add some fun to the party with a DIY taco bar. Set up a stand where people can build their own tacos. Add side dishes like nachos and dips too. This is the perfect party food for a summer grad fiesta.
5. Graduation Party Instagram Hashtag
Make it easier for your guests and grad to find and enjoy memories from the party with a personalized Instagram hashtag. Find a tag that isn't already being used and make signs with it, encouraging people to use it. You can then easily create a gallery of grad party photos.
6. DIY Candy Bar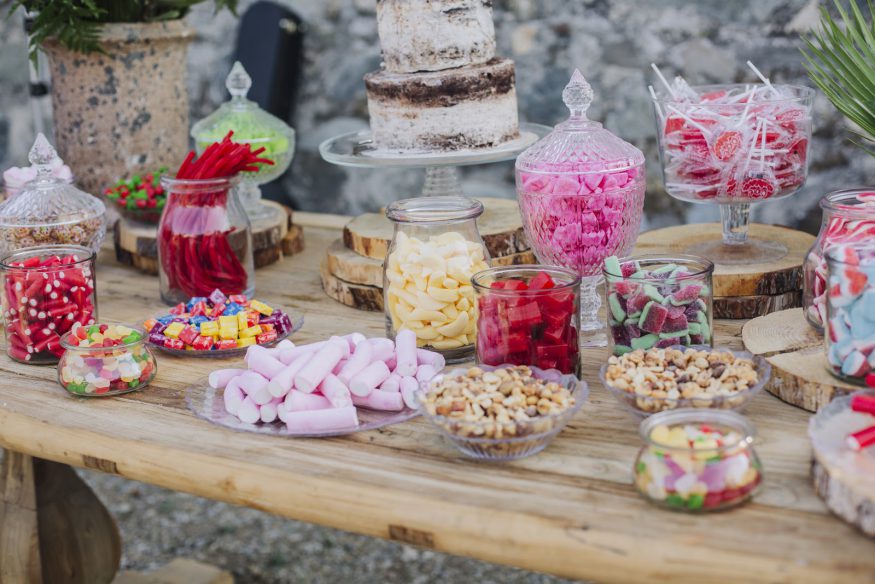 Create the ultimate sweets table at your graduation party with a DIY candy bar. Buy your guest of honor's favorite treats or source personalized versions with a custom wrapper. Draw a smile from your guests with school-themed labels, like "book worms" for gummy worms or "counting beads" for jelly beans. Add some ice cream and toppings to create a fully-stocked desserts table.
7. Memories Centerpieces
Reflect on your grad's journey through school or college with photo centerpieces that feature some of their best moments. Ask friends and family to share photos of memorable times or combine past and present for a conversation-starting centerpiece.
8. Candy Class Rings
Give your guests a class ring of their own with a tasty candy version. Whether your guests wear them or not, they're a fun reminder of your grad's journey. These would make great grad party favors and sit perfectly on a candy bar or dessert table.
9. Themed Yard Signs
Let your guests know where to join you for your exciting grad party with themed yard signs. Decorate your lawn with photos from your grad's younger days or get creative and make a wooden or chalkboard sign to direct people to the celebration.
10. DIY Tassel Garland Bunting
Unleash your creative side with a sweet DIY tassel garland. These are easy to make and an ideal way to weave in some of your grad's favorite colors or colors that tie in to your grad party theme. Finish your garland with flowers, glitter decorations, and more to make it really stand out.
11. Personalized Photo Album
These days so many of our photos live on our phones or social media, with photo albums being a rarity. Use your graduation party as an excuse to get nostalgic and create a personalized photo album for your grad, filled with photos sent in by friends and family. If you're searching for graduation gifts, this is a great idea.
12. Memory Chalkboard
While the memories of your grad's celebration will last forever, it's also lovely to have a keepsake to remind them of the day. Create a memory chalkboard where guests can either write or draw a moment in time with your grad that they cherish. Use chalkboard pens to make this easier and more permanent.
13. DIY Photo Booth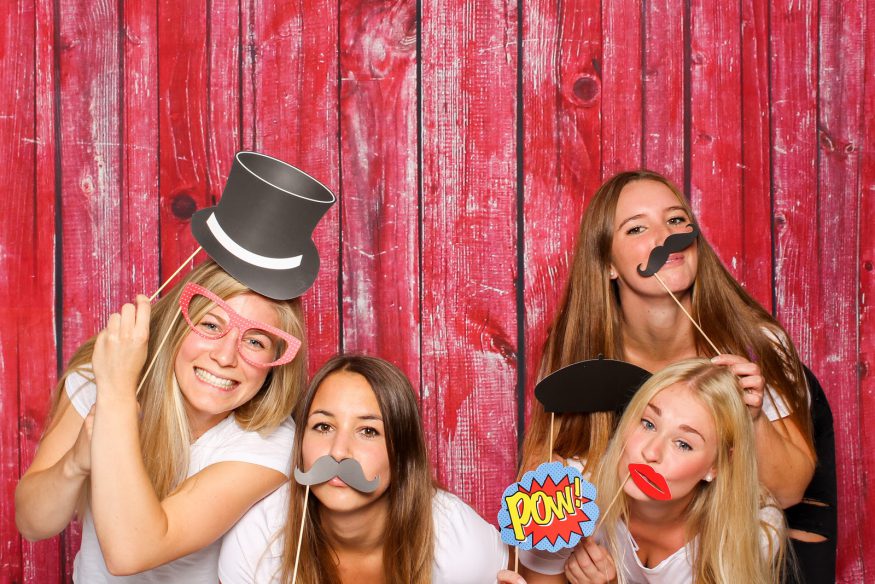 Capture everyone's smiles and laughter as they celebrate with your grad with a DIY photo booth. All you need is a backdrop and some photo props, which you can either buy or make yourself. Try using fabric as a backdrop or create a stylish flower wall. Make your own grad-themed props or use graduation caps and school supplies to create memorable photos.
14. Fortune Cookies
Beyond school or college lies a world of exploration for your new grad. Share fortune cookies at the party or give them away as graduation party favors as a fun way to encourage everyone to think about the future.
15. Graduate Guest Book
Give your grad a memory book they can treasure forever, filled with quotes, memories, and thoughtful notes from friends, family, and loved ones. Buy a scrapbook from a store or build your own memory book with space for guests to leave a comment.
16. DIY Tissue Signs
Add some personality to your party decor with these easy-to-make DIY tissue signs. All you need is some foam board, tissue paper, glue, and creativity, and you have a one-of-a-kind centerpiece. Use your DIY tissue signs to signpost your dessert table or welcome guests, or go big with a DIY yard sign.
17. School Mascot Decor
Honor your grad's school or college experience by giving their school mascot a feature in your party theme or decor. Whether you go all-out and host a themed party around their mascot or weave it in through cake toppers or a memory wall, it's a fun way to remind them of the last few years.
18. Graduation Cap Cupcakes
Celebrate your grad's school or college success with fun graduation cap cupcakes. Bake your own or buy store-bought cupcakes or muffins, before decorating with an iced design. Go one step further and add other details, like the school colors or your grad's name.
19. Diploma Cookies
Impress your guests with your baking skills with these fun diploma cookies. Dress up your sweets table with these themed cookies, which are sure to be a hit with your grad. They're easy to make and decorate ahead of time, so you can spend more time putting the final touches on the celebration.
20. "Then and Now" Photo Wall
Celebrate your grad's early years and journey through school with a memory-filled "then and now" photo wall. Look back at how much they've grown and changed, or reflect on how their friendships have lasted through the years. You could even make this an interactive part of your event by asking guests to bring photos with them to pin up on the day.
Virtual Graduation Party Ideas
There are times when it isn't possible to bring everyone together to celebrate the next steps in your grad's journey through life. While you can't get together in one place to mark the moment, you can host a fun online high school or college graduation party with loved ones.
Lots of our graduation party ideas can be adapted to suit a virtual graduation party. Instead of setting up a sweets table with cupcakes and cookies, see if you can mail cookies out to your guests instead. Create a memory book or photo album by collecting social media photos, which you can then share on a video call with everyone.
You could even ask your guests to stage their own mini version of the grad party at home then share the photos on Instagram, using your event hashtag. It might not be the grad party you had planned, but it's an opportunity to get creative and challenge your friends and family to recreate the magic in a new way. Set the tone with fun digital invitations that encourage everyone to get involved to help make it a memorable experience.
Graduation Party Invitations We Love
With some ideas for your party theme, activities, and graduation decorations, it's time to start thinking about inviting your guests. Here are some of our favorite digital graduation party invitations.
Splatter Hooray Invitation
Put your grad front and center with this photo invitation design, full of sparkle and personality. Opt for a glamorous dark theme or brighten up the design with your grad's favorite color.
Class Of Invitation
We love this fun design with golden balloons and confetti. This unique graduation party invitation is ideal for a bold, playful party to celebrate the journey of your fun-loving, creative grad. Make your invitations stand out even more with a brightly colored background.
Grad Cap Pattern Invitation
Create a striking grad party invitation for your guest of honor with this sleek, modern design. Choose from the rich color palette options or feature your grad's favorite colors for an invitation that matches them perfectly. Add your favorite graduation photo from a professional or DIY photo session to complete the design.
Celebrate Your Grad's Journey in Style
Whether you go for an all-out college themed grad party or a more casual, DIY-style celebration, your graduation party will be filled with memorable moments. Take your favorite theme and party decoration ideas from our list and bring them together to create a grad party that your guest of honor will love.