March 5, 2023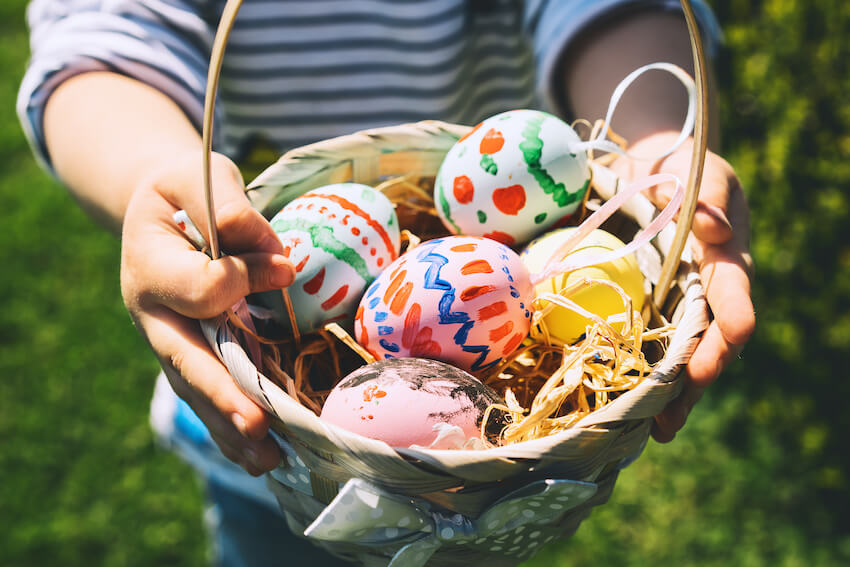 Easter egg hunts are among the most fun Easter traditions that we can all enjoy. Watching kids (and adults) hunt around trying to find colorful eggs or fun prizes is one of those can't-miss Easter activities for the whole family.
Whether you're planning a church or community egg hunt or want to stage an amazing event for your family and friends, you're in the right place. Get top tips for hosting a memorable Easter egg hunt, plus explore our favorite Easter egg ideas and Easter egg hunt ideas.

How to Host an Egg-citing Easter Egg Hunt
Like any event, Easter egg hunts take some planning. Everything from the date and venue to the sweet invites (like this Bright Spring Florals invite) needs to be planned. The good news is that planning for an egg hunt is lovely indeed — especially when you consider the looks of joy and excitement you'll see on everyone's faces once the hunt begins. Here's how to approach Easter egg hunt planning like an expert.
1. Decide Who's Hosting and Planning
Before you can begin planning, you first need to decide who is on your trusted planning committee. If you're hosting just for your family or a group of close friends, it might be you hosting solo — or with a couple of friends by your side. If you're planning a big community event, gather a few friendly faces that you can delegate specific tasks to.
2. Consider Your Audience
While we often plan egg hunts for younger kids, there's no reason you can't plan an event for older kids or adults. Consider the age range and interests of your audience so you can tailor your Easter egg hunt ideas to them.
For younger kids, make the hunt easy — with bright, reusable colorful eggs they can easily spot that are filled with age-appropriate goodies like Easter candy, stickers, and temporary tattoos. You can also introduce other fun activities like Easter egg counting and coloring pages.
For kids who are a little older, you can swap out the simple search and bright eggs for something more sophisticated — like watercolor ombre eggs. With a tween or teen audience, your trinkets might include things like washi tape, nail polish, vouchers, and small collectibles. You could also swap out candy for slips of paper with jokes or riddles on them or a voucher code they can spend online.
3. Select a Date and Time
You want all your guests to be able to make it to your egg hunt, so try planning around everyone's schedules where you can. If you all gather for Easter Sunday, this can be a great day for a hunt. If your guests already have plans that day, perhaps the day before would work, or a weekend before or after Easter Sunday.
Daytime egg hunts are ideal for younger kids and families — especially if you plan to host an Easter party or brunch for everyone. For a fun alternative, try a glow-in-the-dark egg hunt at night — complete with glow sticks and eggs decorated in neon, glow-in-the-dark paint.
4. Decide Where to Host Your Easter Egg Hunt
What's great about egg hunts is that you can host them almost anywhere. They're convenient for celebrations at home, at a local park, or at your church hall or community center. You could even collaborate with a fun venue like a museum, gallery, or kids play area to put on a private event for your loved ones to enjoy.
5. Choose a Theme
While your event doesn't need a theme, it can be an exciting way to bring all your Easter egg hunt ideas to life. Host a fun Easter egg hunt themed around your kids' favorite characters, the pastel colors of spring flowers, or adorable baby bunnies. Once you have a theme, you can create or shop for decor and other items to create the ultimate themed egg treasure hunt.
6. Plan Your Easter Egg Hunt Details
With your theme and audience all figured out, you can fine-tune the details for your egg hunt. Think about your venue and where you could hide eggs, place markers or clues, and set up a refreshments or relaxation zone. Decide which Easter candy you want to buy, the number of eggs you need, and which Easter games and activities you want to play together. If you're considering  a potluck-style event, you can also ask others to help with bringing eggs, food, or even prizes.
7. Invite Your Guests
You have all your details planned out, now it's time for one of the most egg-citing steps — inviting your guests!
Take a look at our collection of Easter egg hunt invites and find one that matches your theme and style. We love the cut-out shape and vivid colors of this Cute Eggs invitation, but we have plenty of online invitations that you can customize to fit your event perfectly.
Once you've found your favorite Easter invitations, add your event details and personalize the design by changing the fonts, layout, and colors. When it's ready, send it on its way with just a few clicks.
9 Creative Easter Egg Hunt Ideas and Fun Easter Egg Ideas
The main focus of any Easter egg hunt is the hunt itself — which gives you lots of space to be creative and bring some fresh Easter egg ideas to the table. Here are some of our favorite Easter egg hunt ideas.
1. Get the Whole Family Involved
Planning an egg hunt is always a good time. Share that experience with others with one of our favorite Easter egg hunt ideas — getting the whole family involved in different crafts and activities. Invite everyone to help decorate Easter eggs with paint pens, make bunnies out of pompoms and tissue paper, and gather home decor supplies to decorate your egg hunt venue.
2. Decorate with Bunnies
There's nothing sweeter than an Easter bunny — except multiple Easter bunnies! Make your egg hunt into a bunny trail by having these adorable friends guide your guests towards the next egg. Swap plastic eggs for bunny eggs, and fill them with bunny-shaped candy or chocolate. Choose a matching invite too — like this adorable Spring Bunnies invitation.
3. Go Wild with Color and Patterns
Embrace your creative side by making your eggs colorful, bright, and full of patterns. Use food coloring to make marbled dyed eggs, dip different color eggs in gold paint, or paint polka dots on them with markers. These DIY Easter egg decorating ideas are perfect not only for your egg hunt but also for a crafting activity.
4. Hand Out Easter Baskets
Who says you shouldn't keep all your eggs in one basket? Hand out colorful Easter baskets that guests can use to collect their treasures as they go. Ask them to hand them back at the end so you can reuse them for next year's egg hunt, or let them keep them as a sweet Easter egg hunt favor.
5. Make It an Easter Egg Scavenger Hunt
Swap your usual egg hunt routine for an Easter egg scavenger hunt, and encourage your guests to discover new things about the area around them. Hand out an egg hunt checklist so they know what to look for, and reward anyone who returns with all the items. Special prizes could be a giant chocolate egg, candy basket, or Easter-themed keepsake.
6. Swap Plastic Easter Eggs for Easter Bags
One of our top Easter egg ideas is to swap your plastic eggs out for a more eco-friendly alternative. Easter bags are a beautiful, creative, and environmentally friendly way to enjoy your hunt — without any plastic. If you love the idea of using eggs, try wooden eggs instead. You can ask guests to find them and exchange them for a thoughtful gift when they return.
7. Hide Golden Tickets Inside Eggs
Everyone loves to win a special prize, so why not introduce a handful of golden eggs or eggs with golden tickets inside? Use cardstock to make your own golden tickets and hide them inside a few confetti eggs, or paint some of your eggs gold. Ask guests to bring them back to you for a bonus prize.
8. Have a Refreshments Station
Hunting for eggs is thirsty work! One of our favorite Easter egg hunt ideas is to set up a refreshments station. Fresh lemonade, iced drinks, and finger foods all make great options. If you're hosting brunch, include favorites like hard-boiled eggs, pancakes, and waffles — and invite guests with a lively Easter Egg Border invite. Set up a themed centerpiece with tie-dyed Easter eggs or painted eggs along with matching tableware and glassware for your guests.
9. Create a Place to Rest and Relax
Easter egg hunts take a bit of energy, so having somewhere to relax and chill out will be a welcome addition. Set up a space with some comfy seating and Easter crafts and fun activities to keep little (and big) hands busy. Look for free printable Easter coloring pages and craft ideas online, and set up a DIY station with paintbrushes, craft paints, and stencils for egg designs. Create a space where guests can play with LEGO toys, decorate cookies, or customize their own Easter decorations or Easter cards to take home.
Plan the Perfect Easter Egg Hunt with These Easter Egg Ideas
All you need to host a wonderful egg hunt is your loved ones and a splash of creativity. Use these Easter egg ideas and Easter egg hunt ideas to help you plan an event that feels exciting, special, and unique.
When you're looking for invitations that are as special as your party, try one of our Easter egg hunt invites. Each can be customized to match your event perfectly — whether you're hosting a grown-up glow-in-the-dark egg hunt or an adorable bunny-themed scavenger hunt for little ones.