March 20, 2022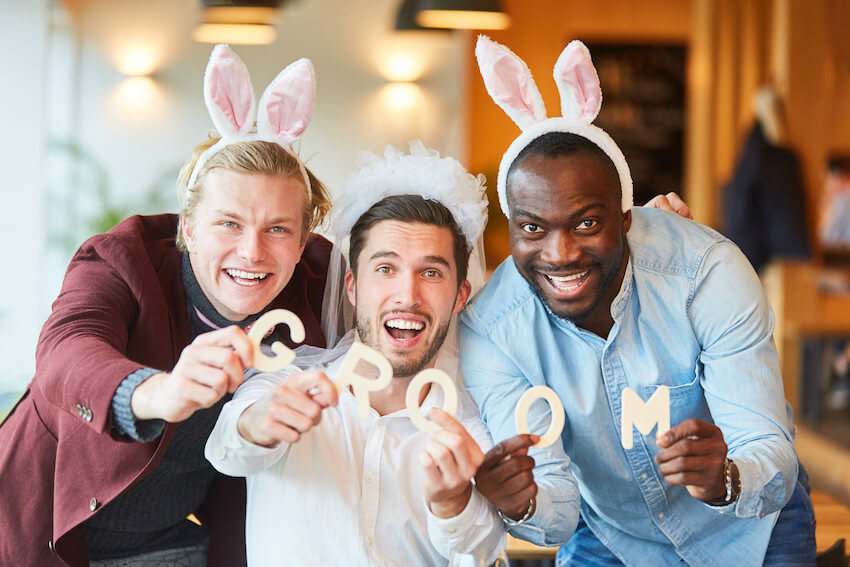 Being in charge of the party planning for the bachelor bash is definitely an honor. You get to help plan an epic event that brings people together to celebrate someone special. It's the kind of moment that needs a theme, atmosphere, and bachelor party decorations to match.
Let's help you plan and host the best bachelor or stag party ever. Explore our theme suggestions, bachelor party decoration ideas, and invitation inspiration — then bring it all together to create an adventure your guests will remember forever. 

Match Your Bachelor Party Decorations to a Theme
Themes aren't just for bridal showers and bachelorette parties — they're perfect for bachelor parties too. If your guest of honor would love a themed bash, here are some of our favorites to help you and the rest of the groomsmen or wedding party celebrate in style. 
Gone Fishing
If the groom loves nothing better than a weekend fishing by the lake, bring a little of that flair to their bachelor party. Transform your space into the ultimate place to relax, or hire out a lakeside cabin so you can enjoy the real deal. 
Nautical Adventure
A captain's cap is a classic look, and the nautical theme is still one of the top trends for bachelor party decorations and accessories. Head out on a cruise down the city river, or simply dress up and plan a bar crawl. 
Retro Nights
If you love all things retro, this is the perfect party theme for a bachelor party. Hire a jukebox, break out the retro games consoles, and enjoy an evening of video games, bachelor party games, and laughter. Stick with a certain decade, or keep it open for a more casual take on nostalgia. 
Superhero Bash
This one's for grooms who don't mind being the center of attention. Host an amazing superhero-themed celebration at home or out on the town for the best husband-to-be. You can have a lot of fun with the bachelor party decorations for this one, so don't be afraid to go colorful, add costumes, or theme your party games. 
15 Fun Bachelor Party Decorations to Add to Your List
Whether you have a themed party or not, every celebration needs the right bachelor party decorations to help you make the moment feel special. Read through these ideas, make a shortlist, then buy the right bachelor party supplies to make your event unforgettable. 
1. Inflatable Dartboard
Dress up your wall with an oversized inflatable dartboard that matches your party colors. What we love about this is that it doubles as interesting bachelor party decor and is a totally usable party game too. Plus, you can reuse it for future birthday parties and events. 
2. Neon Signs
For a retro or 80s themed bachelor party, you can't go wrong with a neon sign or two. Rent or borrow a giant neon sign from an event company or a friend, or recreate the effect on a budget with brightly colored letters and a letterbox light. 
3. Life Size Cutouts
Bachelor parties are always the scene of tons of jokes and laughter. Encourage it right from the start by placing a life-size cutout of the guest of honor right by the party entrance. Ask people to snap a photo with the cutout — or hide it somewhere in the party venue to spook them out instead.
4. Personalized Confetti
Personalized is the way to go with bachelor parties, and confetti is one of our favorite simple yet fun bachelor party decorations. Invest in some custom confetti that features the husband-to-be's face or their favorite word, saying, or emoji. 
5. Retro Style Photo Booth
You want your guests to walk away with great memories from the event. Make that easy for them by renting a retro photo booth for the party. Encourage people to hop in, grab some photo booth props, and make silly faces. They can take home their snaps as a sweet party favor, or collect them to create a quirky display to share at the wedding reception.
6. Whiskey Piñata
Piñatas are popular for kids' parties, but they're also a top choice for bachelor parties. Instead of a llama, unicorn, or soccer ball, opt for a whiskey-shaped piñata instead. We recommend sticking with the traditional candy filling to avoid injuries, but you can always hand out mini bottles of whiskey to your guests after the piñata has popped.
7. Oversized Photo Props
An affordable yet impactful way to add color and style to your event is with the help of giant photo props and inflatables. These props can be used inside your retro photo booth, or you can simply use them throughout the party. They work great as party decor for tables, in the background as part of a photo area, or as a fun accent for signs or banners. 
8. Bachelor Party Hats
There's something about bachelor parties that makes us want to dress up the same. Make that happen in a small way with matching, personalized bachelor party caps or hats. If you're heading out to the bar, these hats are a great way to signal that you're a bachelor party out celebrating — and help you find each other quickly in a crowd.
9. Personalized Cups or Beer Can Coolers
Level up your drinking game at the bachelor party with personalized cups or can coolers. Not only are these fun for playing beer pong with, but you could also hand them out to guests as bachelor party favors or invest in an upmarket engraved version as a party gift idea for the groom. 
10. Balloon Letter Garland
Add some color and atmosphere to your space with a wordy balloon garland. Spell out "team groom", the groom's name, or some hilarious or quirky phrase they're always repeating. Something personal and unique is a great way to go when it comes to party balloon signs. 
11. Customized Event Signage
Tell the world that it's your best pal's bachelor bash with a party banner out the front of the house, or keep it more casual with some customized DIY signs inside the venue to direct people around. Match your signage to your theme for a fun way to tie everything together. 
12. Colorful Straw Flags
Liven up your drinks station and continue your theme with this super easy bachelor party decoration. Buy or DIY your own colorful straw flags to accessorize your bachelor party brews. Add the groom's name, "team groom", or opt for their favorite superhero or football team, depending on the theme.
13. Custom Baseball Jerseys
For a fun twist on the classic groomsmen T-shirts, order custom baseball jerseys instead. These look amazing when you're all out wearing them together, and they also make a lovely keepsake to remind your guests of that time they celebrated their close friend getting married. 
14. Shot Roulette
While shot roulette might be more of a drinking game, it also works well as party decor. Set up a table with this as a centerpiece, with the shot glasses ready to be filled with tempting (and not so tempting) drinks, before you play a few rounds of this bachelor party game.
15. Hangover Kit
Last but not least, another multi-function decor piece is the hangover kit. This is a must-have if you're planning a particularly late or drink-fuelled celebration. Set up a hangover kit station, complete with a customized sign, and direct guests here at the end of the night. This is fun decor and a practical groomsmen gift to head home with. 
A Few Bachelor Party Invites to Match Your Theme
You've chosen a theme, explored different bachelor party ideas, and planned a few of your decor options. Now it's time to find a bachelor party invitation that's as incredible as the event you have planned. 
Our digital invitations are super easy to customize. Add your party details, choose the colors, and even add a photo if there's room for one on the template. Enjoy plenty of customization options with no need to mail out paper invites. 
Full Bar Can't Lose Bachelor Party Invitation
Let your guests know that you're planning a night of drinking, the best bars, and some drink-fuelled party games with this Full Bar Can't Lose invitation. We love the glitzy gold look, but you can have this recreated in any color to match your party theme. 
Black Tux Bachelor Party Invitation
Keep things understated yet sophisticated with this Black Tux invitation. It's perfect for an elegant bachelor party, one based on a certain famous spy, or even as a mysterious invite to an undercover superhero party.
Mugshot Mayhem Bachelor Party Invitation
If you want to feature a photo of the man of the moment, this Mugshot Mayhem invitation is the way to go. Capture a forward-facing and side view of the groom, then add them to this template to create a really fun way to invite people along. 
Create an Amazing Event with These Bachelor Party Decorations
A bachelor party is all about celebrating the groom and enjoying a night of adventure, mischief, and fun. Anything you host will be great, but with the right bachelor party decorations, props, and invites, you can turn your party idea from good to awesome. 
Find your perfect theme, put together a list of ideas, and choose an invite to match. Explore our bachelor party invitations to discover an exciting way to invite people to the best bachelor party ever.