March 15, 2021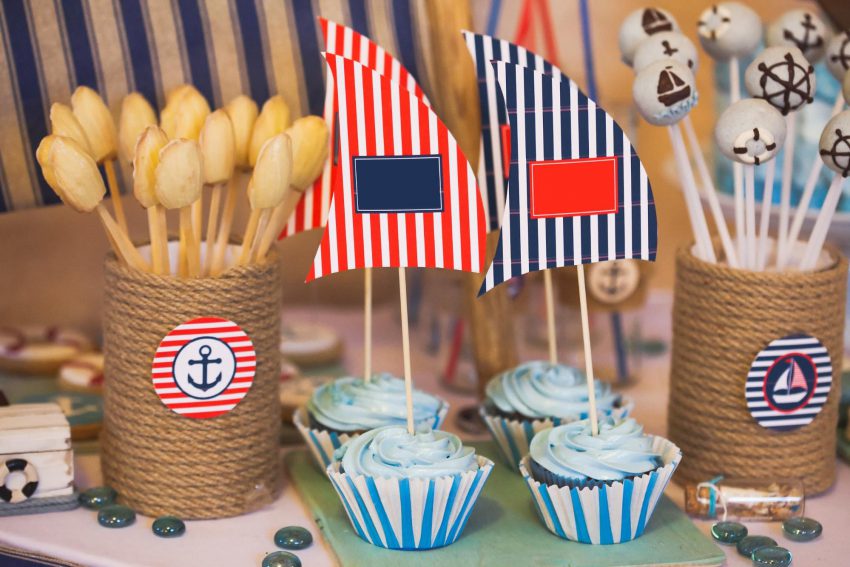 The nautical look is a fantastic gender-neutral baby shower theme, and it's especially great if you're a fan of its traditional colors, adorable animals, and all things related to the sea. To help you create an impressive event, we're sharing some of our best nautical theme baby shower decor, food, and favor ideas. Whether you're the parent-to-be or someone else who's in charge of the party planning, this guide will help you arrange an unforgettable shower for someone you love. 

5 Fun Nautical Theme Baby Shower Decorations
Throwing a nautical baby shower is the perfect way to create a magical atmosphere that will transport guests under the sea. Here's how to make it happen with some of our best nautical theme baby shower decor ideas. 
Fishing Nets
Add an authentic touch to your nautical theme baby shower with some strategically placed fishing net. You can opt for a natural color if you want to keep with a traditional look or go for a colorful net in a different shade to match your baby shower theme. Hang your fishing net party decoration from the ceiling or attach it to the wall. For even more visual interest, add cute mini stuffed animals like baby whales and starfish inside. 
Life Preserver Garlands
Deck out your party venue with some fun garlands featuring life preservers, anchors, and other seafaring emblems. These make great decorations above your dessert table or baby shower gift table. Browse your local party supply store or DIY your own garlands in colors to match your baby shower theme. Opt for traditional nautical colors like navy blue, red, and white — or switch things up and go for pastels instead. 
Nautical Confetti
Confetti is a really fun addition to any table — especially at a nautical theme baby shower. Swap those standard sparkles for nautical confetti shapes to transform your table into something truly special. You can buy ready-made confetti from a party supplies store or on Etsy, or have a go at DIY confetti. Simply take some colored card stock and use a shaped hole puncher to make mini cut-outs of dolphins, stars, sailboats, and other motifs that suit your decor. 
Fishbowl Centerpieces
Want something quirky as a centerpiece for your nautical theme baby shower? You can upcycle a fishbowl into a fun underwater world. Take a fishbowl and fill it with some decorative sand or gravel, then pop in some decorations. Keep it dry and add delicate paper fish and anchor cutouts, or fill it with water and add an adorable whale bath toy. 
Seafaring Tableware 
With a standout centerpiece, you'll want your tableware to look just as amazing alongside it. Complete your nautical theme baby shower decor with some matching tableware so you can enjoy snacks and drinks in style. Opt for cute nautical-themed tumblers that you can reuse, and add to your existing tableware with some fun charger plates, coasters, and themed straws. 
5 Delicious Nautical Theme Baby Shower Treats
Ready to treat your guests to a themed feast? Look no further — these are some of our most-loved baby shower treats. 
Boat-Shaped Sugar Cookies
Give your favorite sugar cookie recipe a nautical twist that's sure to sweeten up the experience. Transform your cookies into boats with sails, whales, anchors, and other maritime favorites with cookie cutters and icing — give this easy boat sugar cookies recipe a try. If you're looking for a fun baby shower game, why not leave them un-iced and challenge guests to decorate their cookie in the most creative way. 
Ocean-Themed Baby Shower Cupcakes 
For another tasty treat for your dessert table, why not try these fun ocean-themed cupcakes? Cupcakes are always a hit, and you can even make extra to send home with your guests as party favors. This simple vanilla cupcake recipe offers something extra special with the blue icing and red-and-white life preserver cupcake toppers made from Life Savers candy. Ahoy! 
Jello Sailboats 
For a fun match for your nautical theme baby shower decor, have a go at making your very own Jell-O sailboats or pirate ships. This sweet recipe features fresh fruit, Jell-O, and some great decor touches to create mini, delicious ships for your baby shower guests to enjoy. 
Fruit Boat
Add a healthy and attention-grabbing treat to your food table with some delicious DIY fruit salad boats. For this, you'll need something big to act as the boat — like a watermelon — and a selection of cut, fresh fruit to fill the inside. Add some extra details to create sails and expand the shape, and you have your very own mini fruit ship.
5 Nautical Theme Baby Shower Favors
Party favors are sometimes overlooked, but they're a sweet way to say thanks to your guests and give them a heartfelt gift. Here are some of our favorite baby shower party favor ideas for your nautical party. 
Bath Bombs
After all the fun, encourage your guests to enjoy a little splish-splashing of their own by sending them home with a decadent bath bomb. You can easily find these at your favorite shop, or search online marketplaces like Etsy for handmade versions that match your party colors or theme. This makes a wonderful baby shower party favor for guests of all ages. 
Themed Cake Pops
There's nothing like taking a little sweet treat home after a fun-filled celebration. Package up some adorable themed cake pops for your guests to take on their way out. You can DIY this party favor with a simple cake pop recipe and adjust the frosting and sprinkle colors to match your theme. 
Themed Candy 
If you want something that travels better than cake pops, why not send your guests away with some ocean-inspired candy? Choose a selection of colorful, shaped jelly candies — like sharks, whales, or fish — and arrange them in a cute Mason jar wrapped with a ribbon. You can also add a customized label if you like. 
Whale Keychains
For a sweet send-off for your party guests, add a whale keyring to your baby shower favor box or bag. Not only is this practical, but it's the kind of gift that'll make them smile when they see it. You can browse sites like Etsy for a whole range of whale keyrings. This option is a little pricier than your usual shower favor, but it's a lovely idea if you only have a handful of guests. 
Personalized Tumbler
We love baby shower favors that guests can use for a long time, and a DIY personalized tumbler is right up there on the list. Tumblers are easy to personalize — all you need is the cup and a cute decal, which you can buy from sellers on online marketplaces. Customize each tumbler with the guest's name, plus a sweet nod to the baby shower theme — like an anchor, boat, or wave. 
5 Nautical Baby Shower Invitations You'll Love
You can't have a party without an invitation! Let people know about your upcoming baby shower with these adorable nautical-themed baby shower invitations to help you get the word out. 
Ahoy It's a Boy Nautical Invitation
Celebrate the soon-to-be arrival of a new baby boy with this beautiful illustrated whale invitation. The deep, inky colors work perfectly with the hand lettering and nautical details to bring you a look that feels contemporary and welcoming.
Let's Set Sail Invitation
Invite your guests to celebrate the parents-to-be with this let's set sail invitation. The design features rope and a rudder for perfect nautical imagery, and you can choose from a collection of lovely color options. 
Whale of a Time Invitation 
The gorgeous modern details on this whale-centric invitation are perfect if you love a contemporary look. Geometric typography pairs perfectly with the whale illustrations to create a lovely baby shower invite design. 
Golden Anchor Invitation
Let your guests know they're in for a stylish, sophisticated event with this golden anchor invitation. Deep blues and rich golds give the hint of luxury, while the golden anchor hints at your baby shower theme. 
Ocean Love Invitation 
If you love sweet, delicate illustrations, this ocean love invitation is just for you. It features a whole host of creatures from under the sea and elegant typography, plus a refreshing color palette for your nautical theme baby shower. 
Throw a Beautiful Celebration With These Nautical Baby Shower Ideas
Nautical theme baby showers give you so much room to get creative, have fun, and transform any space into something truly outstanding. Bring in those classic nautical-inspired colors and symbols, add texture with fishing nets and rope, and give your party guests plenty of thoughtful treats to enjoy. Start it all off with a beautifully themed online invitation, and you'll have your guests excited to RSVP.