October 18, 2022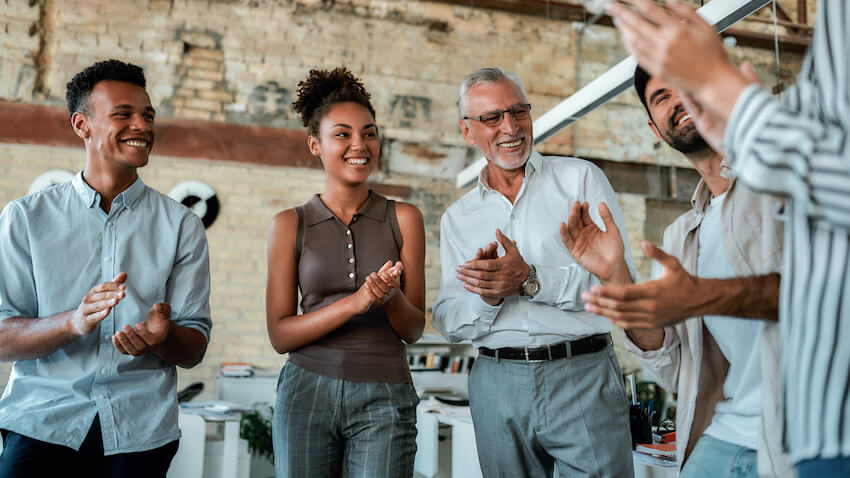 A workiversary is more than just another word for a work anniversary. It's a chance to celebrate the anniversary of the first day that someone joined your team — whether that was one year or two decades ago. 
Workiversaries give bosses and coworkers an opportunity to give kudos to employees for all the good work they do, as well as to express appreciation for their positive presence in the workplace. 
Keep reading for fun ideas on how to celebrate a workiversary. Plus, you'll find messaging and card design ideas so you can plan the best work anniversary for someone special.

9 Ways to Celebrate a Work Anniversary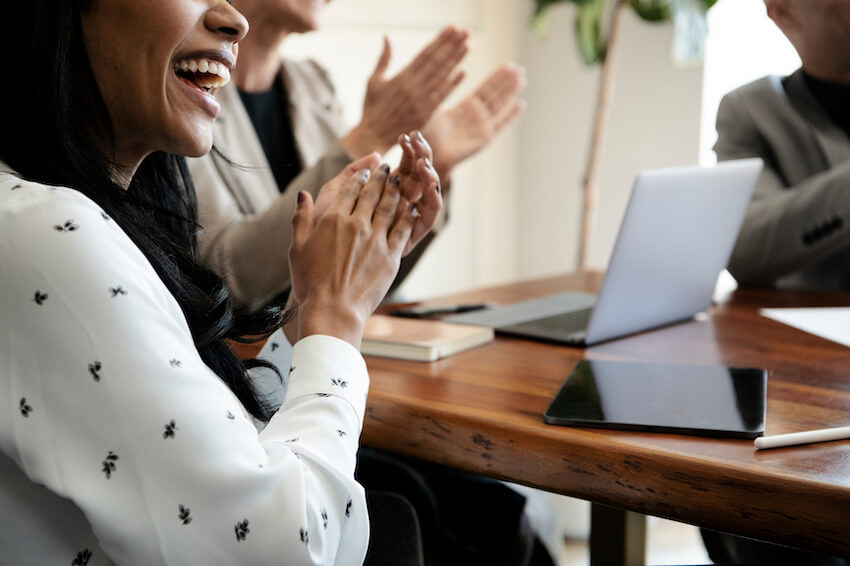 Acknowledging someone's hard work is good for the soul, but it's also good for business. When team members feel recognized, employee engagement (and productivity) is higher. Fortunately, there are lots of ways to celebrate the work anniversaries of your best employees or coworkers. Whether you want to throw a party or simply send a card, there's a fun way to honor someone's achievements no matter your budget or company culture. 
1. Throw a Party
Throwing a party is always fun, but it might be best when celebrating a workiversary for someone who has provided many years of service. Be sure to ask the guest of honor what they'd like to do and plan accordingly. You could host a small shindig at the office or go bowling, play laser tag, or head to a karaoke bar. The key is to ensure it's something the guest of honor will enjoy. 
2. Make It Sweet with Cake (or Cupcakes)
Cake is almost always welcome, and an employee anniversary is a perfect time to bring one into the office. If you have a hybrid or remote workforce, you could have cupcakes delivered and host a virtual celebration. The good news is that you can make it as basic or elaborate as you like. 
3. Hand Out an Award
Company awards are often used to show employee appreciation and a service award is an excellent idea for a workiversary. You could hand out a physical award or trophy in person at a casual meeting or go all-out with a red carpet event to acknowledge a milestone work anniversary. If the recipient works remotely, you can also send an award by mail. 
4. Offer an Extra Vacation Day
Vacation days are an incredible employee recognition gift for any occasion, but they feel especially rewarding to give as a thank you for hard work. Surprise your employees with an extra vacation day for their workiversary to spend however they wish. 
Encourage team members to take off their actual work anniversary date or let them use the day whenever it works for them. That extra time to relax, pursue hobbies, or spend time with loved ones is certainly one of the best work anniversary gifts you can give. 
5. Take Them Out for Lunch
Many of us eat the same lunch over and over throughout the workweek. But to make lunchtime feel special for a workiversary, treat your employee or coworker to a special lunch place of their choice. This works great as a moment between manager and employee, but you could also invite other team members too. Use it as an opportunity to enjoy some great food and conversation while toasting a deserving employee's hard work. 
6. Give a Personalized Work Anniversary Gift
If you want to give a physical gift to someone to celebrate their work anniversary, you can't go wrong with a personalized gift. Think about the recipient's tastes and lifestyle, and look for a gift to match. Mugs, drinking glasses, water bottles, coasters, and notebooks are all great options — or you could find something that relates to a hobby they love, like fishing, gardening, running, crafting, or playing music. 
7. Invest In Their Future
A workiversary celebrates someone's time with a company and their work ethic. Now is the perfect moment to honor that by investing in their future goals, skills, and potential. Examine the employee's professional development plan and ask them what they'd like their future to look like. Set a budget and work together to find a course or program that meets their needs or invest in materials like books and tech equipment to support their journey. 
8. Make a Charitable Donation
Donations make wonderful gifts and feel like a thoughtful way to honor someone's hard work. Not only do you get that feel-good moment of rewarding success and celebrating personal achievements, but you can also make a difference in a meaningful cause. 
Make a small donation on their behalf every year, or set this as a special workiversary gift on their 5- or 10-year work anniversary. Ask the employee to choose the recipient of the donation so they can decide whether to donate to a national program or help out a local community cause close to their heart.
9. Send a Thoughtful Card
One of the best ways to celebrate someone's workiversary is with a heartfelt work anniversary card. There's often no better way to express your gratitude, appreciation, and fondness for someone than with words. Thankfully, Greenvelope makes it easy to make that happen. Take a look through our online cards to find a business thank you card that suits the recipient. Personalize it with your own wording, and schedule it for their workiversary, wherever they are in the world. 
Thoughtful Work Anniversary Wishes and Workiversary Messages
You want to say congratulations, thank you, and wish someone well all at once — but what's the best way to do it? If you're not sure what to write in a workiversary greeting card, here are some work anniversary messages to inspire you. 
Happy workiversary

, [Name]! We really couldn't do all we do without you!

Wishing you a very

happy work anniversary,

[Name]. So glad to have you with us! 

Congrats

on reaching this incredible milestone, [Name]! 

Happy

first anniversary

at [Company Name]! Here's to many more!

Heartiest

congratulations, [Name]! You're a

source of inspiration

to us all. 

Here's to many more

years of success

! Thank you and happy

workiversary

!

Today marks

your

10th work anniversary

, and we couldn't be prouder of everything you do. Thanks so much! 

Congratulations on another great year, [Name]. We're so thankful for your

excellent work

and dedication.

Thanks for being here for another year.

Time flies

when it's with you! 

Thank you for an incredible year, [Name].

Best wishes

from all of us at [Company Name].

You've been amazing this

past year

.

Congrats

on another

work anniversary

, [Name]! 
Thank You Cards You Can Customize for a Workiversary
When it's time to find a great workiversary card, look no further than our online cards. These greeting cards are perfect for your message of gratitude and come in an endless selection of designs, colors, and themes. Every digital card design can be customized, so you can change the layout, wording, and colors to suit the occasion. Even better, you can add a gift card to their favorite restaurant, store, or service. Here are a handful of our favorite designs for a work anniversary card. 
Impressionist Fields Thank You Note
This stunning Impressionist Fields thank you note features an illustration that wouldn't look out of place on a tapestry. It's ideal for a short thank you note — or you could customize the matching event invite if you have more to say. 
Posh Confetti Thank You Note
Opt for something glitzy and glamorous with this Posh Confetti thank you note. The gold foil effect accents make it pop and add a dose of fun flair. Choose from a handful of color options, or work with a Greenvelope designer to add your own colors.
Color Slice Thank You Note
This Color Slice thank you note offers a chic, contemporary, and minimalist look. It comes in three beautifully modern colorways, but you could always swap these out for your company colors for a more bespoke design. 
Celebrate a Wonderful Workiversary
It's always a lovely idea to honor team members and reflect on everything they contribute to the company and the people around them. Whether you host a lunch, offer an extra vacation day, or send a digital card, a workiversary is a moment worth celebrating. For more ways to boost work life, check out these remote team-building activities and ideas for building retreats your employees will love.