February 15, 2022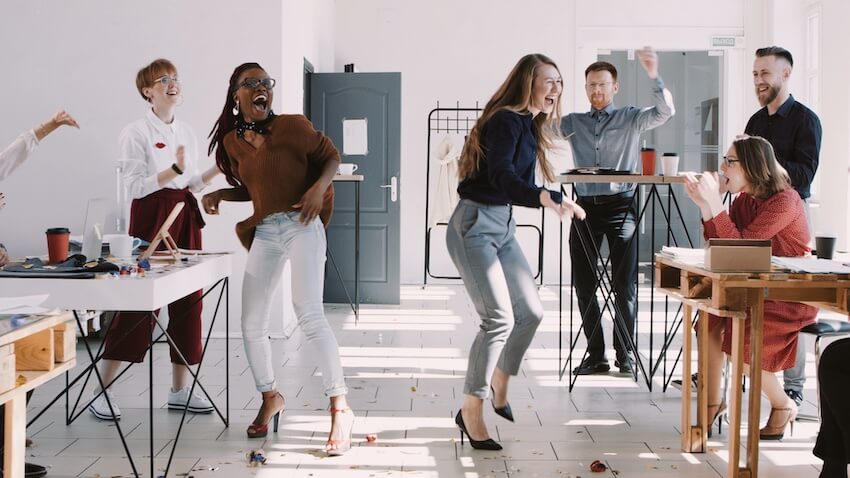 From the pitch that landed your newest client to the project that went off without a hitch, your company has had some big wins. But none of it would've been possible without your winning team. With this in mind, it's time to show appreciation for the people who make your company great. 
Employee Appreciation Day is the first Friday of March, and it's a great opportunity to host a company-wide celebration or send a personalized thank you to every member of your team. 
We'll give you some good business reasons to celebrate National Employee Appreciation Day, and share our 7 favorite employee appreciation ideas for this special day (or any other day) of the year.

Why Is Employee Appreciation Day Important for Your Company? 
If you think your team members' salaries are enough recognition for their hard work, think again. Recognizing your employees isn't just a good deed, it's good business. According to Recognition Professionals International, a company culture built on employee recognition can increase your retention rates. 
Companies that ranked in the top 20% for employee recognition had a 31% lower turnover rate. And lower turnover can save your company a lot of money. According to Gallup, voluntary employee turnover costs U.S. companies $1 trillion every year. Replacing an individual employee can cost as much as double that employee's annual salary in hiring resources, training, and lost productivity.
Another study by Gallup also found that high rates of employee engagement improve business outcomes, but that only 35% of U.S. employees feel engaged. A culture of recognition can improve the employee experience at your company and increase employee morale. 
Use these Employee Appreciation Day Ideas to jump-start your culture of recognition. Then, discover ways to incorporate these strategies throughout the year. 
7 Ways to Celebrate Employee Appreciation Day 
Here are our favorite employee appreciation ideas to make it feel like the first Friday of March isn't just another workday. Of course, one day of recognition isn't enough, so we're including tips to make these ideas part of your year-round employee recognition program. 
1. Send a Digital Thank You 
The pandemic made remote work the new normal, and many companies have no intention of returning to the office. While working remotely can have a lot of benefits for employees — including higher job satisfaction — you have to get a little more creative with your employee engagement strategy. (Themed Slack channels will only take you so far.) 
One of our favorite, made-for-the-digital-age engagement ideas is to send digital thank you cards to all of your remote employees. You can include a personalized message that specifically mentions the great work they've done for your company. You can even link to a digital gift card directly on your note.
On Employee Appreciation Day: If you have a small company, then the cards can come directly from the CEO. For larger companies, have each manager send a personalized card to their direct reports. Give managers some leeway to choose a gift card they think their employees will appreciate most.
Throughout the year: Give managers a budget for monthly recognition. Whether they send a thank you card and gift to their best employee each month or to their 10 best employees, the surprise will keep team members feeling appreciated. 
2. Host an Epic Happy Hour 
Hosting happy hour in the break room is nothing new, but if your company hasn't partaken in this tradition, Employee Appreciation Day is a good time to raise a glass. 
On the other hand, if you're old pros at happy hour, you can up your game on this special day by renting out a local gastropub and having an open bar and unlimited hors d'oeuvres. Or invite a master mixologist into your company break room for a cocktail class — they can even create a signature cocktail for your company. Remember to offer mocktails or other non-alcoholic options for anyone who doesn't drink. 
You can also incorporate these ideas into a virtual happy hour for your remote team. 
On Employee Appreciation Day: Call it quits a little early and invite your team members to join you for libations and any other happy hour festivities.
Throughout the year: Make happy hour a company tradition by hosting one on the first Friday of every month. It's an organic way to encourage team bonding.
3. Enjoy a Food-a-Palooza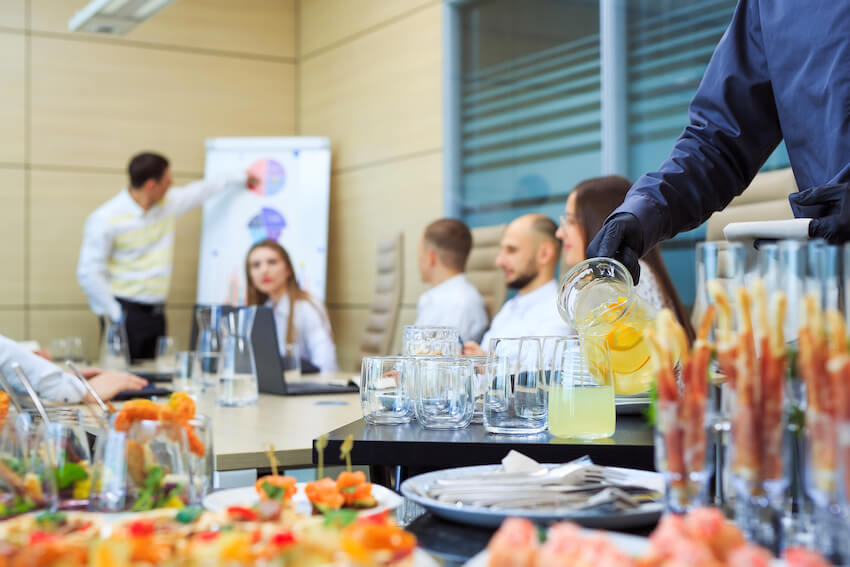 The way to our hearts is through our stomachs, so we always love to share exciting eats in the break room. For Employee Appreciation Day, do something a little more exciting than buying pizza for the office. 
Host a rotating menu that changes throughout the day, and encourage your team to head to the company kitchen four or five times during the day to explore their options. 
You can start with a breakfast bar full of cereal, waffles, eggs, and maybe even an omelet station. Mid-morning, invite everyone back for coffee, tea, and pastries. Order everyone's favorite take-out for lunch. Host an ice cream party in the afternoon. And send everyone off with happy hour in the evening. 
Remember to account for dietary restrictions, and have options for the vegans and vegetarians in the office. 
On Employee Appreciation Day: Take a poll to find out everyone's favorite foods and include the most popular picks on your all-day menu. If your company already has a cafeteria, make the food free all day, invite a local chef to make some extra-special meals, or host local food trucks in your office parking lot as a way to mix things up. 
Throughout the year: Foster a foodie culture by celebrating an exciting national food day each month or each quarter. You can celebrate National Hamburger Day in May, National Banana Split Day in August, and National Taco Day in October. 
4. Send Swag
Lots of companies give away branded swag during new employee orientations, company conferences, and other events. But for Employee Appreciation Day, it's essential to make sure the swag is more about your team than about your company. 
It's OK if you still include your company logo on the products, but make sure you're sending out premium products that appeal to most of your team members.
If you already have a recognition platform that you use to send gifts at anniversaries and other employee milestones, you can let your employees choose their own gift for recognition day. For virtual teams, send a care package in the mail or opt for digital gifts like online experiences or gift cards. 
On Employee Appreciation Day: Try sending out a poll to ask what team members want. You can brand everything from fleece sweaters to wellness products like yoga mats and lifestyle products like beach chairs, so get creative with your gift ideas.
Throughout the year: Start using employee recognition software to allow your team members to earn points and pick prizes. Make sure you send swag or gifts during important employee milestones, both in and outside of work. Events like company anniversaries, professional achievements, weddings, and babies are all worthy of recognition. 
5. Go on a Field Trip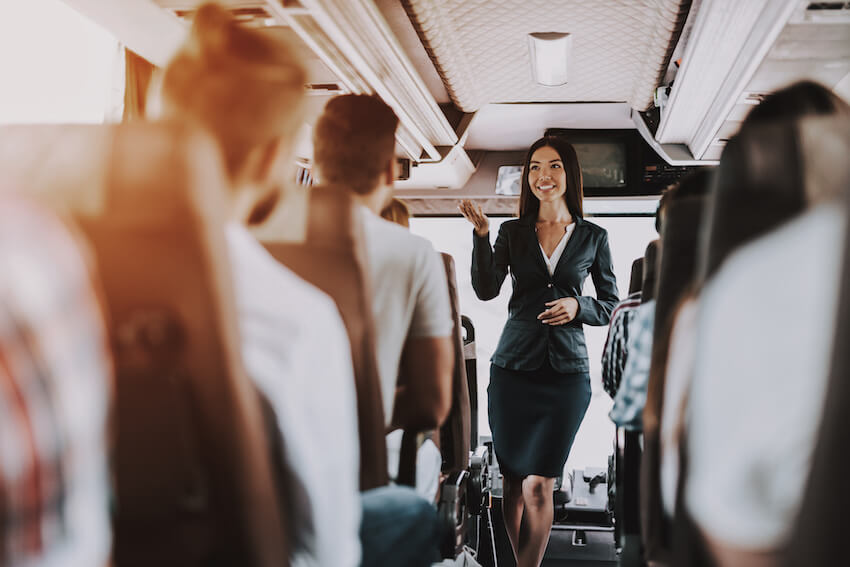 Let your employees step away from their desks and stretch their legs with a field trip. These can include feel-good activities, such as volunteer trips or a trip to see the impact of their work in the community. They can also include edutainment events like attending a fun conference or going to a screening of an industry-specific film. Or they can be pure fun. 
Use the event to take your team to a theme park or enjoy another team-building activity like bar trivia, an escape room, or a rage room (an ideal experience for a team that's had to put up with a few frustrating clients lately). 
On Employee Appreciation Day: Choose one big field trip for the whole company or let each department choose the best trip for them. Make it like the field trips of your childhood by having everyone go on one bus. This will give you more together time for team bonding and remove the stress of driving from one location to another.
Throughout the year: Allow quarterly, department-relevant field trips as team-building or continuing education opportunities, or offer team members an individual budget and an allotted amount of work hours that they can spend attending conferences and other educational events that interest them. 
6. Take a Day Off 
American workers have fewer days off than their peers in Europe, and they work longer hours than workers in any other industrialized nation. All this can add up to employee burnout, as well as reduce creative thinking and increase human error. Establish your company as one that values work-life balance by giving your team members time to relax and restore. 
While there are only six public holidays that the majority of companies recognize as paid days off, more progressive companies offer PTO on bank holidays and other important dates. Many forward-thinking startups offered time off for Juneteenth before it was turned into a public holiday, and some companies offer a day off on Election Day.
You can set whatever paid holidays make sense for your company and your team. So why not give everyone the perk they want for Employee Appreciation Day — a day off. You may even notice a boost in productivity when everyone returns to the office. 
On Employee Appreciation Day: Close your office and give everyone the day off. If you can't completely shut down, offer time-and-a-half or a floating holiday for team members who have to be in the office. 
Throughout the year: If your team members ever have to work long hours to meet project deadlines, avoid burnout by offering flex time and allow them to take a day off for every eight hours of overtime they put in. You can also offer a paid or unpaid sabbatical program to employees who've worked for your company for a certain number of years. 
7. Invite Some VIPs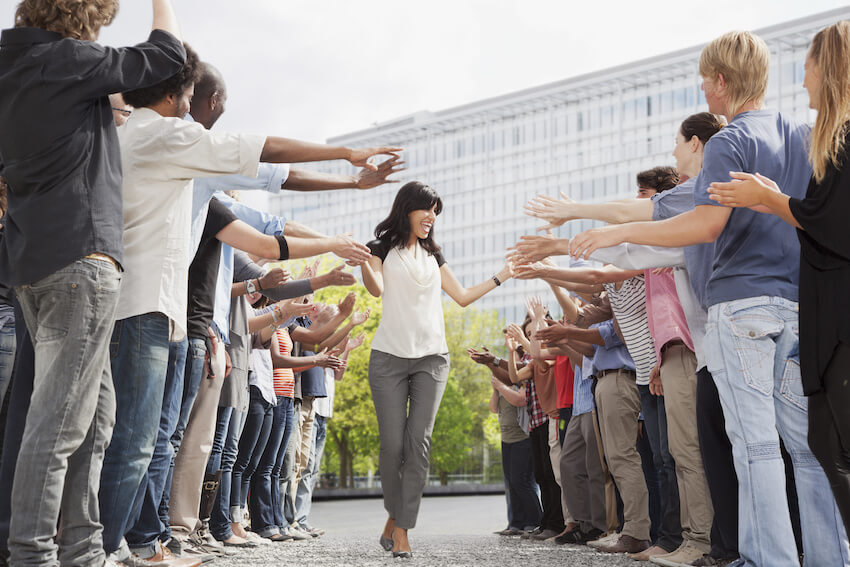 If your team has access to industry thought leaders, invite a few of these movers and shakers into your office on Employee Appreciation Day. Host your own version of a TED Talk with these industry celebs, or allow your team members to meet up with them for one-on-one or small group mentoring sessions throughout the day.
As an alternative to industry leaders, you can also host mentoring sessions with your company leaders, and invite team members to join your company's executives or board members for small group sessions. You could also make this event pure fun by inviting actual celebrities and allowing team members to join their favorite actors, musicians, or athletes for coffee, lunch, or games. 
On Employee Appreciation Day: Ask team members to sign up for time with your industry, company, or actual VIP in advance so that you know how many hours and how big of groups you should plan on hosting for the event. 
Throughout the year: Offer coffee or lunch meetings with your executives or board members on a regular basis. Ask team members to sign up in advance and limit the number of people who can attend so everyone feels like they got valuable face time with an exec. 
Show Your Team You Appreciate Their Hard Work 
A little recognition goes a long way. Use Employee Appreciation Day to jump start a culture of appreciation. Then, foster an attitude of gratitude all year round. 
When your employees feel appreciated, it can improve morale and increase employee engagement, all of which will impact your bottom line. Keep your team members top of mind throughout the year and make employee recognition a cornerstone of your company culture.