June 25, 2020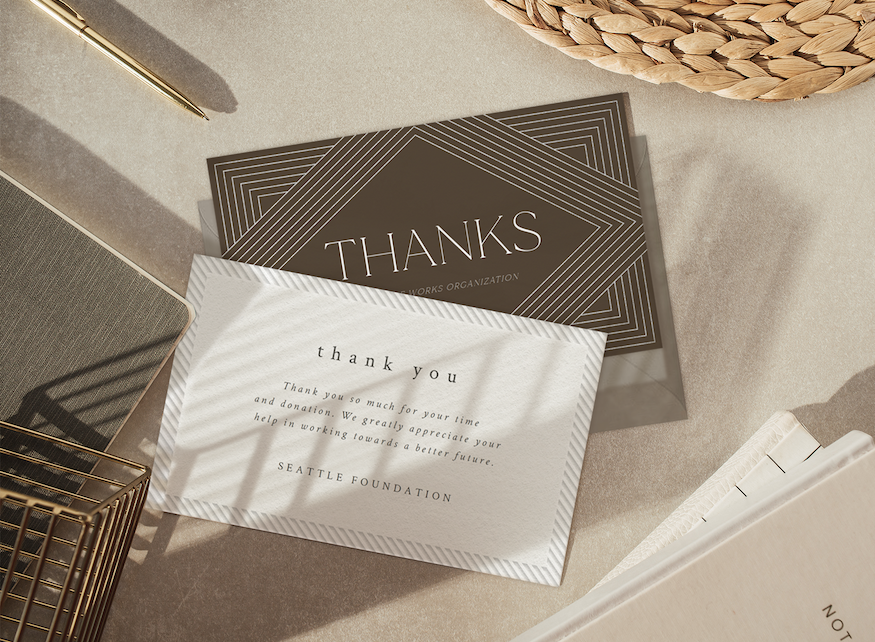 As the old saying goes, business is business 'ÄĒ it's not personal. But we say, that's not true. Letting people in your professional sphere know that you appreciate them is one of the most significant things you can do for both your work and personal life.
Research shows that saying thank you can improve company morale, encourage brand loyalty among customers, nurture relationships of all types, and create a greater sense of happiness overall. Along with actually saying the words, sending business thank you cards is one of the easiest and most powerful ways to build a culture of gratitude.
So, what's the best way to go about sending business thank you cards? Well, we have a few ideas. Keep reading to discover top tips on who to thank, when to send your gracious notes, and what to write so you can sincerely express your gratitude.

Who Should Receive a Business Thank You Card?
In a word: Everyone! More specifically, everyone who has a meaningful connection to your business should receive a thank you card at some point or another. This could be an employee, client, shopper, volunteer, business partner, contractor, custodian, vendor, or any number of people who positively impact your business.
Perhaps someone has given a gift, made a monetary contribution, or donated their time and talent to your organization. Or maybe you have loyal customers who have helped your business thrive. Whatever the case might be, sending thank you cards is a surefire way to let people know you value their support.
Thank you cards also help make a positive impression when forming new business connections. Taking the time to thank someone for meeting with you or attending a corporate event can enhance budding business relationships. A simple thank you note adds a personal touch that goes beyond a strictly transactional exchange.
When to Send Business Thank You Cards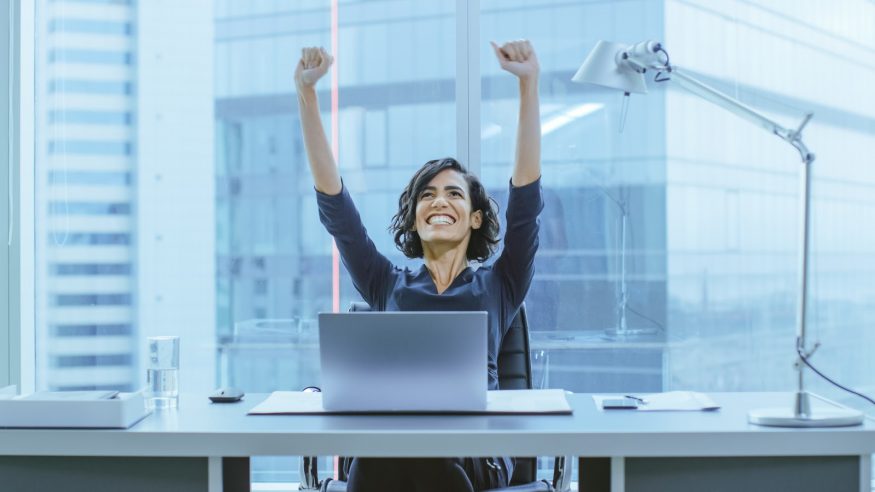 Whether you're hosting a charity gala, company happy hour, or virtual business event, sending business thank you cards after the event is a must. Really, it's just good manners and common courtesy. (And we could all use a little more of both!)
To avoid letting too much time pass between your event and the follow-up, send your thank you note as soon as possible. Doing so will ensure that the experience is still top of mind for the recipient and will make the sentiment feel all the more special and timely.
Here are some ideas of when to send a note of gratitude:
To thank guests who attended a company function
To express customer or employee appreciation
After meeting about a potential business collaboration
After making a new business contact
After someone has made a contribution (be it money, time, supplies, etc.) to your company
7 Scenarios for Sending Business Thank You Cards
When it's time to express your appreciation, it doesn't get easier than sending online business thank you notes. You don't have to worry about sorting through stationery, buying stamps, or wondering when the card will arrive in the mail. With digital cards, you can customize your message and add your own business branding, colors, and company logo. (Just don't overdo it as you don't want the note to seem like it's merely a business card with a quick "thank you" afterthought.)
Be sure to browse Greenvelope's entire selection of business note card designs for more options that suit your specific needs. (Bonus: Many of the designs come with coordinating online business invitations for your event.) But first, check out these seven fabulous examples of gratitude. While you're free to use the phrasing on the sample cards to inspire your own message, we've also included some additional ideas on what to write.
1. Thank You for Attending a Charity Fundraiser
Your thank you note will pop with the vibrant colors of this Pastel Strokes card that works perfectly for your company's charity art auction, gallery opening, or other event supporting the arts. Customize it by removing the ribbon emblem or adding your own business logo or monogram. Whatever you decide, the colorful design will put a smile on your recipient's face.
Personalization: Thank you so much for your support and for joining us at this year's fundraiser. It was the most successful one yet. Your generosity is the stuff dreams are made of!
2. Thank You for Your Hard Work and Support
Let your employees, volunteers, or other team members know they're out of this world with the Galaxy Gala thank you card. With gorgeous, metallic constellations and rich ombre hues, this card practically twinkles off the screen and provides an elegant way to express your gratitude.
Personalization: You're a star! Thank you for all your hard work, time, effort, and dedication. We couldn't reach our goals without you.
3. Thank You for Attending Our Grand Opening
This breezy Beachwalker thank you card features a simple, modern design with a beautiful pastel watercolor motif. Customize it for guests who attended the grand opening for your new beachside cafe, hair salon, neighborhood art center, or whatever you wish.
Personalization: Many thanks for attending our grand opening. Although we didn't have much time to talk, seeing you made all the difference. Your support means the world to us!
4. Thank You for Meeting With Us
Never mind being all business and no play. With this eye-catching Bold Geometric card design, you can have a little of both. Whether it's a potential business collaborator or an important new contact, it's always a good idea to follow up and thank the person with a thoughtful note. Make it short and sweet or add a more detailed message.
Personalization: Thank you for taking the time to meet today. We loved your bold ideas and appreciate your insights. We look forward to future collaborations. Cheers!
5. Thank You for Attending Our Product Launch
With its hand-drawn illustrations on both the flat card and envelope liner, this Cheers to You business thank you card sets a fun and festive mood. The realistic patterns will make recipients feel as though they can actually feel the cardstock and textured, frayed edges of the envelope. Choose from five different colorways and customize your message.
Personalization: Thank you for joining us for the unveiling of our new wine. It was a huge success in no small part because of you. Hope you enjoy the free samples! We truly appreciate your support.
6. Thank You for Your Donation
While handwritten notes are nice, they're not always realistic, especially if you're sending out dozens (or even hundreds) of thank you notes. Thankfully, this classic thank you note achieves a similar effect. The handwritten type is simple yet sophisticated while the bold frame and whimsical streak give it a modern twist. Send it to guests who donated to your company's annual charity gala, community fundraiser, or other philanthropic endeavor.
Personalization: Thank you for your kind donation to our yearly plant-a-tree event. Your generosity is what makes it all possible. With gratitude, the Madira Foundation.
7. Thank You for …
Whether you're thanking customers for their continued support or expressing gratitude for a business referral, you can't go wrong with this timeless Subtle Sunrise thank-you note. The beautifully textured yet pared-down design puts the spotlight on your words, so you can clearly get your message across.
Personalization: Thanks so much for giving us the opportunity to serve you. We're grateful that you've entrusted us with your business and we look forward to serving you for years to come. We value your feedback and continued support.
Two Words That Mean So Much
Thank you. Saying those two simple words can make a positive and indelible impression on those who hear it. Whether you want to express your appreciation for your team members, loyal customers, or new contacts, sending business thank you cards is a small way to make a big impression.
Even better, when you send your notes digitally, it's easier for both you and the recipients 'Ā†'ÄĒ you don't have to worry about shopping for paper invites and postage, and your guests can receive your thoughtful message sooner than later. It's a win-win situation, and that's certainly something to be grateful for!