April 22, 2020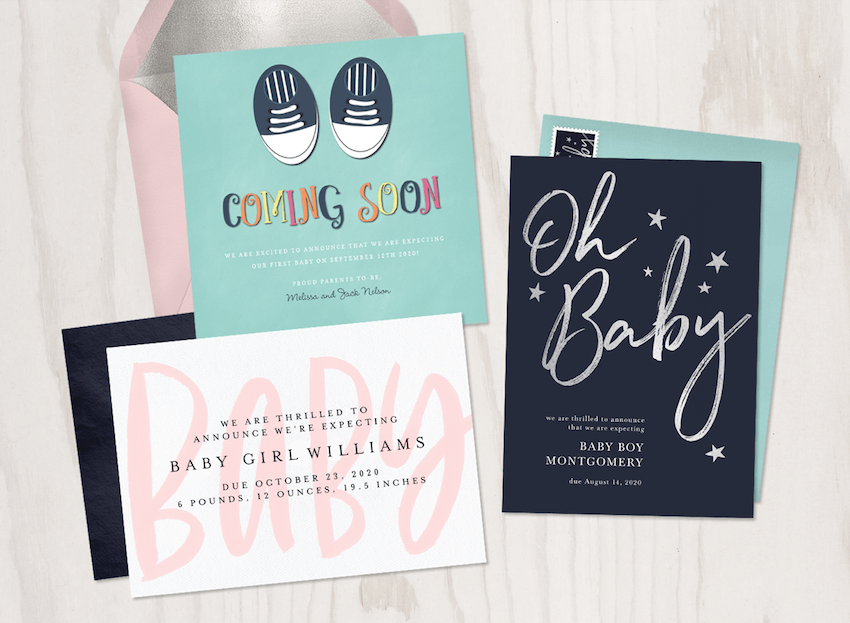 Oh baby, your family is about to get a little bigger. You discovered your soon-to-be new addition weeks ago, but you've been waiting for the proper moment to spill the beans. Now, you're ready to let the rest of your family and friends in on your little (baby) secret and are searching for cute pregnancy announcement ideas to break the news.
Most parents choose to wait until after the first trimester — or about twelve weeks — to announce a pregnancy. By then, you may be bursting at the seams to share your good news. And why wouldn't you be? Your life is about to change forever and in the best way possible.
Whether this is your first child or your third, your home is about to be filled with the pitter-patter of little feet, your shopping list full of diapers and baby food, and your closets filled with the most adorable wardrobe of onesies. You already have a BB (Before Baby) to-do list taped to the fridge, and the very first item is to share your good news.
Below, you'll find plenty of pregnancy announcement ideas to share across social media, as well as a few pregnancy announcement cards to send to close-knit family and friends.

Creative Pregnancy Announcement Ideas for First-Time Parents
Start turning your creative wheels and muster up those crafting skills, because your little one is about to make their first Instagrammable debut.
We tip our artistic hats to all the expecting mamas and papas out there, as pregnancy announcements have come a long way in recent years. What used to be a simple, scripted post now involves photoshoots, snappy one-liners, keepsakes, costumes — you name it. New parents are getting a little "Extra! Extra!" to share their pregnancy news, and we certainly want to read all about it. Here are a few creative ways to share your first baby's first appearance in the headlines.
Make it cinematic: If you and your partner are complete movie buffs, set up a photoshoot for your own movie poster. Pose in various ways unique to your family, then Photoshop-in the words, "Due out April 2021" at the bottom of the image.
Toast to your wild days: If this is your first child, you may expect your Friday and Saturday nights to change — drastically. Say "cheers" to your younger days by taking a photograph of a beer bottle, wine glass, and baby bottle (for baby), and write the words, "Brewing a new addition to our family."
Sail away to your next adventure: Do you plan on taking a baby moon for one last hurrah? While you're dipping your toes in the sand, remember to take a seaside picture. For the caption, write "Baby on board," to announce the arrival of your new first mate.
Thank modern medicine: If you did IVF treatments to become pregnant, those two lines on your pregnancy test were a modern miracle. Take a picture of your test, a sonogram, greenery, and a chalkboard with the words, "Made with love and a little bit of science."
Create an urban scene: Snap a picture in your neighborhood with your life partner, preferably next to a speed bump. For the caption, write "There's a bump in our road — we're excited for the adventures ahead May 2021."
Funny Baby Announcement Ideas that Incorporate the Whole Family
If you're on baby number two (or three … or four) you may want to get the whole family involved in your announcement. After all, you've done the whole parenting thing before, but this may be the first time your son or daughter gets to step into the role of big brother or sister.
There are plenty of pregnancy announcement photos you can take that involve the whole family. With a little wordsmithery, you can make a funny pregnancy announcement you'll enjoy for years to come:
Snap a shot of your fur baby: If your "first child" is a cuddly creature who walks on four paws instead of two bare feet, let them share your big news. Put a t-shirt on your fur child with the words "big sister" or "big brother" clearly printed.
Introduce the new sidekick: Does your firstborn love dressing up as a princess, superhero, or other character? Snap a photo of them donning their finest costume attire, and write a caption saying, "Batman awaiting the arrival of Robin" or "Princess Sophie is awaiting her royal sidekick."
Display family belongings: There are so many cute ways you can foreshadow your baby's arrival by arranging family belongings. For example, take a pair of shoes from everyone in your family, with a pair of baby shoes at the tail end of the line. Or park your cars next to one another in the driveway with your children's bikes, then arrange a baby carriage at the front with the words, "New ride coming October 2021."
Explain the plot twist: You were on your last one … but instead you got two! To announce your twin pregnancy, arrange two onesies next to each other, with the words, "Hoped for one," written on the first, and "Blessed with two," printed on the second.
Fun Holiday Pregnancy Announcements to Spread the News
Will your baby bump finally burst around the holidays? If your due date just happens to fall around a holiday, there are plenty of innovative ways to announce your new baby. Here are a few fun ways to announce your new family addition all year long.
Valentine's Day: Pull out the Valentine's Day cards, roses, and heart-shaped candy. Create a red-and-pink themed collage, and write the words, "Not all Valentines are delivered on February 14th," or "Love is growing," for a February baby.
Easter:Â If you're due in the springtime, take a photo with baby ducks and a few broken egg shells. Write the words, "Baby Smithmeyer hatching in April 2021," for an egg-citing pregnancy reveal.
Halloween: You're about to "fall" in love with your new baby and can't wait to share the news. For an October due date, snap a picture of two large pumpkins next to one mini pumpkin, with the words, "Peak-a-boo, I see you!" transcribed beneath.
Christmas: What better time to tell your loved ones about your exciting news than the holidays? Create a DIY holiday-themed announcement by arranging wrapping paper, Christmas lights, and a sonogram, then write the caption, "Your Christmas present is on layaway until June 2021."
Congratulations on Your Family Addition
You're probably ready to shout your baby news from the rooftops. At the same time, you might want to let a few close family members and friends in on your baby secret before publishing it to your Facebook feed. For these special few, a personal pregnancy announcement could be a wonderful way to share the news.
With Greenvelope, you can easily create a custom pregnancy announcement to send to family and friends. Once your parents know they'll be grandparents and your college BFFs know they'll be an auntie or uncle, you can go ahead and announce your growing family to the masses.
Grenvelope has dozens of adorable pregnancy announcements to spread the news of your little bundle of joy. And until you decide how you want to announce their arrival, we promise our lips are sealed. And as you plan your baby shower, gender reveal, or sip 'n see, we're here with all the online invitations you need to bring your plans to life.