October 13, 2022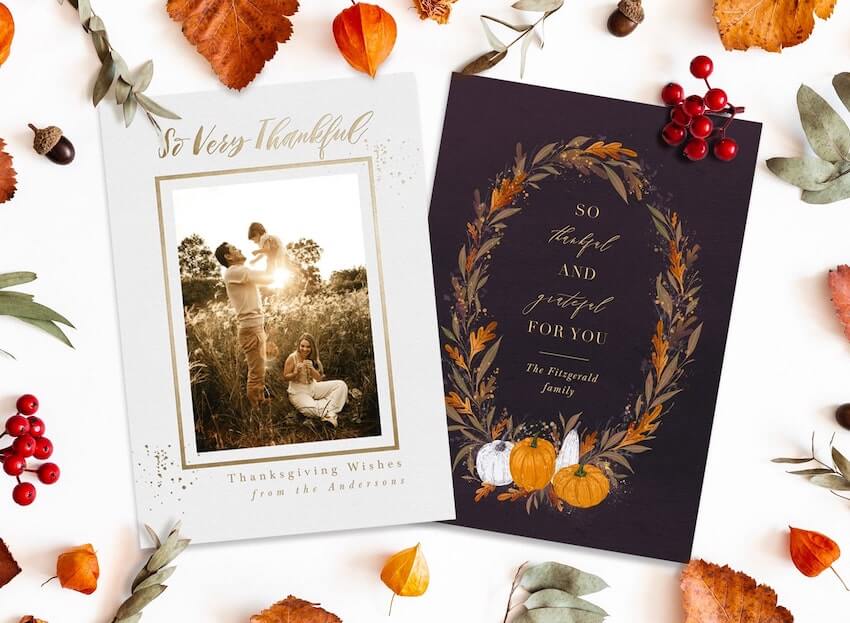 When most people think of Thanksgiving, visions of bountiful feasts abound. Tables are piled high with roasted turkey, bowls of mashed potatoes, and sweet baked pies. But Thanksgiving is about more than a delicious meal. It's about time spent with loved ones, making new memories, and being thankful for all of life's blessings.
That's why Thanksgiving is an ideal time to send greeting cards. While most people send out holiday and "Happy New Year" cards, your Thanksgiving greetings will stand out and make a lasting impression. Not sure what to say? We'll help you reflect on what matters most and show you different ways to express your gratitude and joy.

Thanksgiving Greetings: So Many Reasons to Share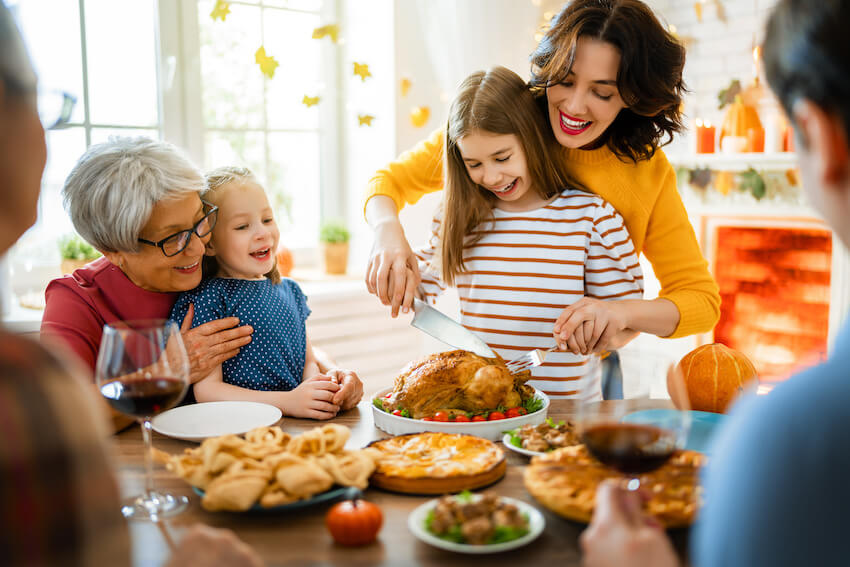 Thanksgiving is all about giving thanks and being grateful for what you have. That makes it the perfect holiday to share a greeting card. You can make one card for all your loved ones or write a special individual card for each person or family.
Thanksgiving greetings are also a thoughtful way to show your coworkers, employees, or clients how much you appreciate them. Just make sure to keep the tone appropriate. If you have very serious clients, stick to formal wording. If you enjoy a more casual relationship, a light-hearted yet respectful tone would work fine.
Most people send holiday cards during Christmas, Hanukkah, and New Year's, but Thanksgiving greetings can make more of an impression — and they may even make someone's day. Read on to find fun and creative ways to say thanks this holiday season.
Thanksgiving Greetings: Wording Ideas to Show Your Gratitude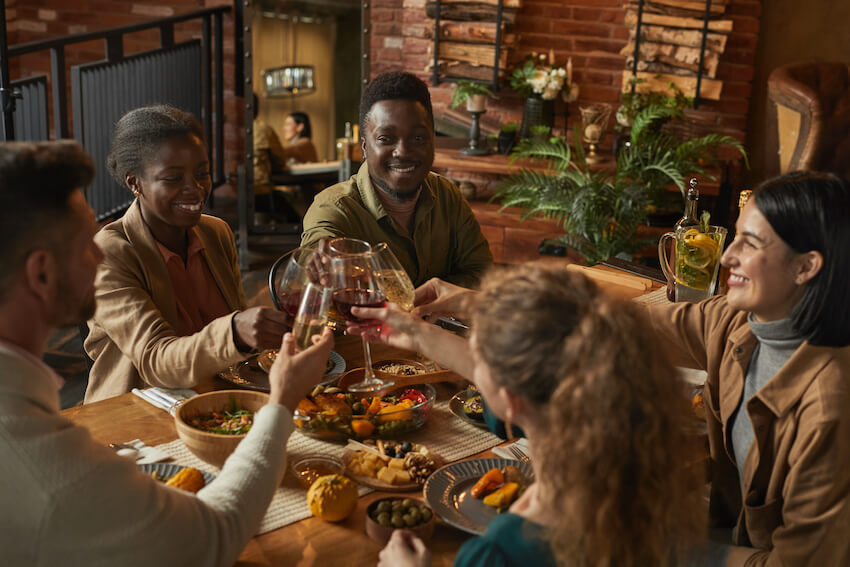 Trying to find the right words for your Thanksgiving greeting card can seem daunting, but we've got you covered. Here, you'll find 15 ideas for your message — from joyful and sweet to funny Thanksgiving quotes and lighthearted notes. You'll also find a few Thanksgiving invitations if you're planning to host a Thanksgiving dinner. With Greenvelope, you can customize any card to suit your purpose, whether it's updating the words, font, color palette, or details like music and wax seals. It's yet another reason to be thankful!
1. Calligraphy Thankful Card
This calligraphy-inspired card is perfect for highlighting a family photo and is backside supported for a longer Thanksgiving message.
Wording Idea: During this time of Thanksgiving, we hope you receive many blessings and joy. Enjoy the wonderful colors of fall, the love of family, and the laughter of friends.
2. Stuff Our Pieholes Invitation
This humorous Thanksgiving card keeps it real with a lighthearted tone, plus the backside is where you can feature all the details about your Thanksgiving day celebration.
Wording Idea: Ready for a very happy Thanksgiving? Well then, join us for good company and a table full of delicious treats. Our holiday feast with all the fixings goes down this Sunday at 4 pm.
3. So Very Thankful Card
This lovely Thanksgiving greeting card makes a statement with its letterpress-style frame, dreamy script, and subtle ink splatter.
Wording Idea: There are so many things to be thankful for, but you're one of our favorites. Wishing you a very happy Thanksgiving and a beautiful day surrounded by the ones you love.
4. Autumnal Frame Card
Use this bold greeting card to share a recent photo and express your gratitude for loved ones.
Wording Idea: Happy Thanksgiving Day! We wish you a blessed Thanksgiving and all the best for the coming year. We hope your fall is full of festive meals, fun activities, and lots of time with the ones you love.
5. Thankful Card
With its warm tones and cozy, chunky font, this Thanksgiving card is sure to put a smile on your recipient's face.
Wording Idea: We are so thankful for you and wanted to take time on this special day to wish you a wonderful holiday. We hope you have a memorable Thanksgiving and a joyful time celebrating with loved ones.
6. Eucalyptus Bouquet Card
The layout of this holiday greeting card allows you to feature several photos and share some special moments from the past year. 
Wording Idea: We wish you all the wonderful things this Thanksgiving Day — from good friends and good food to good health, happiness, and prosperity.
7. Thanksgiving Quad Card
Let your recipients see your smiling faces with this charming Thanksgiving photo card that comes in a variety of stylish fall colors.
Wording Idea: We hope your Thanksgiving table is full of laughter and joy this year. Thanks for filling our lives with both every day.
8. Always Give Thanks Card
Share your favorite photo of the season with this autumnal-hued Thanksgiving card framed in lovely fall leaves.
Wording Idea: Happy Thanksgiving wishes! From our thankful hearts to yours, we wish you all the good things in life. Have a happy holiday and a wonderful time celebrating.
9. Dancing Leaves Card
This classic design featuring pumpkins, an autumn wreath, and subdued tones is perfect for sending to colleagues and friends alike.
Wording Idea: Our best wishes for this joyous Thanksgiving. We hope your Turkey Day is as filling as the pumpkin pie. Here's to a holiday filled with love, great food, and even better friends.
10. Gilded Thanksgiving Invitation
This gilded Thanksgiving dinner invitation comes in three colorways and offers a stylish design to invite loved ones to a Turkey Day feast. 
Wording Idea: Gobble-gobble til you wobble! We're inviting friends and family for a fun and fancy evening. Bring your favorite Thanksgiving dish to share.
11. Gallery Vibe Invitation
Forgo the typical Thanksgiving motifs with this eye-catching invitation brimming with artistic flair. You can customize it as a Thanksgiving greeting card and choose from five different color options. 
Wording Idea: Love and joy and gratitude! Gather around the dinner table with best friends and family at our home this Thanksgiving Day at 4 pm to enjoy a delicious meal.
12. Thankful Script Card
Send your warmest wishes and a lovely family photo with this timeless photo greeting card.
Wording Idea: Thinking of you and yours this holiday season. Have a joyful Thanksgiving, whether you're celebrating with a small shindig at home or a large feast with the whole family.
13. Speckled Bokeh Invitation

Whether you're sending personal or professional Thanksgiving greetings, this elegant card is sure to make an impression.
Wording Idea: Join us for a Thanksgiving celebration with food, family, and fun. Drinks start at 6:30 pm and we'll sit down for dinner at 7 pm. Plan for some board games and a quick reading of thankful messages after the meal.
14. Thanksgiving Gold Leaf Invitation
This gold leaf Thanksgiving invite is an ideal fit for extending an invitation to coworkers or clients, or simply expressing an appreciative message. 
Wording Idea: We're so thankful to have such wonderful clients. We invite you to join us for a pre-Thanksgiving gathering this Friday from 7 pm to 9 pm. We'll have cocktails and buffet-style dinner with live entertainment.
15. Rustic Autumn Invitation
Set the right tone with this cheery Thanksgiving dinner invitation brimming with brightly-colored fall leaves, acorns, and branches.
Wording Idea: We'd be nuts if we didn't give thanks for your friendship! Join us for an afternoon of food, games, and fun. It all starts at noon with yard games and flag football. Drinks and feast to follow.
Use These Thanksgiving Messages to Share the Joy This Holiday Season
Send Thanksgiving wishes this holiday season with these fun and festive card messages. From silly and fun to more formal wording, there's something to suit the occasion. However you decide to share your warm wishes, your recipients are sure to appreciate the thoughtful gesture.
Looking for more ways to be thankful and celebrate this Thanksgiving? Don't miss our list of fun Thanksgiving party ideas as well as non-traditional Thanksgiving celebrations. You'll also want to check out our top tips for Thanksgiving decor to set the mood for your upcoming Thanksgiving event.