November 11, 2021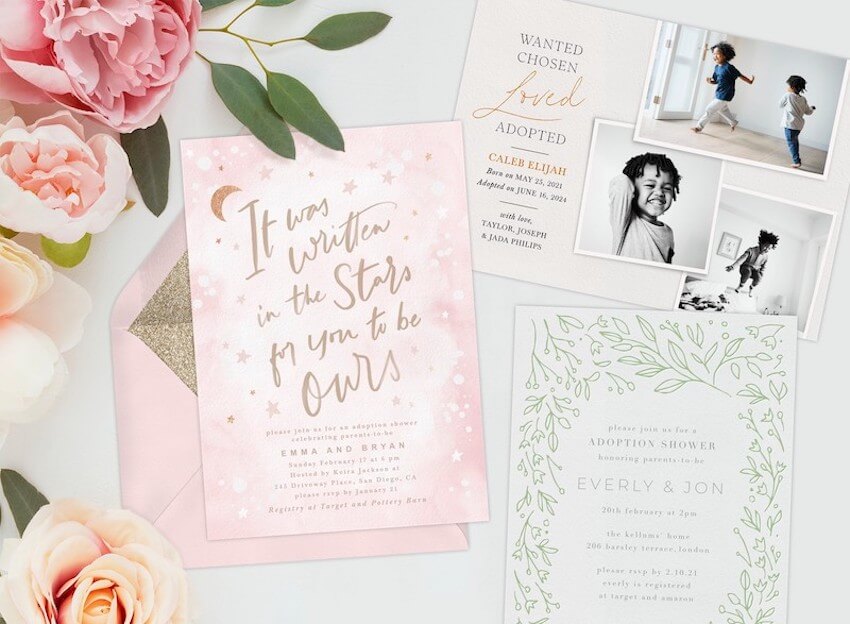 The time has come to let the world know that you're about to be an adoptive parent. Congratulations! It's such an exciting moment and your loved ones can't wait to celebrate with you. Let them know all the details with captivating adoption announcements. Get ready to discover a variety of delightful ways to share the joyful news, as well as wording and design inspiration for your adoption announcement cards. 

Lovely Ways to Make an Adoption Announcement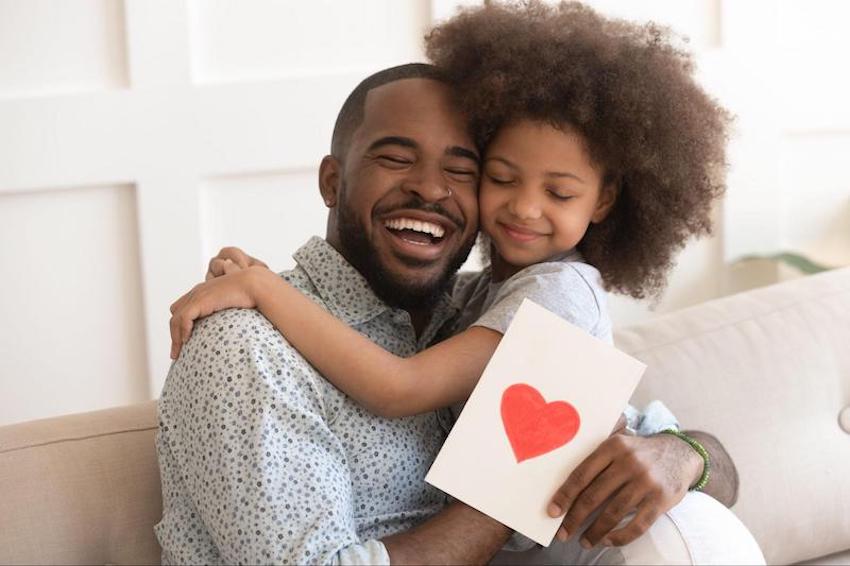 Whether you're becoming a first-time parent or adopting the newest member of your family, these adoption announcement ideas will help you mark the occasion. From sending an adoption shower invitation to sweet and simple adoption announcements, it's time to share the good news.
Surprise Your Loved Ones With an Adoption Shower
Sometimes a party is just what you need to share the news with loved ones, and an adoption shower is a perfect way to kick off the occasion. 
While a close family member or friend often hosts a baby shower or adoption shower, there's nothing wrong with planning the event yourself — or letting someone in on the secret to reveal the news with you. 
Surprise your guests by sending customized adoption party digital invitations or keep it a secret right up until the day of the party by sending a general invitation. Then, when your guests arrive, you can reveal the big news about your upcoming adoption day! 
Create a Fun Video for Family and Social Media
Short videos are all the rage when it comes to social media. If you're active on your accounts, it's also a great place to break the adoption news to your extended family members, friends, and community.
Planning a video like this can be a lot of fun, so get thinking about how you want to do it. You could film along your boots in a row, with a smaller pair for your new family member, or zoom out on a beautiful pattern to reveal that it belongs to a tiny onesie. Get creative to deliver the joyful news in a manner that best suits your personality, or scroll around online to see what other adoptive parents have done. 
Share Images from a New Family Photo Shoot
It's common to see engagement photos, graduation photos, and baby announcement photos — so why not add adoption photos to the list? Book a special adoption photoshoot to capture the moments of this special time. 
Ask for recommendations for a great local photographer and find a stunning location — whether that's your local park filled with snow or fall leaves, or at home spending time together. Share your photoshoot snaps with loved ones alongside a simple message, or feature them in a heartfelt adoption announcement card. 
Commission a Personalized Sign or Artwork
If you're looking for a fun prop for your photoshoot, a personalized sign or piece of artwork is a lovely idea. Not only can this bring attention to the big reason behind your photos, but it can stay with you as a keepsake. 
Work with a local artist to create a chalkboard or wooden sign with a sweet saying like "Welcome to your forever home" or with your child's name and adoption date. If you're crafty, you could make your own DIY chalkboard sign. For something that you can display more easily at home, commission a beautiful illustration of your family that you can hang as wall art.
Get Your Family Involved
Becoming an adoptive parent is a big moment not only for you but for loved ones around you. This could be the perfect opportunity to involve them in your adoption announcements — especially if you already have children or there are excited youngsters in your circle. 
Get your parents, parent figures, or any children you're close to involved in sharing the news. Ask them to hold up a sign for your photos, or take part in your quirky social media video. This is a sweet way to honor your loved ones' support throughout your journey, and to create a very warm welcome for your new addition. 
Send an Adoption Announcement Card
Whether you're hosting a big celebration mid-journey or filming a fun video that features your new baby or child on adoption day, sending digital adoption announcements is always a good idea. 
This is a great way to share the news with many people all at once, and it provides a virtual keepsake that they can look back on. Greenvelope offers plenty of beautiful online adoption cards that you can personalize for your own unique experience. 
What to Include in Your Adoption Announcements
Letting your loved ones know about your adoption success is an exciting moment like no other. Here's what to feature in your adoption announcement card so they can feel the love and joy alongside you. 
A Beautiful Photo of Your New Family Member
There's nothing better than seeing a gorgeous baby all snuggled up and cozy, or a big kid smiling back at you through the camera lens. Give your recipients all the feels by adding a lovely photo to your adoption announcement card. 
Your Baby or Child's Name
Your closest friends and family members are eager to welcome your child into their lives too, so make sure they know exactly what to call them. Include your child's full name, along with any nickname. 
Their Birth and Adoption Dates
For some new arrivals, their birth and adoption dates might be very close together. For others, there's some distance between the two. Many adoptive parents like to honor both the adoptive child's birth date and adoption date, so it makes sense to include both in your announcement. 
A Sweet Message About Love
The road to adoption can be difficult, but there's so much light at the end of it. If you're looking for something beautiful to add to your adoption announcement, try including a message such as:
Our newest family member was well worth the wait

Welcome home

You're the missing piece and we're so glad we found you
If you're choosing a design with more blank space, you could also feature or write your own poem to mark the moment. 
5 Adoption Announcement Cards You'll Love
Take a look at these adoption announcements to help you design the perfect welcome for your new arrival. Choose your colors, wording, and photo options for a totally bespoke look. 
1. Loved Adoption Announcement Card
We love that there's so much space to share your photos on this adoption announcement card. There's a stunning range of color options with warm, natural tones, or you could customize it with bolder hues if you prefer.
2. Wanted, Chosen, Loved Adoption Announcement Card
This wanted, chosen, loved adoption announcement card really brings into focus just what an incredible moment this is. The little heart alongside your new family member's name adds an incredibly sweet touch. 
3. Stronger Than Blood Adoption Announcement Card
It's a saying that feels forever true, and this stronger than blood adoption announcement card makes it clear just how adored your new arrival is. You can include four photos of your beaming little one here, giving you plenty of space to showcase their personality. 
4. Be Ours Adoption Shower Invitation
If a friend or family member is hosting an adoption shower for you, share the news with this adorable adoption shower invitation. The sweet pastel tones, watercolor backdrop, and metallic accents make this a winning invite for a very special occasion. 
5. Our Sunshine Birth Announcement Card
It's easy to transform one of Greenvelope's birth announcement cards into a gorgeous adoption announcement card, simply by changing the wording. This birth announcement card is a warm way to welcome any newcomer to your family. 
Make Your Loved Ones Smile With These Adoption Announcements
Adopting a new member of the family is cause for celebration. Whether you decide to plan an extravagant adoption party, host a small gathering for loved ones, or simply share the news with an adoption announcement card, we hope these ideas help commemorate this wonderful occasion and remind you of all the joy you get to experience.