February 10, 2022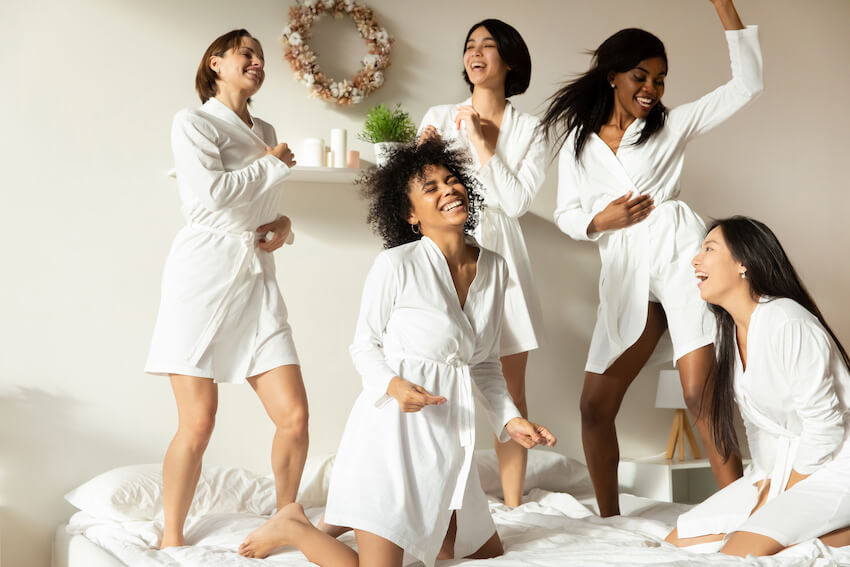 There's no bad time to have a bridal shower. After all, the whole point is to celebrate the bride and make them feel special. But there are some considerations to keep in mind for when to have a bridal shower.
Throwing a party too early can diminish the excitement leading up to the big day. Having one too late can feel rushed or draw attention away from wedding events like the ceremony and reception. We'll show you the best time to have a bridal shower and offer tips on how to make the party memorable.

When to Have a Bridal Shower
While you can have a bridal shower any time you like, it's best not to host this party too close to the wedding or too far in advance. 
Planning it too early can be difficult because you may not have the guest list ready. You may not yet know your budget and who you want to include. For example, will all the guests be invited or will you limit it to members of the bridal party, wedding party, or bachelorette party? Planning the bridal shower too late can result in many issues. For one, it can be hard to secure a venue and vendors. Second, it can take the focus away from the wedding day.
In most cases, hosting the bridal shower between three weeks and five months before the wedding is ideal. With this time frame, guests have plenty of time to make arrangements to attend, and the planners have enough time to set up vendors. 
The best way to decide on when to have a bridal shower is to talk with the bride-to-be since the date needs to work with their schedule. You should also decide who is hosting the bridal shower. Oftentimes, the maid of honor or a bridesmaid hosts the big event. Other couples prefer to have the mother of the bride or the mother-in-law host the bridal shower. Close friends and family members can also plan the party. Figure out who is hosting and work with the bride to pick the perfect day for the bridal shower.
Tips for Planning a Bridal Shower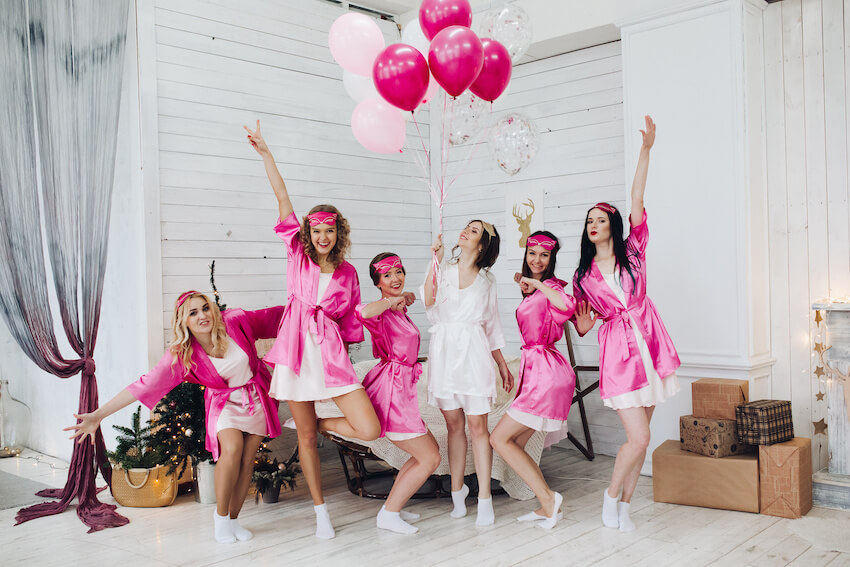 Like most wedding planning tasks, planning a bridal shower takes some time and focus. Luckily, bridal showers are among the most fun parts of wedding planning. It's a day to celebrate, play games, and have a great time with the honoree before they say "I do." Once you have a date in mind, you can start planning all the fun. Here's everything you need to know about how to plan a bridal shower and how to avoid a faux pas:
Create your guest list:

This list will dictate what kind of venue and how much food or catering you'll need. It's proper bridal shower etiquette to only invite guests to the bridal shower if they are invited to the wedding. You can choose to host a huge bridal shower with all the wedding guests or keep it small. Some couples also like to host several showers with different guests. Discuss with the couple-to-be to figure out what they prefer.

Choose a theme:

Once you have an idea of who's coming, you can choose from bridal shower themes like an afternoon tea party, a champagne mimosa brunch, or a pamper day. For some inspiration, browse our

bridal shower ideas

.

Contact venues and food vendors, if applicable:

You can host the bridal shower at your own home or choose a venue, such as a local restaurant, winery, or outdoor activity spot. For food, you can have each guest bring an item as part of a potluck or get the event catered.

Plan fun party games:

Try to incorporate

bridal shower games

like bingo, a scavenger hunt, couples trivia, or a "guess the wedding dress" activity. Keep games focused on the bride and look for activities that all guests can participate in.

Set aside some time for gift opening:

Another key part of a bridal shower is setting aside time for the bride to open

bridal shower gifts

. While wedding gifts are often practical (toaster oven, anyone?), bridal shower gifts are often more personal, romantic, or sexy (think fancy lingerie or a lovely cashmere blanket). If you want guests to bring gag gifts or gifts that fit within a particular theme, make that clear on the invitation. It's also a good idea to check with the bride to see what types of gifts they'd like to receive.
Bridal Shower Invitations
With all the details planned, it's time to choose the perfect bridal shower invitations. At Greenvelope, you'll find a wide selection of wedding stationery including wedding invitations and bridal shower invites. Each design is customizable so you can make the invitation truly your own. Plus, you'll find thousands of designs from glamorous and elegant to silly and fun.
Make sure to include all the vital information in your bridal shower invitation. This includes the date and time of the party as well as any dress code requirements and the wedding registry website. You can also ask guests to include a song to add to the playlist for the party. Make sure to ask guests to RSVP at least two weeks before the event so you can provide a final number of guests to any vendors.
Check out some of our favorite invites below that you can use for every type of bridal shower — from a fancy dinner party to a laughter-filled sleepover.
1. Sprinkle of Gold Invitation
Have guests come to celebrate the bride before joining married life with this glamorous online invitation. It features gold foil confetti, and the colors can be customized to suit the theme of the bridal shower.
2. Bach Boots Invitation
Get guests excited for the wedding celebrations with this fun bridal shower invitation. It's ideal for rustic and country-themed parties and features a text box with plenty of space for all the event details.
3. Forget-me-not Romance Invitation
This elegant bridal shower invitation features stunning forget-me-not bouquets framing in the details of the bridal shower. Customize the design by changing the typography or the color scheme.
4. Boho Beach Party Invitation
Start customizing this beachy bridal shower invite that features depictions of a sweet spot on the beach. Palm fronds frame in the design which includes starfish, sandy shores, and a cozy hangout spot. It's perfect for a beach bridal bash.
5. Paris Cafe Invitation
Bridal shower guests will be counting down the days to your Parisian-themed party with this French-inspired bridal shower invite. It comes in several color palettes and is perfect for cafe get-togethers and afternoon tea parties as well.
6. Papel Picado Banner Invitation
Invite your closest friends and family to a couple's wedding shower with this colorful digital invitation. It's ideal for in-person and virtual bridal showers.
Planning for the Big Day
It can be hard to decide when to have a bridal shower. Remember, most bridal showers are hosted between three weeks and five months before the wedding day. Talk to the happy couple before deciding on the right date. Once you have that pinned down, you can start planning all the fun activities, decor, and details for the big day.
As you plan your nuptials or help a loved one with theirs, Greenvelope is here to help. It's your one-stop shop for all wedding stationery including engagement party invitations and bachelor party invites. Continue browsing our Stationer's blog for tips on etiquette as well as fun and crafty ideas for throwing parties that honor life's most precious moments.