February 14, 2021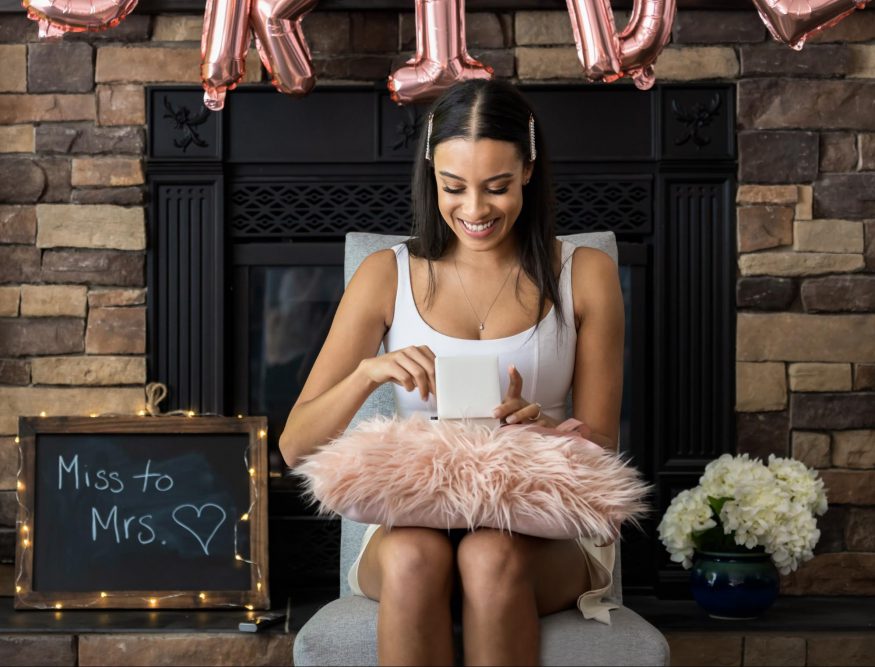 It's almost time for one of the most fun moments in the pre-wedding calendar — the bridal shower! As you gather to toast the bride-to-be, you'll likely bring along or send a thoughtful bridal shower gift. But what should you give? 
Whether you're in the bridal party or a family friend, you'll want to find something that's ideal for the guest of honor. Discover the best bridal shower gifts with this guide featuring a fun and thoughtful mix of traditional and modern ideas that span themes from kitchen and home to travel and clothing. 

Kitchen and Home
Want to give your guest of honor something that's as lovely as it is useful? Kitchen accessories and homeware make for great bridal shower gifts, and many don't require you to spend much money. 
1. Kitchen Accessories
Treat the bride-to-be to some gorgeous new kitchen accessories. Functional yet with a hint of style, classics like cutting boards, cake cutters, and stainless steel knife sets make popular bridal shower gifts. Items like this are often listed in the couple's wedding registry, linked to from their online invitations. 
Shop: 44 cool kitchen gadgets 
2. Glassware
Want to help the happy newlyweds celebrate at home? Gift them a set of stylish glassware. Find some cute tumblers that you know the bride-to-be will love, or help them upgrade their wine glasses or champagne glasses instead. 
Shop: 28 best drinking glasses 
3. Small Kitchen Appliances
Give the gift of convenience with a new small kitchen appliance. Toasters and blenders are traditional bridal shower gifts, but you could also try a coffee maker, slow cooker, or waffle maker. 
Shop: 5 small kitchen appliances that'll change your life
4. Homemade Food
We love the idea of giving a homemade bridal shower gift, and what's better than food? Cook up a storm and send the bride-to-be an amazing tray bake, batch of brownies, or beautifully wrapped box of cookies. Baking not your thing? Send a homemade cheese board instead. 
DIY: Build a cheese plate or board as a gift 
5. Recipe Book
Does the guest of honor love cooking or baking? Give them the gift of a new recipe book to add to their collection. Inspire them to explore a new cuisine, discover a recent bestseller, or give them the latest book from their favorite baker. 
Shop: 32 amazing cookbooks
6. Picture Frame
The bride will have plenty of gorgeous photographs to display after the big day, so make sure she and her partner have something to show them off in. Picture frames make ideal bridal shower gifts, and there's plenty available to suit every style and budget. 
Shop: 18 of the best places to buy picture frames online
7. Monogrammed Bath Towels
Want to go for something more traditional as a bridal shower gift? Monogrammed towels remain a hit — especially high-quality, super soft towels. Plus, they're a lovely way to mark the bride's new initials (if she's changing her surname.) 
Shop: Monogrammed bath towels 
8. Cashmere Blanket
Gift the bride of honor something timeless and cozy with a gorgeous cashmere blanket. It's the kind of thing she might not buy for herself, so it'll feel like an extra special treat to receive. 
Shop: 7 best cashmere blankets 
Travel
If your guest of honor loves to travel, here are some bridal shower gift ideas that'll be right up her alley. 
9. Luggage Set
If she doesn't have the perfect travel gear already, buy the bride-to-be a stylish luggage set. While it might ruin the surprise, it's wise to ask the bride-to-be what type of luggage she'd like. Then, as friends or bridesmaids you could group together to buy a luggage set that'll last her for years to come. Bonus: She can use the set for her honeymoon! 
Shop: 10 best luggage sets of 2021
10. Personalized Passport Cover
Nothing says vacation time quite like a personalized passport cover. Find a design she'll love that you can customize with her name or other details, like a favorite slogan or motif. 
Shop: Personalized passport covers 
11. Picnic Set
Stay closer to home and enjoy the great outdoors with a timeless picnic set. This is a lovely bridal shower gift idea for couples who love to lunch and relax in the local park, by the river, or on a hike. 
Shop: 10 top picnic baskets
12. World Map
Does the bride-to-be plan to travel the world? A pin or scratch-off world map would make a sweet and thoughtful bridal shower gift. She can mark off places she's visited, and think about where to explore next. 
Shop: 17 best scratch maps 
13. Sun or Ski Accessories
If the guest of honor enjoys skiing, vacations in the sun, or an outdoor sporting activity, gift her something related to her hobby. Skiing goggles, a beach bag, or hiking boots are all thoughtful wedding shower gift ideas. 
Shop: Top travel accessories
Clothing and Accessories
Want to gift the bride-to-be something comfortable and cozy? Or maybe a new accessory they'll love? Here are some great fashion and accessory bridal shower gifts. 
14. Tote Bag
Tote bags are super useful, and a high-quality one makes a lovely gift idea. Surprise the bride-to-be with a personalized design or invest in a designer version from a brand she loves. 
Shop: 9 best tote bags of 2021Â 
15. Jewelry Box
Your guest of honor will have some new jewelry to care for soon, so why not give her somewhere special to keep it all with a ring holder or jewelry box? A jewelry box is a great idea for collectors of modern or vintage pieces, especially if some of it's on display from the outside. 
Shop: 14 best jewelry boxes
16. Cozy Loungewear
Loungewear is definitely where it's at right now. While she likely has loungewear pieces, you can step it up with a special set. Look for something extra soft and cozy, or upgrade her to a designer brand favorite. 
Shop: 31 stylish and cozy loungewear pieces 
17. Bathrobe
There's nothing better than wrapping up in a cozy robe after a long soak or a refreshing shower. For a bridal shower gift she'll love, choose a plush bathrobe with a fun pattern or one that you can personalize with her initials. 
Shop: 24 must-have bathrobes
18. Pajamas 
We love super fun prints for a bridal shower gift, but you could also opt for something timeless (and luxe), like a traditional pair of silk pajamas. If you're super close to the bride-to-be, you could even gift her some high-end lingerie. 
Shop: Pajamas to help you unwind
More Great Bridal Shower Gifts
If you're looking for something a little different, here are some of our other favorite bridal shower gift ideas — including personalized bridal shower gifts.
19. Family Portrait
This is an adorable way to celebrate the couple and their new family together. Order a personalized family portrait (you can find artists on Etsy, for example) with their family name underneath. It's a lovely keepsake and a unique bridal shower gift that she and her family can treasure forever.
Shop: Personalized family portraits
20. Subscription Box
For a gift that keeps on giving, try a subscription box for your guest of honor. There's so much choice — wine, beauty, food, fitness, wellness, and more. Look for one that suits her personality and interests, or use it as an opportunity to introduce the bride to your favorite brands you know she'll love. 
Shop: 41 subscription boxes to gift
21. Photography Session
While their wedding day will offer them plenty of gorgeous photos, it's lovely to capture future moments too. A photography session voucher is a really special bridal shower gift idea. The happy couple can then book this session whenever they want. 
Shop: Speak to local photographers to find the perfect one, or book a session with their wedding photographer.
22. Personalized Stationery
Does the bride-to-be love stationery? Wow her with her very own set of personalized stationery featuring her monogram. Notebooks, diaries, and folders are perfect for this — you could also invest in a matching pen set and desk accessories to complete the look. 
Shop: Personalized stationery
23. Friend Date Day or Date Night
If you're looking for a thoughtful alternative to a physical gift, how about a friend "date day"? Offer to take your guest of honor out for the day and treat her. She can choose the activity or you can offer some options — think shopping, beauty treatments, hiking, a fancy dinner, karaoke, or something else that suits her fancy. 
DIY: Ask your guest of honor what she'd love or surprise her with an itinerary for the day. 
24. Experience Voucher
Sometimes you just know your loved one would adore an experience day, either alone or with someone of their choice. For this, an experience gift voucher is an ideal engagement gift. You can buy an experience voucher for them to enjoy a spa trip, theme park day, or another fun or relaxing moment. 
Shop: 20 of the best gift experiences 
25. Gift Card 
What do you give someone who has everything? A gift card! This is a thoughtful option if you know the bride-to-be is planning their dream honeymoon, wants to make renovations to their home, or could simply use a gift card to their favorite place. 
Gift cards are also ideal if you can't make it to the bridal shower. You can send your well wishes from afar with an online card, complete with a gift card attached. It's a sweet way to send your love across the distance. 
Shop: Send a gift card through Greenvelope
Give the Perfect Bridal Shower Gift to Someone Special
Once you've perused this list, finding the ideal bridal shower gift is easy. Whether the guest of honor is your bestie, relative, coworker, or just a lovely acquaintance, you're sure to find something that suits her personal style (and your own budget).