July 20, 2023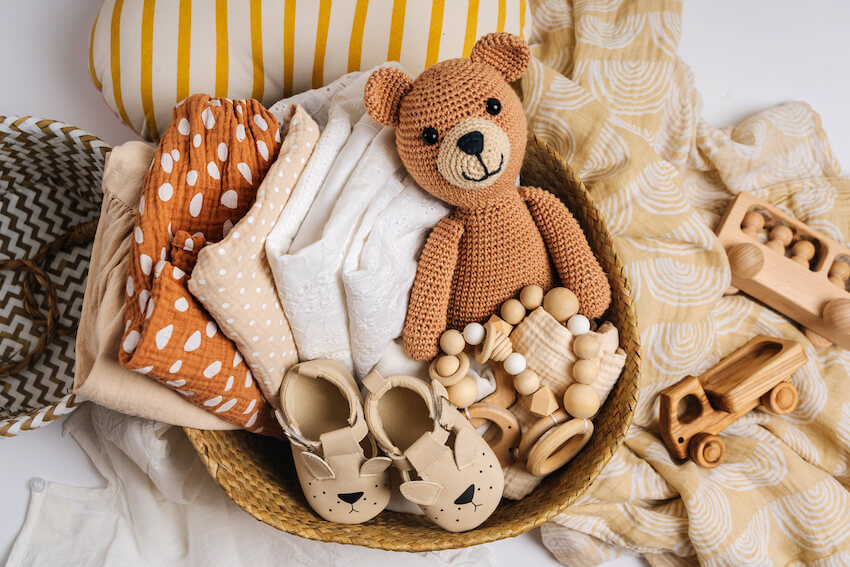 What's cuter than cuddly teddy bears? A new baby, of course! To celebrate the joyous occasion, you can't get more adorable than a teddy bear-themed baby shower — particularly a We Can Bearly Wait baby shower.
Here, we're sharing top tips for throwing a We Can Bearly Wait baby shower with ideas for decorations, games, party favors, and food that fit the theme. Plus, we've included some of our favorite bear-themed invitations to excite guests about your upcoming celebration.

We Can Bearly Wait Baby Shower: 5 Top Planning Tips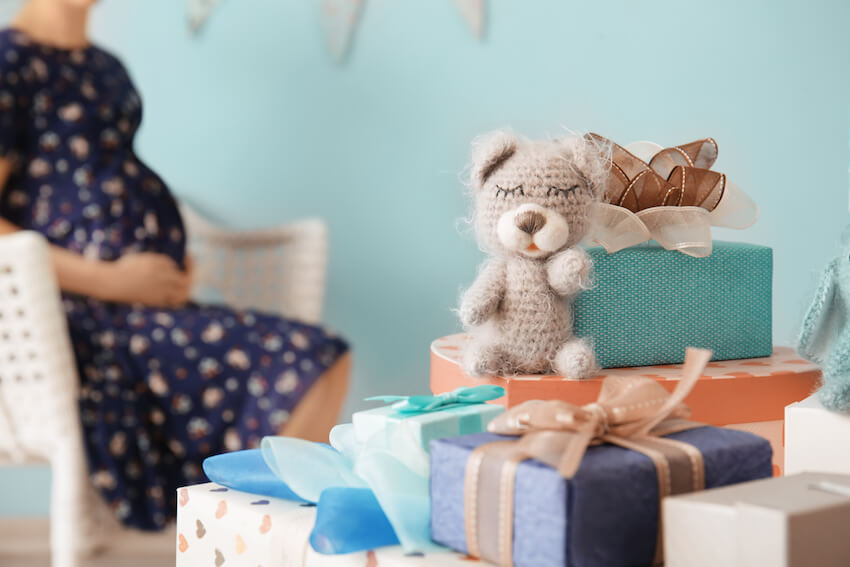 This fun baby shower theme is all about cuddly teddy bears and sharing the joy of your new arrival. With its punny play on words swapping out "barely" for "bearly," it's a cute way to express excitement and anticipation. It's also a sweet theme for a gender reveal party, gender-neutral baby shower, or classic shower.
Follow the five steps below and don't forget to bookmark our baby shower checklist for even more pro-level party planning tips.
1. Choose Your Favorite Bear as the Focal Point
The good news about the We Can Bearly Wait theme is that it works with whatever type of bear you love — from classic brown bears to adorable pandas and quirky koalas. You can then build your theme around that particular bear's color. 
For instance, you can't go wrong with black and white for pandas. Soft greys, creams, and pastels would work perfectly for a koala-inspired palette. Go for boho chic baby shower vibes for a tan teddy bear motif and add in colors like yellow or peach. Whatever bear you choose, rest assured it can work beautifully for a gender-neutral baby shower or gender-specific celebration.
2. Select Bear-Inspired Baby Shower Decorations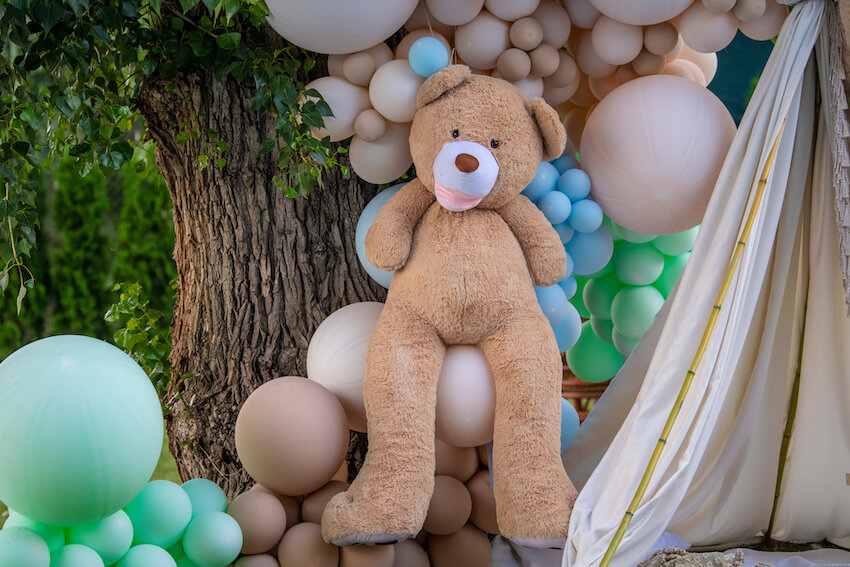 Once you have a bear in mind, celebrate your own little cub by choosing decorations to match the party theme. If you're crafty, consider making a few DIY baby shower party decorations with your "bear" hands. Otherwise, order ready-made party supplies.
Place a balloon arch to place at the entryway of the baby shower venue to greet guests. If you want to follow tradition, use blue balloons for a baby boy and pink balloons for a girl baby shower. Hang a balloon garland over the gift table or go all-out and make a DIY hot air balloon to really wow your guests.
Hang a We Can Bearly Wait banner on the wall and add little bear figurines around the room. Sprinkle bear-shaped confetti on the baby shower tables and add teddy bear centerpieces. You can set out stuffed teddy bears and tie small inflated balloons to their paws or arrange them to hug a vase of fresh flowers.
Don't forget a baby shower backdrop or photo booth with the "We Can Bearly Wait" phrase, fun props matching your theme, and other bear baby shower decorations.
3. Serve Pawsitively Delicious Food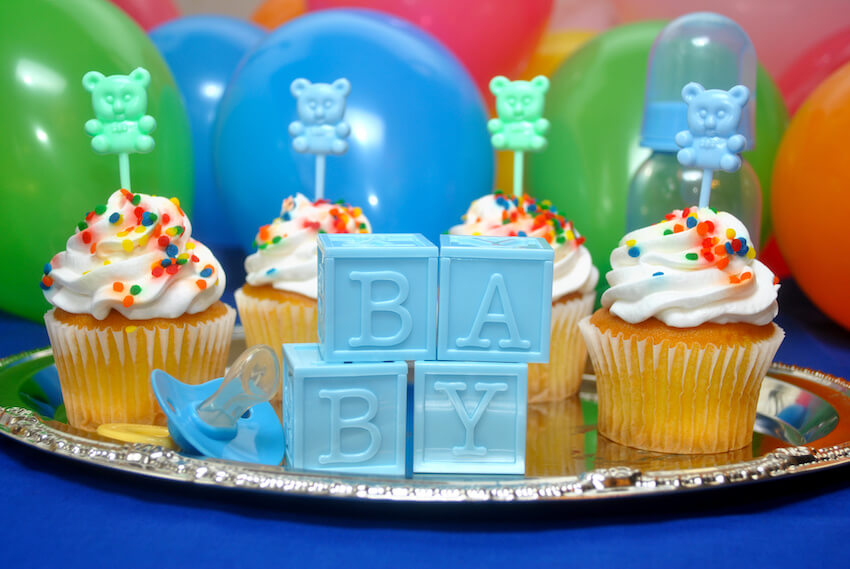 Your guests will be hungry as a bear on the day of the party so keep them happy with bear-inspired food that plays up the theme. 
For teddy bear snacks, make s'mores with bear faces or set out bowls of gummy bears. Fill the dessert table with creatively themed foods like rasp-beary pie, paw-shaped cookies, and cupcakes with teddy bear cake toppers. Order a custom baby shower cake and cake topper to match the theme or whip one up yourself if you like baking. 
Incorporate the theme into your food spread by choosing bear-inspired tablecloths and napkins. Table covers don't just add to the look of the event — they also make clean-up a breeze afterward!
4. Play Beary Fun Baby Shower Games
Playing a few games is always fun at a baby shower. Order bear-themed bingo cards or get competitive with a teddy bear diaper race. Ask guests to wear mittens — or bear paws! — and see who can put a diaper on a teddy bear the fastest. You can also play bear-themed trivia or have an art contest to see who can draw the best teddy bear.
5. Offer Cute Baby Shower Favors
Show your appreciation by sending guests home with themed party favors. Order scented candles and tie a small stuffed teddy bear on top. Another great option is a bear's favorite treat: honey. Buy mini jars of honey and make printable labels with the We Can Bearly Wait catchphrase. For an easy DIY gift, fill cellophane bags with Teddy Grahams, tie them with ribbon, and add a label with a sweet thank you message. 
We Can Bearly Wait Baby Shower Invitations: 10 Designs You'll Love
Bursting at the seams with anticipation of your new arrival? Share your joy by inviting guests to your bear-themed baby shower. At Greenvelope, you'll find hundreds of digital invitations including baby shower invitations with bear-inspired designs. Each one is customizable so you can create a truly unique invite. Here are some of our favorite We Can Bearly Wait baby shower invitations. 
1. Can Bearly Wait Invitation
On the edge of your seat waiting to announce the baby's gender? This fun invite shares your anticipation and fits perfectly with the bear-inspired theme whether it's a boy or a girl.
2. Teddy Bear Hearts In
Host an unforgettable baby shower party with this sweet teddy bear invite. The fuzzy bear design comes in five artist-designed colorways, but you can also create your own custom color scheme to match your party. 
3. Balloon Bundle Invitation
Celebrate your bundle of joy with this whimsical invitation featuring a basket of furry friends. The sweet design is perfect for all baby showers and there is plenty of space on the card for all your important party details. 
4. Friendly Panda Invitation
Throw a panda-themed baby shower with this friendly invite. Featuring a waving panda bear and a delicate butterfly, it's a sweet and subtle take on a bear-themed shower.
5. Little Lumberjack Invitation
Celebrate a boy baby shower, girl baby shower, or gender-neutral soiree with this lumberjack-themed invite. The black forest bear, plaid border, and distressed elements add a bold rustic look.
6. Starry Cloud Invitation

Use this delicate invite featuring a cuddly bear and twinkling stars to celebrate a baby shower, birthday party, or baby sprinkle. It's available in four color options with a coordinating gingham-print envelope liner.
7. Floating Bear Invitation
This cute watercolor invite features a teddy bear floating with a bundle of colorful balloons. It's ideal for a teddy bear baby shower and you can change up the color scheme and wording to suit your celebration.
8. Woodsy Little One Invitation
Want a bear-inspired design that's more subtle? This woodsy invite is the perfect way to add a dash of woodland baby shower vibes to your celebration. Featuring delicate greenery and forest creatures like deer, foxes, bunnies, and bears, it's sure to get guests excited for the special day.
9. Baby Bear Invitation
Celebrate your little cub with this grizzly bear invite. A dotted border and metallic envelope liner add fun vibes and a hint of glam.
10. Wood You Join Us Invitation
If you're hosting a forest-themed bear baby shower, this woodsy invite is the perfect choice. We love the sweet depiction of a mama bear and baby cub — along with the elegant frayed-edge texture of the invite.
Get Ready to Celebrate Your Cub in Style
When it's time to celebrate your new bundle of joy, these We Can Bearly Wait baby shower ideas are sure to do the trick.
Browse our baby shower invite designs to find the perfect one for your celebration. From forest bears to pandas, there's something for every type of bear-themed celebration. For even more inspiration, continue browsing our Stationers blog where you'll find party planning tips from decor ideas to games and beyond.