October 27, 2021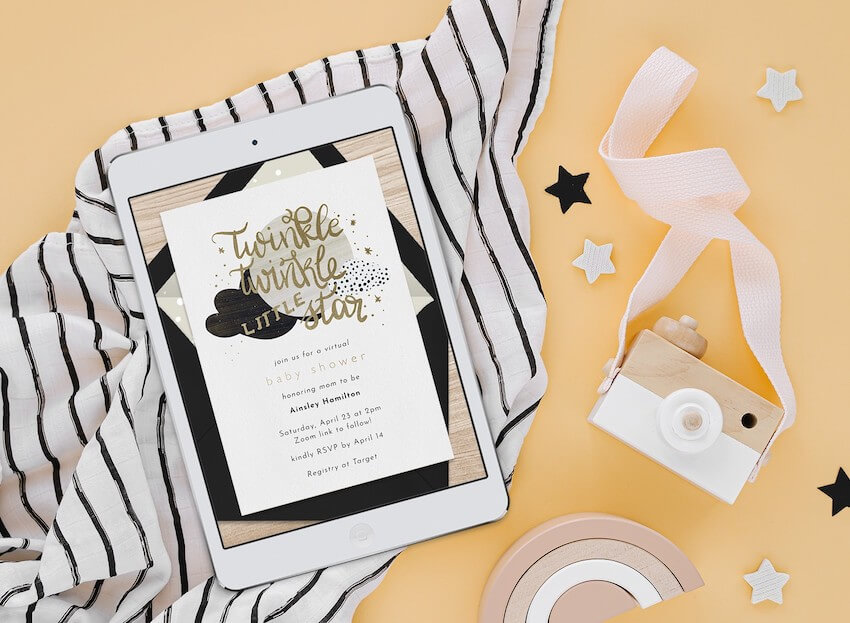 Virtual baby showers remain a popular way to celebrate with loved ones across the miles. They're the ideal way to close that distance, stay safe, and bring people together no matter where they are. 
When you're ready to let your guests know about the party, you'll need to craft the perfect virtual baby shower invitations. Use this guide to help you put your invite together, narrow down your design shortlist, and find an invite that's just as sweet as the soon-to-be arrival. 

What to Include in Your Virtual Baby Shower Invitations
Putting together the invites for your online baby shower is a lot like an in-person event, with just a handful of changes. Here's what to feature on your invitations so your guest list knows exactly when, where, and how to celebrate alongside you. 
Date and Time
Like any event, your virtual baby shower needs a defined date and time. You might decide to host a brunch in honor of the mom-to-be or a family baby shower on a weekend afternoon. Whatever you choose, make sure it's front and center on your digital invitations. 
If you have any long-distance guests or international loved ones from different time zones, make it clear which time zone you're using on the invitation. If you can, include a link alongside your invite to a website where someone can check what this would be in their local time. 
Guest of Honor
There's a new baby on the way! Even if you're a close group, put the guest (or guests) of honor's name in big letters on the front of your invitation. After all, this is an event to celebrate the soon-to-be-parents and their exciting new journey. 
For an informal gathering or a baby shower with close loved ones, you can keep it casual with their first name or nickname. If you're inviting pals they haven't seen in a while, including the parents' full name can be a helpful reminder. 
Who's Hosting
Baby showers are often hosted by the guest of honor's best friend or a close family member, and virtual get-togethers are no exception. Let everyone know who'll be welcoming them as they jump on the virtual call so they know who to thank.
Mentioning the host doesn't have to be complicated or take up too much space — a simple one-liner will do. You won't need to include the host's address for this virtual party, so this frees up some space for the rest of your virtual baby shower invitation wording. 
How to Join
While you don't need to include a physical address, your guests will still need to know how to join the party. Whether it's a Zoom video call or another virtual event platform, include instructions with your virtual baby shower invitations, or add simple "joining instructions to follow" and send them at a later date. Even if you send them now, set a calendar reminder to send out instructions just before the event with everything your guests need to know. 
How to RSVP
Loved ones will be so excited to hear the news about the party. Give them an easy way to RSVP and make it clear how to do this on your invitations. If you're using Greenvelope, it's easy to track RSVPs and responses. If you're DIY-ing your invites, include an email address or number they can text instead. 
Gift Registry Details
The baby shower might be virtual, but the new bundle of joy certainly won't be — so gift registries are very much still in order for these online celebrations. 
If the guest of honor has one, share a link to their baby registry so guests can buy a gift they'll love. This is often the easiest way for friends to send a gift across the distance. If the parents-to-be have decided on no gifts, mention this on the invitations.
Other Details
Every virtual baby shower is unique, so think about other details you might need to share with your party guests. With a virtual invitation you're not as limited by space as with a paper invite, so use this opportunity to add any extra details.
For example, clearly state if it's a surprise baby shower so guests don't accidentally spoil the fun for the guest of honor. If the event features the baby's gender reveal, let guests know so they can make predictions. For any virtual baby shower games that require pre-event attention, give your guests a heads up so they're all prepared. 
How to Choose the Perfect Virtual Baby Shower Invitations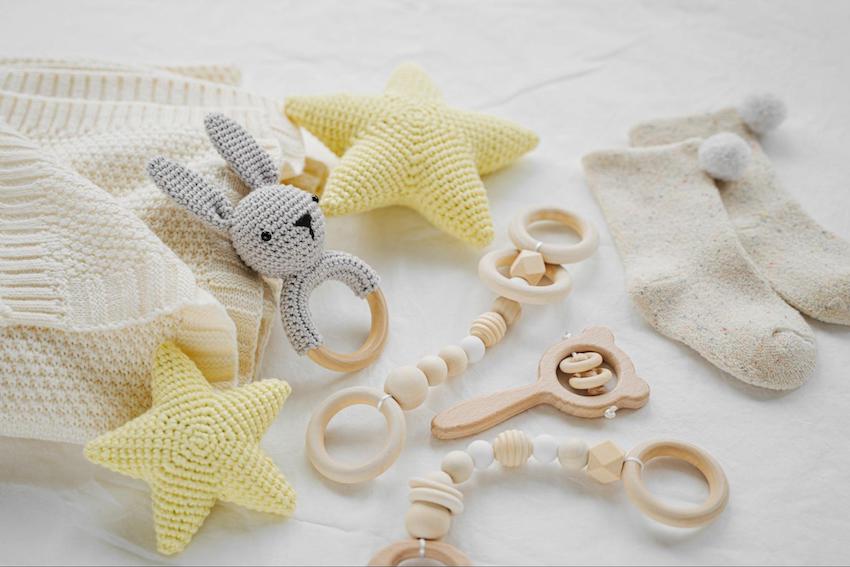 There's no shortage of adorable baby shower invites out there. But this gives us a new challenge — too much choice! Here's how to narrow down your options and choose the ideal design for your virtual baby shower invites. 
Match Your Baby Shower Theme
Your virtual baby shower doesn't need a theme to be fun, but if you have one this is a great way to help you pick out the perfect invite.
Look for a gorgeous watercolor floral design for a boho-themed shower, or a giraffe design for a virtual safari baby shower. If you're hosting the event close to Halloween, a design with a little pumpkin would be so sweet. For something more relaxed, a pastel design with a tiny onesie is a lovely idea. And for a gender-neutral theme, consider soft hues of yellow, grey, and taupe.
Choose Something the Guest of Honor Will Love
Sometimes the best route to finding the perfect invite is to think about what the guest or guests of honor would love most. You know them well, so you're pretty in tune with their interests, favorite colors, and taste. 
Be inspired by what you know about the parent-to-be and our collection of virtual baby shower ideas to choose a template they'll adore. Seek out muted, warm tones if they love a cozy feel; bold colors if they're into contemporary design; or something more traditional if that's their style.
Look for Something You Can Customize 
The beauty of online invitations is that you can style them your own way. With paper invites you're stuck with the design as is, but there's a lot more creative freedom with evite invitation templates.
With Greenvelope, you can customize any of our invitation designs and text. You can also personalize fonts and color options across most designs, and even have our designers add a custom color just for you. This means you can personalize your virtual baby shower invitations to your heart's content. 
Our Most Loved Online Baby Shower Invitations
Let's take a look at some of our favorite virtual baby shower invitations that work perfectly for baby showers, baby sprinkles, and adoption showers. Some of these designs are exclusive for virtual events, but not all. You can take any of our baby shower invites and customize the wording to make them suit your online gathering perfectly — just swap out the mailing address for details on how to join. 
Shower by Mail Invitation
This baby shower invitation is absolutely stunning. The cozy illustrations, sweet color palette, and watercolor background make this ideal for any online baby shower event. Plus, you can choose from three colorways with different envelope liners. 
Baby Confetti Invitation
If you're looking for something simple yet cute, this baby confetti invitation is one of our favorites. The gentle pops of color and metallics keep the focus on the party details, and the contemporary design is ideal for a more minimalist-inspired event. 
Woodland Charm Invitation
Sometimes an event calls for a theme, and this woodland charm invitation is perfect for a cozy woodland-themed baby shower. Continue the look with similar illustrations and colors throughout any virtual presentations, printable party games, and mailed-out decor for a cohesive feel. 
Lettered Twinkle Twinkle Invitation
We love the warm feel of this lettered twinkle twinkle invitation. The subtle texture on the moon, clouds, and wording gives this a sweet yet sophisticated feel. You could make this work for a space-themed celebration or opt for a contemporary feel with stars and gold accents instead. 
Turtle Friends Invitation
Is there anything more adorable than the turtles in this delightful invitation? The color palette conjures the sea while the illustrations will inspire you to buy the baby a sweet stuffed animal. This design is perfect for an eco-friendly or sea-themed celebration. 
Rainbow Sprinkles Invitation
It's time to share the joy with this cute rainbow sprinkles baby shower invite. This is ideal for a more casual baby sprinkle where guests are free to drop in the video call when they can, or for a more organized get-together. 
Delight Your Guests With Adorable Virtual Baby Shower Invitations
Even if you can't gather in person, you can create a virtual party your guests won't want to miss. Kick off the excitement early by finding a virtual baby shower invitation that feels perfect for the moment. Think about what the guest of honor loves, and take inspiration from the games, activities, and fun you have planned. You're sure to create a dreamy virtual party invite that'll have your guests ready to hit RSVP right away.