October 28, 2021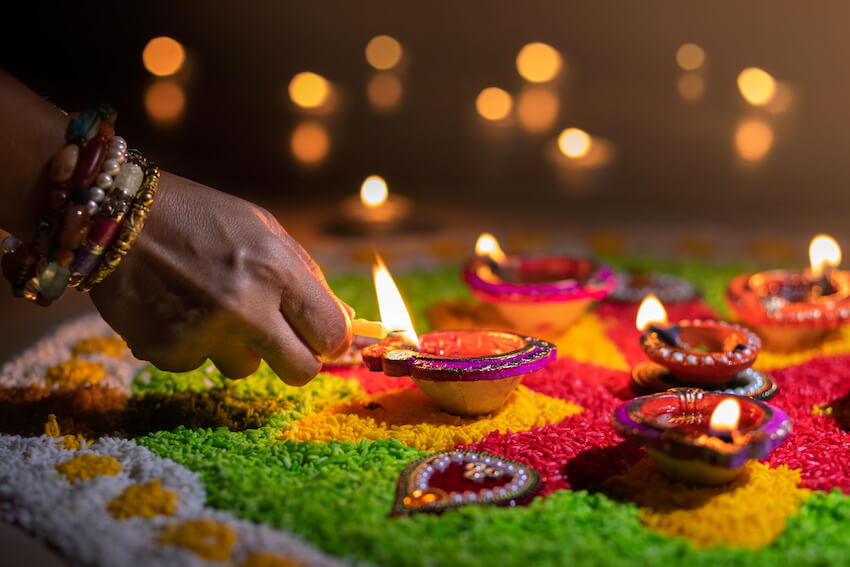 Diwali is a celebration of new beginnings, change, and the triumph of light over darkness. It's a time to come together, look forward to the future, and enjoy each other's company over delicious food, fun games, and a warm atmosphere. 
Create the ultimate celebration for your loved ones this year with the help of our guide on Diwali hosting and Diwali decorations. You'll find everything you need to plan, style, and host a welcoming celebration for this year's festival of lights. 

How to Host a Wonderful Diwali Celebration
Hosting a celebration for the Hindu festival of lights is always an honor, so it's something you want to get just right. Organizing a Diwali celebration is a lot like planning any other event, so you simply need to focus on the elements that make it special. Before you start gathering your Diwali decorations, here are a few key steps for your checklist. 
Set Your Guest List
First things first: decide who you're inviting to the party. Consider how much space you have and whether this will be for adults only or children as well. If it's a tight squeeze at your home, see if you can meet at another family member's place instead and offer to take care of the hosting.
Select and Send Your Diwali Invitations
Once you've finalized your guest list, it's time to start sending out your invites. Greenvelope's collection of Diwali invitations includes customizable templates with bright flowers, firecrackers, and traditional symbols. 
Our online invitations not only offer you lots of design choices, but they make handling RSVPs easy too. Your guests can reply in moments and you can manage this all in one place. 
Plan Your Diwali Celebration Menu
It's not a party without something delicious to eat, and Diwali is one celebration that's known for its rich, tasty treats. Whether you serve up traditional Indian dishes or add contemporary dishes and drinks, planning the menu is a chance to get creative. 
If you love to cook, have fun with a variety of Diwali recipes to serve a phenomenal feast for your loved ones. You can also consider a potluck-style meal with each family or guest bringing a favorite snack, dessert, or drink. 
Bonus: With digital invitations from Greenvelope, you can easily create survey questions to arrange who's bringing what. 
Plan Fun Party Games and Activities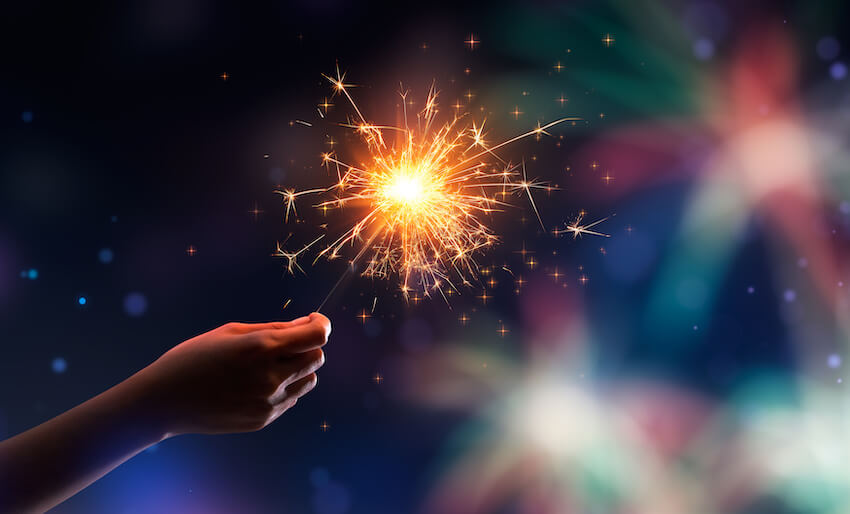 With everyone gathered, Diwali is an ideal time for a few friendly games that are suitable for all ages. 
Challenge your guests to see who can light the most diyas in a set time, or who can create the best rangoli with the materials provided. Add in some classic party games like Pictionary or Trivial Pursuit, or relax with a board game or card games. 
You can also set up a craft station where guests can make their own party decorations or keepsakes. (This is a great idea for kids.) Check out sites like Etsy where you can find a variety of ready-to-go Diwali crafts. 
With Diwali being the festival of lights, it's no surprise that firecrackers and fireworks are a big part of the celebration. Hand sparklers are usually easy to find, but if real fireworks aren't an option, play a fireworks display video in the background to create a festive atmosphere.
Decorate Your Space
For your Diwali home decorations, your options are practically endless. Try brightly colored fresh or faux flowers, traditional Diwali decor items, and plenty of twinkling lights to make your front door, living area, and pooja room feel special for the holiday. 
Traditional Diwali Decorations for Your Party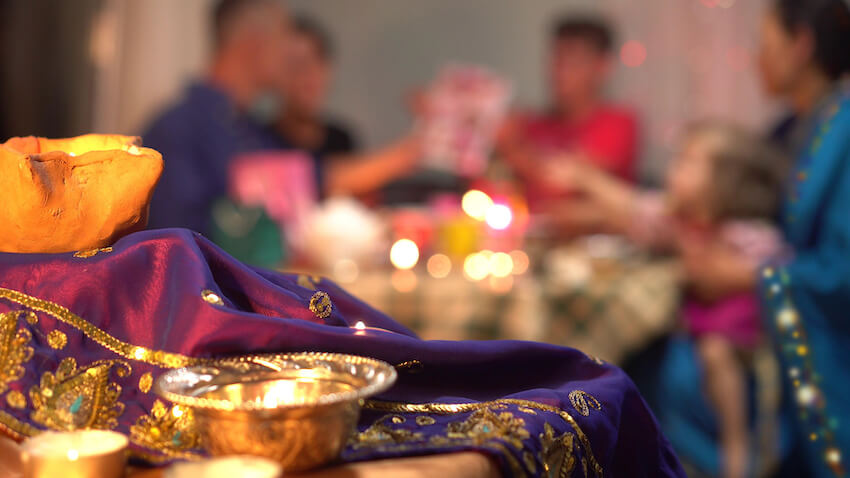 Some things remain classics for a reason, and you can't go wrong with traditional Diwali decorations. Take inspiration from these timeless motifs as you build your own unique Diwali decor. Consider the options below and don't miss our guide to more dazzling Diwali party ideas. 
Torans
One must-have Diwali decoration idea is the toran — a decorative door hanging placed over your main entrance. Made from flowers and mango leaves, this not only creates a cozy welcome for guests but pleases Maa Lakshmi, the Goddess of Wealth. 
Diyas
Diwali diyas are another popular decor item, and a lovely way to add warmth to your celebration. These small oil lamps are not only a functional source of light, but can be decorated in different ways to suit your style. Keep the clay lanterns simple, or create a colorful DIY pattern on them instead. 
Rangoli
Along with the toran, the rangoli is another beautiful Diwali decoration that should be ready to greet your guests as they arrive. Diwali rangoli designs are usually made from flower petals and colored powder, although you can swap these for something less messy (like artificial flowers or a one-piece design) if there are kids or pets around. 
Flowers
Fresh or faux florals are another gorgeous decor item to add to your Diwali party. Create floral wall hangings or door hangings, use them as centerpieces for your table, or add them as accents to a beautifully ornate runner on your dining table. Use marigold flowers if you can — they're symbolic of new beginnings, like Diwali itself — or a combination of rich orange, purple, pink, and yellow blooms. 
How to Style Your Space for Diwali 
Diwali might be the festival of lights, but it's also a festival that's known for its amazingly colorful and cozy decorations. If you're wondering how to decorate your home for your next Diwali celebration, here are some of our favorite home decor ideas to inspire you. 
Decorate Your Front Door
It's the first thing your guests see as they arrive for your Indian festival celebration, so it's the perfect place to make an impact. Decorate your front door with gorgeous colors, bright flowers, and traditional Diwali decorations to welcome your guests. 
Add a colorful traditional toran door hanging above your door with matching rangoli beneath. Use any space beside your door to add more fresh or artificial flowers in pots for added dimension. Don't forget about the lighting — add plenty of diyas here, or string lighting above your door. 
Add Color to Your Living Room and Dining Area
Once your guests step inside your home, you want that cozy feeling to continue right through. Decorate the entrance area, as well as any living or dining spaces that they'll be spending time in. 
The great thing about Diwali decorations is that they don't need to cost a lot of money or take a lot of time to prepare. You can rely on your diyas, lamps, and fairy lights to create atmosphere — and add some DIY wall hangings, a Lord Ganesha statue, colorful rangolis, and tableware to tie the theme together. 
Add Plenty of Lighting
Diwali is a celebration all about new beginnings and light overcoming darkness, which means it's the perfect opportunity to go all-out with gorgeous, warm lighting. If you do nothing else when it comes to decor, make this your priority. 
For the festival of lights, you want to create a warm glow, so look for lighting options that have a similar color and feel to them. Traditional oil lamps are ideal, but you can also use string lights, fairy lights, tall candles, and tealight candles in lanterns to add variety and dimension. Keep safety in mind here — especially if young children are present. 
Our Favorite Diwali Invitations
With ideas blossoming for how you'll decorate your home for your Diwali party, why not take that design inspiration further with personalized invitations? Take a look through some of our favorite customizable Diwali invitations and find the perfect design that says "Happy Diwali" to your guests. 
Diwali Fireworks Invitation
We love the use of twinkling fireworks in the background of this Diwali fireworks invitation. It's a fun way to bring out the sparkle and light of the holiday, and an ideal option if you're hosting a display yourselves.
Bold Strokes Invitation
The gorgeous warm, earthy tones on this bold strokes invitation make it a wonderful choice for a Diwali party. This design works equally well for both a traditional or contemporary celebration, and is available in a handful of brighter color options too. 
Diwali Starburst Invitation
This Diwali starburst invitation is one that guests certainly won't miss in their inbox. The details take center stage inside a sparkly starburst that reminds you of firecrackers and light — perfect for a Diwali party. 
Host an Unmissable Diwali Celebration for Your Loved Ones This Year
Bring your loved ones and closest friends together this festive season with a beautiful celebration in honor of the Diwali festival. Plan a tempting menu, arrange some fun games and activities, and style your home to celebrate the season. Start the excitement off early with a stunning Diwali invitation and start counting down until the day you welcome your guests to celebrate with you.