October 22, 2021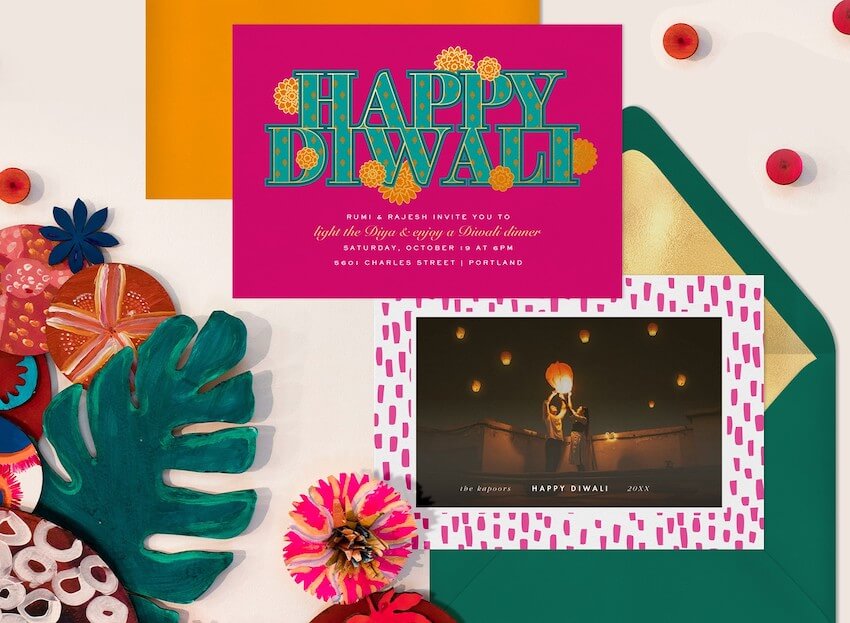 From good food to good fortune, there's plenty we're wishing for this Diwali. But before we light the oil lamps or firecrackers, we've got some Diwali wishes to send out. 
Our days would be very dark, indeed, without our friends and family members to light up our lives. So, we've put together our best wishes for a happy Diwali 'ÄĒ from good tidings to get the party started to sentiments that are as sweet as the mithai. Use these messages in your Diwali greeting cards (and yes, we've included some of our favorite Diwali cards, too), then send them to loved ones around the world.¬†

12 Diwali Wishes for When You're So Ready to Celebrate 
If you're looking for a light-hearted (and humorous) message to kick off the Hindu Festival of Light, these 12 well wishes will let loved ones know you're planning to celebrate in style.
Sari, not sorry! We're about to light it up for Diwali. Hope you are too!

May your

Diwali celebration

be as colorful as the

rangoli

. 

Wishing you a

prosperous Diwali

and a plateful of pakora! 

Good luck

,

good health

, and good times! Wishing you a fun

Festival of Light

!

Holla! It's time for some Halwa. Hope your Diwali is sweet! 

Time for love, light, and five fun nights!

Shubh

Diwali!

This Diwali, we wish to make it through five nights of fireworks without losing an eyebrow. Hope your holiday is sparkling! 

We've got

diyas

around every corner 'ÄĒ let's smash that darkness!

May your

Diwali be

full of shopping. So. Much. Shopping. 

Let's celebrate the triumph of good over evil. Because evil sucks.

Happy Diwali

! 

You can never have too many marigolds or too many saris!

Shubh

Diwali! 

Diwali for DAYS! We hope you live it up during the

Festival of Light

.
9 Diwali Wishes for When You're Feeling Sentimental 
During this auspicious occasion, we like to reflect on all the good things in our lives, and sometimes, we start to get a little misty-eyed. Now is the perfect time to let loved ones know that you're thinking of them and wishing them well. Here are 9 thoughtful ways to send warm Diwali wishes.
May your

Diwali be

full of abundance and light.

Friends like you light up my life. Have a

wonderful Diwali

! 

I hope this Diwali lights a path toward

good fortune

and prosperity. 

This Diwali, may the

god

Krishna

grant you protection, may the goddess

Lakshmi

grant you abundance, and may all your wishes come true in the

new year

. 

You are a light during my darkest days. Thank you for being part of my life, and I wish you a

blessed Diwali

. 

Wishing you knowledge, abundance, prosperity, goodness, and light. Have a

beautiful Diwali

!

May your home be filled with light and love during the

Diwali festival

and beyond. 

You shine brighter than the fireworks. Enjoy the

Festival of Light

! 

Wishing you

good fortune

,

good luck

,

good health

, and all good things for Diwali.
15 Diwali Wishes for Each of the 5 Days
If you want to send a sweet surprise, share Diwali wishes during each day of the festival. The first Diwali greeting will be expected, the second will be a delightful surprise, and the third, fourth, and fifth will be something your loved ones look forward to. 
We've got messages to correspond with each day of the celebration. Try sending one of these sentiments during Dhanteras:
My house hasn't been this clean all year. It must be time for Diwali! 

Dust off your

diyas

'ÄĒ Diwali is finally here!¬†

May

Dhanteras

bring you a fresh start.

Happy Diwali

! 
When day two comes around, send one of these messages to celebrate Naraka Chaturdashi: 
I hope your day is sweeter than gulab jamun 'ÄĒ enjoy all the goodies Diwali brings!¬†

Let's light the path and make mithai! Enjoy the second day of Diwali! 

I hope Naraka Chaturdashi frees you of suffering and helps you find light.

Shubh

Diwali!
On day three, send your friends and family members one of these greetings for Lakshmi Puja: 
May your Diwali

diyas

shine bright on this darkest night! 

When things seem dark, remember, the fireworks are coming.

Happy Diwali

! 

Even the darkest night will end with the

victory of light

. Have a blessed

Lakshmi

Puja

.
Ring in day four of Diwali with these wishes for a happy Balipratipada:
We are so ready for that mountain of mithai! Enjoy day four of Diwali! 

Let's put the feast in festival! Happy Balipratipada! 

Today, we celebrate our partners in love and life!

Shubh

Diwali!
For the final day of the festival, take one last opportunity to celebrate your family (especially your siblings) by sending one of these special messages for Bhai Dooj:
Oh, brother! Another Diwali is almost done. Enjoy the final night of the

Festival of Light

! 

Food, family, fun 'ÄĒ I hope you enjoy the last night of Diwali!¬†

Wishing you brotherly love and sisterly affection on Bhai Dooj.

Happy Diwali

!
7 Diwali Greeting Cards to Send Your Wishes Near and Far 
Now that you know what you want to say, you need a place to say it. Send something a little more personal than a social media post by adding your Diwali wishes to a beautiful online greeting card. These cards are as easy to send as a WhatsApp message or an SMS, but with their colorful Diwali images, they look a whole lot prettier. 
Digital Diwali greeting cards are also customizable 'ÄĒ you can change the text to read "Shubh Deepavali!," "Happy Dipavali!," "Happy Deepawali!," or even "Shubh Festival of Lights!," depending on your preferred spelling and phrasing. And you can link to a GIF, a collection of pics, or a favorite mithai recipe.
Choose one of these beautiful ecards, add your Diwali message, and send them out to all your loved ones. 
1. Script Diwali Card 
This understated photo card leaves room for a pic of you with your nearest and dearest. You can send a photo from the first night of your family's Diwali celebration, or you can add a favorite from the previous year. There's plenty of room for your personalized message under the "Happy Diwali" script. 
2. Diwali Blooms Invitation 
With this online invitation, you can remove the invite text and replace it with your happy Diwali wishes instead. The colorful text features an intricate pattern reminiscent of a silk sari, and the lotus blossoms that surround it would be the perfect template for a rangoli. 
3. Gilded Rangoli Card
This beautiful, happy Diwali card features a gold foil medallion in an intricate rangoli pattern. It's available in five different colors and leaves room for your favorite family photo. There's space for text above and below the happy Diwali greeting so you can add your own message. 
4. Bokeh Diwali Invitation
The bokeh effect on this minimal design reminds us of light flickering off the diya. It's an understated way to represent the lights of Diwali and is perfect for sending sincere wishes to your friends and family members. 
5. Happy Diwali Invitation 
Another invitation that you can easily edit into a greeting card, this design is perfect for a longer Diwali message. Simply replace the invitation details with your sentiment of choice. The design features a henna-inspired pattern on top and three diyas below to frame your text. 
6. Shimmery Fireworks Invitation 
This elegant black and gold design pairs your warm wishes with the drama of Diwali fireworks. There's plenty of room to add a personal sentiment in place of the invitation text. 
7. Dashing Card 
The colorful dashes on this eye-catching card are a beautiful, abstract representation of the lights of Diwali. Add your favorite photo and customize the text with a short, personal message. 
Send Diwali Greetings and Light Up the Faces of Loved Ones 
Diwali is all about celebrating and sharing with the ones we love 'ÄĒ so there's no better time to share your warm wishes. When our loved ones are far away, we might not be able to stop by with a plate of laddu, but we can share our love with an online greeting card.¬†
Send your Diwali wishes in a customizable card (or five!), and let everyone know you're wishing them lots of love and light. From everyone here at Greenvelope, Shubh Diwali!