August 11, 2022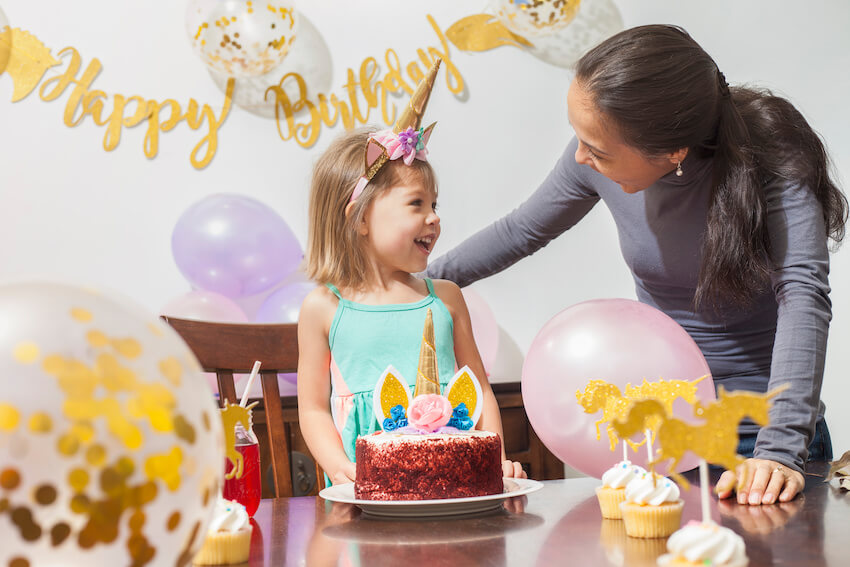 Whether your child is turning 3 or 13, unicorn birthday parties remain a popular theme with kids. This birthday theme is all about magic, wonder, and fairytale adventures, making it a blast to choose colorful and creative party decor. 
To make your event truly magical, we're sharing some of the best unicorn birthday decorations, party ideas, and birthday cake suggestions for a spectacular, one-of-a-kind celebration!

11 Magical Unicorn Birthday Decorations and Party Ideas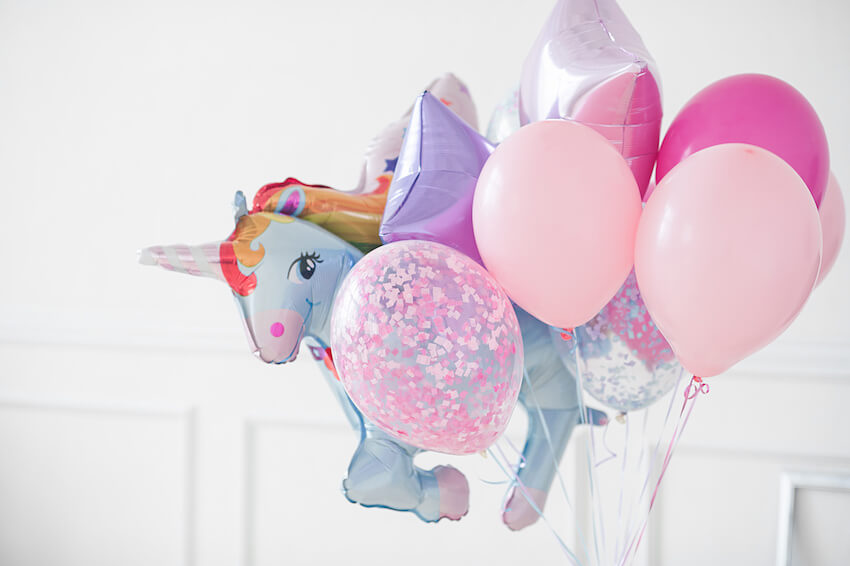 Wondering how to turn those magical plans for a unicorn party into reality? Here are some of our favorite unicorn party decorations and unicorn party ideas to help you plan the perfect unicorn themed party.
1. Rainbow Unicorn Centerpiece
Wow your party guests with an impressive unicorn-themed centerpiece as they sit down to enjoy drinks, snacks, and birthday cake. 
Buy a specially made centerpiece from a birthday supplies store, or use any toy unicorns to create a cute homemade display. For a fun idea, buy a collection of adorable figurines to use as a table display, then ask each of your guests to take one home as a unicorn party favor. 
2. Unicorn Balloon Arch
We love a balloon arch, and a unicorn themed version will work brilliantly as a welcome decoration or as a photo backdrop. 
Create a balloon garland, then shape it into an arch — or call in the help of the professionals to install one. Mix together pastel balloons in shades that complement your party theme or go bold with primary rainbow colors. Either way, you can always add in glittery balloons for extra sparkle. 
3. Unicorn Pinata
No party is complete without a swing at the pinata. And the good news is that a unicorn pinata works both as decor and as a fun party game. 
You can find a unicorn pinata at your local party supply store or online at marketplaces like Etsy. Don't forget that a rainbow pinata works just as well — or simply take a traditional donkey pinata and add a unicorn horn! 
If you're crafty, consider making additional DIY mini unicorn pinatas, which make for fabulous unicorn birthday decorations and party favors. 
4. Iridescent Backdrop
When we think of unicorns, we think all things magical and sparkly. Create a fun backdrop for your themed party with an iridescent background. 
This unicorn birthday decoration is great whether you're opting for a more subdued, pastel color palette or the vibrant hues of a rainbow birthday party. Use iridescent foil curtains or a series of streamers to create a fun backdrop for a DIY photo booth or your cake table. 
If you can't easily source an iridescent backdrop, hang an ombrĂ© pastel table cover or piece of fabric instead for an equally gorgeous effect. 
5. Unicorn Mylar Balloons
Add some excitement and joy to your party space with giant unicorn foil balloons (also called mylar balloons). These unicorn birthday decorations will bring your party theme to life, even if you want to go minimal when it comes to decorating. 
Head to your local party supply store and pick up some unicorn foil balloons, along with other pastel, rainbow, or star-shaped balloons to complete the look. Weigh them down and tie them with colorful ribbons, then place them around your party to liven up the atmosphere. 
6. Unicorn-Themed Party Supplies and Tableware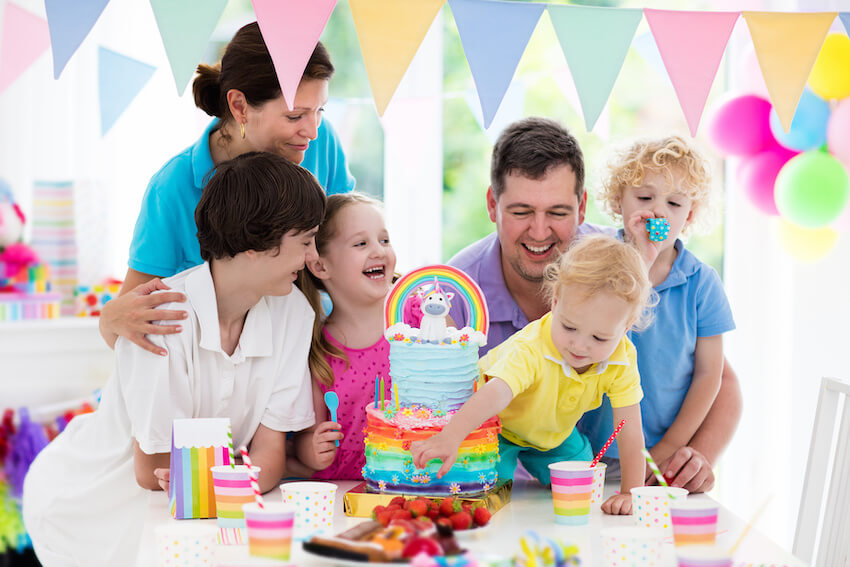 One of the best parts of a unicorn-themed party is that you go in so many directions when it comes to colors, prints, and patterns. Choose party hats, tablecloths, paper plates, paper cups, napkins, and straws that match your theme. Bright stripes, pastel polka dots, metallic accents — the list goes on. If you're on a budget or want to reduce waste, consider reusing any eclectic and colorful tableware you already have.
7. Unicorn Birthday Banner
There are some kids' party decorations that never go out of style, and birthday banners are one of them. Whether you buy foil banners from a store or make your own using paper or fabric, a unicorn banner is sure to set the scene and make the guest of honor smile.
Hang a unicorn birthday banner at the entrance of your party venue — but don't stop there. Add a few more on the walls, in the backyard, or wherever you'd like an extra pop of birthday magic. 
8. Magical Unicorn Cake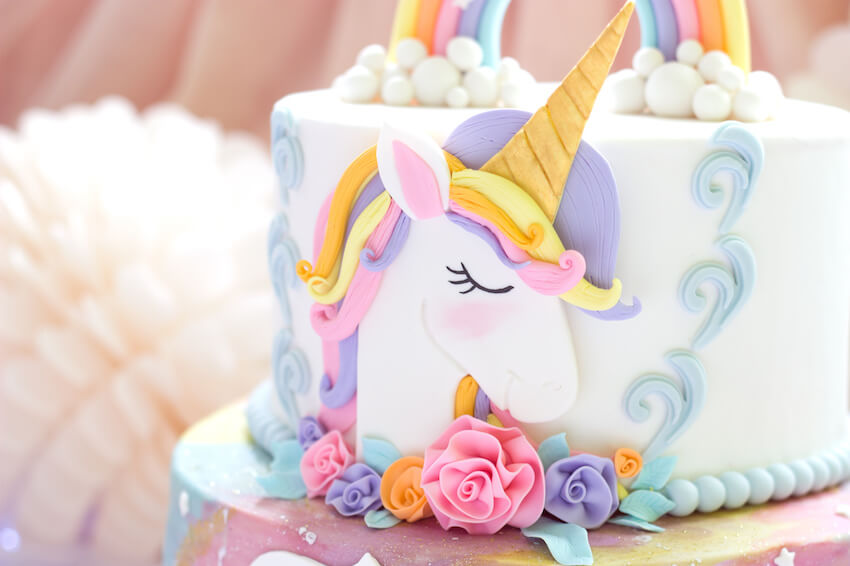 For most parties, a birthday cake is a star feature. (It also makes for one of the best unicorn birthday party decorations.) Guests are often just as excited to see the cake itself as they are to sing "happy birthday" to the guest of honor. Treat everyone to a magical moment with a unicorn themed cake.
There's no limit to how creative you can be with your cake. Rainbow icing, pastel rosettes, and unicorn-shaped cakes are all trending. You also can't go wrong with a simple store-bought or home-baked cake with a unicorn cake topper or a hand-drawn unicorn. 
9. Adorable Unicorn Cupcakes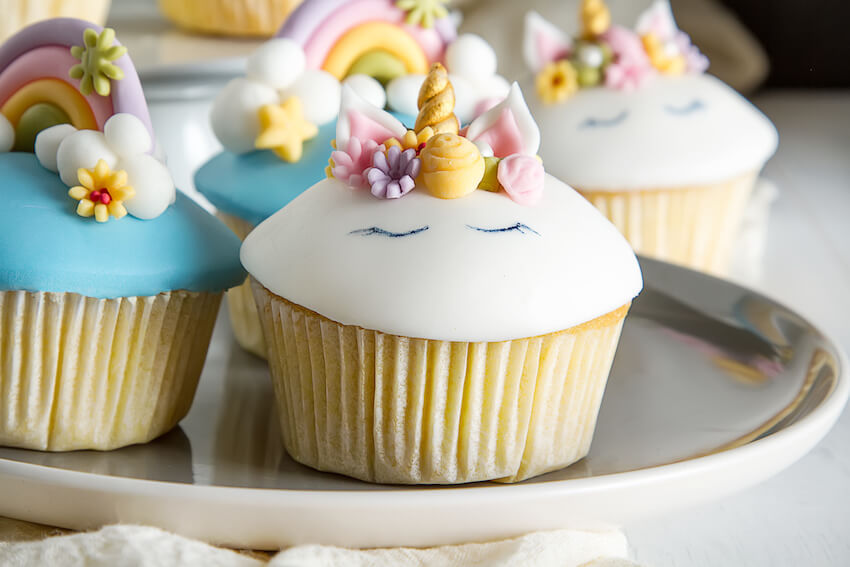 Sometimes guests are served the birthday cake itself, while other times you'll want to keep this back to enjoy as a family later on. A lovely way to share the fun with your guests is to hand out unicorn themed cupcakes either as the main cake or as a party favor. 
Bake your own unicorn cupcakes or buy some from the store and decorate with candy and writing icing. To make them extra special, consider adding a sticker to the wrapper with the party guest's name. 
10. Rainbow Confetti
To bring your party tables to life without going too heavy on unicorn birthday decorations, consider the magic of rainbow confetti. This is one of those multitasking unicorn party supplies that can add color and interest to your tablescapes while also serving as a fun prop for celebration. 
Look around for confetti in the shape of magical unicorns and rainbows, or confetti in bright or pastel tones. For a more eco-friendly touch, swap disposable plastic or paper confetti for multi-colored rose petals or even coconut flakes. 
11. Unicorn-Themed Party Favors
Birthdays are a fun time for gift-giving and it's not just for the birthday guest of honor. Be sure to create unicorn themed gift bags and favors for partygoers to take home. 
Put together mini bags or boxes filled with unicorn treats. Unicorn headbands, stickers, pencils, erasers, mini coloring books, and bubbles are all great options. Tailor your party favors to your budget and guests' ages, and add a personal touch with a handwritten thank you note.
Adorable Unicorn Birthday Invitations
A party that's as exciting as the one you're planning deserves invitations to match. Wow your guests with these unicorn-themed invitations for unicorn fans of all ages. 
Unicorn Rainbow Magic Invitation
This cute unicorn rainbow magic invitation blends a love for unicorns with contemporary illustrations of rainbows, stars, and fluffy clouds. The result is an invite that works for toddler and teen birthday parties alike. 
Unicorn Magic Invitation
What we love about this unicorn invitation is that it has an elegant, timeless feel, while still being ideal for a child's birthday celebration. This sweet invitation is perfect for a classic unicorn-themed party. 
Unicorn Rainbow Invitation
If you're looking for a photo invitation with a unicorn theme, this photo invite is the perfect choice. The adorable pastel illustrations create a lovely frame for a photo of the birthday guest of honor. 
Host the Ultimate Celebration with These Unicorn Birthday Decorations and Party Ideas
We love decorating for a unicorn-themed party. There's so much you can do with a theme centered on fairy tales, rainbows, and magic. When it's time to invite your guests, use one of our unicorn birthday party invites to make it happen. 
Greenvelope digital invitations are easy to personalize, so you can change the colors, layout, font, and wording to create your own masterpiece. Customize your design, then send these party invites to your guests via email or text — it's like magic!