December 20, 2019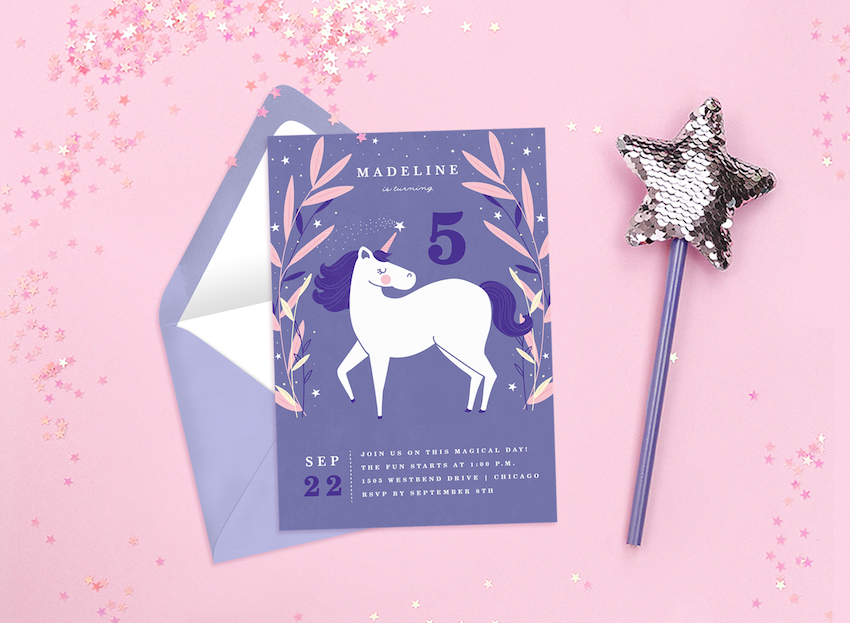 Is there anything more fun than a unicorn party? From tiny toddlers to unicorn-obsessed teens, these colorful mythical creatures are here to stay in a big way. We're not surprised — there are so many creative ways to throw a unicorn- or rainbow-themed party.
Whether you're hosting a laid-back get-together at home or an all-out themed celebration, there's a party and invitation out there for every unicorn lover. Here are some of our top unicorn invitations to get your party started, along with our planning ideas to make your unicorn party stand out.

7 Dazzling Unicorn Invitations to Wow Your Guests
We love that unicorns are still a popular theme for kids' birthday parties. You could even throw a unicorn-themed baby shower. To help you get people excited about the party you're hosting, we've created a range of unicorn birthday invitations.
Here are our top kids' birthday invitations for your unicorn party. All our designs come with a matching envelope, and all the elements are customizable so you can create an invitation that matches your party theme. Even better, you can use the same designs to make other invitations and cards — like matching thank you cards.
1. Unicorn Rainbow
Celebrate your little one's birthday in style with this adorable unicorn rainbow birthday invitation. Complete with glitter unicorn accents and a photo of the birthday boy or girl, it's sure to make people smile when the invitation lands in their inbox.
You can customize this invitation online by choosing from four different color options, or make it your own with a personalized color scheme. You could even use this as a pregnancy announcement card with a sonogram photo or as a baby shower invitation for your upcoming arrival.
2. Whimsical Unicorn
This fun and whimsical birthday invitation is perfect for unicorn fans of any age. The classy pastel cloud design reminds us of cotton candy or floral splashes. The gold unicorn and stars add a touch of sparkle, and there's plenty of space to let people know where to join you.
With its creative styling, this unicorn design feels at home for both a themed toddler party or an understated teen birthday bash. It would also work well as an invitation to a summer get-together or a themed sleepover with friends.
3. Unicorn Magic
Invite friends and family to a special someone's birthday with these sweet unicorn magic birthday invitations. Whether you're hosting a rainbow unicorn themed celebration, a rainbow party or a simple get-together at home, this invitation will get people excited to join you.
Choose from pink or blue designs, or opt for the brighter green version of the design. Customize the text to include all the important details — don't leave out the fun stuff, like whether guests should come dressed up.
4. Llama Unicorn
For a quirky twist on the traditional unicorn theme, why not try these llama unicorn birthday party invitations? With pastel colors, a mountain background and lovely blooms, this online invitation will get people smiling. The sweet style of this digital invitation also makes it perfect for a baby shower, or for sending your thank you notes for birthday cards and presents.
Make it your own with a custom color scheme or choose from pink, green, blue, or yellow. Customize to your heart's content and invite friends and family along for a llamazing time!
5. Unicorn Duo
Invite people along to your little one's party with these classically cute unicorn duo invitations. The sweet hand-drawn style and floral accents make these invitations perfect for a little unicorn lover's birthday or baptism. Choose from pastel pink, lilac, or peach or ask one of our designers to customize it to match your party's color scheme.
6. Unicorn Sparkles
This modern, design-led unicorn sparkles invitation is a lovely choice for a child's birthday party. With an adorable unicorn center stage and plenty of sparkles, these digital invitations will wow your guests.
Opt for a sweet pink or purple design, or choose the navy or green for a more grown-up feel. The natural elements in the design also make this a great choice for themed garden party invites.
7. Magical Unicorn
Surprise your guests with this fun, magical unicorn birthday invitation. The colorful holographic design with watercolors will make people smile as they click open, while the hand-drawn style makes it perfect for a creative celebration for both kids and adults. With this design you can choose from a silver or pink unicorn, surrounded by rainbow sparkles.
Fun Unicorn Party Ideas
With a date set and your birthday invites on the to-do list, why not add a little more sparkle to your event with some extra theming? Whether you're a pro or a beginner planning your first party, here are some of our favorite additions to make your magical unicorn party even more special.
A Standout Themed Cake
Watch your guests' faces light up as you enter the room with a unicorn cake to present to the birthday boy or girl. Whether you make your own, hire a baker, or find a cake in your local store, a unicorn cake can really bring together the whole party theme.
Unicorn Cookie or Cupcake Decorating
Cake decorating is always popular with kids and adults alike because it allows your guests to get creative and take a break from dancing or jumping around in a bouncy castle. Set up a decorating station with baked cookies or cupcakes and plenty of icing, decorations, sprinkles, and toppings.
Themed Photo Booth
Photo booths are always enjoyed by guests from young to old. There are plenty of companies that hire out photo booths, but you can also create your own. Set up a DIY photo booth station with a curtain backdrop, plenty of party decorations, and unicorn-themed props for people to pose with. Whether you hire a pro or ask people to take photos with their phones, encourage everyone to get involved and set up a gallery so people can smile at the photos afterwards.
Unicorn Party Games
What's a party without some fun games for kids and grown ups? Take your party theme one step further with some unicorn inspired games. Put a twist on a classic with "pin the tail on the unicorn" or set up a ring toss with unicorn horns.
Themed Party Bags and Keepsakes
When it's time for everyone to say goodbye and head home, let them leave with a sweet keepsake from your party. There's plenty of choice when it comes to unicorn party supplies and toys — from mini ponies to homemade unicorn cake pops.
Unicorn Stick Horses
Kids love games at birthday parties. For something unique to your theme, why not bring along a collection of unicorn stick horses? Buy from the store or borrow from friends, then add a DIY unicorn horn and some sparkles for even more fun.
Time to Get the Party Started
With so much to organize for the upcoming party, we're here to help make sending invitations easier. With our digital invitations you can forget about the hassle of asking if they've been received or reminding people to RSVP.
All you need to do is choose which invitation design you'd like to use, upload your guests' email addresses, and press send. From there you can see when loved ones have received, opened, and replied to your invitation.
To get started, choose your favorite unicorn birthday invitation from our top picks above or browse our kids' birthday party invitations. From there it's a smooth journey from design to sending!