November 5, 2021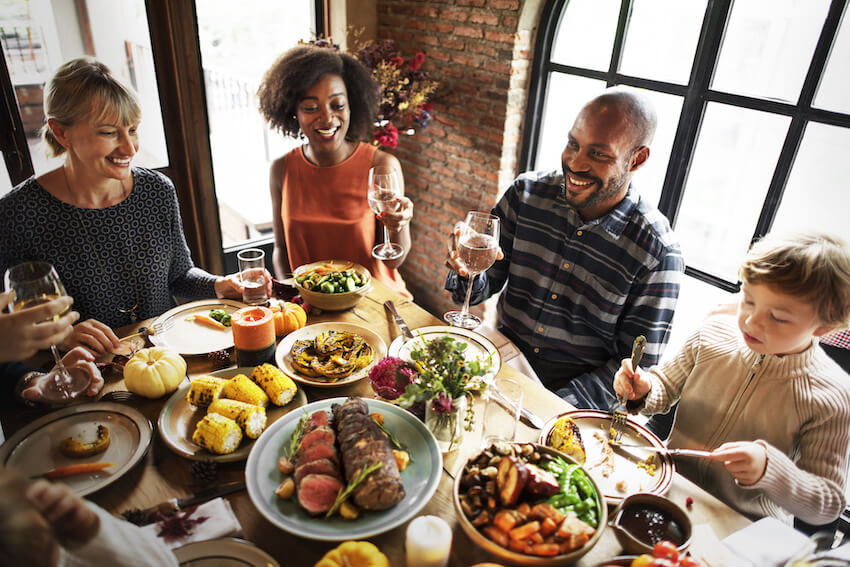 It's that time of year where we gather to enjoy delicious food in the best company. Thanksgiving is nearly upon us, which means it's time to start planning your epic get-together. 
Whether you're hosting Thanksgiving dinner with family or inviting your closest friends over for a Friendsgiving bash, explore these Thanksgiving party ideas to help you throw an impressive celebration for loved ones. 

Inspiration for Your Thanksgiving Party Decor 
Decorating your home for Thanksgiving doesn't have to feel like a big task. You can transform your space into the ultimate fall wonderland in just a few steps. Take a look at these ideas for delightful party decorations. 
Stick to a Cozy Fall Color Scheme
Fall gives us an amazing color palette to work with, so if you're not set on a theme, use autumnal hues to inspire your Thanksgiving celebration decor choices. Look for warm browns, oranges, reds, and natural tones to bring your fall color scheme to life. What's great about this time of year is that these are all on-trend, so it's easy to pick up tableware, home decor, and party accessories in these shades. 
Create a Stunning Tablescape
If you want to focus on one area for your Thanksgiving decor, make it your Thanksgiving table. Put your heart into creating a wonderful Thanksgiving tablescape with a stunning Thanksgiving centerpiece — like a cornucopia or a collection of mini pumpkins and pinecones. Choose a theme or color palette and use it throughout your table settings, table runner, placemats, dinnerware, and place cards for a put-together look. 
Light Your Space With a Warm Glow
When you gather together at your table to enjoy your Thanksgiving feast, the right lighting can go a long way to setting an atmosphere. Invest in some cozy, warm lighting to create a lovely glow at the dinner table and throughout your space. Use tall and short candles for visual interest, or add some warm-toned string lighting around your space for a welcoming glow. 
Use Leaves Throughout Your Party Decor
There's no shortage of leaves this time of year, which makes them an ideal choice for your seasonal party decor. Many of our favorite Thanksgiving party ideas feature fall leaves because they're the perfect visual. Look for Thanksgiving decorations that feature leaves as a pattern or decoration, or collect leaves from around your neighborhood to create a DIY fall leaf garland for the event. 
Make It Quirky
There's no rule that says you have to stick with the expected when it comes to Thanksgiving decorations. If your family is a little quirky or you're hosting a Friendsgiving event instead, feel free to step outside the box and seek inspiration from wherever you choose. Host a dinner party inspired by a Thanksgiving episode of your favorite TV sitcom, or do something completely unexpected and create a tropical party. The options are endless. 
Thanksgiving Games and Activities for the Whole Family
With your loved ones gathered, it's the perfect time to crack out your collection of board games or take part in a seasonal activity together. If you're stuck for ideas, here are some fun games and activities to add to your list of Thanksgiving party ideas. 
Watch a Seasonal Movie
After a big meal, sometimes all you want to do is sit down and relax. (Blame it on the tryptophan!) Make your post-turkey mealtime just as fun for everyone by watching a fall-inspired movie together. Break out the stretchy pants and try any of these Thanksgiving movies. 
Play Themed Classic Games
Games become classics for a reason — they're always relevant and a good way to spend time with friends and family. Find themed versions of traditional games you love like Thanksgiving bingo, charades, and trivia, all of which work well for a variety of ages. If you don't have time to pick them up at your local party supply store, you can easily find free printable games online.
Create a Gratitude Book
Thanksgiving is a time for reflection and gratitude. Encourage your loved ones to think back over what they're most grateful for and put together a book that stores everyone's reflections. This is a lovely DIY Thanksgiving craft project that you can continue every year, and it makes for a wonderful keepsake for the future. 
Go on a Thanksgiving Scavenger Hunt
If you have kids at your party and they need to burn off some energy, a themed scavenger hunt with their grown-ups is a lovely Thanksgiving party idea. This kid-friendly adventure around your yard or neighborhood encourages them to take in everything that's around them, seek out seasonal treasures, and return to share them with the rest of the group. 
Thanksgiving Party Food Ideas
If there's one thing we all think of when it comes to Thanksgiving it's the delicious food. Whether you're hosting on Thanksgiving Day or planning a dinner party for friends that week, here are some ideas for your menu and food plans. 
Stick With the Traditional
You can't go wrong with a traditional take on Thanksgiving dinner. A big, tasty turkey (plus a vegetarian equivalent) with all the sides and trimmings is always a hit. If you love the idea of a traditional dinner but want to switch things up a bit from your family recipe, take a look at these Thanksgiving recipes for inspiration. 
Make It a Potluck-Style Celebration
For something more relaxed, turn your Thanksgiving or Friendsgiving dinner party into a potluck. Take charge of the main dish and a handful of all-important sides, but let your guests bring something delicious along with them. Ask your guests to RSVP on their online invitations with what they'll be bringing, so you can make sure there's lots of variety. 
Go All Out With the Desserts
With the focus often on the main dish and those delicious savory sides, desserts can sometimes take a backseat. Create an amazing dessert bar filled with treats for your guests to enjoy. Serve up warm pumpkin pie, s'mores brownies, apple pie, cranberry tarts, and more. Finish the selection with plenty of ice cream and candy for toppings. 
Try Something Completely New
For a memorable twist on Thanksgiving feasting, change your menu up completely. This is one of those Thanksgiving party ideas that is perfect if you have an unusual theme. Host an indoor BBQ or serve a collection of Asian-inspired dishes at your dinner table. If you're taking the non-traditional Thanksgiving route, let your guests know in advance, so they're not surprised when there's no turkey in sight. 
Our Favorite Thanksgiving Party Favors
Even the best Thanksgiving party has to end. When it does, make sure your guests leave with something lovely to remember the celebration. Here are some of our favorite party favor ideas. 
Fall-Themed Mug or Tumbler
Give your guests something they'll use over and over again with the gift of a themed mug or tumbler. Look for mugs with fall leaves, pumpkins, or autumnal colors. Or opt for something funny with a turkey and a joke instead. You could even splurge on personalized mugs or tumblers with your guest's name on them. 
Little Turkey Keychain
For a cute Thanksgiving party idea, send your guests home with their very own turkey keychain. Not only is this a hugely practical gift but it's sure to make them smile. You can give it as a party favor or include it as part of a goodie bag. 
Fall-Themed Mini Basket
For a lovely take-home gift, fill small gift baskets with handmade or locally sourced goodies and treats like cookies, coffee, syrups, and beverages. Throw in some seasonal candy too — like candy corn or flavored jelly beans that remind you of this time of year. You can usually find little baskets at dollar stores, so it doesn't have to cost much.
Personalized Note of Gratitude
'Tis the season for being thankful. Make sure your loved ones know how special they are by writing a personalized gratitude note for each guest. This is a heartfelt way to honor the holiday, and you can present it either as a handwritten note or have it engraved or personalized onto a holiday decoration, bookmark, or notebook. 
The Best Themed Invites for Your Thanksgiving Party
When you're hosting a holiday get-together, there's nothing better than inviting your loved ones with an adorable Thanksgiving-themed invitation. Once you've found a design you love, you can customize the colors and text to create a fully personalized message. 
Gourdness Gracious Invitation
We adore the refreshingly contemporary and bright take on a Thanksgiving invitation from this gourdness gracious design. Not only does the invite have a great name, but its sweet illustrations and bright colors make this ideal for a fun Thanksgiving party. 
Textile Invitation
There's something very elegant about this textile invitation. The beautiful pattern and textured digital envelope adds plenty of depth while the stylish fonts and bold blacks add a sense of sophistication and warmth. 
Friendsgiving Celebration Dinner
If you're hosting a party for your closest friends, this Friendsgiving celebration dinner invitation is a lovely option. The cozy fall colors are perfect for this time of year, and the casual fonts and relaxed illustrations are ideal for a more laid-back take on Thanksgiving. 
Be a Warm and Welcoming Host with These Thanksgiving Party Ideas
There's something so special about Thanksgiving as a holiday. We're surrounded by those we love, eating the best food, recounting fond memories, and giving thanks for all the beautiful things we get to experience. Make your Thanksgiving celebration unbeatable with some of these party ideas. Take inspiration from our ideas on decor, food, games, and Thanksgiving invitations to create a celebration that your guests will always remember.