July 21, 2020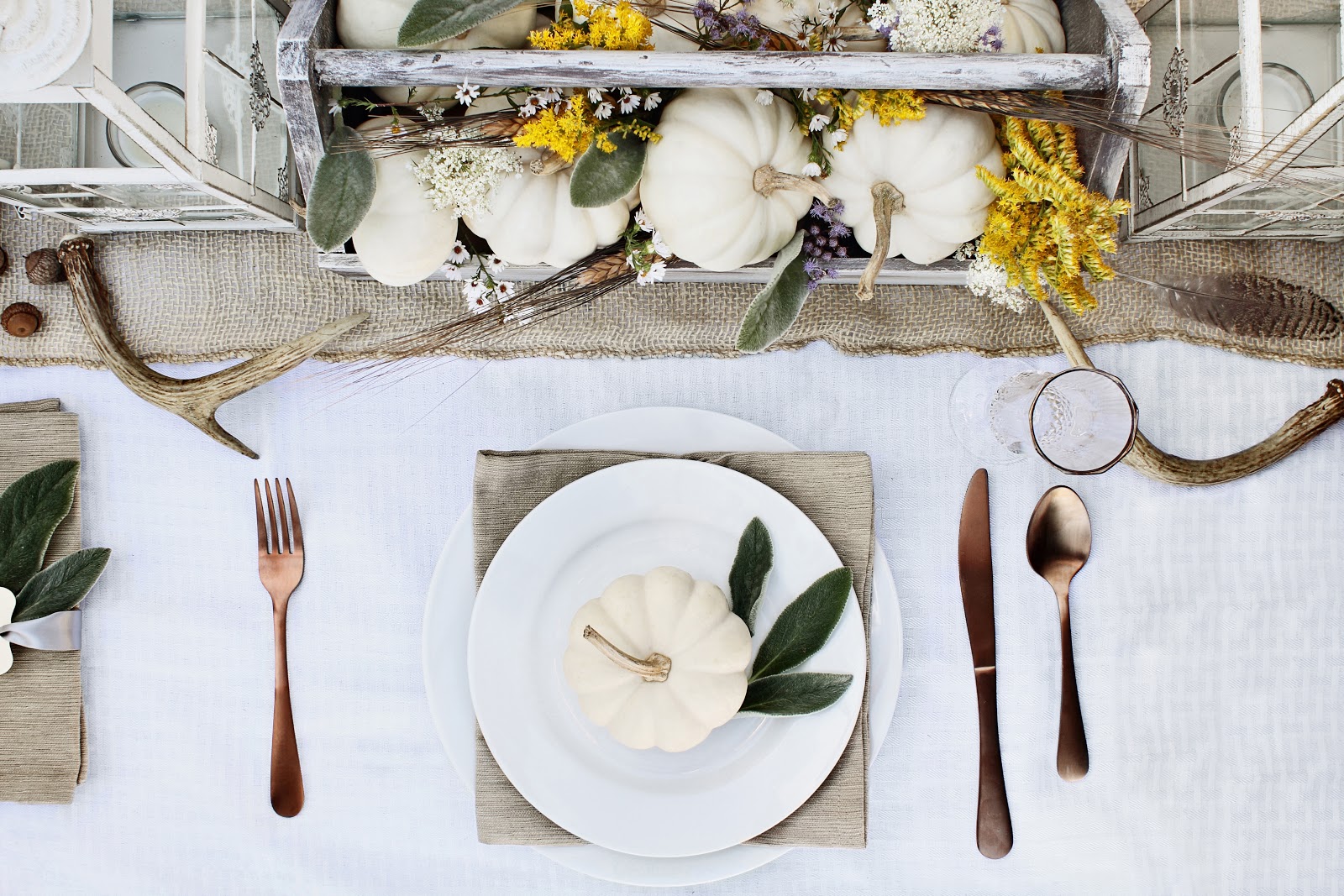 Thanksgiving is all about giving thanks for life's blessings and spending time with loved ones. But let's be honest: It can also be a bit stressful with all the travel plans, visiting guests, and menu planning for Thanksgiving dinner¬†'ÄĒ and we haven't even gotten to the decorating yet!
Thankfully, there are ways you can make it easier on yourself. For one, sending online Thanksgiving invitations saves you time and money. You can customize your invite in a matter of minutes, automatically track RSVPs, and send updates whenever you want.
Another way to ease the holiday strain is by enlisting a few easy decor ideas that can help you spruce up your indoor and outdoor space as well as your table setting. With that in mind, we've curated this list of the best Thanksgiving decoration ideas, including inexpensive options and DIY ideas that you can count on regardless of your budget.

8 Indoor and Outdoor Decoration Ideas for Thanksgiving
For these fun Thanksgiving decorating ideas, all you need is a bit of imagination, a can-do attitude, and possibly a small power tool or two.
1. Pops of Color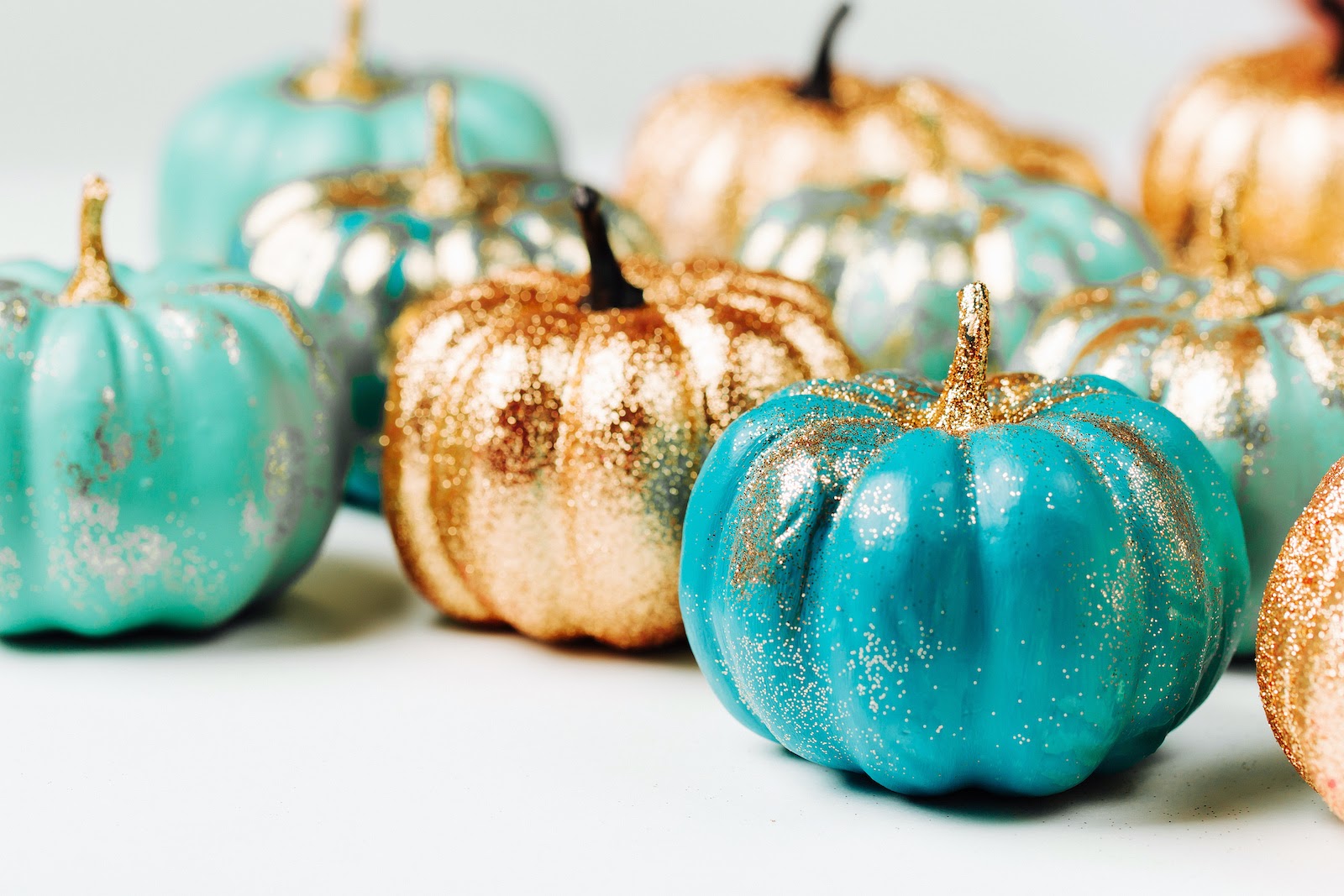 Whether you place them indoors, outdoors, or both, pumpkins are the perfect Thanksgiving home decor idea. For an instant holiday pick-me-up, paint large and mini pumpkins in unexpected neon hues, pretty pastels, shimmery metallics, or festive patterns. Or go for a minimalist color scheme with varying shades of white pumpkins.
2. Pine Cone Door Hanger
Forgo the typical fall wreath and create this festive and inexpensive door decor. Simply gather a few pine cones and attach some thick ribbon (anything from velvet to burlap) with a hot glue gun. Once the glue hardens, you can cluster the cones together and stagger them so they fall at varying lengths. Then, tie a knot at the other end of the ribbon and hang for a lovely accent you can use all season long.
3. Chalkboard Pumpkins
Since you can never have enough of a gourd time for Thanksgiving, coat a few pumpkins with chalkboard paint. You can then write messages such as "Give Thanks," "Grateful," "Family & Friends," and "So Thankful." Place them on your porch, mantel, or dining room table. You could also use them as chalkboard menu signs on your buffet holiday table.
4. Fall Harvest Vignette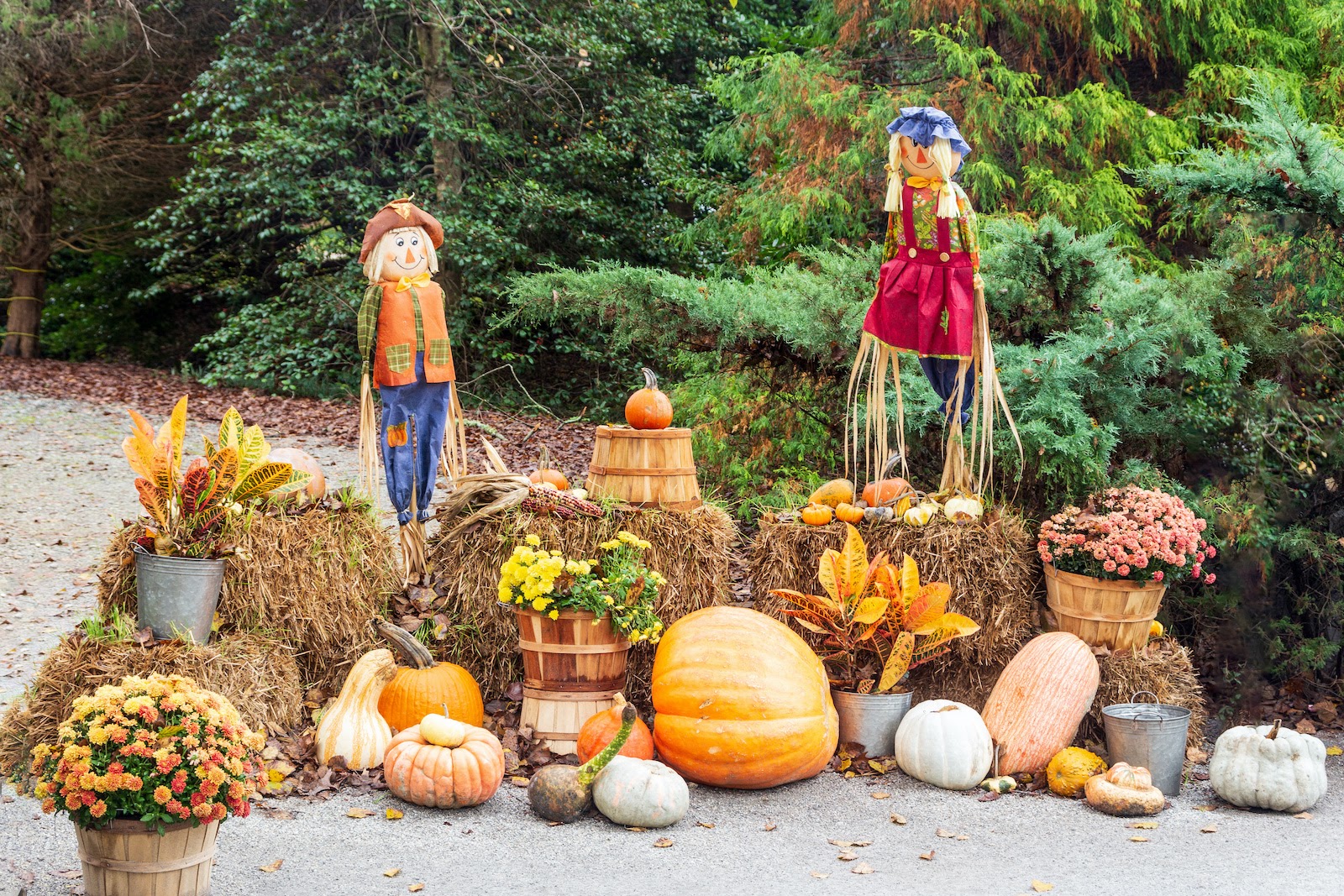 For a charming ode to the season, outfit your porch, patio, or yard with straw bales, scarecrows, and pretty baskets loaded with potted mums and gourds. You could even transform your yard tools (shovels and rakes, anyone?) with fall garland for a little slice of country living, even in the suburbs.
5. Gratitude Tree
Also called a thankful tree, this thoughtful decor idea is a great way to encourage interaction by having everyone jot down what they're grateful for and hanging it on the tree. There are countless ways to create your own DIY Thanksgiving gratitude tree or you can find ready-made versions online or at local craft stores.
6. No-Cake Cake Stand
There are so many ways to use a cake stand¬†'ÄĒ and none of them¬†involve displaying cake! Whether it's on the dinner table¬†or in another area of your living space, a cake stand¬†is great for showcasing a fall arrangement of mini gourds, winter citrus, and pomegranates. You can also use it as a focal point for photos, candles, florals, or foraged twigs and leaves.
7. Paper Bag Luminaries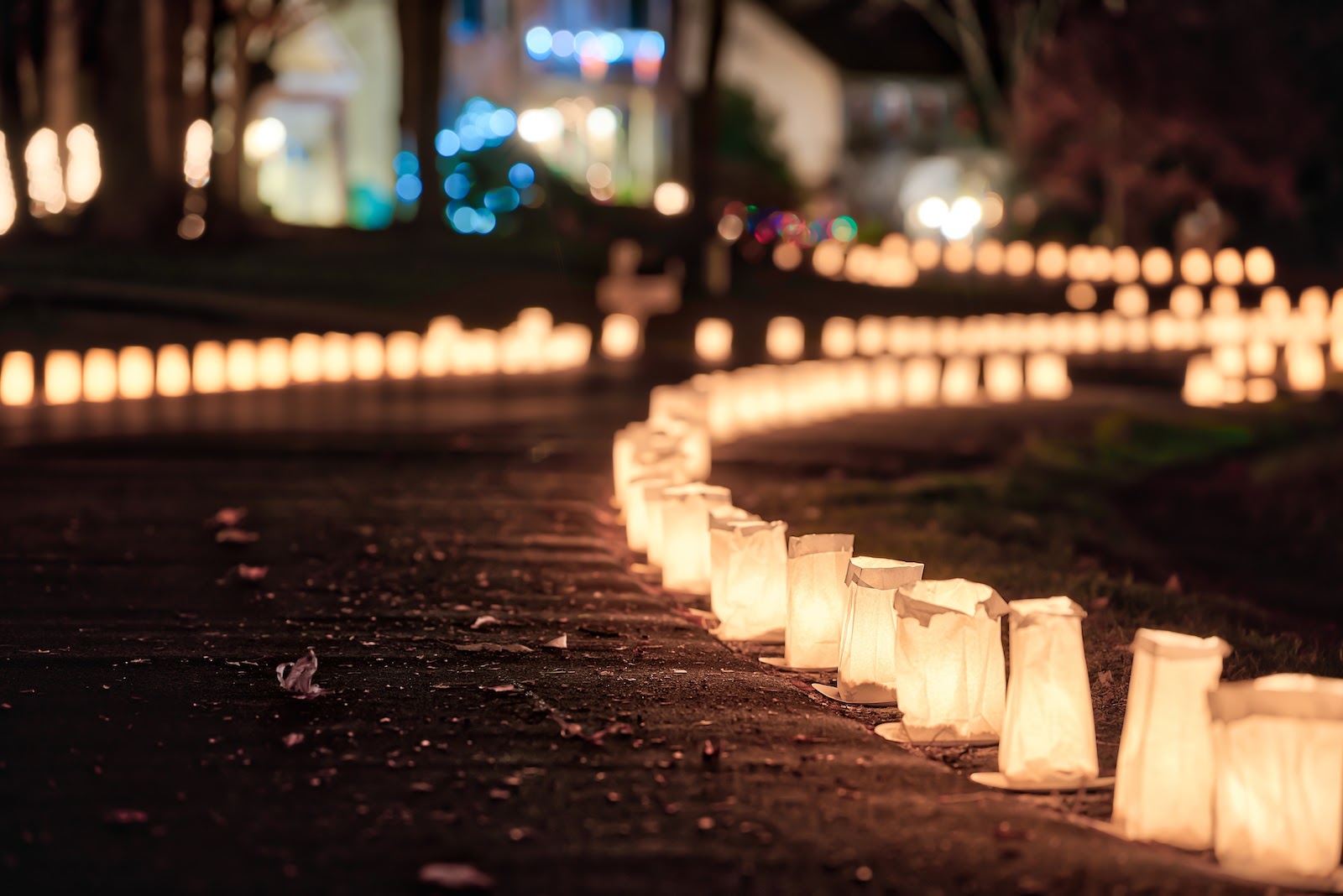 Add warmth to your walkway, porch, or home interior by transforming basic brown paper lunch bags into beautiful fall lanterns. For this easy DIY project, grab a few leaves, trace them on the paper bags, and cut out the leaf shapes. Weigh them down with a bit of sand or dirt, insert a flameless votive, and voila! You can also buy pre-made paper lanterns, but why miss out on all the fun?
8. DIY Autumnal Banner
Create a whimsical mantelpiece with a DIY fall banner featuring book pages. All you need are some fall leaves (real or faux), an old book (or newspaper or magazine), clothespins, scissors, and twine. Cut out leaf shapes from the pages and clip them together with the leaves. String it across your mantel, dinner table, credenza, or any other space you want to liven up.
9 Fabulous Fall Ideas for Your Thanksgiving Table Setting
Dress your Thanksgiving table with the season's warmest (and coolest!) ideas that are sure to please you and your guests. It's also worth noting that with a few simple updates to the color schemes and seasonal motifs, most of these decorating ideas would work great for other holidays like Halloween and Christmas, as well as weddings.
1. Fruit Candle Holders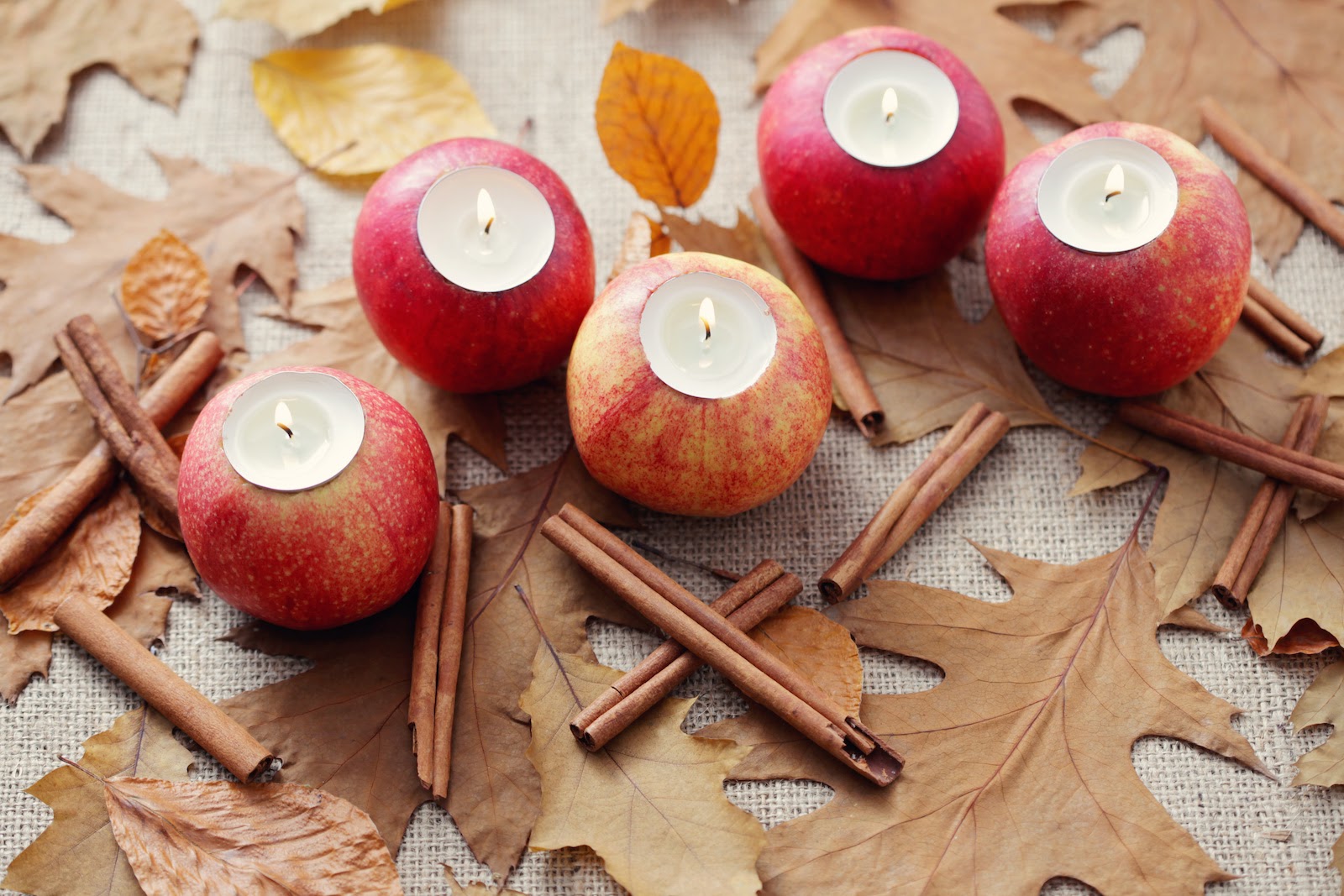 Never mind the candelabra. This creative decor idea is sure to spark conversation. As long as you have a drill (and a steady hand), you can hollow out a space for a votive, taper, or tea light in your batch of apples or mini pumpkins.
2. Scarf as a Table Runner
Instead of running out to spend more cash on a table runner that you'll only use once a year, shop your closet and pull out one of your scarves in a lovely autumnal hue or print. You can even use a sarong or other wearable wrap!
3. Photo Place Cards
To add the most personal touch to your table decor, print off photos of each guest and put them atop their place setting. Not only will your guests know where they're sitting, but they can reminisce about the photo and share some lively conversation.
4. Natural Thanksgiving Centerpiece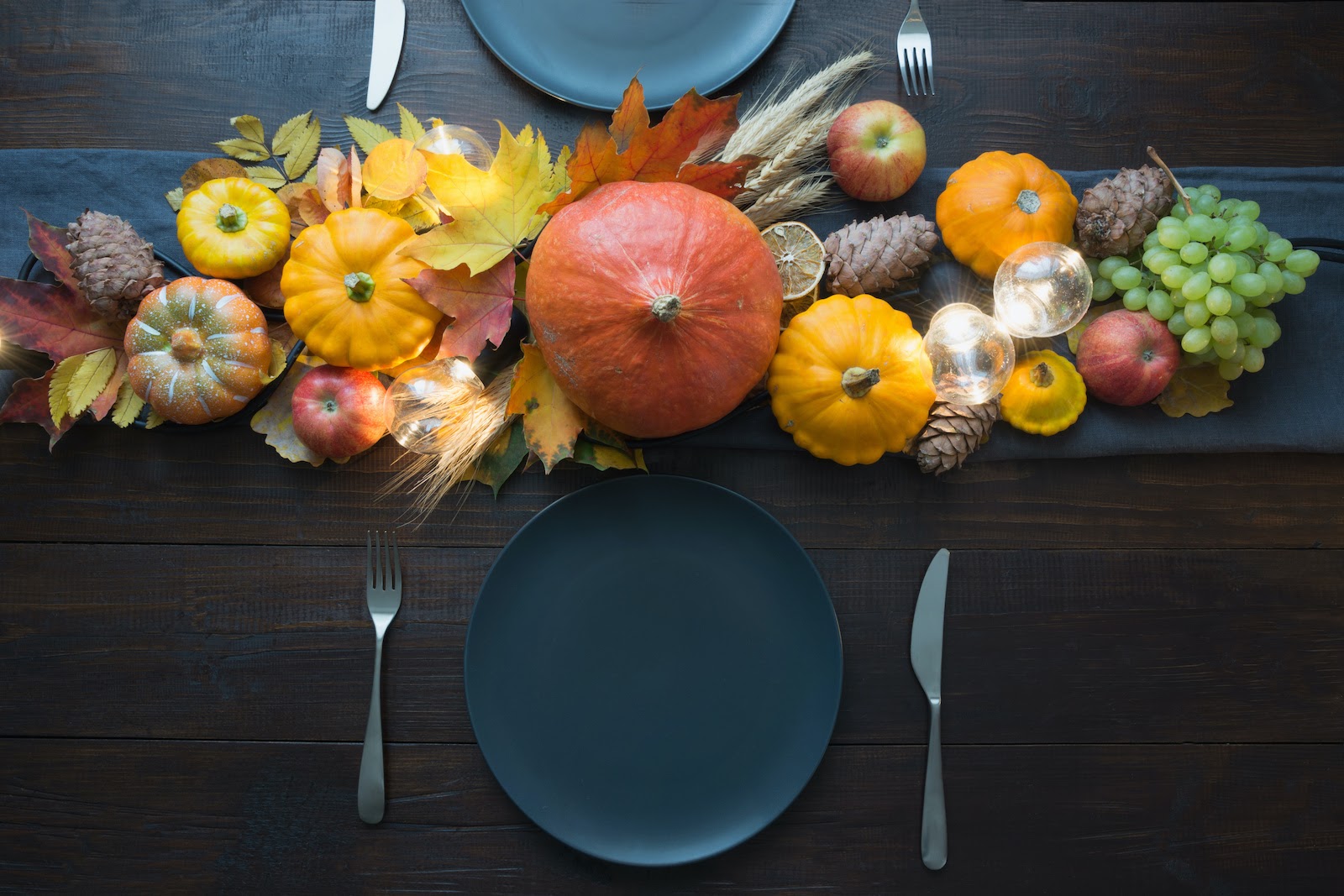 One of the easiest and most affordable ways to amp up your tablescape is with a centerpiece loaded with natural elements. From pine cones, gourds, and dried leaves to corn husks, acorns, and fruits, you can quickly create a dazzling cornucopia of the season.
5. Charming Chair Decor
Add some fall flair to your chairs by wrapping them in burlap, mesh ribbon, or any other fabric that you can tie in the back. Insert stalks of wheat, twigs, mums, greenery, or store-bought seasonal ornaments for a sweet finishing touch.
6. Fall Mason Jars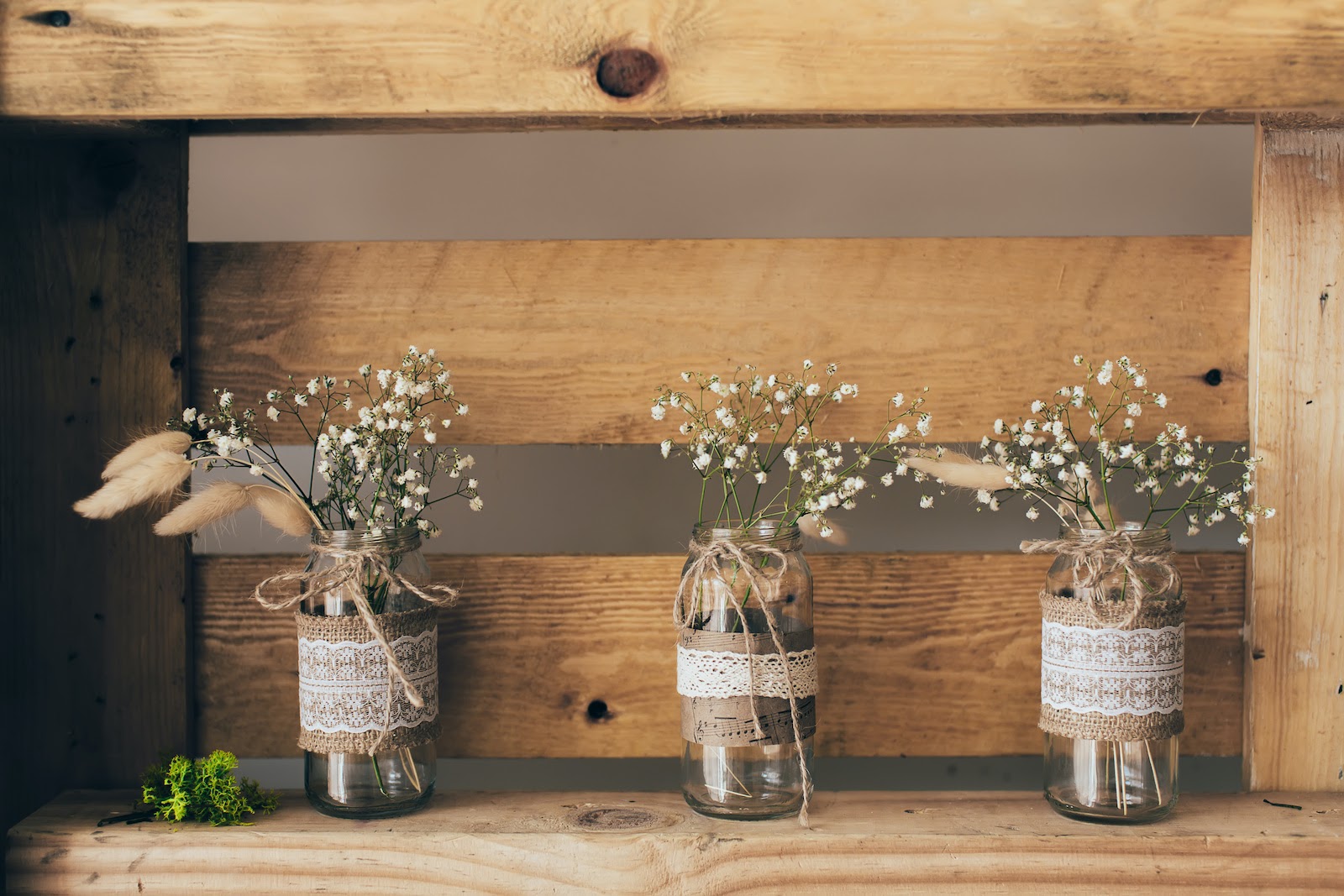 Instead of filling glass vases with flowers, opt for autumnal arrangements in canning jars. Bundle real or faux branches with leaves, crabapples, berries, sprigs of rosemary, dried wheat stalks, baby's breath, or eucalyptus stems. You can also spray paint the jars in different fall colors or leave them as is.
7. Pumpkin Ice Bucket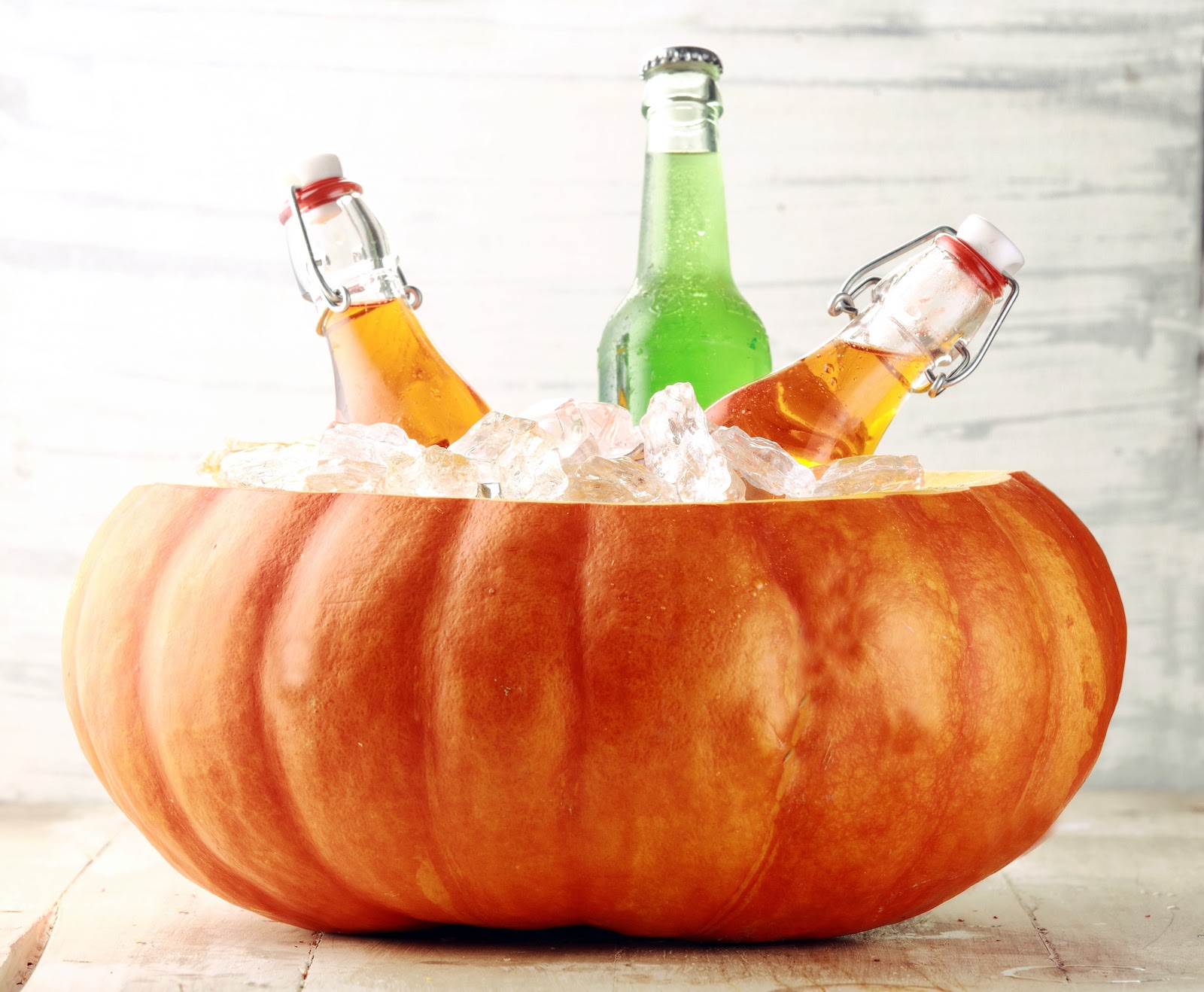 For an instant ice breaker, hollow out a pumpkin to create the most fall-tastic ice bucket with a few crafty supplies. It's a fun way to keep your beverages cold.
8. Twine Napkin Rings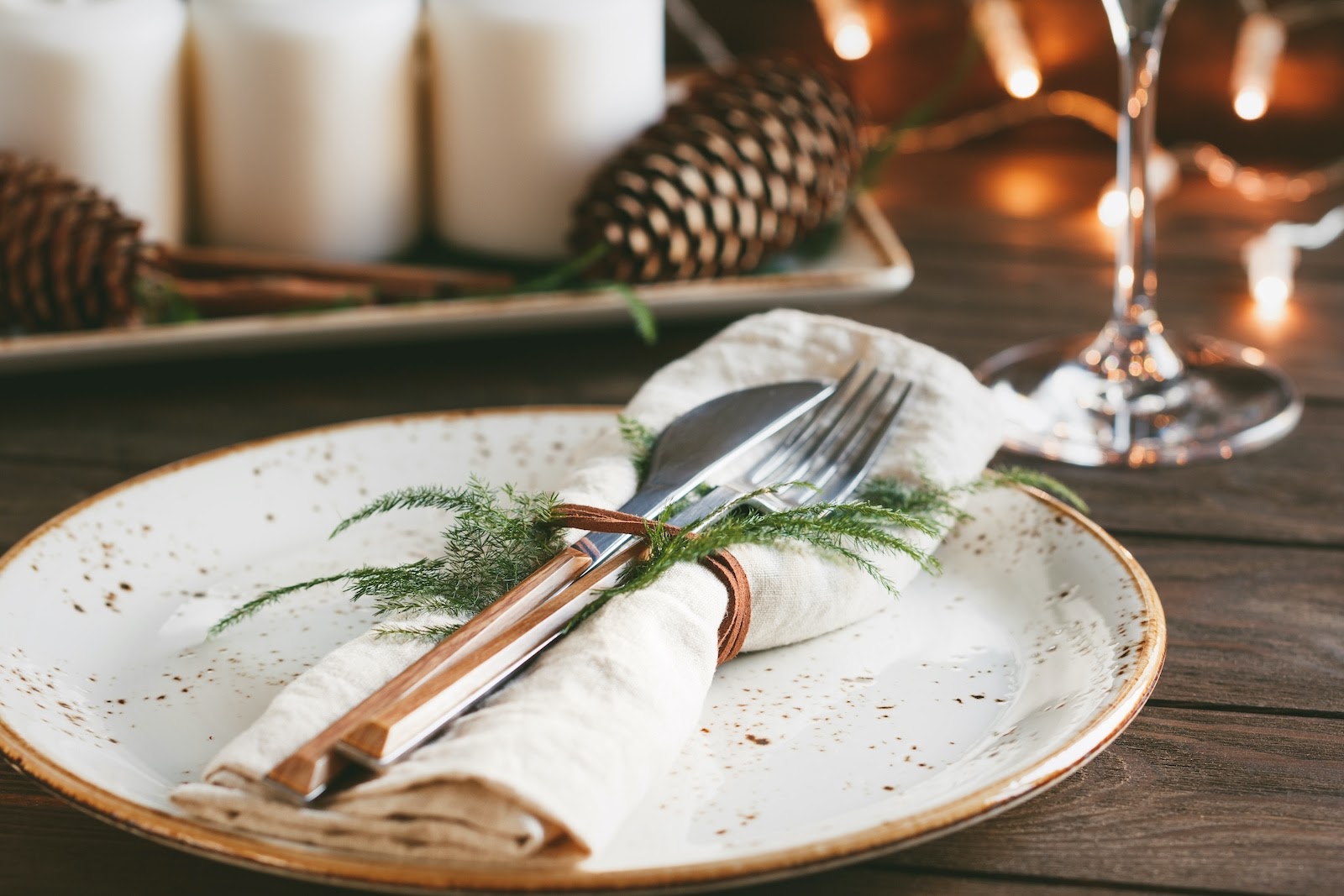 Instead of springing for pricey napkin rings, tie napkins with twine or ribbon that you can buy by the spool at your local craft shop. Slip in a sprig of greenery, dried leaf, cinnamon stick, or any other natural element for a cozy, rustic look.
9. Kids' Table Paperpalooza
Keep the young ones entertained at the kids' dining table with personalized paper placemats, paper tablecloths, and other crafty printables that you can easily create with kraft or butcher paper. Be sure to set plenty of crayons or colored pencils so they can scribble to their little hearts' content.
Easy Thanksgiving Decoration Ideas You'll Be Thankful For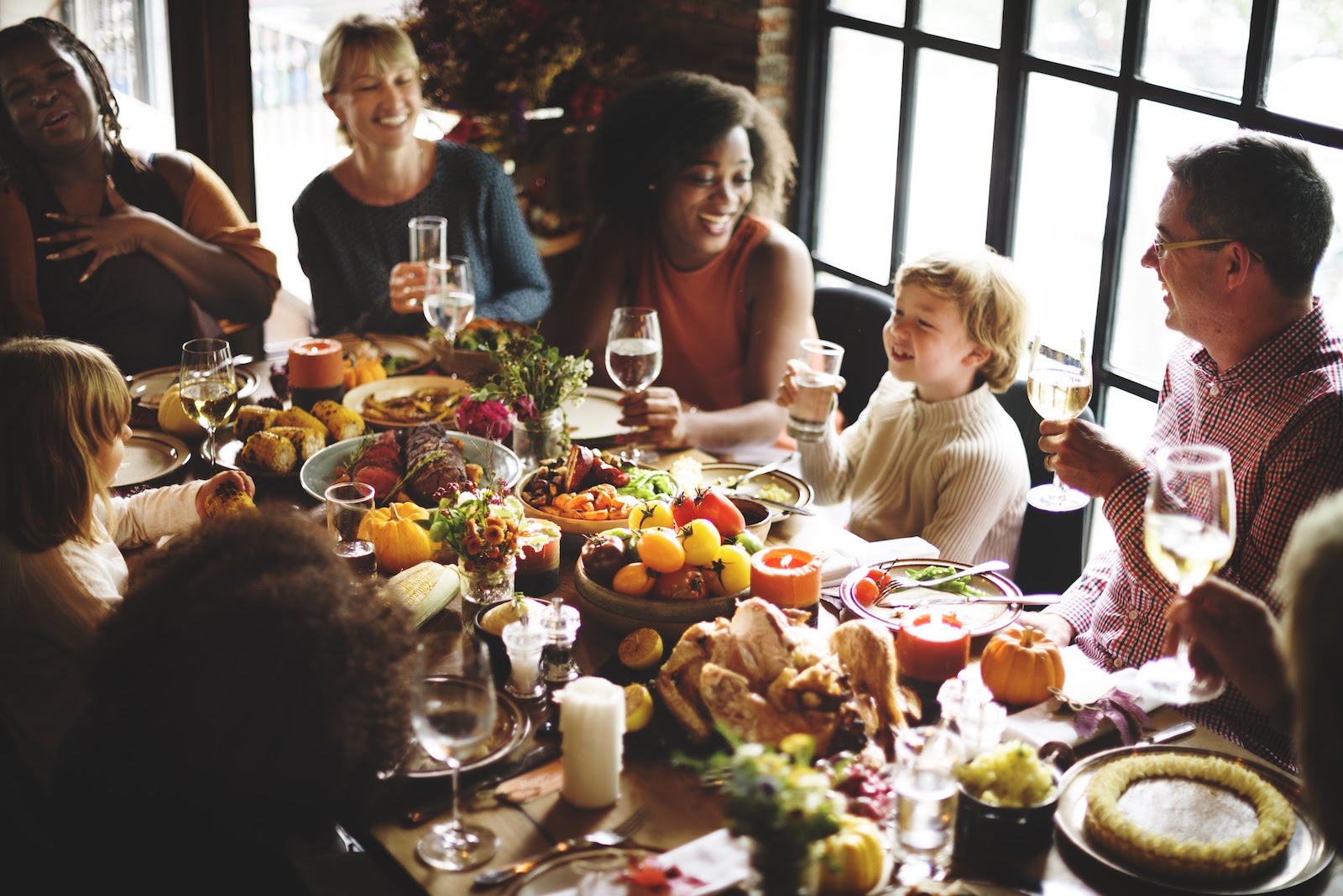 There's nothing more comforting than gathering with friends and family to celebrate the season of gratitude. But when you're hosting Thanksgiving dinner, it can get overwhelming planning everything from the menu to the decor. Fortunately, you don't have to go it alone 'ÄĒ this roundup of easy, budget-friendly Thanksgiving decoration ideas¬†will help you brighten your space without wearing you out.
Don't forget that sending digital invitations is another great way to keep costs low and save you time so you can focus on what really matters. For more ideas on party planning and making the most out of all the special occasions in your life, check out the Stationers blog.