July 14, 2020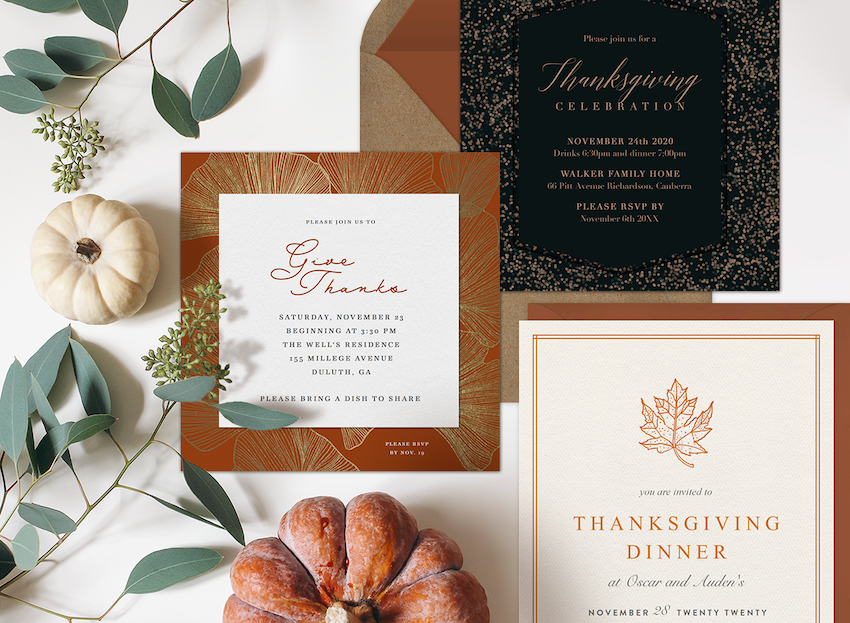 Thanksgiving is a time to reflect, offer thanks for life's blessings, and gather with loved ones. It's also one of the most dazzling seasons of the year when you can take in the spectacle of fiery-hued fall leaves, colorful pumpkins, and cool, crisp air. And one of the best ways to tie all of these elements together is with a warm and welcoming Thanksgiving celebration.
Whether you're hosting an extravagant dinner party¬†or a casual¬†Friendsgiving¬†potluck, you'll want a Thanksgiving invitation¬†that delights (and excites) your guests. With that in mind, here are 12 delectable¬†designs¬†'ÄĒ¬†as well as some invitation wording¬†ideas 'ÄĒ to help you create a Thanksgiving party invitation¬†that will make the perfect first impression.

12 Party Invitations for Thanksgiving and Friendsgiving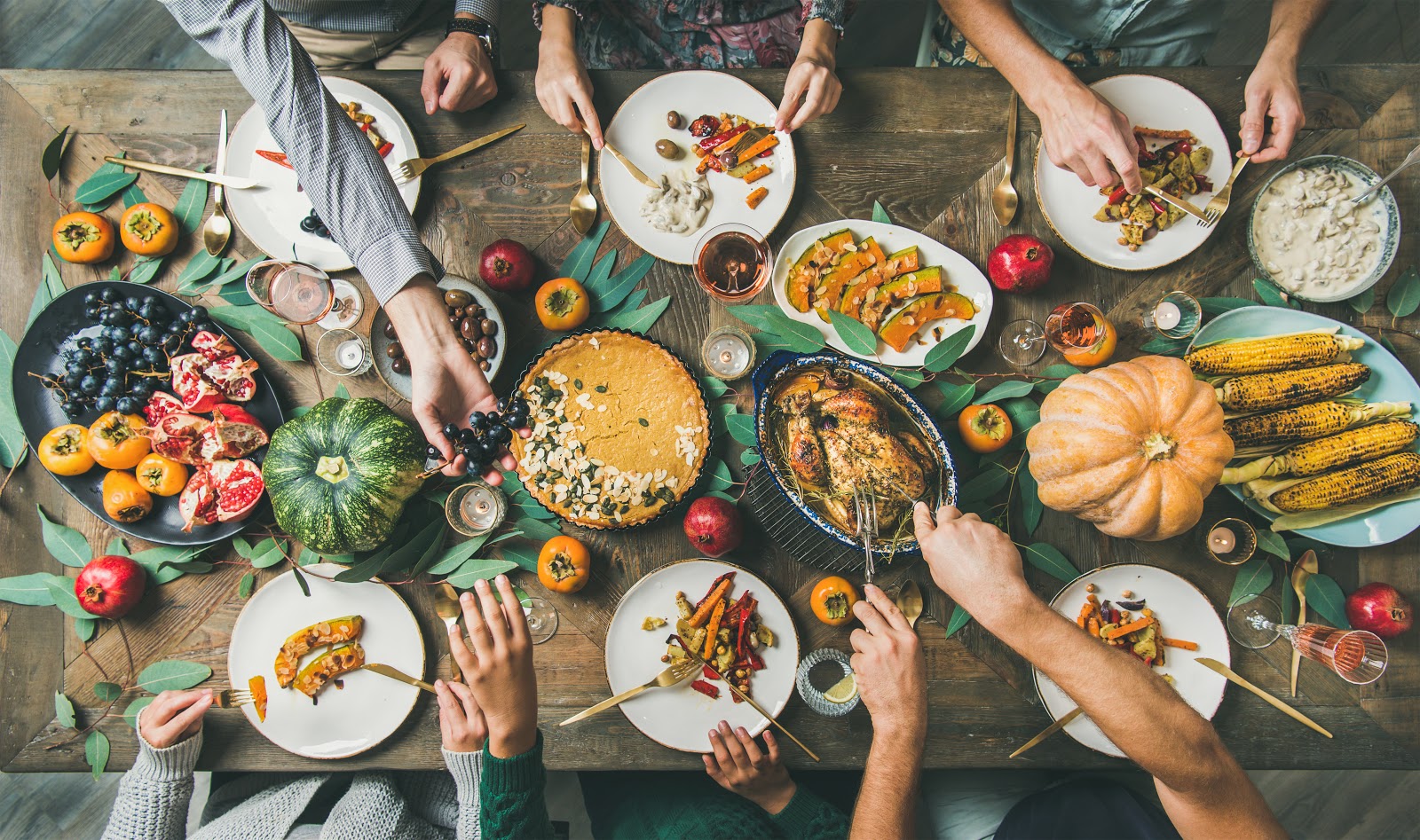 When it comes to planning your party, you have enough going on between gathering recipes, shopping for ingredients, decorating your space, making the meal, and setting the table. Spare yourself some stress and send digital invitations.
By creating your party invitations online, there's no need to worry about postage, and you can easily track RSVPs and send updates all in one spot. Plus, you have limitless opportunities to customize your invitation's font, message, colors, envelopes, and more.
To get you started, take a look at these fantastic options that you can tailor however you like. For more ideas, check out Greenvelope's full selection of Thanksgiving invitation templates with dozens of styles that will suit your celebration.
1. Gobble 'Til You Wobble Invitation
There's nothing like a little humor to get your guests excited for a fun Turkey Day¬†feast. This silly Gobble¬†'Til You Wobble invitation¬†leaves no question as to what's on the menu 'ÄĒ plenty of turkey¬†and plenty of fun! Choose from four fall-friendly colors with a contrasting envelope liner.
Wording Idea: Don't be a turkey! Put on your stretchy pants and loosen up for a night of drinking and feasting.
2. Vibrant Autumn Invitation
This gorgeous Thanksgiving dinner invitation is a burst of the season's richest hues. From the sophisticated hand-lettering to the multicolored autumn leaves and delicate gold foil accents, this invite sets the tone for a stylish spread. Choose from envelopes in shades of honey, burnt orange, or apple red.
Wording Idea: Let's count our blessings and get together for Thanksgiving dinner.
3. Always Give Thanks Card
While this picture-perfect Thanksgiving card is ideal for sending warm greetings to friends and family, you can easily customize it as a Thanksgiving invite. Choose from five different colorways and add your event details surrounded by the colorful fall foliage border.
Wording Idea: We're so grateful for friends like you. Please join us for our Family & Friendsgiving celebration.
4. Moody Pumpkins Invitation
With pretty little pumpkins set against a black backdrop, this modern take on a Thanksgiving invitation pays homage to fall's most iconic gourd. Whether you opt for pumpkins in orange, chartreuse, or gray, this card is sure to capture the attention of everyone who receives it.
Wording Idea: We welcome you to our annual harvest dinner as we celebrate the season of gratitude.
5. Colorful Cornucopia Invitation
Celebrate life's abundance with this delightful watercolor invitation featuring a cornucopia of the season's harvest. Customize the title for a variety of fall events, be it a Thanksgiving potluck, Friendsgiving dinner, or other autumnal celebration.
Wording Idea: Please join us for a cornucopia of good food, good drinks, and good company.
6. Stuff Our Pieholes Invitation
Get right to the point with this amusing fall invitation featuring large typeface in playful patterns with a giant slice of pumpkin pie. Choose from two pumpkin-inspired colors (each with an adorable corresponding envelope liner), and use the backside of the card to add all your event details.
Wording Idea: Give Thanks, Eat Pie, Repeat!
7. Give Thanks Invitation
With its delicate bouquet of autumn wildflowers and bold "Give Thanks" title, this graceful Thanksgiving invitation is perfect for a rustic yet sophisticated get-together with friends and family. It's available in five elegant colors, including oat, moss, mauve, mustard, and spice.
Wording Idea: In this season of thanks, please be our guest for a Thanksgiving feast.
8. Lovely Oak Leaves Invitation
This lovely fall-inspired invitation exudes whimsy and warmth with an array of hand-drawn oak leaves, acorns, and fall foliage. Personalize it with your message and favorite color palette (red, orange, or hazelnut).
Wording Idea: Let's be thankful together. Please have a seat at our table for Thanksgiving supper.
9. A Sweet Thanksgiving Invitation
Welcome guests to your abode with this cozy and classic Thanksgiving invitation. From the front door adorned with an autumn wreath to the pumpkins and gourds flanking the porch, it's a scene straight out of a Hallmark movie. This invite also comes with a corresponding thank you note so you can follow up with guests for one more thoughtful touch.
Wording Idea: Be our guest for Thanksgiving Day. Our door is wide open as we welcome you and count our blessings.
10. Thanksgiving Feast Invitation
Share some festive flair with this charming Thanksgiving invitation featuring an illustrated place setting set against a background of fall leaves. You can also easily update this design with any title you like, including a Friendsgiving Feast or Fall Harvest Dinner.
Wording Idea: The table is set and the turkey is trimmed. Please sit with us for an evening of food, fun, and thankfulness.
11. Speckled Bokeh Invitation
For an unexpected twist on the traditional Thanksgiving invitation, consider this elegant party invite featuring confetti-like specks across a dark backdrop. Depending on which color palette you choose, this design could easily work for a New Year's bash, Rosh Hashanah, or any other holiday party.
Wording Idea: 'Tis the season to count our blessings, and that includes you. Join us for holiday feasting with friends and family.
12. Maple Leaves Invitation
It's hard to resist this timeless Thanksgiving invitation design, and why would you? With its rich autumn colors (choose from four different shades), delicate maple leaves, and a gorgeous mix of textures and patterns, this invite works just as well for a formal dinner as it does for a relaxed afternoon repast.
Wording Idea: So Grateful. Friends and family, let's gather to give thanks, share a meal, and make lasting memories.
Kick off the Season of Gratitude with the Perfect Thanksgiving Party Invitation
No matter how busy you are throughout the year, Thanksgiving is a special time when you're encouraged to take a step back and truly think about all the reasons you have to be thankful. It also represents the start of the holiday season and the chance to gather your loved ones and break bread together.
Hosting a Thanksgiving celebration is the perfect way to show others you care and to revel in the spirit of the season. No matter how big or small your feast will be, you can make the most of your time with friends and family by sending email invitations. And that's certainly something to be grateful for. Happy Thanksgiving!