October 4, 2021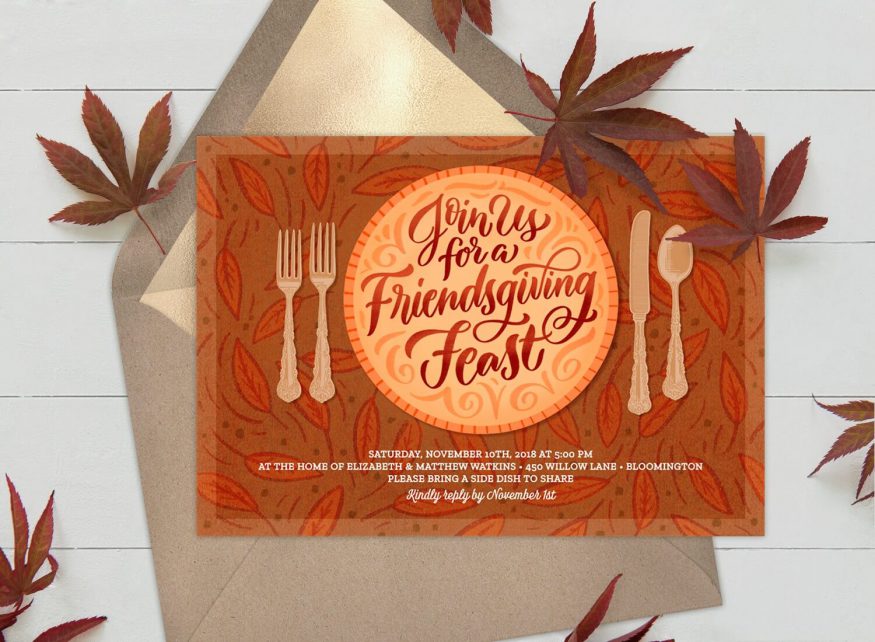 Friendsgiving is all about bringing your closest friends together to give thanks. It's a wonderful opportunity to share a meal together and reflect on everything that makes you grateful.
If you're planning to host a Friendsgiving dinner this year, a fun way to get your guests excited early is to send out fantastic Friendsgiving invitations. Plan your way to success with this guide to creating the best Friendsgiving invitation design, including wording ideas. 

How to Create the Perfect Friendsgiving Invitations
Whether or not this is the first time you're hosting Friendsgiving, it can feel a little challenging to prepare for an event. But not to worry — we've created a quick breakdown of what you'll need before you compose your invitations. 
Confirm Your Party Details
Before you can even think about sending out your Friendsgiving invitations, you first need to finalize all the details for your get-together.
Confirm the date, time, location, and other key details of your Friendsgiving celebration. Start thinking about your menu in general, or know what kind of party you're hosting. For example, are you planning to prepare the entire meal on your own or would you like to have more of a potluck-style celebration? If you're not sure, our guide to non-traditional Thanksgiving ideas is full of fun and fabulous options.
Consider your schedule for the event — such as when you'll eat and when you'll play party games. Also, think about what your guests need to know in advance (wear stretchy pants!) so you can feature it on your invites.
Decide on Your Guest List
Next, finalize the guest list for your Friendsgiving dinner party. It's not a true Friendsgiving without the people you love the most sitting around the table with you, enjoying a delicious meal, and giving thanks. 
You'll want to make sure you have your closest friends ready to celebrate the holidays with you, and also that you have enough space for everyone you invite. Have a list of must-invites and a backup list. That way, you can open up the invitation to someone else if your BFF can't make it. 
Find Your Ideal Friendsgiving Invitations
With your Friendsgiving details planned out, it's time for the fun stuff — putting together your invitations! We love the idea of going all-out with your Friendsgiving dinner invitations so that they really highlight the beauty of the season. 
To make it easier than ever, opt for online invitations (no need for stamps!) that feature fall leaves, a cornucopia, or a tasty Thanksgiving feast. For something more subtle, look for a watercolor design with fall florals, or a contemporary background with seasonal colors. 
What to Include on Your Friendsgiving Invitations
OK, you've made it this far. Now it's time to start writing those Friendsgiving invitations. While it's easy to breeze through crafting an invitation, it doesn't hurt to have a little reminder of the basics. Here are a few Thanksgiving-focused details you won't want to miss.
Party Date and Time
Your friends can't join you for an epic Friendsgiving feast if they don't know when it's happening. Give everyone the best possible chance of turning up and include the date and time of your dinner party somewhere obvious on the invite. 
Sometimes Friendsgiving happens on the big day itself, but other times you'll want to celebrate the actual Thanksgiving holiday with family and host a separate event for friends. To avoid confusion, make sure the date and time is clearly featured on your invitations. 
Venue and Location
Friendsgiving dinner parties are often hosted at home, giving the ultimate cozy, warm, and welcoming feel. If you're bringing lots of people together though, or don't fancy cooking, a local restaurant is a wonderful alternative. Wherever you host it, clearly state the venue and location on your invite.
Even if you're hosting at home and your friends have been to your place a thousand times, be sure to include the full address to minimize any potential mix-ups. You might also want to include special driving instructions, or a note on where to park if you don't have driveway or garage space. 
Dress Code
You might think it's obvious that your Thanksgiving party is strictly a "wear what you're comfortable in" affair, but it's not always clear to guests. For that reason, it's helpful to include a basic dress code on your party invites. 
Mention that your Friendsgiving celebration is casual, formal, or something else. (Pajama party, Friendsgiving, anyone?) Sometimes you might want to dress up a little, so if that's the case, tell your guests to "wear their best dress" or stick with traditional language like "formal." 
What to Bring
Unless you absolutely adore cooking, chances are your Friendsgiving feast will showcase dishes from your nearest and dearest too. If you're hoping to host a potluck-style event or want people to bring a side or dessert, include this on your invites. 
Greenvelope's online invitations make it easy to ask guests to reply and let you know what they plan to bring. That means you won't end up with five pumpkin pies and no side dishes to share. It's a fuss-free way to plan your Thanksgiving dinner with everyone. 
How to RSVP
Unless you don't mind chasing around for RSVPs for your fall party, give your guests an easy way to say they can make it — or send their regrets that they can't.
Include a one-liner on your invitations about the best way to RSVP — via text, instant message, or email. If you're sending your Thanksgiving dinner invitations through Greenvelope, your guests can RSVP through the invite with just a few clicks. 
Our Favorite Friendsgiving Party Invitations and Wording Ideas
Ready to spread the word about your event? Take a look through our Friendsgiving invitations and find one that suits your tastes, theme, and celebration. Think about the kind of font you like, the colors you want to use, and whether you want your invite to come across as modern, traditional, quirky, or something else. Once you've found a template that works for you, it's easy to customize it with your own message and colors — it's a hassle-free digital alternative to DIY printable invitations. 
To help you find the right match, here are some of our favorite Friendsgiving invites. We've also shared the wording from them to inspire your own invitations.
Friendsgiving Celebration Invitation
"You're invited to a 
Friendsgiving celebration!
Saturday
11.12.17
Dinner and drinks begin at 3:30
followed by
football on the couch &
a food coma
The Robinson's
1900 N Turkey Lane"
A Friendsgiving Feast Invitation
"Join us for a Friendsgiving feast
Saturday, November 10th, at 5:00pm
at the home of Elizabeth & Matthew Watkins
450 Willow Lane, Bloomington
Please bring a side dish to share
Kindly reply by November 1st"
Boho Pattern Invitation
"Give thanks
Join us with food,
friends, family and fun
as we celebrate all
that we are grateful for
Nov. 26, 3:30 pm
12345 Pine Avenue
Great Falls, VA"
More Great Friendsgiving Wording Ideas
Looking for more inspiration? Here are some wonderful ways to invite your loved ones to a fall feast filled with food, fun, and gratitude.
Happy Friendsgiving! We can't wait to celebrate alongside you this year!

Gobble gobble, it's turkey time! Bring a dish and join us to give thanks for this wonderful year

We're so glad to have friends like you. Join us for a cozy Friendsgiving dinner on [date]

Gather with us on [date] to express our gratitude, love, and well wishes for those around us

—

stretchy clothes a must!

It's Friendsgiving time! Join us for great food, board games, and our classic trivia quiz all about Thanksgiving

Let's give thanks together. Come round on [date] at [time] for a fun-filled Friendsgiving celebration

Ready for a feast? It's time for the [Surname] family's epic Friendsgiving extravaganza! 
Send the Most Impressive Friendsgiving Invitations
There's something about Friendsgiving that gives us that warm, fuzzy feeling. From the turkey and drinks to the laughter shared around the table, it's a wonderful time to gather with loved ones. 
Whatever kind of Friendsgiving you're planning, make sure your invitations create a sense of anticipation. Find a design you love, personalize it with your own wording, and let your guests know they're in for the best Friendsgiving dinner yet.