June 22, 2022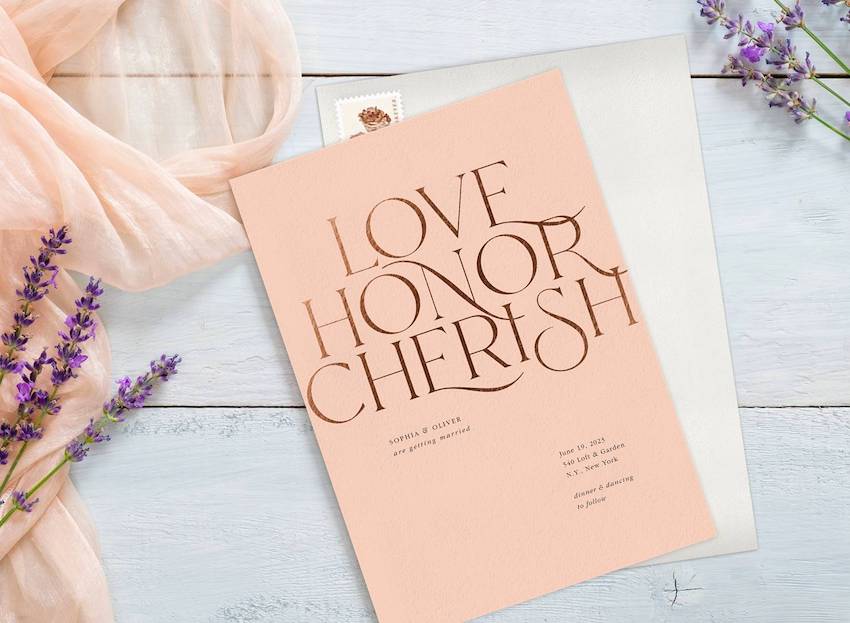 Weddings are romantic by nature, but you can certainly lean into love with stationery, color schemes, and wording that all evoke romance. To set the mood for your special day, you'll want to use romantic wedding invitation wording to match your gorgeous invites. Use this guide to find the right words and begin crafting a dreamy invitation that will take you from wedding ceremony to wedding reception. 

How to Assemble Your Romantic Wedding Invitation Wording 
Before you can add romantic touches to your wedding invite wording, you first need to know what to include. Here's everything you'll want to feature as part of your romantic wedding invitation wording — from the hosts to the RSVPs. 
Introduce the Hosts
In the past, it was tradition for a bride's parents to host the wedding celebration, so they'd be listed on the host line. Now, it could be the two of you, or with one or both sets of parents. 
Tailor your host line to honor who's hosting. A simple "Together with our families" is perfect if you're hosting together. If you're hosting solo, you can even skip this altogether and jump straight into something like "We'd love to invite you to our wedding."
Make Your Request
After you've noted the hosts, it's time to make your "ask" and invite everyone on your wedding guest list to your big day.
Lines like "join us to celebrate the marriage of their daughter/son" work great if a set of parents is hosting. For a more formal invitation, "We request the pleasure of your company" is a solid request line while "Please celebrate with us as we say our I do's" is perfect for a more casual wedding.
Share Your Names
It's time to celebrate the key people in all of this — you and your betrothed. Add both of your full names to the invite. 
If you're following traditional wedding invitation etiquette, the suggestion is to put a bride's name before a groom's — mirroring who was hosting the celebration. However, you don't have to follow tradition. Alphabetical order works just fine or simply whichever order feels most natural to you. 
Confirm the Date and Time
Next, share the wedding date and time with your guests. Be clear with how you write out the date and time. Include the year if it's not obvious, and spell out the month of the year if you have any international visits where dates are displayed the other way around. For the time, include an "o'clock" or "a.m." or "p.m." if there's likely to be any confusion around the exact timing. 
Introduce the Venue
Be clear with your wedding venue location. Share the venue's name along with the city and state. For destination weddings, include the country too. If you haven't settled on a venue yet, it's OK to simply list the general area.
Avoid adding the full address and ZIP code here, as it can make your wedding invitations feel too cluttered. Instead, use our details panel or your wedding website to share more details about your venue as well as travel tips, gift registries, and useful information. 
Mention the Dress Code
Include your dress code as part of your wedding invitation. This way, guests won't show up overdressed at a casual wedding or underdressed at a formal wedding. There are so many different wedding dress codes — from white tie to relaxed casual — and most will work for a romantic wedding. 
Ask Your Wedding Guests to RSVP
Be sure to request an RSVP so you can plan ahead and get an accurate head count. For formal paper invites, include an RSVP card and stamped envelope so they can mail back their response. For a more contemporary ceremony, an email address or phone number works fine. 
Make managing RSVPs even easier by sending digital invitations with Greenvelope. Your guests can respond in moments to RSVP and you can easily track them without waiting for the mail to arrive. 
Romantic Wedding Invitation Wording Examples
You know which details to include on your invitations, but pulling it all together can take some mastery — especially if you're going for a romantic theme across your invites and entire wedding celebration. Take a look at these wording templates and use them to inspire your own invites. 
Please join us to celebrate the next chapter of
Peyton and Hendrick's love story
Saturday, the twenty-seventh of September
Two thousand twenty-three
Half-past four in the afternoon
Arrowhead Inn
Durham, North Carolina
Reception to follow 
– – – – – – – – – –Â 
Together with our families
we request the honor of your presence
as we make the ultimate celebration of love
You're cordially invited to the wedding of 
Ophelia Claremont
and 
Theodore Weston
Saturday, July 15th, 2023
Four o'clock in the afternoon
Landmark Art & Garden Center
San Francisco, CA
Dinner and dancing to follow
 
– – – – – – – – – –Â 
True love brought them together,
now join us as we honor them on their special day
Sutton Walker and Abraham Mills
are getting married! 
Saturday, the tenth of August
Two thousand twenty-three
Two o'clock in the afternoon
Barnswallow Farm
Reception to follow
– – – – – – – – – –Â 
Join us as we host the celebration of marriage for
our best friends and the most wonderful couple
Conner and Isaiah
June 08, 2023 at 6pm
The Emerald Club, 299 1st Ave N, Seattle, WA
More Romantic Phrasing for Your Wedding Invitations 
Wedding invitations are your opportunity to highlight themes of romance and love everlasting. Along with the previously mentioned ideas, consider adding one or two of the following phrases:Â 
Witness our own fairytale moment

We've waited our lifetimes to find each other

This is everlasting love

We can't wait to grow old together

Let this be the start of many wonderful adventures as we explore life together

It was true love from the moment we met

Celebrate our real-life love story with a truly magical day

We give our hearts to each other fully this day and forever

All you need is love and all we want is to celebrate with you

We're overjoyed to host a day dedicated to love 
If there's space on your invites, you could even add your favorite romantic wedding poem — or come up with your own. You can also use our wedding invitation wording tool to find the perfect words. 
Beautifully Romantic Wedding Invites to Match Your Words
Look for wedding stationery that's just as lovely as your romantic wedding invitation wording. Here are a handful of our favorite romantic invitation designs — each of which can be customized to create your own unique wedding invitation in an affordable and eco-friendly way. 
Romantic Gouache Florals Wedding Invitation
We adore the cozy, timeless feel of this romantic gouache florals invitation. It works equally well for a traditional or modern ceremony with a color palette, border, and florals that evoke beauty and romance.
Forever Script Wedding Invitation
If you're looking for a template that puts you and your partner front and center, this forever script invitation is ideal. Pair your favorite photo with that beautiful script font, and you have a design that feels elegant and romantic. 
Romantic Wonderland Wedding Invitation
This romantic wonderland wedding invitation isn't just bursting with hints of romance and love, but also mystery and fantasy. It's perfect for an outdoor ceremony, whimsical wedding, or fairytale-inspired celebration. 
Share Your Joy with These Romantic Messages
Knowing what to say on your wedding invites can be a challenge. Fortunately, these ideas will help you craft romantic wedding invitation wording that will have guests falling in love with the idea of celebrating alongside you. 
Once you've dreamed up your wedding invite wording, look for a design that won't let your beautiful words down. Browse our collection of romantic wedding invitations, choose your favorite, and personalize it. With the right words and design, your romantic wedding invites will be the perfect match.