February 27, 2023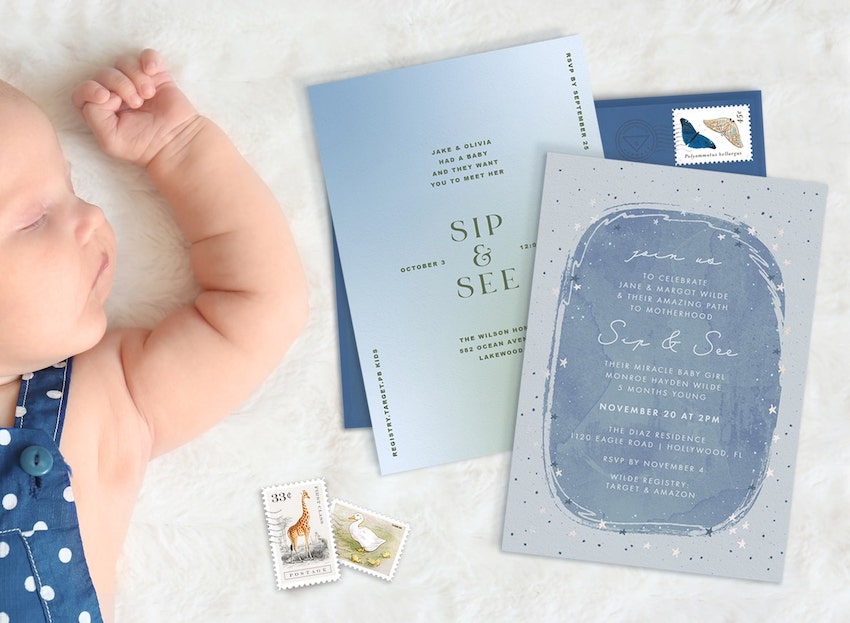 The sip and see party remains a popular alternative to a traditional baby shower. When you get to spend time with the new baby, it's no wonder that guests love showing up to these meet-and-greet parties.
If you're considering hosting a sip and see party for yourself or a loved one, we've got your planning covered. Learn how to organize and host your own DIY sip and see party, then get inspired by some of our favorite sip and see party themes.

How to Host a Sip and See Party
There's a party to organize with a very special guest of honor. Here's how to approach planning a sweet and fun sip & see party so everyone can meet the new bundle of joy.
1. Decide When to Have Your Sip and See Party
As a new mom or new parents, adjusting to life with your recent arrival can take some time. Don't feel rushed to plan your own sip and see party straight away — instead, invite everyone around when the time feels right.
For some parents, their ideal time for a sip and see party is a few weeks after the baby's arrival. For others, having the party when the baby is a few months old is more practical and easier to manage. If you only recently had an in-person or virtual baby shower, waiting a few extra weeks can provide the perfect sweet spot between enjoying time together and sharing your newborn with the world.
2. Put Together a Guest List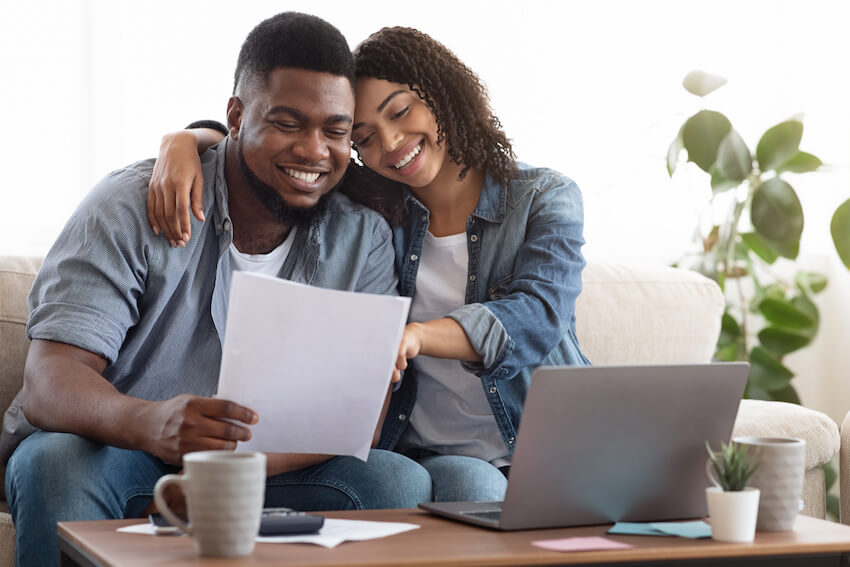 With your little one still fresh to the family, most guest lists for sip and see parties are relatively small. Invite your close family members, close friends, and loved ones to "aww" over your baby.
If your family members and closest friends are likely to have already met the baby before your party, you could consider hosting in more of an "open house" style instead. The focus is still on spending time with you and your new arrival, but you can host more people and invite them to drop in at any point during that day.
3. Choose a Sip and See Party Theme
When it comes to baby parties, there's no shortage of adorable themes out there. Use your sip and see party as an excuse to embrace one of your favorite themes, styles, or eras.
Popular sip and see party themes include safari, world travel, and boho — but you can use any style you like. Take inspiration from some of the top baby shower themes, or check out the section below for our favorite picks on sip and see party themes.
4. Invite Your Loved Ones
Once you've decided when to host your party and pinpointed a theme, it's time to let your loved ones know all about your sip and see party. Look for party invites that match your energy, theme, and style — like this modern sip and see invitation for a contemporary event.
We have a beautiful collection of sip and see invitations that you can make your own. Change the layout, colors, and wording to create an invite that feels like it was personally made for you. With our invites being so easy to customize, you could even start with a baby shower invitation or birthday party invitation and transform it into an incredible sip and see invite.
5. Prepare Your Party Space
While many parties are an opportunity to go wild with your theme and play party games, the decor and activities are often more relaxed for sip and see parties. After all, the focus is on your darling new bundle of joy. This means you can relax when it comes to the other stuff.
Host your sip and see party at home, and keep the focus on spending time together in a cozy, casual way. Add some balloons, hang up some streamers, or arrange letters spelling out the baby's name. Style your space with some props, banners, and table decor that match your party theme. Ask guests to write a short letter to your new arrival, or supply a camera so guests can snap photos of your get-together for a memory book.
6. Offer Some Light Refreshments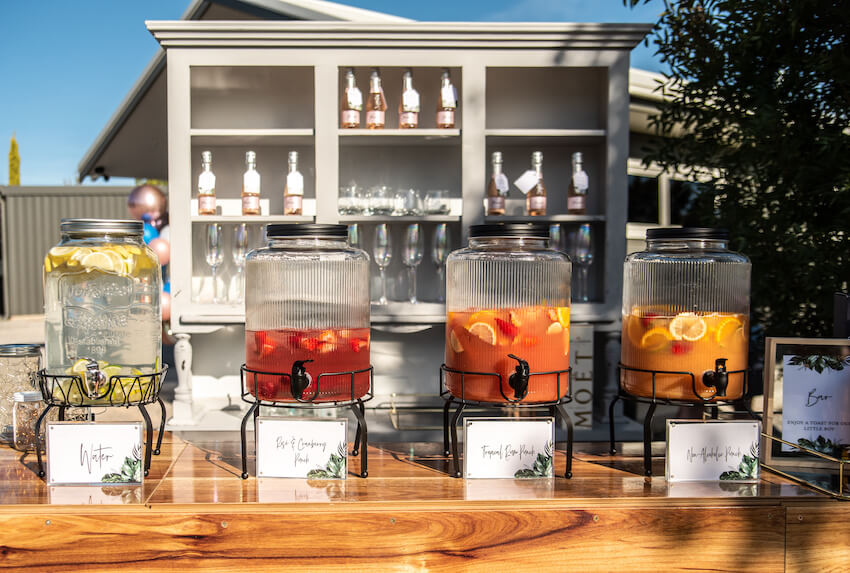 Many sip and see parties only last for a couple of hours, which means you don't have to spend too much time and energy preparing food. Instead, offer a selection of light refreshments and drinks.
Lay out a selection of savory and sweet finger foods, with mini desserts like cupcakes and donuts for guests to enjoy. Add a few options that suit the time of day — like pancakes or waffles for brunch, finger sandwiches and quiche for lunch, or pizza slices and mini sliders for dinner. For drinks, set up a mimosa bar, mocktail-and-cocktail station, or coffee and tea table so you don't have to top up people's glasses.
7. Set Some Ground Rules and Etiquette
Your new addition is about to be introduced to a lot of new folks — some of whom might not have held a baby before or for a while. Set some etiquette, ground rules, or expectations for your sip and see so everyone remains comfortable.
Offer hand sanitizer and encourage your loved ones to use it before handling your little one. Ask people to stay away if they feel unwell, and arrange a get-together with them soon. Don't be afraid to step in and give your baby a break if they're feeling overwhelmed or tired — or simply because you want to give them space.
6 Adorable Sip and See Party Themes
While the theme isn't the focus, having one can help you introduce your loved ones to something you love and help you capture fun photos and memories from the day. If you're looking for party ideas, here are some of our most loved sip and see themes — with a matching sip & see or baby shower invite that you can customize.
1. A Little Star
Welcome baby into the world with a party themed around stars and space. Use themed string lighting to create an astronomical atmosphere, hang up a star-studded banner, and serve up star-shaped finger sandwiches. Get the party started with a matching invitation — like this starry capsule invite.
2. Around the World
Take inspiration from your own travels or those that you can see your baby taking in the future. Decorate with party props like a globe, maps, and a polaroid camera. Share global-inspired appetizers, and put on a playlist of music inspired by your favorite faraway places. Get your guests excited with this themed welcome to the world invitation.
3. Baby Animals
We love baby animals as a cute baby shower idea, and it's also great for sip & see parties. Add some fun animal-shaped balloons to the room, decorate your surfaces with tiny baby animal figurines, and hand out some animal-shaped cookies as party favors or thank you gifts. Invite your loved ones to a wild time with this adorable wild little baby invitation.
4. Florals
Celebrate the arrival of your darling baby boy or baby girl with a floral-themed sip and see party, complete with a precious grandmother's florals invite. Decorate with floral garlands, fresh blooms in vases, and a floral backdrop where you can snap photos together. Bake some rose shortbread cookies and let guests enjoy floral teas from a self-serve tea bar.
5. Boho
Embrace all things rustic and handmade with a boho-themed meet and greet for your new arrival. Showcase your new macrame wall hanging, lay out some floor cushions, and invite your guests to join you for handmade crafts while spending time with the baby. Use this airy boho floral arch invite to let your loved ones know all about the party.
6. Children's Books
Enjoy a moment of nostalgia for your own childhood favorites by theming your get-together around children's books. Use themed balloons, banners, and props from your favorite children's books to decorate — and this lovely Pooh and friends invitation to share the details. This is a sweet way to introduce your little one to a love of reading, and you can even encourage people to bring their favorite children's book as a gift.
Host an Amazing Sip and See Party
Hosting a sip and see party is all about creating a welcoming space for your new arrival to meet your loved ones. Use these planning tips and theme ideas to help you come up with an event that feels relaxing, memorable, and joyful.
When you're ready to party, use our sip and see party invites. Our collection of invites is easy to customize, so you can personalize an invite to match your own individual style and needs. When it's feeling perfect, hit send or schedule, and let those RSVPs come rolling in!