February 27, 2023
If you're lucky enough to be in charge of planning a diaper party for a buddy, you're in for an easy and fun time. Diaper parties are the man shower equivalent of baby showers. The day is all about having a good time, eating and drinking with friends, and enjoying a casual celebration. 
Here, we'll show you how to plan a diaper party — from designing the menu to selecting the perfect spot to host the party. Plus, you'll find tips on what to include in your invite and discover invitation designs perfectly suited for a laid-back celebration.

What Is a Diaper Party?
A diaper party, aka a dadchelor party or a man shower, is a baby shower for the dad-to-be. Instead of baby registry gifts, guests are asked to give diapers and baby wipes. 
Most hosts skip the giggly baby shower games and opt for a casual setting of drinking beer and barbecuing. The event is planned by a friend of the father-to-be or by one of his family members.
How to Throw a Diaper Party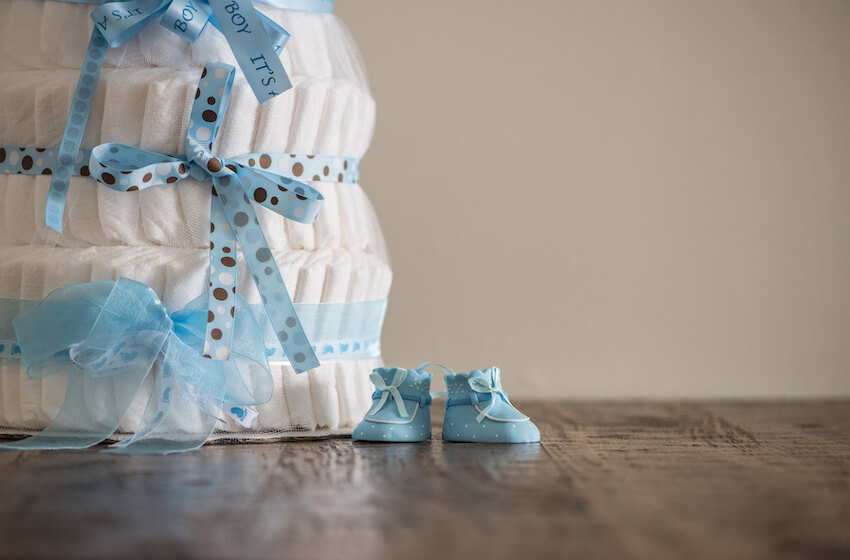 Planning a diaper party is much easier than a baby shower since it involves fewer details. After all, these events are all about booze and laid-back fun, so there's not much to fuss about. Here's a quick guide on throwing a diaper party, from picking out a location to serving up delicious food.
1. Decide on a Theme (Or Skip It Altogether!)
With most parties, the first step in the party planning process is to pick a party theme. Since diaper parties are no-nonsense and typically all about beer and diapers, there's no need to choose a traditional baby shower theme. But you can pick fun phrases like "baby is brewing" or "Huggies and chuggies" to headline the event if you want.
If you decide to have a theme for the event, consider what the dad-to-be likes. Is he a big gamer? Plan a diaper party that features a gaming competition. Is the lucky guy into sports? Celebrate with a diaper and sports-themed party. For the father-to-be that likes fashion, you can make the day about style, or if he's into sci-fi, make it a diaper and movie marathon combo. 
The options are endless, and you can put as much — or as little! — effort into the theme as you'd like.
2. Choose a Venue
Now that you know what type of party you're hosting, it's time to pick a location. If the new dad is low-key, opt for a casual and laid-back spot. His own backyard, garage, or man-cave basement are great options. Or, if the new parents enjoy going out a lot, consider hosting the diaper party at a sports bar or brewery.
3. Invite the Guests
Generally, parents-to-be invite male coworkers, friends, and family to diaper parties. However, some couples opt to have a joint or co-ed baby shower. If you're planning a diaper party for a friend, ask the expecting parents how they would like to celebrate and invite guests accordingly. Then, send out baby shower invitations about four weeks before the diaper party — more details on what to include in the invite in a minute!
4. Serve Food and Drinks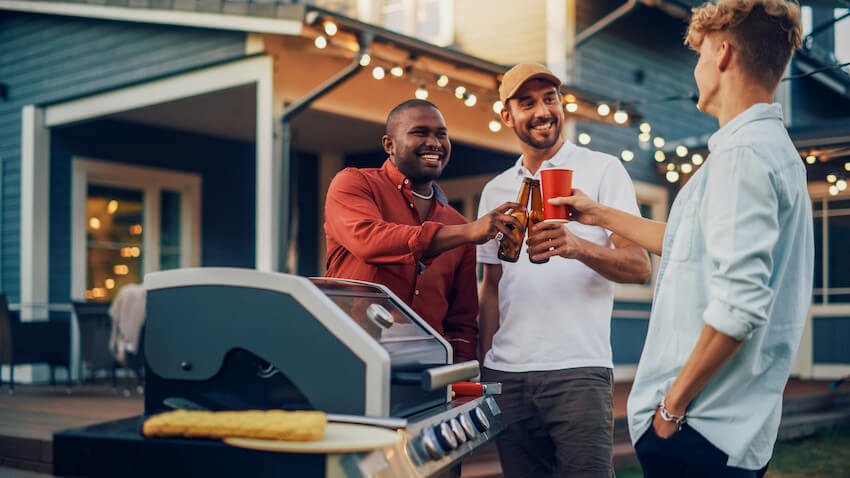 No man shower is complete without food and drinks. Celebrate the new baby's arrival with a BBQ featuring hot dogs, burgers, and grilled meats. If the dad-to-be prefers vegan or vegetarian food, choose options like grilled veggies, smoked tofu, and alternative meats. 
For your diaper party food, you can cook it up yourself or get the event catered by the dad-to-be's favorite BBQ joint. And don't forget the diaper cake. You might opt for a joke cake made entirely of diapers, a real cake featuring fun ingredients like maple bacon, or poop emoji cupcakes.
5. Choose Simple Diaper Party Decorations (Or Don't!)
Since diaper parties are laid-back, you can skip decorations entirely and keep the focus on food and fun conversation if you want. After all, most guests will pay more attention to you than how the room looks. For the more creative dads, you can deck out the space with balloons and streamers or things like giant beer steins and poster boards filled with dad jokes.
6. Plan Games and Activities
Just because dadchelor parties tend to skip the giggle-inducing baby shower games doesn't mean you can't have some fun. Many baby diaper party games are centered around beer or other beverages the dad-to-be enjoys. 
Drinking games involving baby bottles are right at home at diaper parties. You can play sports, yard games, and any drinking games with non-alcoholic beverages for a family-friendly celebration. At the end of the day, diaper parties are all about food and fun.
At your diaper shower, you can also have a diaper raffle. Guests get a raffle ticket for each pack of diapers they bring. The tickets are placed into a bucket, and the winner gets a special prize — like tickets to a sports game, a premium bottle of alcohol, or a gift card to a restaurant.
7. Prepare Baby Shower Favors (Or Skip Them!)
You can give out diaper party gifts to show appreciation for guests' attendance, though this isn't mandatory. Some popular party favors include mini bottles of alcohol, hot sauce sample packs, and tickets to local sports events. Personalized bottle openers and mini snack bags filled with treats like jerky and nuts also work well.
What to Include In Your Diaper Party Invitations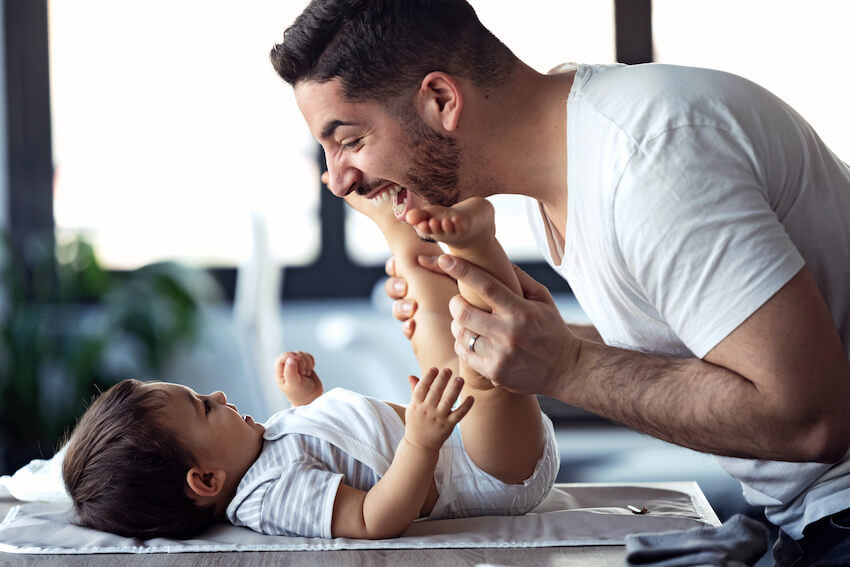 While a diaper party is more low-key than a baby shower, you still need to send out invitations so that guests know when and where to be. You can tie the invite design into a specific theme or choose a simple option to convey the laid-back vibes of the day.
Here's what to include in your diaper party invitations:
The date, time, and location of the event

Request for diapers instead of

traditional baby shower gifts

(that's the whole point of the party!)

Any special diaper requests, including specific brands like

Pampers

or different

size diapers

so you don't end up with a huge stash of only

newborn diapers

Make a distinction if you want

cloth diapers

or

disposable diapers

so that guests choose the right ones for your lifestyle
Diaper party invitations are pretty straightforward. All you need to do is include the important event details and ask guests to bring along the diapers you'll need to care for your new baby.
Diaper Party Invitations
Diaper party invitations tend to be simple to reflect the casual nature of these types of events. You can choose an invite that matches a boozy or sports theme or just go for simple classic designs that suit any occasion — and you can make it easier by using online invitations! Here are some ideas for diaper party invitations you can use to celebrate this big moment.
1. Baby Is Brewing Invitation
This playful invite features a baby bottle and beer mug, perfect for diaper parties and co-ed showers. It comes in several neutral hues, so it's also ideal for gender-neutral or gender-reveal events.
2. Baby Adventures Announcement
For the dad that loves adventure, this hand-lettered invite is ideal for celebrating a laid-back diaper party. Customize the design by changing up the color palette and adding fun elements like music.
3. Double Header Invitation
If the lucky dad-to-be is having twins and loves sports, this baseball-themed invite is a perfect choice. Featuring a large baseball diamond and plenty of room for the event details, it's ideal for a diaper party at a sports bar or local playing field.
4. Decorative Library Invitation
Does the dad-to-be love books and reading? Celebrate his interests and the new chapter with this creative invite featuring a stack of books. It's ideal for gender-neutral parties, diaper parties, and adoption celebrations.
5. Gingham Onesie Invitation
Celebrate a diaper shower with this BBQ-themed invite. The words are customizable, so you can add fun phrases like "baby-q" or "cooking up something special" to reflect the theme of the day.
Celebrate the New Baby with Laid-Back Fun
A diaper party is a great way to shower a dad-to-be and get him ready for the next big chapter in his life. This practical and no-nonsense event is sure to give him the tools he needs to succeed while also letting him unwind and relax before the hard work begins. 
Looking for more ways to celebrate? Continue browsing our Stationers blog where you'll find tips on showering parents-to-be and helping them welcome a new baby — whether it's their first or they're already pros.