April 15, 2021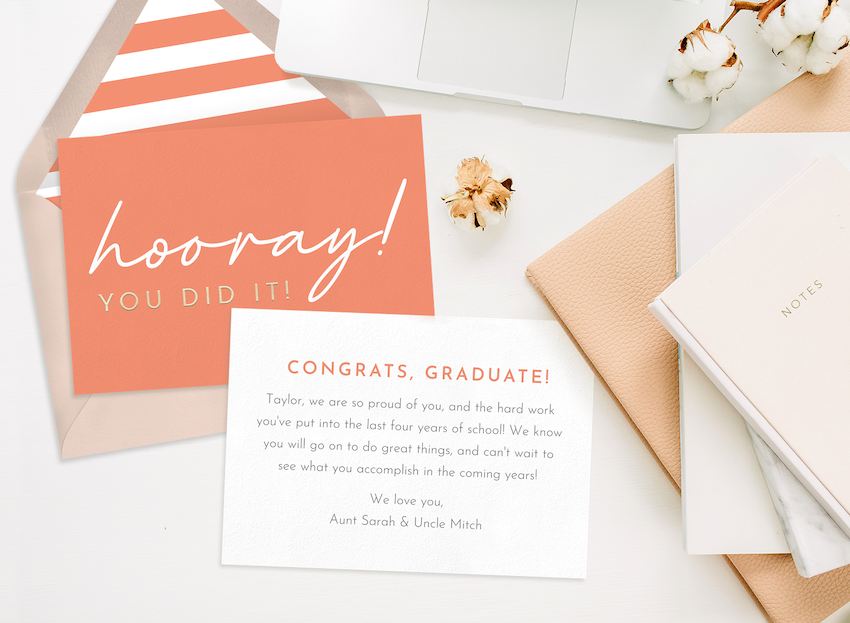 Someone special is about to take the next step on their journey — congratulations, graduate! This is a big moment for the grad and it's a fun milestone for you to celebrate along with them. 
To help you share your joy and wishes for good luck, we've brought together our top ideas ranging from what to include in your card to great gift ideas. You'll also find plenty of graduate congratulations messages to inspire your own greetings. (Hint: It's not just "Congratulations, graduate!")

What to Include in a Graduation Congratulations Card
Whether you're sending well wishes to celebrate a high school graduation or college graduation, here's what to keep in mind for your graduation card. 
Start With a Warm Greeting
Someone you care about is graduating, and that's a big deal. Start your graduation congratulations message with a warm greeting to set the tone. 
Try something fun like "To the best grad in the world!" or "Dear future [profession]" to kick things off. If you're not as close with the grad, a simple "Dear [Name]" works great. You can always expand on your well wishes in the main message. 
Leave a Heartfelt Message to Say "Congratulations, Graduate"
After your greeting, jump into a sweet, heartfelt message that shows how excited you are about the grad's achievements. This is your space to congratulate them on all their hard work, and wish them good luck for the future. 
Keep it short and simple with a "Congrats, grad!" or go all out with a long, personalized message. If you're not sure what to say, we've got you covered with a fantastic list of graduation wishes in the section below. 
End With a Sweet Goodbye
Close out your graduation message with a goodbye that sends off your grad with good wishes for the future. Use this as a chance to leave them with a dose of wisdom, or simply to say you'll catch up with them soon. 
When it's time to sign off, choose something cozy like "best wishes" or "warmest wishes". If you know the grad well, you can get a little more relaxed — like "See you soon, super grad!".
Congratulations, Graduate: Graduation Messages for Someone Special
It's time to craft a special graduation message to congratulate someone on their outstanding achievement. Let your words guide them into the next chapter of their journey. These graduation messages are ideal for greeting cards, personalized prints, and messages on social media. 
Simple Ways to Say Congratulations, Graduate!
Looking for a simple way to congratulate your grad? Here are a few wording ideas to get the message across.
Congrats, grad! We're so proud of you.

Bravo on graduating, [Name]! Your hard work has paid off!

Congratulations on graduating from [School Name], [Name].

Here's to new beginnings, [Name]! Your future is looking bright.

We know this is the start of a successful career in [Subject] for you, [Name]!
When You'll Be There at the Graduation Ceremony
If you can make it to the ceremony (or view it remotely), here's a handful of message ideas to commemorate the special day.
Happy graduation day, [Name]! We can't wait to share it with you.

So glad we get to see you off on your next adventure, [Name]!

Congrats, [Name]! We're excited to see you graduate and celebrate this moment. 

So happy we can be with you as you start your new journey, [Name]! 

Congrats, [Name]. We'll be there cheering the loudest! 

A virtual graduation isn't quite the same, but we'll try to make it magical, [Name]! 
Graduation Congratulations From Afar
Sometimes we can't see the grad in-person to share our well wishes and luck for the future. Here are some sweet ways to share your joy from afar.
Hope you have a happy graduation ceremony, [Name]! 

Congrats on graduating! Sorry we can't make it, but we're cheering you on from here. 

So exciting to see that you're onto the next chapter. Congrats on graduating, [Name]! 

Congratulations, [Name]! Live life to the fullest, and we'll see you again soon. 

Sorry we can't be there on the day, but sending you big congrats on graduating! 

Sending you our love as you graduate, [Name]! 
Messages For a Family Member
If the grad is someone close to you in your family, you can get even more personal with your congratulations message. Here are some ideas to celebrate your child, grandchild, or other loved ones.
Congratulations, [Name]! We always knew you'd have a bright future. 

What a magnificent moment, [Name]! Congrats on being our first child to graduate. 

Lots of love to the best [relation] and now the best grad in the whole world. 

Welcome to our family of grads, [Name]. So excited to share your journey of great success! 

Congrats to the best [relation] ever! 

We're a family of high achievers, so it's no surprise you're graduating from [College]. Congratulations, graduate! 

Congratulations on graduating, my dear [Name]. Never stop learning! 
Graduation Congratulations For a Friend
There's something so special about celebrating the graduation of your best friend or a close friend. You've been through so much together and grown up together, so it's sweet to remember the moment with a congratulations message.
Can you believe it's the end of high school, [Name]? I never thought we'd make it out! 

You've always been super smart. I'm so lucky to have you as a friend, [Name].

There's so much I want to say about how amazing you are, but there's not enough space on this card. Congrats on graduating, [Name]! 

I always knew you were made for wonderful things. Let's tackle college together, [Name]! 

We're high school graduates, [Name]! Bring on college! 

I can't believe they're going to let us loose in the real world. Congrats on graduating from [College], bestie! 
Famous Graduation Quotes
Can't quite find the words of wisdom you want to share? No worries — here are some graduation quotes from famous faces to help you say what you mean.
"It's wisdom that will put all the inevitable failures and rejections and disappointments and heartbreaks into perspective." — Arianna Huffington

"Fortune does favor the bold, and I promise that you will never know what you're capable of unless you try." — Sheryl Sandberg

"Fall forward. Every failed experiment is one step closer to success. You've got to take risks." — Denzel Washington

"Always aim high, work hard, and care deeply about what you believe in." — Hillary Clinton

"Don't let the noise of others' opinions drown out your own inner voice. And most important, have the courage to follow your heart and intuition." — Steve Jobs

"Intelligence plus character — that is the goal of true education." — Martin Luther King, Jr,
Gift Ideas to Show Your Graduation Congratulations
To celebrate the first steps of your grad into their new career (or continued studies), here are some of our favorite gift ideas that will support their life as a student, traveler, or achiever in whatever they pursue. 
Personalized Graduation Gifts
This is a big moment in your grad's life, and you likely want to mark it with a personalized graduation gift.
Choose a gift that you know your grad will love. Popular personalized graduation gifts include artwork prints, notebooks, mugs, and jewelry — but you could also opt for personalized clothing or homeware. 
Gift Cards
Gift cards make ideal presents — especially if you can't see the recipient in person. You can choose an amount that works for you, select a retailer, and give your grad the fun of picking out something they love.
If you send a digital graduation card through Greenvelope, you can attach a gift card before you hit send. It's a simple, easy, and thoughtful way to congratulate your grad, no matter where you are. Bonus: They receive the gift instantly —no need to wait for the mail to arrive!
Contribution Towards the Future
Sometimes a financial contribution is the perfect graduation gift. It allows flexibility over how it can be used, making it ideal for most grads.
A financial contribution is a great idea if your grad is going to travel or needs to buy resources for a future study program. It also lets you help them out with those "starting out" expenses if they're heading into the big wide world on their own for the first time. 
Graduation Greetings That Show You Care
Saying "Congratulations, graduate!" is wonderful, but these wording ideas will help you take it one step further. Add in a gift and you're sure to make them feel even extra special. Follow our tips and take inspiration from our ideas, and you'll have the perfect, personalized graduation congratulations message for that special someone.