February 9, 2021
Getting ready to host a grand opening event? Whether you're opening a new coffee shop or reopening a treasured local art gallery, you'll need an attention-grabbing way to tell people. In this guide, you'll find everything you need to create a spectacular grand opening invitation, including invitation wording ideas. You'll also find some of our favorite grand opening invitation designs, so you can create the perfect backdrop for your party announcement.

Reasons for Sending a Grand Opening Invitation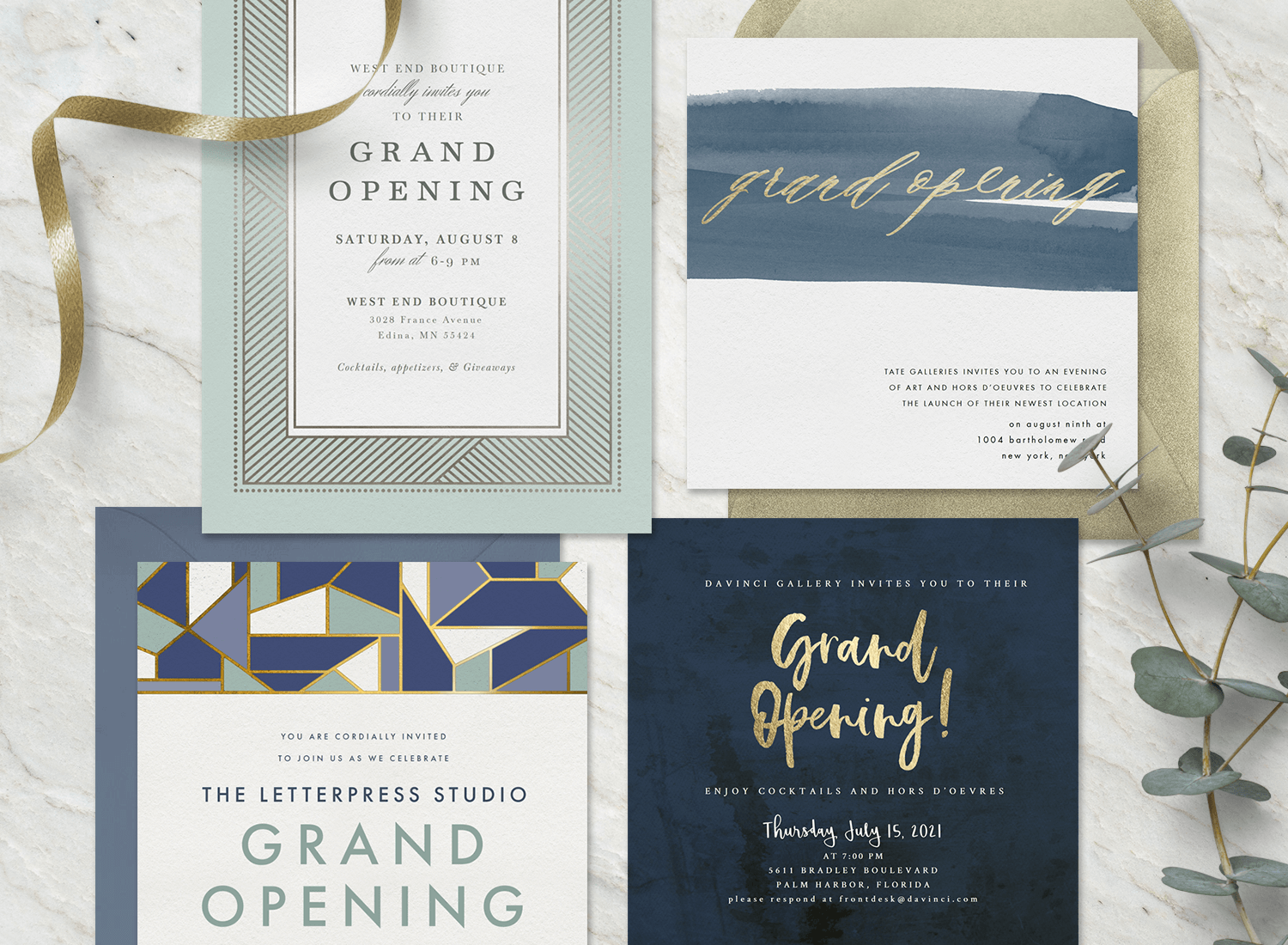 There are many reasons to send a grand opening invitation, but one thing remains the same: You want to build excitement so others can't wait to attend your celebration! Here are just a few occasions when a grand opening invitation would be perfect.
New Store or Venue Launch
From opening a new branch of your retail empire to launching a new salon in your neighborhood, a grand opening generates buzz for your endeavor. Host an event to let people know all about it and get them acquainted with what your business has to offer.
After Refit or Redecoration
If you've closed your business to take care of some much-needed improvements, host a grand opening afterwards to welcome people back. Invite your closest friends, family members, and VIP clients and customers to join you in the celebration.
Change of Ownership
Businesses change and people move on. If you've taken over a brick-and-mortar shop, arrange a grand opening so everyone can meet you as the new owner and learn about your plans for the future. 
New Business or Service Launch
Grand openings aren't just for new stores, cafes, or event venues — you can host one for a new service or product launch too. Invite friends, family, and colleagues to your place or host a dinner at your favorite restaurant to celebrate the grand opening of your latest business venture. 
What to Include in a Grand Opening Party Invitation
People will be so pleased to celebrate with you, so be sure to share the necessary details. Here's what to include in your grand opening invitations. 
Reason for the Occasion
Naturally, you want to let people know why you're celebrating. Confirm whether you're launching a new location, reopening a much-loved local venue, or celebrating the start of your entrepreneurial journey. For instance, if you've remodeled your place of business, you can rephrase it to a "grand reopening" to make things clear. 
Date, Time, and Location
Confirm the essential details for your guests, including the date, time, and location of your grand opening event. Include the day of the week alongside the date — such as Friday, April 23 — as this makes it less likely that people will get their dates mixed up. 
It may seem obvious that the location for your grand opening is likely the venue you're opening, but sometimes this isn't the case. For example, you might be celebrating the grand opening of your solo marketing consultancy without a physical office to launch from. Confirm the event location so people know exactly where to go. 
Dress Code or Formality
Give your guests an insight into the formality of the event by mentioning a dress code on the invitation. Grand openings are typically business events where not everyone knows each other, so clarification on dress code is helpful.
If you don't want to set a strict dress code, you can help set the tone with your digital invitation instead. You can choose a more casual design or theme, or mention some specifics on the invitation's details panel. Coffee, confetti, and breakfast pastries are a lot less formal than evening cocktails, live piano music, and canapés. 
How to RSVP
Let your guests know whether they need to RSVP, and make it easy for them to do so. With online invitations from Greenvelope, guests can RSVP directly from the invitation itself. If you don't need guests to RSVP in advance of your event, make this clear on the grand opening ceremony invitation. 
Grand Opening Invitation Wording Ideas
When creating your grand opening invitation, you'll likely want to add some wording alongside the event details to create anticipation, share joy, or give thanks to people who've helped you along the way. Here are some great grand opening invitation wording ideas to inspire you. 
Together with ________, I'd like to invite you to __________ to celebrate the launch of our newly refurbished venue. We'll have fresh pastries available on arrival, and plenty of delicious coffee to sample! 

Please join us at __________ for our grand opening! We're excited to bring this state-of-the-art venue to your neighborhood and can't wait to welcome you.

__________ is opening soon! Join us on ________ for the grand opening, where we'll be giving you a tour and inviting you to sample some of the produce.

We're delighted to announce the grand inauguration of _________. Some of you will know this has been a passion project of ours for many years, and it's exciting to share this fresh new look with you! 

Join us on _______ to celebrate the grand opening of our newest office. We're happy to be launching in your local area and can't wait to get to know you.

Please join me on ________ to celebrate the grand opening of my new startup. I've booked us a private dinner at _________ to toast the future! 

We're thrilled to invite you to the grand opening of __________. This has been an amazing process and we can't wait to share the next step of the journey with you.

Following a successful funding bid and lots of hard work, we're overjoyed to announce the grand opening of ___________. Please join us for this very special occasion! 

Please join us at _________ on _________ to celebrate our grand opening! We'll have an exclusive offer available on the night, as well as goodie bags for all our guests. 

________ and ________ are delighted to announce the grand opening of __________. Join us for an evening of good music, good food, and good conversation. 
Our Favorite Grand Opening Invitation Designs
Hosting a grand opening event is an exciting way to launch your new business, venue, or other venture. To get the party started, here are a few of our favorite grand opening event invitations. Find one you love, customize it, and send it to your guest list in a matter of moments. 
Grand Typeset Invitation
We love the arty typography and gold foil accents on this grand typeset invitation. It's perfect for the opening of a new art gallery, museum, theater, or quirky office space. 
Modern Icons Invitation
Want to keep things simple yet stylish? This modern icons invitation is ideal for when you want to let your words tell the story. The contemporary colors and bold icons are sure to catch people's attention. 
Ribbon Cutting Invitation
Hosting a traditional red ribbon cutting ceremony for your grand opening event? This ribbon cutting invitation would be perfect. The classic text and gold foil accents bring a touch of glamor to the design. 
Champagne Accent Invitation
We love the combination of sweet, pastel colors and metallic details on this champagne accent invitation. It's a lovely way to invite people to your salon, fashion boutique, or stationery store. 
Come On In Invitation
Make an impact right away with this bold invitation design featuring shiny gold accents and a contemporary design. It's a simple way to announce the grand opening or reopening of your restaurant, bar, office, or gallery space. 
Send Your Grand Opening Invitations in Style
No matter what type of endeavor you've embarked upon, others will be eager to celebrate the achievement with you. Once you have all the details in place, you can get your grand opening event invitations ready to send. Choose the perfect invitation design, customize the details, and add some engaging wording to encourage your guests to RSVP, then get ready for a fun celebration.