June 22, 2017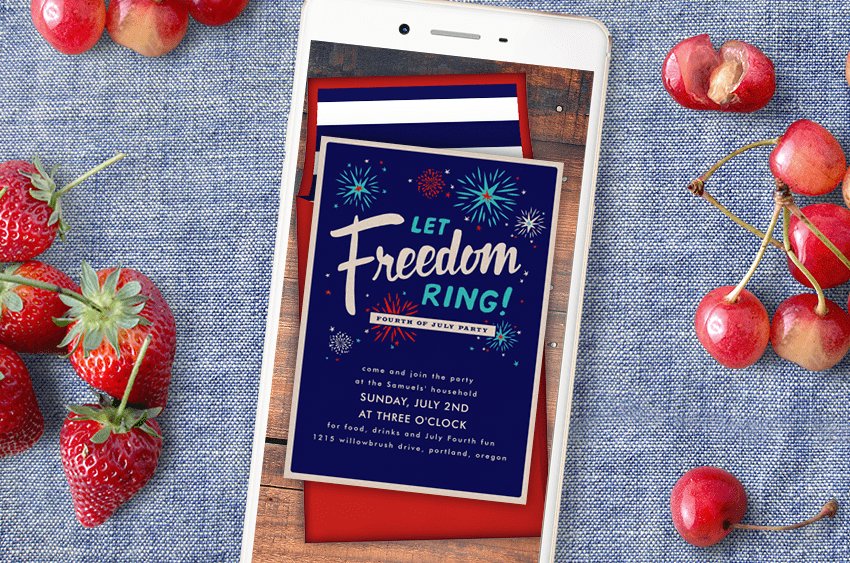 What's not to love about the 4th of July? The day typically starts with great food—like fresh grilled corn and barbecue chicken—and ends with sparklers, midnight stars, and if you're lucky, a tasty red, white, and blue trifle. This year is the perfect opportunity to host your own party (and we can help!) Below are some tips to plan a fun, festive 4th of July party.
Decide on a Location
Nothing says a 4th of July party like a backyard barbecue. Complete with fireworks, festive cocktails, and an aggressive amount of grilling, your guests are sure to have a wonderful time. But maybe your backyard isn't quite big enough (or maybe you don't have one!) Spend some time scoping out the community parks in your area and see if you can find a location with picnic tables and charcoal grills (bonus points if you find a spot by a river or lake!)
Create a Guest List
You can make your party as large or small as you wish. Barbecues are the perfect opportunity for your friends, family, and neighbors to get to know each other. So if you ask us: the more, the merrier!
Send Invitations
Your invitation is the first communication that your guests will receive about your party. The design you select will set the tone for what is to come, so make sure your overall theme and color palette reflects this patriotic holiday. We recommend choosing classic shades of red, white, and blue or illustrations that depict backyard, summer fun. Greenvelope has a full collection of options here!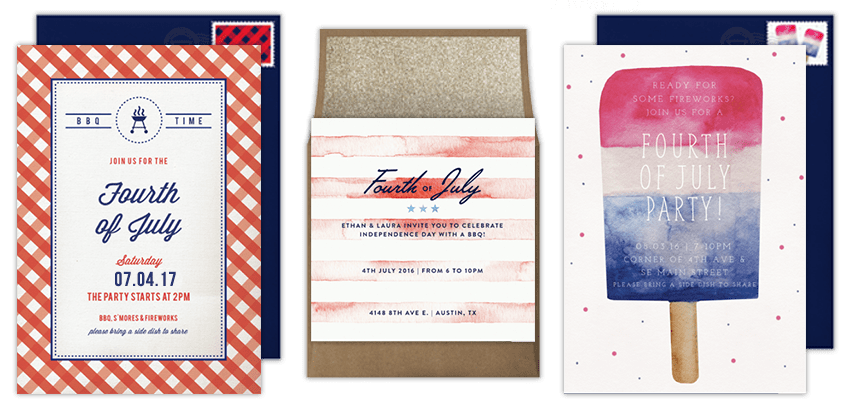 Keep in mind that managing your event will be dramatically easier by going digital, especially when it comes to tracking RSVPs. It's a win-win!
Plan the Menu
Only the best potato salads, burgers, and desserts belong at your July 4th party. Fortunately, there is a wealth of online recipes that are both filling and festive. Here are some of our favorites!
Depending on the size of your guest list, you might consider making your party a potluck. Just break the meals into different categories that people can contribute to, like these:
Beverages

Appetizers

Snacks

Salads

Main Dishes

Dessert

Other materials (plates, cups, napkins, and silverware)
Decorations
Creating a festive tablescape doesn't have to take a lot of time or money. In fact, combing the simplest of details often has the biggest impact when it comes to holiday decorations. You can even create this look on a regular picnic table at a park. For more details, visit Design, Dining and Diapers here!
Create a Playlist
Portable speakers, outdoor sound system, or '90s boombox, whatever you have, be sure to create a playlist with classic summer jams. Keep in the mind the generational differences of guests that will be attending your party to make a playlist that everyone can enjoy. 
Games and Activities
Games are the perfect way to help break the ice and bring your guests together. It also gives the kids something to do. Life-size games make great activities for outdoor parties. You can't go wrong with Giant Jenga, ladder golf, and corn hole.