April 18, 2023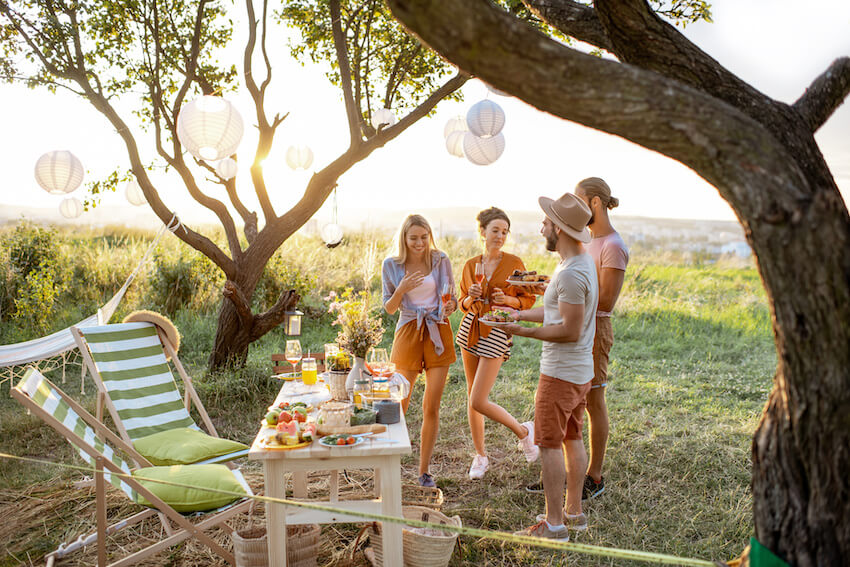 Outside, it's sunny and warm, and there are plenty of beautiful places to explore and stop for lunch. Let the seasonal changes inspire you to get together with your favorite people and host a picnic party somewhere special.
Embrace the relaxed, happy vibe of the summer picnic and plan a fun get-together for your closest pals. Discover some of our best picnic party ideas — including what to serve, bring, and do to make your next picnic party a resounding success with your guests.

22 Incredible Picnic Party Ideas
Excited to start planning an amazing picnic party? Here are some of our best ever picnic party ideas — from finding the perfect theme to bringing the event to life with entertainment.
1. Choose a Picnic Theme
A fun way to make your average picnic feel more special is with a theme. This is perfect if you're planning a special event — like an outdoor birthday party or family reunion. Choose a party theme like a boho picnic, garden tea party, or retro red-and-white themed picnic, then choose a color scheme that fits. Use that color scheme throughout your tablecloths, napkins, party decor, and invitations to host a themed party that feels both relaxed and fun.
2. Find a Scenic Spot
Look for somewhere beautiful to host your picnic party. Your own backyard or outside by a friend's pool is a great idea. Other alternative spots include a lakeside, on the beach, in your local park, or in a viewing spot on your favorite hike. Turn your next date night, birthday, or anniversary into a picnic party to remember with the right location.
Matching invite: Perfect Picnic Invitation
3. Send Fun, Themed Picnic Party Invitations
One of our favorite picnic party ideas is to use themed invitations. We have a great collection of picnic invitations that you can use to let your loved ones know all about your party plans. Find a design you love, then use our easy wizard to make the design your own. Change up the layout, colors, fonts, and wording to create digital invitations with a bespoke feel to send to your friends and family members.
4. Serve Homemade Drinks
For an outdoor party, nothing hits the spot like a refreshing beverage. Take this a step further by making your own homemade versions of drinks for your guests to enjoy. Serve up homemade lemonade, iced tea, or flavored water in glass bottles so your guests can help themselves to their favorites.
5. Bring DIY Sandwiches
When it comes to picnic food, sandwiches are always a hit for a picnic party. Give your standard sandwiches a revamp by packing delicious, fresh ingredients and inviting your guests to make their own sandwiches with them. Not only does this save you from asking for everyone's choices beforehand, but it's a fun way to get your guests involved in the event.
Matching invite: Picnic Basket Invitation
6. Feature Edible Flowers
Flowers are perfect for a summer boho picnic party, and they can be more than just decorations. Including snacks and drinks with edible flowers will take your picnic party to a whimsical and memorable level. One of our favorite drink and food ideas is to freeze edible flowers into ice cubes for an aesthetically pleasing drink. There are plenty of other edible flower recipes to get you feeling inspired.
7. Try an Indoor Picnic
You don't have to escape somewhere new for your picnic party. Try hosting indoors, in your own home or someone else's, for a fresh take on this party. Decorate your dining table in traditional red and white picnic fare, camp out in the living room on sofa cushions, or use the easy access to your kitchen as the perfect moment to host an upscale picnic-style dinner party instead.
8. Showcase Seasonal Foods
Your next picnic party is a wonderful opportunity to showcase some of the best fresh, seasonal goodies out there at the moment. This is especially true if you're hosting a dinner party in the garden, picnic-style.Try some tasty garden dinner party recipes with guests at your next get-together. 
Matching invite: Alfresco Dinner Invitation
9. Serve Picnic Platters
For another great food idea, try serving some picnic platters. Offer up a selection of meats for a charcuterie board or cheese, grapes, and crackers for a picnic grazing board. Make these ahead for your picnic baskets, or prepare them fresh at home for a picnic party in your backyard.
10. Use Your Favorite Glassware and China
We usually see plain plastic plates and wine glasses for outdoor picnics, but don't let that stop you from elevating your picnic party. Next time, opt for your most loved china or glassware instead. These are perfect for a luxury picnic vibe, whether you have your picnic at home or away. If you're hosting at home or indoors, be inspired by your favorite glassware to lay out sophisticated place settings with luxe details like tall candles, golden napkin rings, and faux greenery. Not only does this give your event a fresh vibe, but it's a great way to host a more eco-friendly picnic with no single-use plastics.
11. Decorate With Flowers
Picnics always make us think of the great outdoors, and one of our favorite elements from that is sitting amongst the blooms. Take this as inspiration and decorate your picnic party area with the help of fresh flowers or faux blooms. Place delicate stems in vases for elegant picnic table decor, display potted sunflowers for a whimsical seasonal vibe, or use big beautiful peonies for a chic feel.
Matching invite: Cheery Folk Floral Invitation
12. Bake Mini Desserts
It can be tricky to transport big, grand desserts to your picnic party destination. Instead, opt for small desserts like cupcakes, brownies, and mini-cheesecakes that are much easier to transport. Get inspired by these mini dessert recipes and choose a few to recreate that match your theme or the season.
13. Pack Mini Cocktails or Mocktails
You'll want your guests to have something cold and refreshing to enjoy while they enjoy your picnic party. Alongside some fresh water and homemade lemonade, load up your coolers with a selection of cocktails or mocktails in mini glass bottles to toast the celebration. These will add a fun and festive element to your picnic plans. 
Matching invite: Leafy Luau Invitation
14. Reimagine Your Book Club
If you're looking for a fun way to liven up your book club, why not transform it into a picnic party? Invite your friends to join you every month for a picnic in the park or your backyard, where you'll discuss what's happening in your latest book.
15. Set Up Some Comfortable Seating
There's nothing wrong with a good old-fashioned picnic blanket, but they can get uncomfortable if you're sitting on hard ground for a while. Upgrade the experience with giant floor cushions, or bring some foldable chairs if you're heading to the beach or lakeside for your event.
16. Add Some Picnic Party Decorations
Picnics are often quite relaxed when it comes to decor, but if you're hosting a picnic birthday party or celebration, feature as many party decorations as you wish. Hang bunting and banners, create a balloon arch, and use flowers and greenery to decorate the space around your picnic area.
17. Make It a BBQ Cookout
Picnic party menus tend to feature small bites that are not only easy to carry but perfect for a light lunch. For a more food-focused take on a picnic, turn it into a BBQ cookout in your backyard. Get out the grill, set out some picnic tables or cozy seating, and invite your loved ones over for a perfect summer party.
Matching invite: Grillin and Chillin Invitation
18. Play Lawn Games
Lawn games are a great way to bring some fun and entertainment to your outdoor picnic. Play ring toss or cornhole, or challenge each other to make the biggest structure out of giant wooden stacking bricks. If you're hosting for kids at home, an inflatable slide or mini bouncy castle are also exciting additions for your younger guests.
19. Bring an Instrument
Live music always makes an event feel more eventful. Bring some of that festival or campfire feel to your next party by bringing an instrument or two along. Ask your musically minded guests to play something for the group, or have fun by inviting your guests to goof around on ukuleles and bongos.
20. Snap Some Photos
Life is full of beautiful everyday moments, so take this picnic party as a reminder to capture some of them. Snap photos of your amazing picnic setup, the delicious food, and your happy guests. If you're hosting an outdoor baby shower or bridal shower picnic, take plenty of photos and put them together in a digital album for the guest of honor to enjoy afterward.
Matching invite: Delicate Wildflowers Invitation
21. Bring Along an Activity
Activity, craft, and DIY parties are incredibly popular with guests and party planners alike. Transform your picnic into a mini class or experience by bringing along an activity. Enjoy a craft like knitting or crocheting, practice your painting, work on a scrapbook, or host a photography session for your party guests.
22. Make It an Annual Gathering
Picnics are a lovely way to get together on warmer days, and we love how relaxed and carefree they feel. If you love this too, consider making your picnic party into a special occasion by hosting an annual summer picnic for your friends and loved ones.
Matching invite: Gingham Picnic Invitation
Host Memorable Picnics with These Picnic Party Ideas
Hosting a picnic is easy — invite your friends, bring a picnic basket, and spend the afternoon chatting together. Add in a few of these picnic party ideas to turn your average picnic into something truly memorable with a fun theme, delicious menu, or engaging craft activity.
When it's time to let your guests know about your plans, use one of our picnic party invitations to spread the word. Find your favorite design and then make it your own by choosing the colors, layout, and wording. Send your digital invites out, and wait for those excited RSVPs to come flying in.