April 21, 2022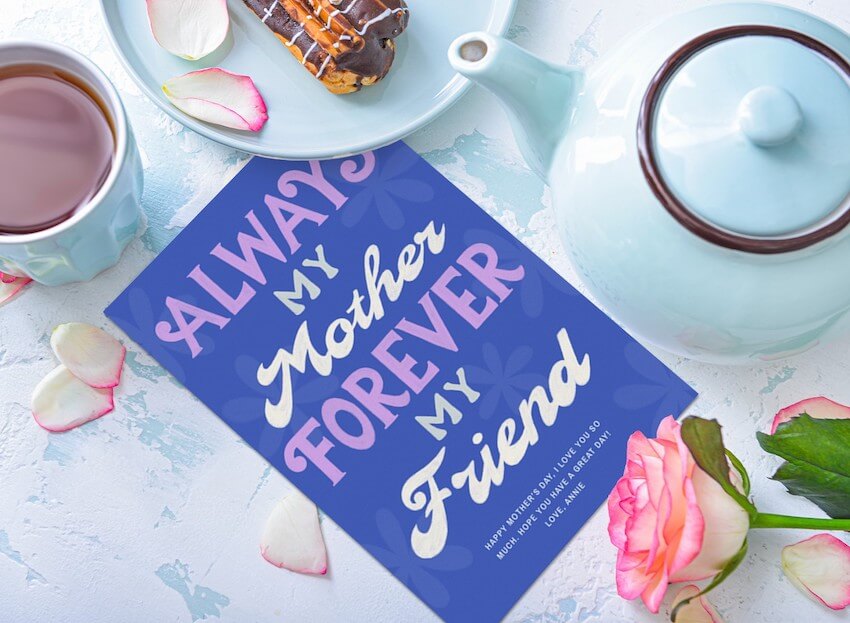 Moms do so much for us. From kissing the blues away and celebrating our greatest successes to just lending an ear, moms are true superstars. That's why it's a joy to celebrate them on Mother's Day. Not only do we honor their sacrifices, but we also celebrate their fighting spirit and loving attitudes.
Whether you're looking for Mother's Day ideas for your biological mom, adoptive parent, mother-in-law, or a motherly figure in your life, you'll find a way to celebrate with this list. Plus, we've paired each idea with an inspiring invitation or Mother's Day card option so you can invite your mom to a fun activity or simply send loving wishes her way. 

10 Mother's Day Ideas to Show Your Love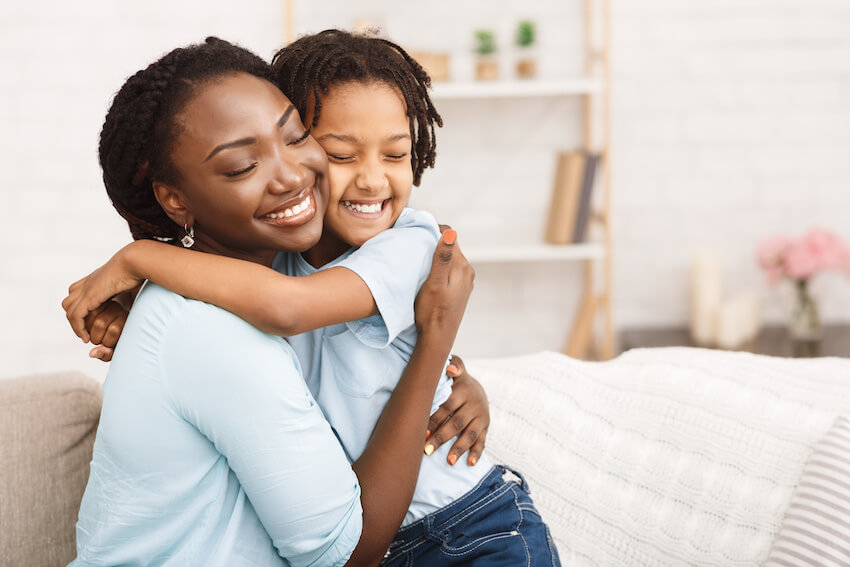 Instead of sticking to a traditional Mother's Day gift guide, we've created a list of fun ways to celebrate Mom. Instead of getting her material things like flowers, tech gadgets, or fancy coasters for the coffee table, we've focused on experiences. After all, spending time with Mom is what matters most. Here are some of our favorite Mother's Day ideas and ways you can spend a special day with mom. 
For each activity, you'll find a fun invitation or Mother's Day card to match. That way, it's easy to plan the activity and build excitement with a lovely invitation or simply send her a sweet card without heading to the post office.
1. Throw a Spa Day
Invitation inspiration: Painted Hibiscus Invitation
One of the best Mother's Day gifts is to be spoiled. Pamper your mom with a spa day either at home or a local day spa. Do this with your own mom or get a group of moms together to celebrate the moment. Make sure to include any new moms who could really use the rest and relaxation.
You can create a Mother's Day gift basket filled with relaxing treats like bath bombs, pro-level hair dryers, and other self-care items like face masks and jade rollers. If your spa day involves a trip to a wellness center, you can also look into ordering personalized gifts like monogrammed water bottles and robes.
2. Get Tickets to a Concert
Invitation inspiration: Music Enthusiast Invitation
For the mom who loves to rock out or sing her heart out, you can't go wrong with concert tickets as a Mother's Day gift. Attend the concert with her or see if she'd like to bring along a friend instead. Make sure to choose a concert that's nearby and easy to attend. To make the gift extra special, you can make a gift box that contains the concert tickets, fun snacks, libations, and even a cool outfit. (Hey, moms have style!)
3. Host a Sweet Brunch
Invitation inspiration: Brunch and Bubbly Invitation
Show Mom how sweet it is to be loved by her with a sweet Mother's Day brunch. Invite friends or keep it to close family members and loved ones. You can set up a mimosa bar with different kinds of champagne, juices, and fruit. Serve classic breakfast favorites like french toast, pastries, and eggs. To make it even sweeter, you can set up a cupcake bar or have a cookie decorating competition.
4. Plan a Painting Party
Invitation inspiration: Happy Paint Speckles Card
If you have an artistic mom, consider celebrating with a paint party. Gather supplies like canvas boards, paints, and easels for a fun afternoon in the backyard. Whether you're painting landscapes or creating modern art, you can set a theme with matching decor and an alfresco lunch. Create a gift set of different paints, color-by-numbers canvases, and paintbrushes you can give to Mom as a special gift. If this DIY route is a bit too time-intensive, you can always make a reservation at a local "paint and wine" venue. Cheers!
5. Take a Trip
Invitation inspiration: Up in the Air Invitation
Go big this Mother's Day by taking a trip of a lifetime. You can go to U.S. favorites like New York and Austin or make it an international affair with a trip to Paris or a Caribbean island. Wherever you go, you're sure to have an unforgettable time. Customized luggage tags make a great gift idea or you can buy Mom a new travel outfit. If a full trip isn't possible, create a photo album for a different trip you've taken together, highlighting all the best moments and memories. Either way, Mom will appreciate the thoughtfulness.
6. Have Fun in the Sun at the Beach
Invitation inspiration: Retro Sunglasses Invitation
Spending time together can be a great last-minute Mother's Day gift. Have fun in the sun with the whole family by planning a day at the beach, a pool party, or even a hike in the local mountains or forest. For gift ideas, you can make Mom a personalized beach tote or give her a picture frame where she can keep her favorite snapshot of the day.
7. Get Crafty 
Invitation inspiration: Let's Get Crafty Invitation
Have fun making things with a Mother's Day craft party. For this Mother's Day idea, you can order supplies on sites like Amazon and Etsy and try different DIY craft party ideas, like making organic soap, trendy earrings, or moss art. Besides being a great way to spend time with Mom, the crafts double as keepsakes that you'll both cherish for years to come.
8. Create a Book Party
Invitation inspiration: Foiled Book Club Invitation
For moms who love to read, think about hosting a book party. Gather her favorite fellow bookworms for an afternoon of literary discussion and tasty treats, or plan a fun bash based on Mom's favorite novel. For example, you can host a Great Gatsby Mother's Day party if Mom is a Fitzgerald fan or you can throw a Mad Hatter tea party if she prefers fantasy. A great DIY Mother's Day gift idea for this type of event is a handmade bookmark that she can enjoy with her latest read.
9. Be Adventurous
Invitation inspiration: Cheerful Blooms Card
Looking for Mother's Day ideas that aren't the same as last year? Step outside the box and out of your comfort zone. For a truly adventurous experience, consider once-in-a-lifetime activities like skydiving or bungee jumping. These types of activities can bring you closer together by allowing you to work through your fear or hesitation as a unit. Plus, it's incredibly exciting and a moment you're sure not to forget. For something a tad less intense, you can introduce Mom to a new activity like yoga or tai chi. It's still adventurous and something new.
10. Have a Picnic
Invitation inspiration: Lush Peonies Card
When it comes to Mother's Day ideas, spending time outside is another great way to go. Pack a picnic and invite Mom for a fun afternoon in the park or along the shores of a lake. You can bring along classic fare like crackers, wine, cheese, and cold cuts or whatever her favorite snacks are. Stash it all in a backpack and don't forget the picnic blanket! It's a wonderful way to bond with Mom one-on-one and talk about what's going on in life.
Find the Perfect Card and Invite for Every Moment
With these unique Mother's Day ideas, you're sure to find something for every mother figure in your life. While flowers and chocolates are always nice, some of the most thoughtful gifts are those that allow you to share an experience and enjoy time together. Be sure to check out Greenvelope's large selection of digital invitations and greeting cards for even more ways to show you care. You can customize any design and personalize the message to let Mom know just how much she means to you.