October 26, 2022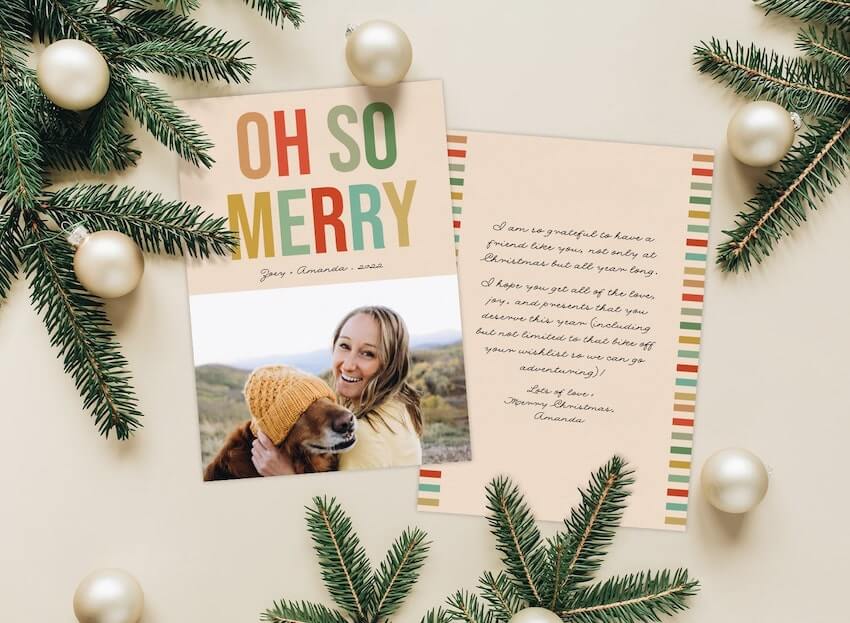 It's the most wonderful time of the year. The snow is starting to fall, the Christmas lights are twinkling, and the smell of spiced treats wafts through the halls. That means it's time to pick out the best Christmas cards to share Merry Christmas wishes for friends. 
Not sure what to say? Share Christmas messages with inside jokes, classic Christmas quotes, and sentimental wishes. We've put together some festive holiday wishes you can use this joyful season, and better still, each one is paired with a digital greeting card from Greenvelope so you can check Christmas cards off your to-do list in just a few minutes.

Merry Christmas Wishes for Friends: 24 Cheerful Ideas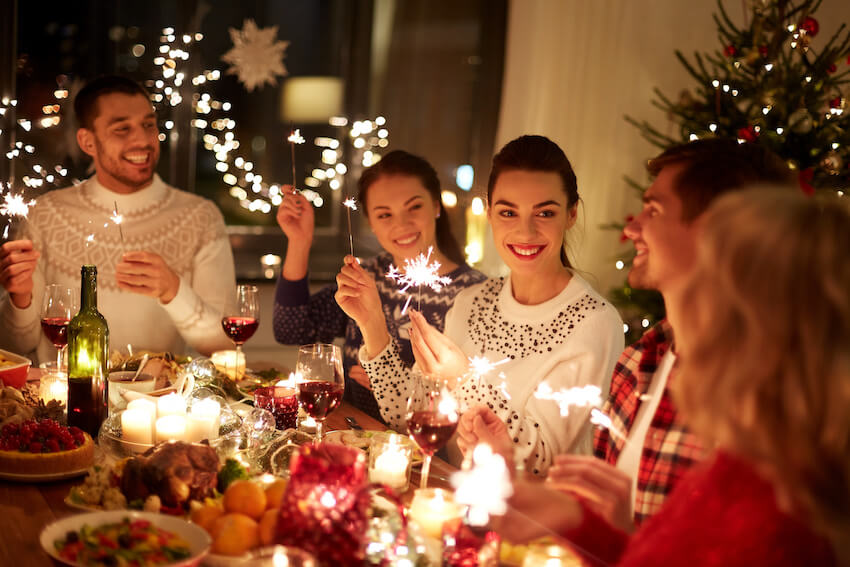 When it comes to Christmas card messages, the substance should match the vibe of your friendship. If your relationship is lighthearted, silly, and full of laughter, have fun with the wording. If the sweet soul of your friend brings tears to your eyes, share sentimental Christmas wishes this holiday season. For a friendly acquaintance, stick to general happy Christmas greetings. 
Here, you'll find some of our favorite ideas for Merry Christmas wishes for friends. From funny and goofy to formal and religious, there's something for every friendship. Plus, each wording idea is paired with a holiday greeting card you can use to send good tidings to everyone on your list.
1. Christmas Classics Card
Encourage friends to have a merry little time celebrating this holiday season with this whimsical Christmas card.
Message Idea: We wish you and your family a very merry Christmas and all the best for the coming year. We enjoyed filling this one with memories of our families together.
2. Abstract Lined Joy Card
Share the joy this holiday season with this cheerful card. It comes in several colorways and you can upload your favorite photos of the past year.
Message Idea: As you gather around the Christmas tree this year, we hope you're surrounded by the love of dear friends, family members, and loved ones. Wishing you good health, prosperity, and joy for the next year.
3. Festive Film Card
Have the best squad around? Show off the fabulosity of your crew with this vibrant photo card.
Message Idea: You're rad! Thanks for another year of memories and nights spent laughing until we cried. I hope Santa Claus brings you everything you want and more.
4. Geometric Cheers Card
Merrymaking is just around the corner thanks to this glittering and cheerful holiday card. The backside has a large text space where you can share personalized messages.
Message Idea: Distance makes the heart grow fonder — though it also bummed us out this year. Missing my best friend at Christmas time. Here's hoping we can celebrate together next year. In the meantime, I'm sending good vibes for a joyous Christmas with your loved ones. 
5. Winter Cottage Card
Featuring a gorgeous winter cabin scene complete with reindeer and fresh falling snow, this magical holiday card is sure to inspire whimsy and joy.
Message Idea: In the spirit of Christmas, I wanted to wish you a magical holiday season. Hope you get to do all the fun things: ice skating, hot chocolate drinking, and ugly sweater-wearing. 
6. Frosty Friends Card
This winter card features a cheerful snowman, a tiny puppy, and a cute penguin, making it perfect for sharing cozy and heartwarming wishes for friendship.
Message Idea: You're the best bestie around. I hope you have a Christmas Day as unique as you are. 
7. Blessed Snapshot Card
Feeling blessed with great friendships? Share your gratitude with this sweet Christmas card featuring a photo slot for your favorite image with your bestie.
Message Idea: May God grant you peace and happiness this Christmas. I've been blessed to have your friendship and look forward to many more years of enjoying your company. 
8. Mod Evergreen Card
Twinkling stars, a modern decorated tree, and a simple color palette make this holiday card ideal for sweet and sentimental Merry Christmas wishes for friends.
Message Idea: Sending you and your clan lots of love this Xmas. Hope your time off is spent enjoying your family and all the holiday fun.
9. Not Naughty Card
Humorous and fun, this card is perfect for the person who is never on the naughty list. Use it to send merry wishes to your niece, nephew, or the kid who never grew up. Upload your own photo to make each card personal.
Message Idea: Santa is going to miss Christmas this year. He died laughing when I told him you made the "nice list." Thanks for being the best nephew on the planet. 
10. Grateful Season Card
Share Christmas wishes with style and grace using this beautiful holiday greeting. It's supported by a large text space on the back to share well wishes.
Message Idea: Dear friend, wishing you Christmas cheer and happiness all year. Thanks for being a true friend, guiding light, and a pleasure to be around. 
11. Watercolor Poinsettia Card
Send wishes for a very merry Christmas with this modern card featuring a bright, watercolor poinsettia.
Message Idea: Wishing a beautiful Christmas to my beautiful best friend. Hope the holiday season is filled with joy, fun, and lighthearted moments.
12. Adore Card
This religious Christmas card features gold foil accents for spiritual and magical wishes.
Message Idea: The best gift is having you in my life. May peace grant you serenity, may joy bring you belly laughs, and may God bless you with health and happiness. Merry Christmas, my friend.
13. Watercolor Greenery Card
Share season's greetings with this Christmas card featuring delicate berries and greenery.
Message Idea: Sending warm wishes for you and yours this festive season. However you choose to celebrate, we hope it's merry and memorable.
14. Ahead of Schedule Card
Give friends a laugh with this cheeky holiday card that pokes fun at your ability to get a holiday card together in time.
Message Idea: You know me best, so I think you'll be very impressed that I got around to writing a greeting card! Early, late, or just in time, always know how much I adore you. Merry Christmas, friend.
15. Joyful Tidings Frame Card
Share joyful greetings this year with this shimmering card featuring a festive border of glittering confetti.
Message Idea: Happy Holidays! I know how much you love this time of year. Here's to enjoying the season's tidings and all the best for the new year.
16. Happy Holla Days Card
Deliver joy to your bestie with this unique card that features casual language and a bold vibe.
Message Idea: To my bestie, I hope you have a wonderful holiday season. Cheers to finding romance under the mistletoe and avoiding fashion faux pas at each holiday event. I couldn't do it without you by my side. 
17. Cuckoo Clock Card
Add some nostalgia to your holidays with this cozy Christmas card featuring a wooden cuckoo clock and classic characters like Santa and angels.The backside features up to five photo slots and a text box so you can make this card all your own.
Message Idea: Warmest wishes for a joyful Christmas. Hope the season grants you as much happiness as you bring me.
18. Peace on Earth Ornaments Card
Use this hand-lettered inclusive card to send peaceful wishes for a happy holiday season.
Message Idea: Wishing you and your friends and family a blessed Christmas. Good tidings for health, wealth, and peace on Earth.
19. My Favorite Things Card
Is your bestie one of your favorite things? Use this glitter card to show them how special they are. Customize it by swapping out the stock photo of twins to feature one of you and your bestie.
Message Idea: The best Christmas gift is spending time with a best friend as wonderful as you. Thanks for making my world brighter. Here's to another year of adventures together and trying out the latest crazes.
20. Gingerbread Cookies Card
This whimsical photo card lets you share magical greetings with the ones you love.
Message Idea: Wishing you a special day celebrating the joys of Christmas. I hope your parents don't share too many embarrassing childhood stories. If they do, I'll be sure to laugh the loudest. Thanks for decades of friendship.
21. Graphic Type Card
This merry and bright invite is packed with modern vibes and full of cheer for wishing friends a happy holiday and New Year.
Message Idea: The magic of Christmas is nothing compared to the magic of being your friend. Thanks for making this year one of the best yet. Happy New Year and hope your Christmas season brings you just as much joy as you give me.
22. Glittery Pine Boughs Card
Glittery and bright, this season's greetings card has a blank backside where you can share cheerful messages of hope and friendship. 
Message Idea: Do you know what's better than the magic of Christmas? Having the magical presence of a bestie like you. Thanks for being my Christmas carol backup singer, my cocktail party stylist, and my biggest cheerleader. Love you to the moon and back.
23. Hope Card
Share hope and unity this holiday season with this floral card that celebrates diversity.
Message Idea: The best Christmas present is having someone like you by my side. I'm lucky to have your friendship and wish you a wonderful Christmas. 
24. Prosperous Branch Card
Send wishes of prosperity and joy to friends and loved ones with this festive card featuring chic letterpress detailing.
Message Idea: Season's greetings! From our family to yours, we hope you have a wonderful holiday season with your loved ones.
Send Best Wishes in Style This Christmas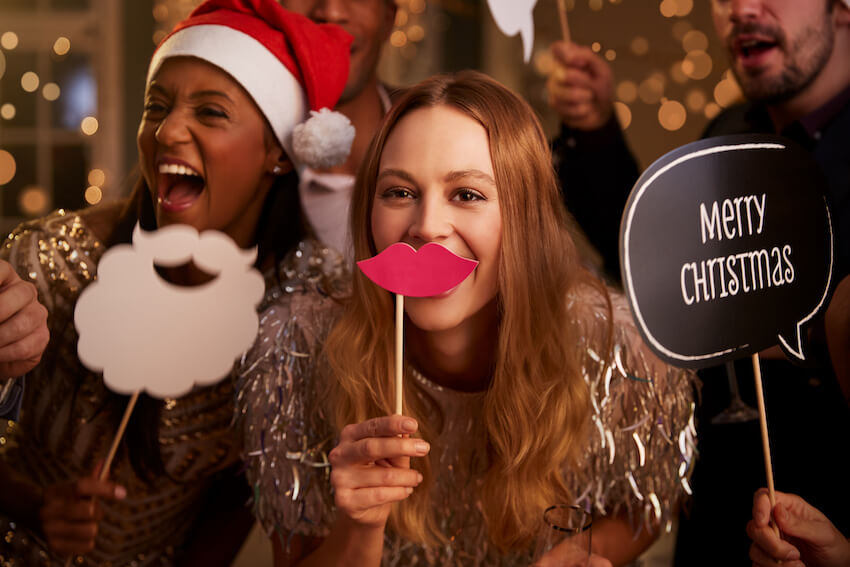 Send gorgeous holiday wishes this Christmas with digital cards from Greenvelope. Each design can be customized by changing the color palette, typography, and layout. (Pro tip: You can use these Christmas card wording ideas and Christmas card text messages to find the right words.)
Upload your own photos for a memorable card or insert some special words of appreciation to show your friends that you know how lucky you are to have them. With these Merry Christmas wishes for friends, you're sure to spread joy and cheer this Christmas and New Year.