December 9, 2021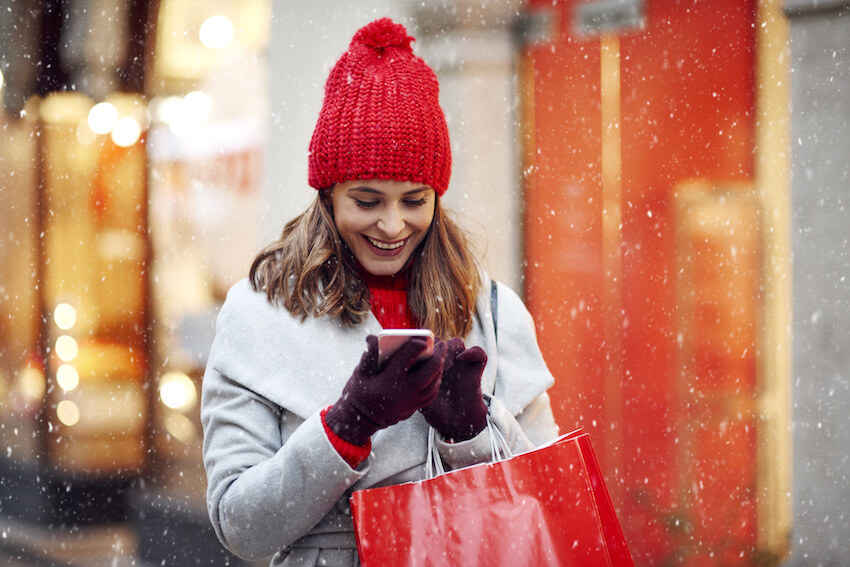 The festive season seems to get busier every year with gifts to buy, people to visit, and cards to send. In all the rush, your Christmas card list can get overlooked or become a source of stress. But not to worry, we've got the perfect idea — a Christmas card text.
Let's take a look at why a simple (yet thoughtful) text can be a great way to spread holiday cheer and how to put together your own festive Christmas card text this year. 

What Is a Christmas Card Text?
A Christmas card text is a fun alternative to sending a festive email or a Christmas card by mail. Instead of a card arriving in the mail or an email landing in your loved one's inbox, they get a beautifully designed Christmas card text message instead. 
Christmas card texts are incredibly easy to personalize, so you can write your own holiday card message to your family members, friends, and coworkers. It's a lovely way to spread joy this Christmas time — especially if you're separated by distance. 
Why Christmas Card Texts Are an Awesome Idea
There's nothing better than telling your friends and family members just how much they mean to you for a happy holiday season. Christmas card texts give you a great way to do this, and come with plenty of other benefits too. 
Easy to Send
One of the best things about Christmas card texts is just how easy they are to send. All you need to do is find a design, personalize it, and send it on its way. No need to worry about browsing stores for cards, stopping by a mailbox, or making sure you have everyone's latest address. 
At this time of year, schedules can get busy and it's easy to miss a card or two on your list. With text message cards, you can instantly spread Christmas cheer — even if it's on Christmas Eve or Christmas Day itself. (No more late arrivals!)
Hard to Miss
It's a special time of year for most of us, but it's also a prime marketing window for companies looking to secure some extra sales. This means that inboxes can end up overflowing with emails and it's hard to spot the ones you really want to see.
With text message greeting cards, you don't have that problem. Text message inboxes are often less cluttered than email inboxes, which means your card and message of holiday cheer gets directly in front of your desired recipient. No wading through emails to find it — it's right there on their smartphone. 
Super Affordable
If you're fortunate to have many amazing people in your life, mailing Christmas cards can really add up. Not only does it cost money to buy cards and mail them out, but it takes time and energy to find the perfect cards and handwrite your messages. 
Eco Friendlier
Every year in the U.S., some 2.65 billion Christmas cards are sold. While it's wonderful that so many people want to spread Christmas cheer, the hard truth is that all those cards could fill a 10-story football field! Plus, once the holidays are over, the overwhelming majority of those cards end up in a landfill.
Sending your Christmas card text with Greenvelope is not only convenient and affordable, but it's also much easier on the planet. You can spread warm holiday wishes far and wide to everyone on your Christmas card list without worrying about paper waste.
Fun Christmas Card Messages for Your Christmas Card Text
We're so on board with Christmas card texts as the perfect way to wish your loved ones well this holiday season. If you're ready to create your own, take inspiration from these Christmas card sayings. 
Simple, Sweet, and Sassy Greetings
Consider these Christmas card wording ideas for a short, sweet, and fun way to wish someone well. 
Merry Christmas to you and your family! 

Happy Holidays! From spiked egg nog to hot toddys, here's to making spirits right!

Santa Claus is coming to town. Hope you've been nice (and just a little naughty)!

Sending you Christmas wishes from our family to yours

Have a wonderful Christmas and an even better New Year!

Warm wishes for a very happy Christmas

All I want for Christmas is … you! 

Wishing you good health this Christmas

Sending happy vibes and good cheer! 

Happy Howlidays from me and my fur baby Max! 
Cozy Family Christmas Messages
For something a little more warm and fuzzy, try one of these cozy family Christmas card greetings. They're ideal for your BFF, family members, and close loved ones. 
Hope you have the best Christmas ever, [Name]! 

You're the Christmas gift that keeps on giving. Happy Holidays! 

There's nothing I want to do more than dance with you under the Christmas tree

Sending you lots of love and festive cheer from the [Name] family!

Hope you have a wonderful holiday season this year. We can't wait to see you soon! 

Have the most perfect Christmas ever, [Relation]. You deserve it! 

You're the greatest gift ever. Have a wonderful Christmas, I love you.
Formal Christmas Wishes
Sometimes the occasion calls for a holiday greeting that's a little more formal. Take a look at these more formal wording ideas for inspiration for an elegant festive season.
Season's Greetings, [Family Name]

Have a blessed Christmas!

We wish you a jolly Christmas season and a prosperous New Year

Warmest wishes this Christmas time

Wishing you a Christmas full of joy and peace

Happy holidays from the [Name] family this Christmas

Best wishes for a prosperous holiday and joyful New Year
Happy Holidays For Businesses
Christmas card texts aren't just great for loved ones — they're ideal for business Christmas cards too. Here's how to get your festive wishes across to your coworkers, employees, partners, or customers. 
We wish you a very merry Christmas, from all of us at [Company Name]

Best wishes for the holiday season, [Name]. Thank you for all your hard work! 

Merry Christmas and a Happy New Year from your favorite boss

Thanks for always being amazing, [Name]. Have a well-deserved break! 

Happy holidays to you and your loved ones this Christmas

Thank you for [years] wonderful years in business together. Happy holidays! 

Seasons Greetings: No more meetings … until next year! 
How to Send Festive Christmas Card Texts with Greenvelope
If you're feeling inspired by the sweet Christmas card greetings we've shared, it's time to bring your text message cards to life. Sending a Christmas card text message is easy with Greenvelope and takes only a few steps. 
To begin, take a look through our Christmas cards to find a design you love. Next, customize it — change the colors, add photos, and personalize the wording with a classic Christmas quote or your own wording. Take some time during this step — you can always save your progress and come back to it.
You can send any of our holiday designs as a Christmas card text — just choose the option to send via text message at the end of the customization process. 
When you're happy with your design, it's time to prepare it for sending. Put together a contact list of everyone you want to send your Christmas card text to. Add their name, email address if you have it, and their cell phone number. 
Before you hit send, you can choose where the card gets sent. It'll go to a contact's email address by default, but you can switch it so they get a text instead. If you don't have the email address for someone on your list, they'll get a text by default. 
That's it!
Share the Joy With a Christmas Card Text
Christmas card texts make it so easy to share those merry Christmas wishes with all the best people in your life. You're not restricted by whether you know someone's mailing address or not, and you can get away with sending them down to the last minute. 
Use this guide to plan, personalize, and send thoughtful and festive Christmas cards by text message this year. Browse through our holiday cards, personalize one you love, and send it on its way to everyone on your Christmas card list. Happy holidays!