November 3, 2020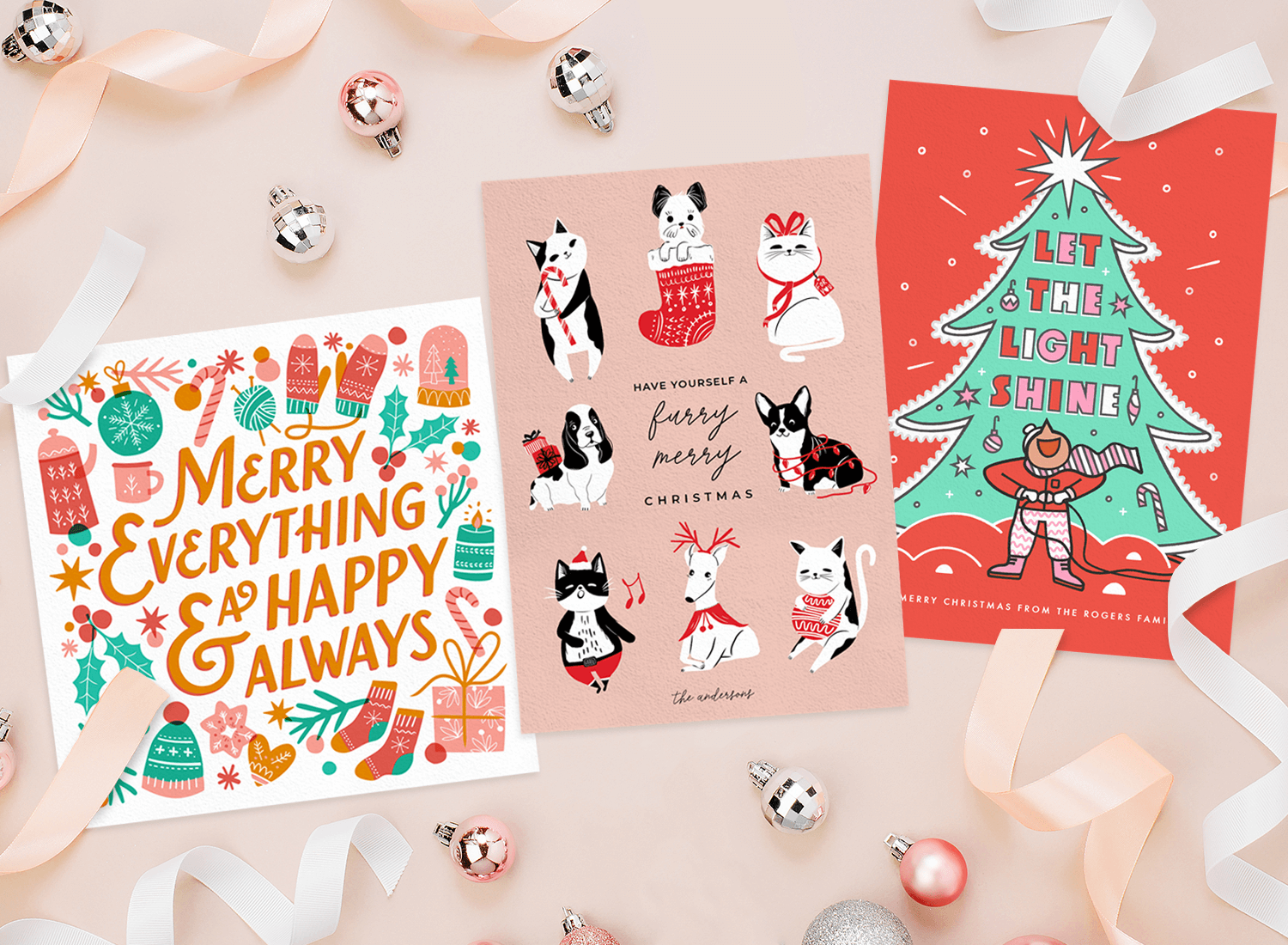 Can you believe it's time to start writing Christmas cards already? The holidays are the perfect time to send well wishes to friends and family near and far. But what do you say? Well, we have (more than) a few ideas. From the hilarious to the sweet, here are some of our favorite Christmas card wording ideas for your holiday cards this year.
Traditional Christmas Card Wording Ideas
Christmastime is almost here and that means sending good tidings to all. Here are some traditional and classic wording ideas for your Christmas cards this year:
We wish you a very Merry Christmas
Merry Christmas from our family to yours
Sending you glad tidings this Christmastime
Merry Christmas and a Happy New Year
Wishing you a Christmas full of joy and love
Have a very Merry Christmas
Season's greetings from our home to yours
May your Christmas season be merry and bright
Sending you warm wishes this Christmas and always
It's the most wonderful time of the year — sending love your way
To avoid the hassle of post offices and expense of stamps, send your festive well wishes in the perfect package with one of Greenvelope's traditionally inspired designs. This Christmas Script card features classic Christmas colors with space to add your message and a family photo on the reverse.
Modern Festive Sayings
Prefer something a little more modern for your Christmas cards? No problem! Here are some simple yet thoughtful ways to spread festive cheer this holiday season:
Stay merry and bright
Happiest of holidays
Sending you festive sprinkles of joy
Cheers to Christmas!
Have a wonderful Christmas
Time to eat, drink, and be merry
Happy Christmas!
Best wishes this Christmas
Merry Everything!
Modern holiday cards offer vibrant designs to pair with your short and sweet festive greetings. This Bold Merry & Bright card comes in some gorgeous color options, with a fun confetti design on the backside.
Funny Christmas Card Sayings
There's nothing like laughter to brighten up someone's holiday. If you're writing to someone you know well and want to liven things up a little, consider these funny Christmas card wording ideas:
Time to grab the champagne, it's Christmas!
Have a very happy holi-yay!
This time of year is a Claus for celebration
Bring on the Christmas sweater contest!
There's snowbody I'd rather be with this Christmas than you
I couldn't think of the perfect present so here's a card … Merry Christmas!
Wrap up your funny Christmas card wording in a design that matches your sense of humor. This Fun & Games card design mixes holiday plaid with a mention of Santa's naughty list.
Sweet Christmas Card Wording Ideas
Looking for that "aww" factor? Whether you're sending your holiday cards on behalf of the kids or simply want to sweeten up your Christmas greetings, here are some ideas to get you started:
All I want for Christmas is … you!
Sending you the biggest snuggles and kisses this Christmas
Happy holiday season from your favorite little reindeer
You're the best Christmas gift ever!
Have a very Meowy Christmas
You're cuter than a chocolate button! Merry Christmas
I believe in the magic of Christmas
With your super sweet message ready to go, it's time to find the perfect card to match. This adorable Joy to the Squirrel card is one of our favorites.
Religious Christmas Card Messages
Christmas has a special meaning for most, and for some, the religious celebration is front and center. If you celebrate Christmas as a religious holiday — or want to send a card to someone who does — here are some lovely religious Christmas messages to inspire you:
May your Christmas be filled with peace, love, and joy
Happy birthday, Jesus! Let's celebrate
May you be touched by the love and light of God this Christmastime
Glory to God in the highest. Merry Christmas from our family to yours
May there be peace on Earth this Christmas
Wishing you a Merry Christmas and a blessed New Year
May the spirit of Christmas be with you this year and always
Send your Christmas greetings to the ones you love wrapped in a beautiful digital card and envelope. This Peace Dove card features a lovely hand-illustrated design that's perfect for a message filled with love and joy.
Christmas Card Wording for Family
The holiday season is all about the love, joy, and celebration between families and friends. Send your loved ones a holiday message with these heartfelt Christmas wishes:
Sending you our warmest wishes this Christmastime. Love, the [Family Name]
We can't wait to see you at our festive party! Merry Christmas
We wish you the biggest and best Christmas ever
Let's get together by the Christmas tree and toast the holiday season with champagne, bad jokes, and Christmas sweaters!
Wishing you the very best Christmas this year and the next
Photo cards are a lovely way to share a happy snap to your nearest and dearest. This Holiday Pinwheel design gives you plenty of space for a large photo on the front and a heartfelt message on the reverse.
Christmas Card Phrasing for Friends
Christmas is a time for giving, and that includes sending thanks and warm wishes to your closest friends. Here are some playful and sweet Christmas card wording ideas to send to your besties:
Cheers to a Merry Christmas and a smashing New Year!
Have a merry and bright holiday season
Happy holidays! Don't forget to text us when you're bored of the family dinner drama and board games
Time to crack out your classic holiday playlist. Merry Christmas!
We wish you a Merry Christmas with plenty of beer!
You can have a lot of fun when it comes to sending holiday cards to friends. For your cat-loving friends, this Meowy Christmas design is a sweet way to spread some feline-inspired cheer.
Christmas Wording for Businesses
Sometimes your employees, clients, and partners become almost like family. Sending a digital holiday card to your business network is a great way to welcome in the season and spread good cheer. Here are a few ideas on what to say:
Wishing you the very best this holiday season from [Company Name]
It's always great working alongside you. Thank you for everything you've done this year for [Company Name]
Merry Christmas and a very Happy New Year from all of us at [Company Name]
Happy holidays, [Name]! Enjoy the time with your family and toast the New Year in style
Creating a holiday card can feel like extra work on top of your already busy schedule. Forget designing your own and use this Work Computer design to send your message in style. There's even space to add your company logo.
Wording Ideas for Teachers
The holidays are the ideal time to send thanks to the teachers and educators in your family's life. Here are some lovely ways to wish the educators in your life a joyous season:
Merry Christmas [Teacher Name]! Thank you for everything you've done for us this year
Happy holidays to the best teacher in the world!
We hope you have a wonderful holiday season
Sending you warm wishes for a relaxing Christmas — you deserve it!
Thanks for all your support, [Teacher Name]! Wishing you very happy holidays
May your Christmas be full of love, peace, and sackfuls of stationery!
Teachers and educators do so much throughout the year. Pair a heartfelt message of gratitude with a fun design like this Scrapbook Vibe card.
Christmas Card Wording Ideas Especially for 2021
There's no question that 2021 has been a wild year. While everyone's plans have been disrupted, there's still plenty to celebrate. Poke a little fun at the situation with these of-the-time festive wording ideas:
We may not all be together in person, but this Christmas will be just as great. Happy holidays!
Merry socially distanced Christmas!
Christmas Day looks different this year, but in our hearts the festive spirit lives strong
Merry Christmas, [Name]. We look forward to seeing you when we can!
Cheers to 2022 — it can't come soon enough!
Pair your humorous festive cheer with our Jingle Bells, Covid Smells Christmas card. It's a fun way to reflect on a challenging year and send good wishes for the coming year.
Get Creative With Your Christmas Card Wording This Season
Christmas is a time to gather with others to celebrate love, joy, and all the good things in life. This year's been a strange one, but there's still so much to be thankful for. Take inspiration for your holiday greetings from our ideas above and send heartfelt Christmas cards filled with lots of love and holiday cheer.