October 27, 2022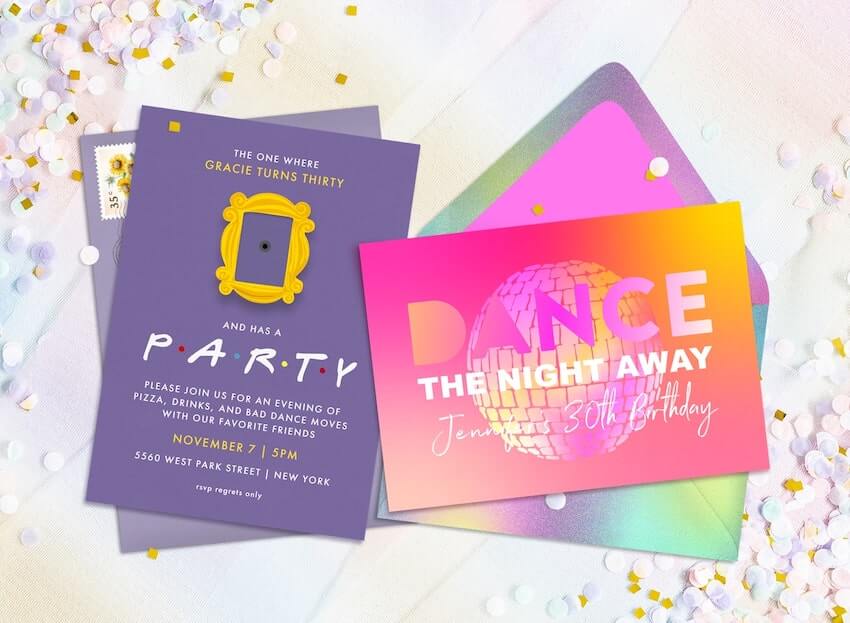 Want to know what's more fun than partying like it's 1999? Partying in the 21st century! The 2000s were a time of life-changing technology, neon trends, and hip-hop royalty. (And who could forget the glory of velour tracksuits?) A 2000s-themed party is an epic way to reminisce on the rad style of the turn of the century.
With these 2000s party theme ideas, your blast from the past will be so hot. Get ready to plan your celebration with these 2000s-themed party ideas that offer plenty of options inspired by the pop culture of the decade.

Wassup, Party People! Follow These 6 Steps to Plan Your 2000s-Themed Party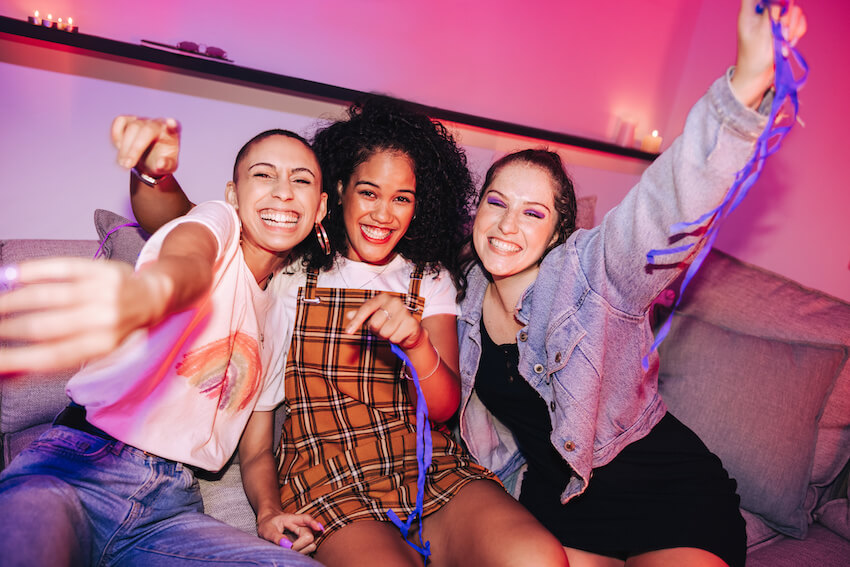 To pull off an unforgettable event, you need to map out your venue, party decor, games, and music to match the theme. The 2000s are defined by icons like Blockbuster Video (remember DVDs?), retro cell phones, and some of pop culture's biggest names. Paris Hilton's catchphrase "that's hot" and Snoop Dogg's "fo shizzle" date back to the early 2000s. The era also brought us some of the best rappers and hip-hop tracks of all time — Diddy, Missy Elliot, and Eminem, to name a few.
Whether you want to get crunk or just chillax, a 2000s-themed party is the way to go. Follow these tips whether you're hosting a birthday party, baby shower, or bachelorette party.
1. Choose a Venue
Choosing a venue is one of the first decisions you'll need to make when party planning. Some great options include an early-aughts McMansion, an industrial loft, or a karaoke bar. When scouting venue locations, look for spots that have plenty of room for dancing — the 2000s were all about great music, after all.
Consider whether the venue provides food and drinks or if you will need to have those catered. Some venues can also help with party planning, including setting up a photo backdrop or red carpet to greet guests. If you want to skip the extra planning, host the party at your home and turn the inside or backyard into a neon nightclub using party supplies and decorations.
2. Snag Party Decorations
No 2000s party is complete without rocking party decor. The decade was known for glitz, glam, and bling-bling. It also had a grungy side that makes for excellent contrast. Neon colors, graffiti art, and disco balls are right at home in a 2000s theme. Sparkly backdrops, shimmer tablecloths, and butterfly decor are great options. CDs also make for decade-appropriate wall art. Stock up on classic birthday party decorations like confetti, streamers, and balloons to complete the look. 
Don't forget to hang up a party banner. It can wish the honoree a happy birthday or announce a Y2K party for a bachelorette or bridal shower. Have a talented friend make the banner using graffiti artwork or buy one with neon colors to match the decade.
3. Turn Up the Music
Back in the 2000s, MTV reigned supreme. If you were around then, you probably remember going home after school and turning on MTV's Total Request Live (TRL to frequent viewers) to catch the countdown of the most popular music videos. Bring this vibe to your party by playing old episodes of the show in the background. 
In the 2000s, we listened to CDs as streaming players began to hit the market. That meant downloading music from tools like Napster and Limewire. For your 2000s-themed party, you can relive the glory by ordering Limewire stickers for your birthday decor or by making a 2000s playlist on Spotify.
Fill it with hip-hop, rock, and pop songs. Some popular pop artists of the era include Britney Spears, N'Sync, and the Backstreet Boys. For hip-hop, make sure to download hits by Jay Z, Nelly, and Outkast. If rock is more your thing, Linkin Park, Red Hot Chili Peppers, and 3 Doors Down are good choices.
4. Get Grub Guests Will Love
When it comes to food, look for snacks that were popular in the 2000s. Pop Tarts and Gushers make ideal sweet treats while pizza rolls are sure to satisfy savory cravings. Don't forget to serve drinks of the era, including jello shots, Sobe, and Mountain Dew. Plus, every 2000s party needs Pepsi — after all, stars like Christina Aguilera, Enrique Iglesias, Jennifer Lopez, and Mary J. Blige were brand ambassadors during the aughts.
5. Great Games and Activities to Try
Every bash has to have party games and activities to keep guests entertained. Get everyone in on the fun with a photo booth and 2000s-themed props. Speech bubbles with phrases like "OMG", "BRB", and "Y2K" speak to the text slang of the times. Sayings like "drop it like it's hot" and "I'm bringing sexy back" are also perfect for the era. Add props like blinged-out grills, chain necklaces, and trucker hats for an unforgettable photo shoot.
6. Make Sure Your Outfits Are So Fetch
The 2000s were all about looking flossy and fetch. For a 2000s-themed birthday party, ask the guests to attend in attire suited to the times. Guests can draw inspiration from movies and TV shows like "Mean Girls" and "Pimp My Ride" or dress up like famous artists. Juicy Couture tracksuits or low-rise jeans and crop T-shirts are ideal for a 2000s party. Micro miniskirts, faux fur coats, and cargo pants also hit the mark.
The 2000s was also the start of the Kardashian-Jenner rise to fame. Make your own DIY outfit to look like the famous family or buy a costume. Some popular fashions they donned include dresses over jeans, satin slips, and velour tracksuits.
Invitations for a 2000s-Themed Party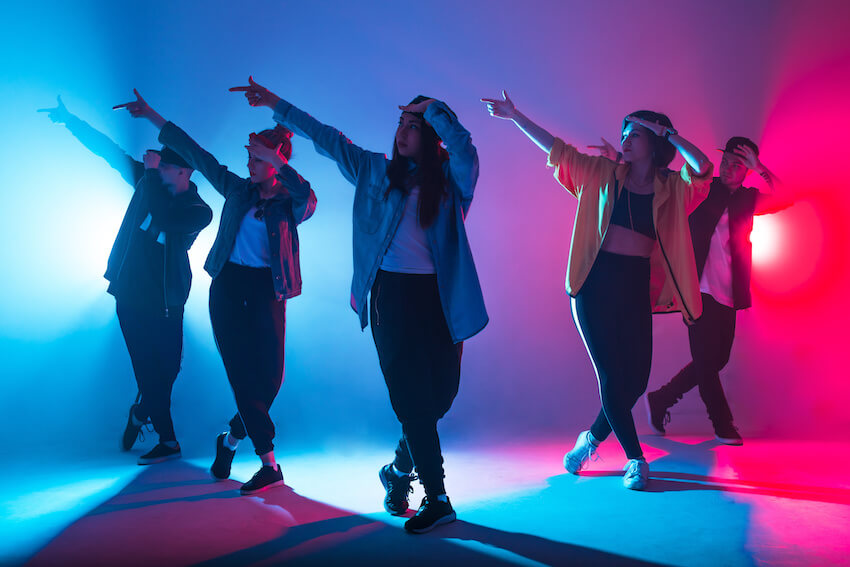 Invite all your peeps for an epic 2000s throwback party with these baller invitations. You'll find options whether you're hosting a Y2K party, hip-hop soiree, or 2000s throwback shindig.
1. Cool Pineapple Invitation
Invite the homies to a bachelorette party, 21st birthday party, or throwback baby shower with this neon invite. It comes in several colorways and can be customized by changing the typography.
2. Friendship Bracelets Invitation
The early aughts were all about friendship bracelets, so invite your besties to your bash with this colorful and nostalgic party invitation. Customize the message, choose from five vibrant colorways, and get ready to celebrate in true 2000s style. (You could even give friendship bracelets as party favors.)
3. Shutter Shades Invitation
Put your stunner shades on and get to planning a 2000s-themed party with this shady invite. It features a pair of stunners that are too cool for school and would have been so fetch in the 2000s.
4. Neon Tropics Invitation
Invite guests to get flossy and attend your Y2K theme party or bday party with this neon invite. It's tropical and glam for an unforgettable event. 
Get The Peeps Together for a Fun Throwback
The 2000s was a fun decade where music and dance reigned supreme. With these tips, you'll be able to plan an unforgettable 2000s-themed party. From neon decor to tracksuits and low-rise jeans, you can throw it back with a poppin' party. For more party planning ideas, continue browsing our Stationers blog. You'll find everything from teen birthday party ideas to plans for a milestone birthday so you can celebrate in style.