September 12, 2019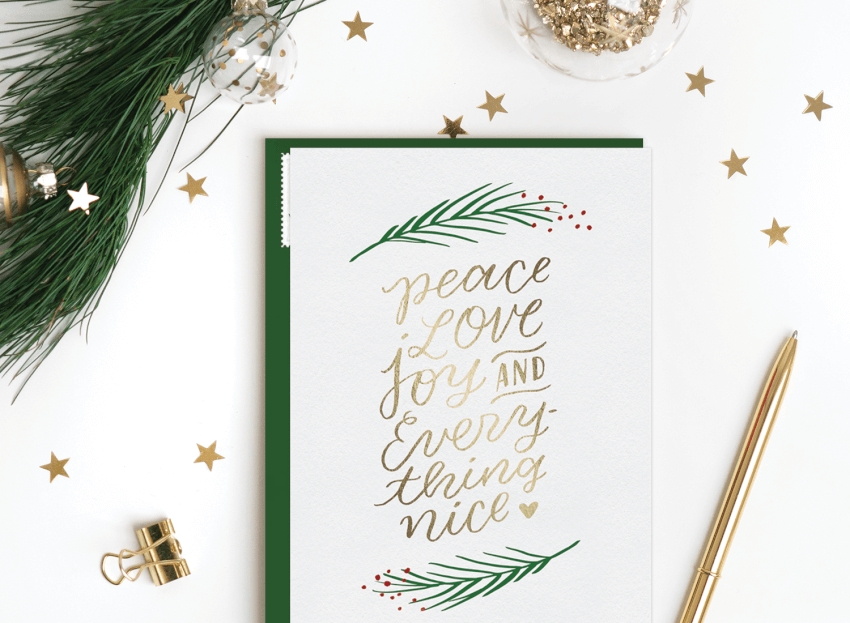 No matter what way you celebrate it, pretty much everyone loves Christmas. There's warmth. There's cheer. There's more food than you know what to do with.
Everyone seems happy around Christmastime. It's why we see random acts of kindness and strangers filled with Christmas spirit. There's just some intoxicating feeling that surrounds the holidays, and all of us want that feeling for a whole season — not just December.
Everyone celebrates Christmas in their own unique way, and now you're busy cleverly drafting the perfect holiday greeting. After all, how could one message possibly capture all the love and appreciation for all the wonderful people in your life? You want to send them a festive note, but where should you start (other than the obvious "Happy holidays")?
Below, we're giving you plenty of message ideas for the holiday season. Whether you're sending a warm greeting to your coworkers, friends, or family, there's an appropriate note for everyone in your life.

20+ Christmas Card Messages for Every Person in Your Life
No matter how they celebrate, you want to wish a Merry Christmas to those you care about. Here are over 20 Christmas sayings to tell every person in your life to have a wonderful holiday season.
Holiday Messages for Coworkers
Sometimes, the friendships formed at work are some of the most meaningful. After all, these are people who you spend the majority of your waking life with, and now's the time to show your appreciation. Whether you're wishing your boss, cubicle mate, or manager a happy holiday, keep your messages warm with these delightful messages.
This Dear Santa Card is festive without being partial to any one religious holiday. If you're the boss, you could send this funny Christmas card thanking your team for their hard work. Fill the cards with any of these simple, yet warm greetings to spread joy around the office:
Happy holidays! Have a wonderful time with your loved ones.
It's been a joy to work with you this year. Now, take a much-needed break, and enjoy the season.
You've certainly kept things "merry and bright" around the office. Have a great holiday and a happy New Year.
Sending you warm wishes this holiday season. Looking forward to working with you again come the new year.
Wishing you a happy holiday season and a prosperous New Year.
Sending you warmest holiday greetings this time of year. Thank you for your hard work and effort.
Christmas Quotes for Family Members
When it comes to family members, you can be a little more personal and heartfelt. However, if your family happens to be rather large, you might find it easiest to send one, well-written card to all family members, rather than writing individual notes (but major kudos if you decide to go forward with the latter option).
This Holiday Sentiments Card might be the best of both worlds. You can personalize it with a photo of you, you and your partner, your children, or even your fur baby, then print a message on the back. Here are a few family favorite messages to get you started:
"At Christmas, all roads lead home." -Marjorie Holmes. Looking forward to seeing your shining face this Christmas season.
"The best of all gifts around any Christmas tree: the presence of a happy family all wrapped up in each other." -Burton Hills. Having you in our lives is truly a gift. Hope to see you come Christmas morning.
My idea of Christmas, whether old-fashioned or modern, is very simple: loving others." -Bob Hope. Sending lots of love to each of you this holiday season.
"Christmas will always be as long as we stand heart to heart and hand in hand." -Dr. Seuss. Although we may not see you in person, we're thinking of you and sending best wishes to your family this holiday season. Have a great Christmas.
Christmas Sayings to Pass on to Your Friends
When it comes to your friends, you can be a little more relaxed with your messaging. You can send your "Merry Christmas" wishes with a little humor or inside joke — notes you might not send a family member or coworker.
To write your note, you might find this stylish yet bold Merry Pop Card appropriate. Your friends might also appreciate this cute Warm Wishes Card by Olive and Me. Here are a few holiday greetings you can write inside your card:
"Santa Claus has the right idea. Visit people only once a year." -Victor Borge. Just kidding. Wish you lived closer — thinking of you, missing you, and sending you the warmest wishes this holiday season.
I am so happy to have a friend like you in my life. Here's to another year for both of us.
Wish you were here so we could drink spiced eggnog together. Here's to another year of supporting one another in both our wise and questionable decisions.
Christmas is the one time of year you'll get me to say something sentimental, so here it goes: You are one of the most important people in my life, I love you, and I'm so grateful to have you every single day.
My definition of the "Joy of Christmas" is you, me, spiked apple cider, and a bunch of terrible Netflix Christmas movies. You in?
I wanted to show you how much you mean to me by baking you homemade Christmas cookies, but let's face it: I don't understand basic ingredients, and you don't want sugar cookies made with salt instead of sugar.
If I were Harry Potter, I'd wave my magic wand so I could spend Christmas next to you. Miss you tons, friend.
All I want for Christmas is spiked drinks with candy canes, feasts where calories don't count, and another merry little Christmas with you by my side.
Religious Christmas Card Sayings
If you or your family celebrates Christmas for religious reasons, it's certainly appropriate to send a message with these kinds of sentiments. Here are a few messages capturing the spirit of Christmas in a religious way.
Wondering which card to pair it with? Try customizing this Joy Grid greeting card or Faith Love Hope Card with photos of your family. Here are a few messages that capture the magic of Christmas:
Peace on Earth! Christ the child is born today.
May the Christmas spirit fill your house this year and the grace of God bless your family.
Sending thoughts and prayers to you and your family this blessed Christmas day.
Sending good tidings and good cheer this Christmas season. May your house be filled with joy, hope, and love.
Joy to the world! Our family hopes yours is blessed with the best gifts this holiday season: family, friends, love, and good cheer.
May God bless you and your family with the gifts of love, hope, and cheer this holiday season. Have a wonderful Christmas.
On the first Christmas, the Lord gave us the greatest gift. Happy to celebrate with you and your family during this special time.
Christmas Card Messages to Spread Good Cheer
Hopefully these Christmas card sayings gave you a few ideas on how to spread a little Holiday joy. Whether you're spreading Christmas cheer to coworkers, friends, or your boss, it's nice to let the people in your life know that you appreciate them — at least once a year.
Now that you have the note down, it's time to pick out your card! While this post gave you several ideas of holiday cards to choose from, Greenvelope has plenty more. Customize any of these Christmas card designs to send out a message of love and gratitude this holiday season.