February 18, 2020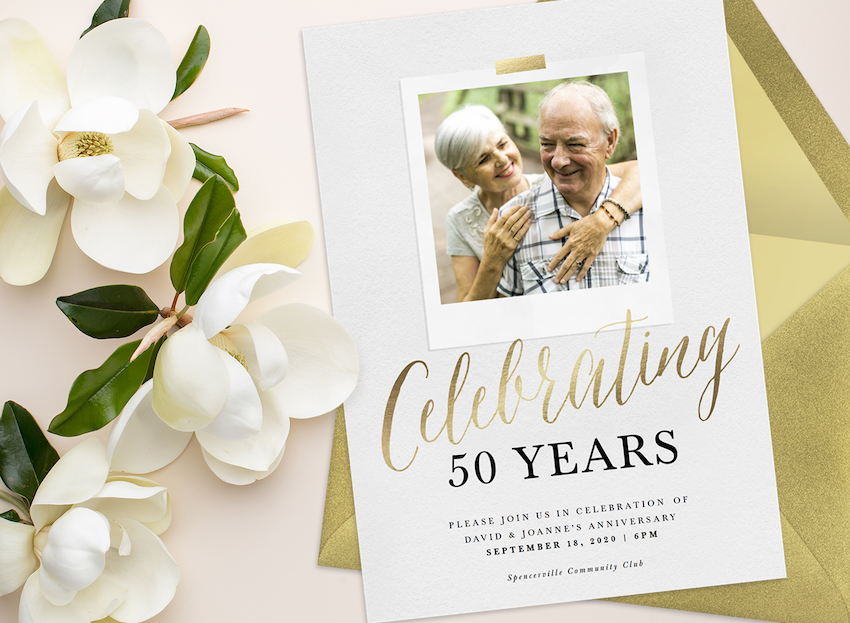 Your golden wedding anniversary is an exciting moment. You and your partner are celebrating 50 years of marriage together and your ongoing commitment to and love for each other. It's something to smile about as you write your 50th anniversary invitations.
For such a momentous occasion, it's no surprise that so many who achieve this milestone host a party to celebrate. Whether you're planning an elegant dinner or a casual get-together with loved ones, you'll need a way to invite them.

21 Digital 50th Anniversary Invitations You'll Love
Digital invitations are an ideal way to send the word out about your golden wedding anniversary party. Once you've found an invitation card you love, you can customize it to your heart's content. Then, send it out to your guests via email. They can then RSVP with one click, and there will be no need to keep track of RSVP cards, which makes tracking your guest list easy.
Here are some of our favorite 50th wedding anniversary invitations to help you on your search.
1. Golden 50 Invitation
Invite friends and family to celebrate your golden anniversary with you in style. This striking metallic design will make a bold impression as it lands in their inbox. The textured gold foil effects and lettering look lovely against your choice of dark colored background, or you could add your own pop of color for a unique twist.
2. Milestone Circlet Invitation
Add a touch of glamor and sophistication to your invites with these beautiful 50th wedding anniversary party invitations. With a soft, watercolor background and stylish font choices, it's a design that shouts elegance.
3. 50 Milestone Heart Invitation
With the text on the reverse of this lovely, golden anniversary invitation, your guests could print it and hold onto it as a keepsake. The striking, metallic accents with a standout heart makes this design perfect for both anniversary parties and vow renewals.
4. Gold Frame Invitation
Take your guests back to your wedding day with this Gold Frame 50th anniversary invitation. There's space for a large, heartwarming photo from your special day or to reuse an engagement shoot photo from your wedding invitations. Paired with script fonts and gold accents, these photo invitations are an elegant introduction to your anniversary party.
5. Luxurious Leaves Invitation
With its dark, atmospheric border of leaves, this anniversary party invitation has a touch of sophistication about it. The golden border and classic font pairings make this design ideal for formal gatherings to celebrate your time together.
6. Layered 50 Invitation
This modern 50th wedding anniversary party invite is a lovely alternative to the traditional gold theme. The soft, complementary colors make the design feel fresh and contemporary. This would work equally well for a casual get-together or a more formal 50th anniversary party.
7. Florescence Invitation
There's something very elegant and stylish about this beautifully botanical anniversary party invite. Muted, natural colors work perfectly with the modern fonts for a design that's contemporary and welcoming.
8. 50th Celebration Invitation
Welcome your guests to celebrate your golden wedding anniversary with this elegant, striped invitation. The combination of the dark, striped background with the gold-foil accents feels classy, while the circle is a reminder of the continuation of your love story.
9. Sophisticated Fiftieth Invitation
Add a touch of glitter and glamor to your 50th anniversary invitations. With elegant font choices and a timeless color palette, this golden wedding anniversary invitation lets your guests know they're in for a special celebration.
10. Fifty! Invitation
This simple yet fun design leads with bold typography to get your guests' attention. The golden "Fifty!" stands out perfectly against a selection of dark, rich colored backgrounds, making an impact that matches the celebration.
11. In the Spotlight Invitation
Put the spotlight firmly on you and your partner with this rustic yet contemporary invitation design. With a soft background and classic typography, there's a real sense of romance about the occasion. Opt for a golden circle accent or make it your own with your favorite color.
12. Glitter Paint Invitation
Go all out with glitter when you choose this fun anniversary party invitation. Let the shimmer and sparkle get your guests excited about celebrating with you. There's a choice of four glitter color options including gold, silver, and green.
13. Filigree Tile Invitation
This gorgeous, delicate tile-patterned design is the ideal backdrop for an elegant party invitation. These 50th wedding anniversary invitations combine classical typography and gentle metallic accents for an invite that oozes sophistication.
14. Eucalyptus Frame Invitation
If you're looking for a softer, more laid-back design, this eucalyptus frame invitation is perfect. It has all the sophistication you'd associate with an anniversary party, without the metallic details. The rounded frame and gentle floral greenery make this ideal for an elegant celebration.
15. Gilded Place Setting Invitation
Hosting an elegant dinner to celebrate your 50th wedding anniversary? This Gilded Place Setting design would make an excellent choice for your invitations. The gold accents complement your golden wedding anniversary, and it works just as well for a casual dinner as a more formal dining experience.
16. Lovely Agate Invitation
There's a lot to love about this natural, stone-inspired anniversary invitation design. The beautiful agate background comes in a range of colors, each with stunning hues that catch the eye. Modern fonts and a softly textured appearance make this an understated yet elegant choice for your party invitations.
17. All the Photos Invitation
What better opportunity to share some of your favorite wedding or anniversary photos than at your golden anniversary party? This 50th wedding anniversary invitation is perfect for photo lovers and those with plenty of beautiful memories to share.
18. Golden Anchor Invitation
Celebrate your 50th wedding anniversary with a nod to the nautical through this fun design. The Golden Anchor invitation features rich colors inspired by the sea for a timeless design that stands out.
19. Modern Marble Texture Invitation
The combination of a swirled marble background, your monograms, and elegant fonts make this anniversary party invitation a beautifully romantic choice. Choose from a selection of soft color options, each with a subtle hint of metallic accents.
20. Photo Ripples Invitation
Take center stage as you invite your guests to celebrate with you. With space for a full-bleed background photo, this photo invitation design allows you to share one of your favorite photos. The sheer text area and delicate script fonts add a touch of romance to the design.
21. Two Tone Watercolor Wash Invitation
Keeping things simple doesn't have to mean uninteresting, as this watercolor-inspired design shows. The soft, calming background works perfectly for a 50th anniversary invite, with a look that's modern yet sophisticated.
Wedding Anniversary Party Invitations Made Easy
Whether you've found your perfect 50th anniversary party invitations in this collection or been inspired by one of our other designs, it's easy to make it your own. When you send digital invitations, you can personalize colors, text, and digital envelopes before you send your invites out to your guests. This means you can match your invitations to your party theme and introduce the celebration to your guests right from the start.