September 24, 2021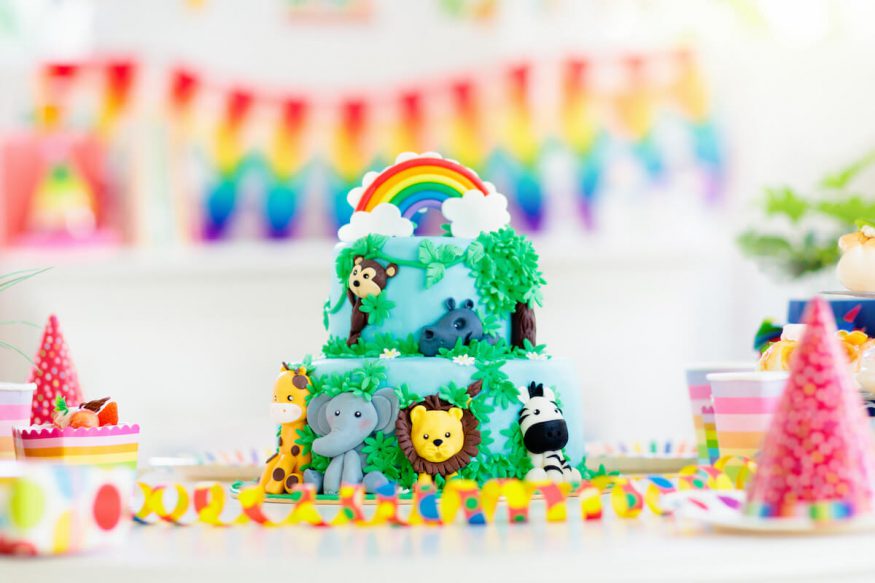 For a little explorer, there's simply no better way to celebrate than a safari theme party. Whether you're hosting a 1st birthday party or a birthday slumber party for tweens, it's a theme that you can really bring to life with impressive decor, styling, and treats. 
If you're ready to host one of the best safari or jungle theme party events of the year, we're here to help. Get inspiration for your safari theme party with these decor, food, activity, and invitation ideas. 

10 Adventurous Safari Theme Party Ideas
You can really go wild with a safari theme party and transform your space into something magical. Here are some of our favorite safari theme party ideas for decor, activities, food, favors, and more. 
1. Make It a Costume Party
If you're inviting lots of wild ones along to your safari theme party, this is a must-have. Take your birthday party idea to the next level by turning it into a costume party.
Ask your party animals to join you dressed up as their favorite zoo animal or safari creature. Keep it open and let them choose their own costume, or ask people to take an everyday T-shirt and customize it with animal prints or designs to show off their creativity. 
2. Host a Safari-Themed Sleepover Party
We love a sleepover or slumber party, and it feels like this is one of those themes that's perfect for it. Celebrate an animal birthday or safari get-together by asking your guests to stay overnight and stay up late.
Transform your living space or bedroom into a safari camp with beautifully styled mini tents, or ask people to bring along a sleeping bag for a more rustic feel. Add some themed party decor like balloon garlands, strings of faux leaves, or animal cutouts to really enhance the experience. 
3. Go Wild with Animal Print
What better excuse than a safari theme party to go a little over the top with animal print birthday party decorations? There's something fun about layering plenty of prints together to create a zany, unique take on the jungle party theme. 
Look for tableware, table covers, party plates, and more safari theme party supplies that heavily feature animal print. Keep it all to one type — like leopard print — or mix in some zebra or giraffe print for a more eclectic look. 
4. Transform Your Space into a Jungle
This idea takes a little more planning and plenty of safari party supplies, but it's well worth it for a special birthday or occasion. 
Layer hanging backdrops filled with palm leaves or tree-themed fabric, and hang earth-toned balloons, cutouts, or decorations from your ceiling. Invest in some color-changing bulbs to add a cozy glow or create a sunset effect, and add natural textiles and animal decorations to complete the look. 
5. Fill Your Party Venue with Jungle Safari Animals 
When it comes to planning the ultimate safari theme party, you can't go wrong with plenty of jungle animals. Whether you fill the space with them, or hide them around as a fun mini game for the kids, it's a super fun way to bring the theme to life. 
Use animal cutouts to create an adorable photo booth area, or feature tiny toy jungle animals as part of a themed centerpiece or table decoration. How and where you display the animals is up to you, but it wouldn't be a safari theme party without them.
6. Host a Jungle Obstacle Course
If you're looking for something to tire out your wild ones, a jungle-themed obstacle course is a wonderfully interactive idea. It's an ideal activity for kids of all ages, and you can tailor it to your theme, group, or event type. 
You can create your own obstacle course using everyday objects like couch cushions or hula hoops, or invest in an inflatable obstacle course for a big milestone birthday celebration. However you choose to do it, this is a great way to use up some of that energy ahead of cake time.
7. Set Up a DIY Crafting Area
Create a space where younger guests can relax (and still be creative) with a crafting area. Set up a party table somewhere away from the noise and offer your guests fun ways to engage in themed crafts. Download printable animal coloring pages, or find the instructions and materials for a DIY safari craft for kids. It's a sweet way to offer a place to calm down while still having plenty of fun.
8. Splash Out on a Safari Theme Birthday Cake
If you're putting on a safari theme party for a birthday celebration, you'll need a cake that fits the occasion. Whether you opt for an expertly baked masterpiece or a homemade treasure with an adorable cake topper, it's sure to be one of the guests' highlights. 
You can take a jungle theme cake in a variety of directions. Choose a simple sponge cake and add a personalized cake topper, or go minimal and stylish with a giant palm leaf design. Think about what the guest of honor would love to see as you all sing "happy birthday."
9. Give Your Birthday Buffet a Safari Theme Twist
Buffets are great for a kids' birthday party because people can pick their favorite snacks and treats without too much going to waste. It's perfect for those picky little eaters who just want to fill a plate with cheese, crackers, or cocktail sausages. 
To liven up your birthday buffet, give your foods a safari twist. These monkey sandwiches are adorable, and this giraffe cake dessert board is a gorgeous way to get your guests enjoying lots of fresh fruit. For snacks, a jungle safari trail mix is easy to make and works great as a sleepover midnight treat. 
10. Create Themed Party Favor Bags
Your safari theme party is turning out to be epic, so you'll want party favors that live up to the same hype as your main event. Luckily, you can put together goodie bags that match this theme quickly, easily, and affordably. 
Choose a favor bag or box with a safari theme or animal print design, then add in a few classic items like stickers, candy, and bubbles. For an extra treat, send your guests home with a safari animal cupcake or a personalized animal pencil or coloring set. 
Exciting Safari Theme Party Invites
This is one of those birthday party themes that absolutely needs an exciting party invite to match. Here are some of our most-loved online invitations for your themed get-together — whether it's a jungle birthday party or safari baby shower party.
First Safari Invitation
For all those little babies celebrating their first birthday, this First Safari invitation is a lovely way to mark the moment. The gorgeous, soft illustrations are ideal for this momentous occasion. 
Swing On By Invitation
Looking for something more contemporary? This Swing On By invitation is the perfect mix of modern and adorable, with a fun monkey illustration and modern typefaces. 
Calling All Party Animals Invitation
For a safari theme party that blends cute with mischievous, this Calling All Party Animals invitation is an ideal match. We love the bold yet sweet illustrations on this design, which is great for an all-out costume party or an understated sleepover. 
Classic Cheetah Print Invitation
For a more sophisticated safari theme party, this Classic Cheetah Print invite is one of our top picks. The black and gold palette is ideal for an adult birthday party, or a teen who wants something a little more dramatic and contemporary than a cutesy jungle invitation. 
X Marks the Spot Invitation
Whether you're hosting a slumber party or outdoor safari theme party, this X Marks the Spot invitation works perfectly. The watercolor background complements the sweet illustrations, and it says "safari" without being too over-the-top about the theme — leaving some mystery for your guests. 
Host a Spectacular Safari-Themed Birthday Party in Style
A safari theme party is one of the best ways to celebrate a special moment for adventurers of all ages. Whether you recreate a safari experience in your backyard or keep it simple with a more contemporary take on the theme, it's a lovely way to get together and wish someone a very happy birthday. 
Once you've decided on your safari theme direction, look for an invite that's just as creative. Explore our birthday invitation designs to choose a template, personalize it, and send it on its way to your excited party guests.