July 2, 2020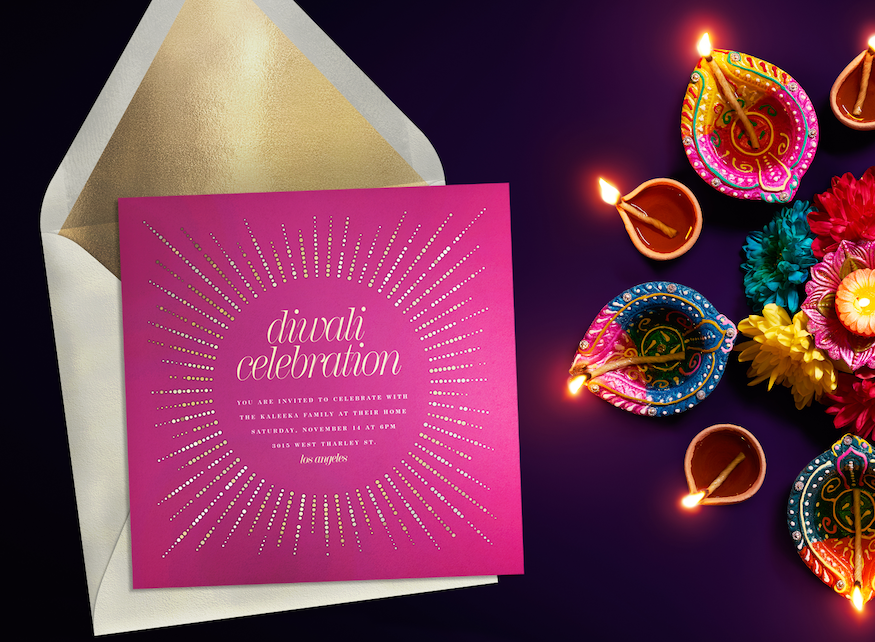 One of the most visually beautiful celebrations in the world, Diwali is the Hindu festival of lights that is a feast for the senses. It's also a wonderful time to gather with loved ones to share delicious meals, exchange gifts, have fun, and make lasting memories.
If you're thinking about throwing a celebration of your own, use this list of Diwali party ideas to help you pick the perfect decor, theme, gifts, and activities. You'll also find a few helpful tips on how to craft the perfect Diwali cards and invitations to impress your friends and family.

Decor Ideas for Your Diwali Celebration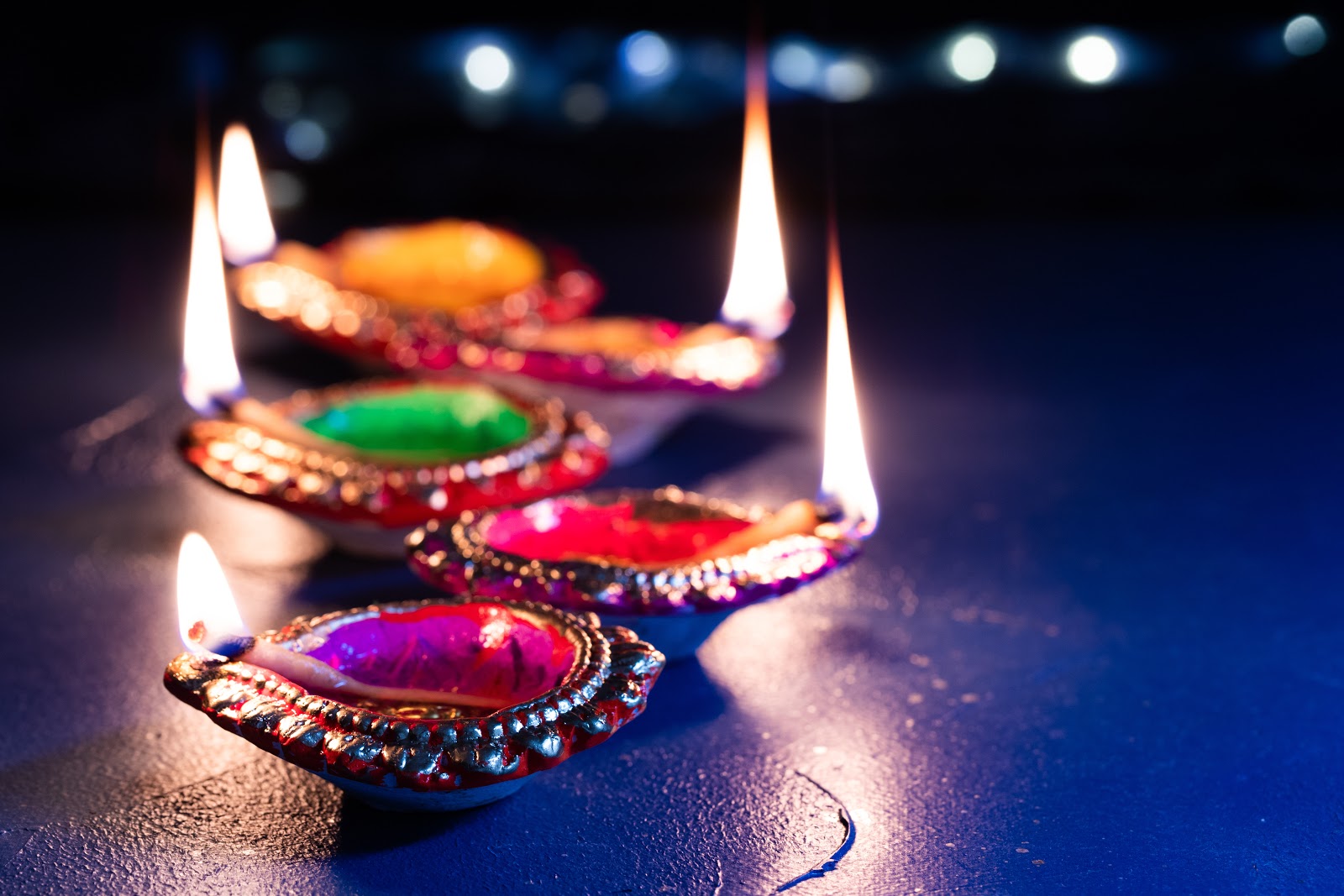 Whether you're planning a birthday party, anniversary, or Diwali celebration, party decorations set the scene for your celebration. Consider these Diwali decoration ideas for the upcoming festivities and check out our party planning checklist so you don't miss a beat.
Lights, Lights, Lights: Diwali is the festival of lights, so this is arguably the most important part of your party decor. While real candles and diyas create beautiful warmth, there's nothing wrong with using LED votives and tealights if you're concerned about fire safety. Decorate with colorful paper lanterns and strands of twinkling lights, both indoors and outdoors, to enhance the overall ambiance. You'll also want to have sparklers for everyone to light at some point during the celebration (outdoors, of course!).
Floral Flourishes: The traditional flower of Diwali is marigolds, so brighten up your space with loads of these vibrant blooms in orange and yellow. Decorate your tablescape, mantle, and other areas with fresh marigold flowers, and use silk versions for marigold garland that you can drape over door frames, bookshelves, banisters, mirrors, and tables.
Rangoli Displays: Even if you're not planning to make an authentic rangoli pattern with colorful powdered rice or flour on your floor, you can find decorative rangoli designs to place around your home or event space. Look for rangoli wall and floor stickers with beautifully detailed acrylic beading.
Food, Party Themes, and Activities for Diwali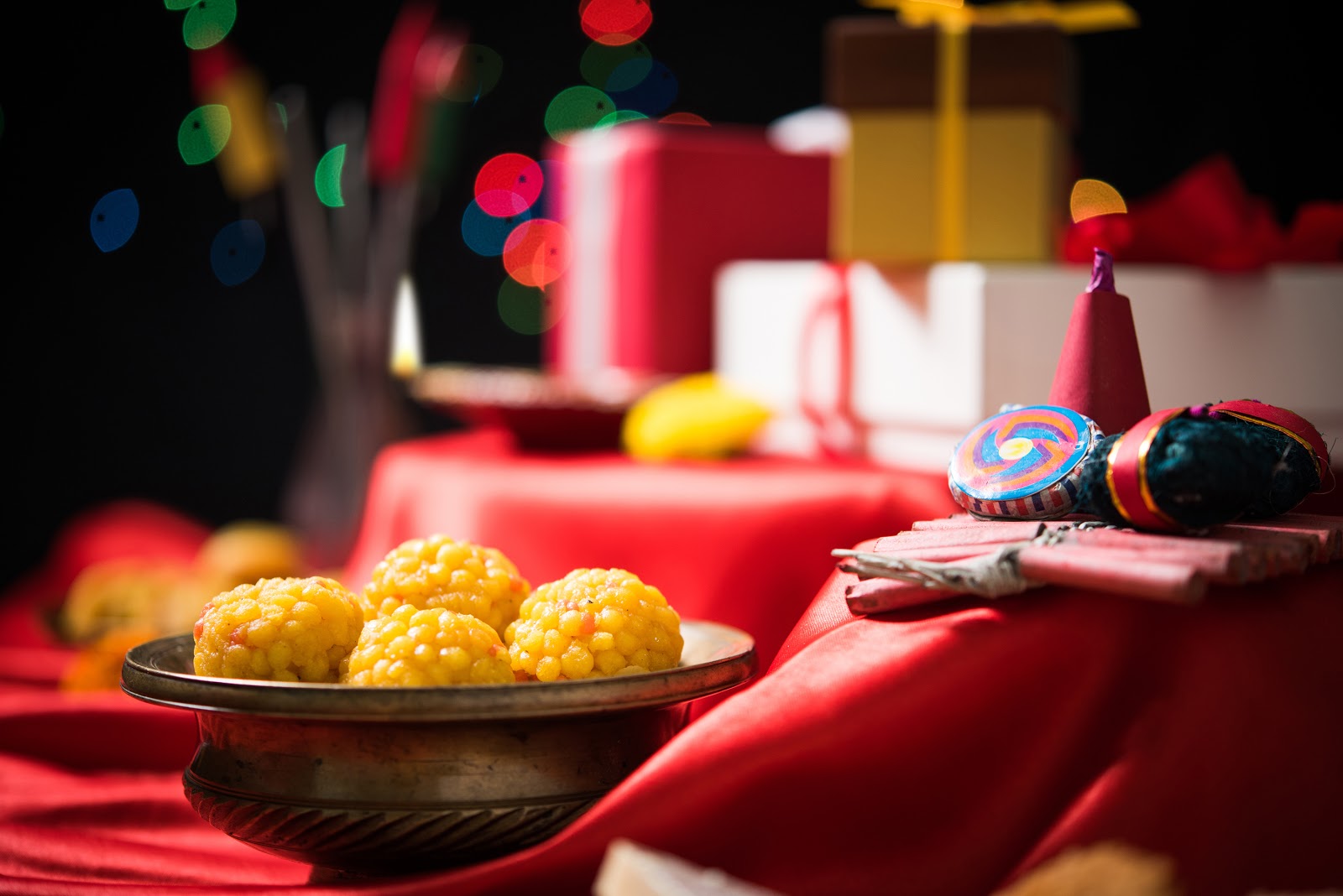 Here are some crowd-pleasing ideas for your Diwali celebration, including food, drinks, party themes, and fun activities that are sure to keep the party going.
Food and Drink Ideas
Buffet Station: Depending on your budget and how many people are on your guest list, a sit-down dinner might not be the most practical option. Instead, set the table with thalis of appetizers like charkis, kebabs, samosas, pakoras, and other easy-to-grab finger foods. For a more affordable option, ask guests to bring a dish for an Indian-food potluck.
Bar or Cocktail Cart: Be sure to get all the necessary ingredients for crafting delicious Indian cocktails (and mocktails). If you don't have a designated bartender on hand, write a few recipes on mini chalkboard easels (or print and frame the recipes), and let your guests take a crack at DIY mixology.
Party Themes
Bollywood: For this tried-and-true Diwali party idea, encourage guests to wear saris, sherwanis, or other traditional Indian garb. Play Bollywood music from movies past and present, and have a Bollywood party dance-off!
Casino Night: Since no Diwali celebration is complete without card games like teen patti, rummy, and blackjack, go all in and create a casino party theme. Set up a card table or two, use playing chips, and offer small prizes for the night's winners.
Silver and Gold: For a truly sparkling celebration, mix in metallics along with your colorful Diwali decor. Ask guests to don their choicest silver and gold-accented ensembles, and you're sure to have a party where the sparklers aren't the only things that twinkle.
Elephant Parade: Celebrate the pageantry and purpose of Diwali with an elephant party theme. These magnificent creatures are a powerful symbol of wisdom (not to mention the physical embodiment of the Hindu god Ganesh), so pay homage with ornate elephant wall hangings, candle holders, coasters, and party favors. You can also set up an elephant photo booth backdrop for the ultimate thematic touch.
Activities
Mehendi Station: Also spelled mehndi, this form of body art is most popular in traditional Indian weddings, but it's not uncommon during Diwali. Hire a mehndi artist for your party, or for an ultra-affordable option, buy temporary henna tattoos on Etsy, Amazon, and other online outlets.
Party Games: Even if you're not having a casino theme party, teen patti is a must-have card game during Diwali celebrations. Musical chairs and tambola are also favorites. For another fun party game idea, try a simple yet entertaining session of the Ganesh Name Game. Set a one-minute timer and have participants write down the different names of Ganesh (there are a lot!). The person with the most correct answers wins.
DIY Rangoli: Get crafty with this kid-friendly activity that doesn't require much in the way of materials. Simply print off rangoli clip art or pull pages from a coloring book and then decorate with markers, self-adhesive rhinestones, and even flower petals. (You can pull some from your decorations.)
Gift Ideas for Diwali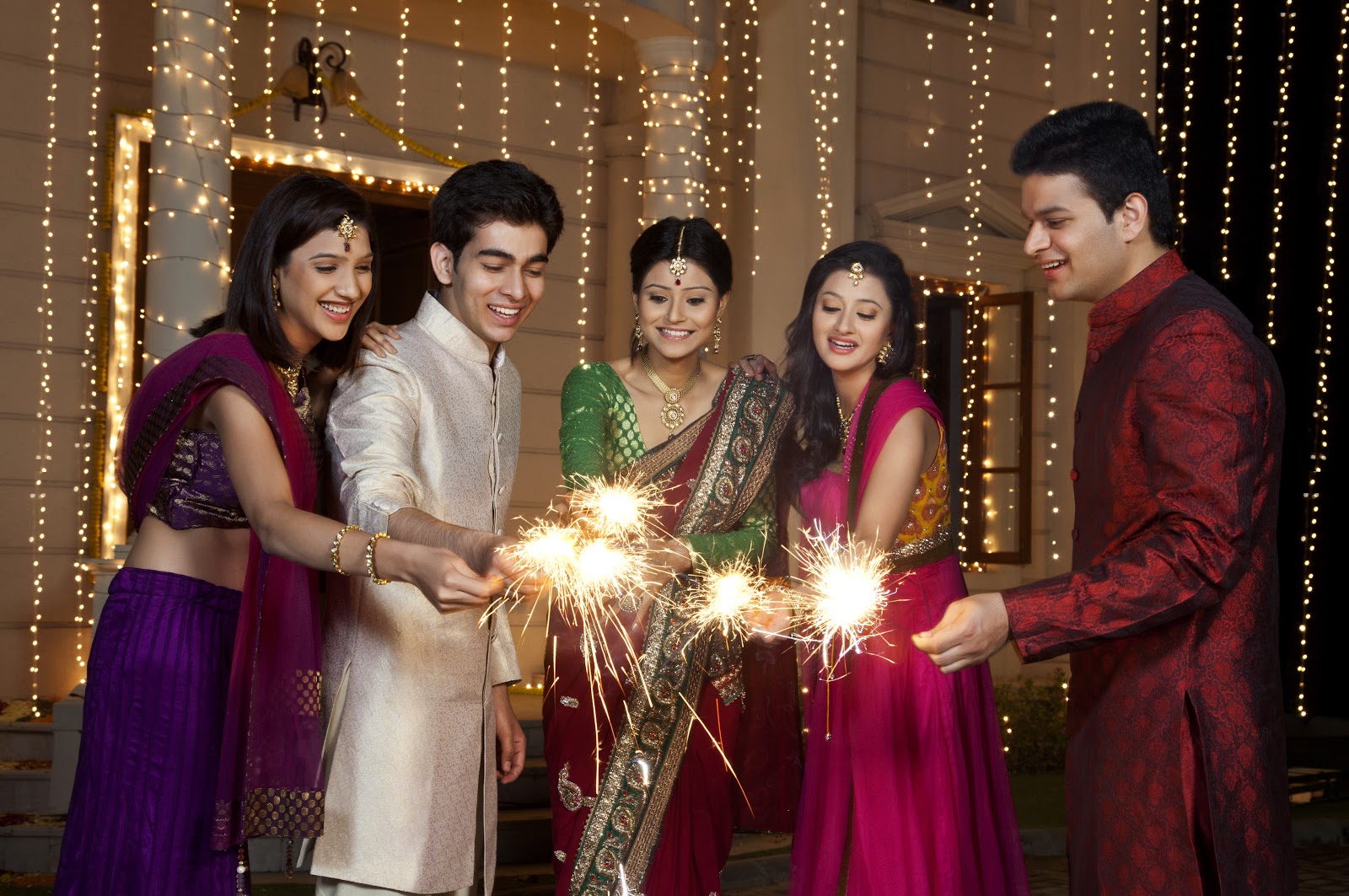 As with most holidays, exchanging gifts with loved ones is a big part of the Diwali celebration. But these gifts don't have to break your budget. The main idea is to give thoughtful tokens to commemorate the holiday and let your friends and family know you care.
Sweets: Known as mithai in Hindi, traditional Indian desserts such as burfi, jalebi, ladoo, halwa, and kaju katli are customary gifts during Diwali. Dried fruit is another favorite.
Fashion accessories: From fun jewelry and pretty silk scarves to key chains and socks, choose accessories with pretty patterns and Diwali-inspired motifs like marigolds, diya, or rangoli.
Party favors: Have a stash of sparklers handy for your celebration and give guests take-home treats such as elephant-shaped tealight holders, colorful wine stoppers, or goodie bags with chocolate coins and a bottle of Indian beer.
Choose Your Diwali Party Invitation
Once you have your guest list set, it's time to send your Diwali party invitations. But rather than sifting through countless paper options and dealing with postage, save time and money with digital invitations. You can also simply send a "Happy Diwali" card even if you're not hosting an event. When you go paperless, you can:
Choose from different styles and colors that complement your party theme
Customize your personal message however you want
Track RSVPs in one simple dashboard and update guests whenever you need to
Be the Ultimate Host With These Diwali Party Ideas
Whether you're planning an elaborate affair or a small get-together, the beauty and vibrancy of Diwali will get your guests in the mood to celebrate. And with these ideas for decor, themes, gifts, activities, and invitations, you're sure to create a memorable and fun experience for all. For more unique and creative ways to throw the perfect party, take a look at the Stationers blog.